Democracy
Matthew McConaughey would be the next governor of Texas if the election were held today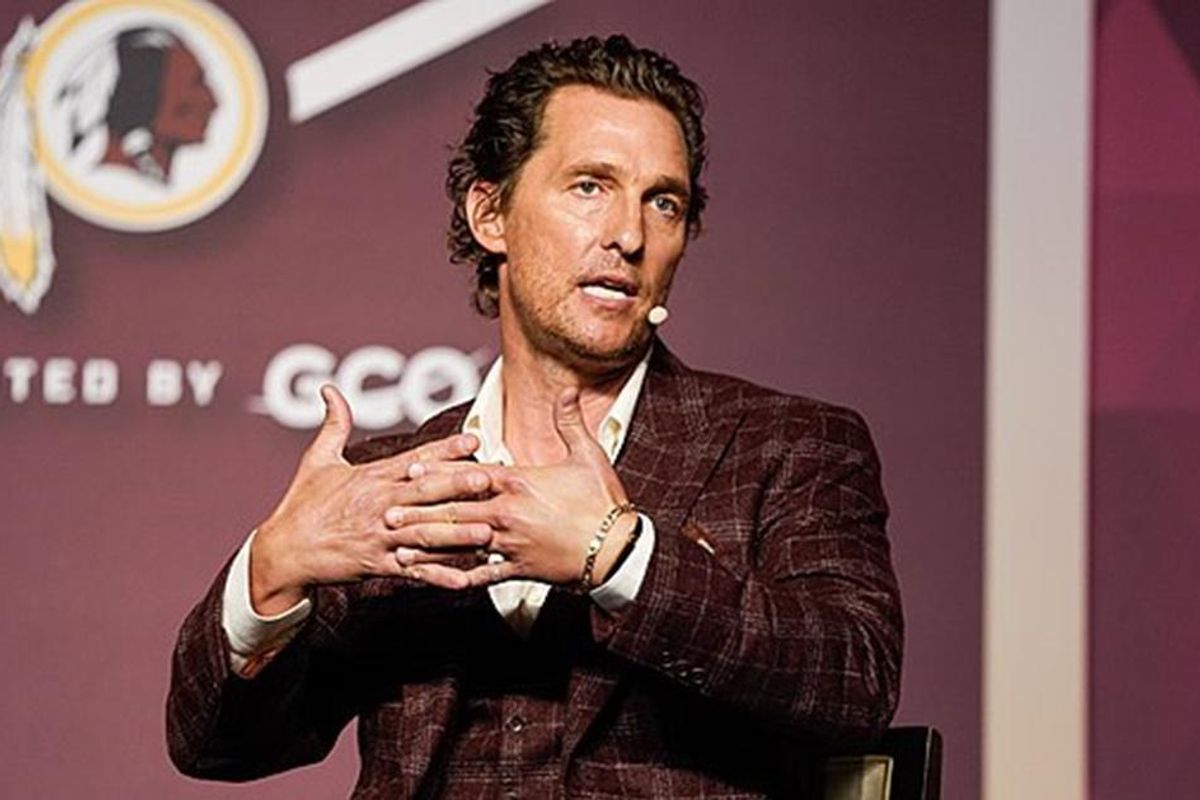 via Wikimedia Commons
A surprising new poll out of Texas found that actor Matt McConaughey has more support to be the next governor of Texas than the incumbent, Republican Greg Abbott. The actor increased speculation about his plans to run for governor in 2022 last week when he said it's a "true consideration."

The poll by The Dallas Morning News and the University of Texas at Tyler found that in a hypothetical contest, McConaughey garners 45% support, with Abbott getting 33%, and 22% saying they would vote for someone else.
Democrats (66% to 8%) and Independents (44% to 28%) broke highly in favor of McConaughey. However, Abbot still holds a decent lead over the actor with Republicans (56% to 30%).
---
The actor's support in the state most likely comes from the goodwill he's created as an A-list Texas native because he hasn't said much when it comes to political policy.
The star of "Dallas Buyers Club'' held a star-studded benefit for victims of Texas floods in February. He's also officially joined the faculty of his alma mater, the University of Texas at Austin, as a professor in the Department of Radio-Television-Film.
Matthew McConaughey's next gig? A college professor. https://t.co/C3Qf6EvZfZ https://t.co/8dmW8tREWN

— E! News (@E! News) 1567257376.0
The actor stresses the fact that when it comes to the political policy he's a moderate but that doesn't mean he's wishy-washy.

"I'm a 'Meet You in the Middle' man," McConaughey said according to USA Today. "When I say 'aggressively centric,' that sometimes gets parceled over there with 'Oh, that's a shade of gray, a compromise.' And I say, 'Bullshit. That's a dare. Right now, that's radical. You wanna be brave?"
McConaughey believes that taking a centrist approach gives people more leeway to make the best decisions.
"Because you got more agility, cause you got more adaptability," she said. "Because there's different situations for different sides. Sometimes the left is better at this, sometimes the right. There's different choices for different circumstances."
He also believes that the political stereotypes do more harm than good.
"The left thinks the right's racist and the right thinks the left's socialist. Well, that ain't true," McConaughey said. "Then you go, well, the left is for empathy, compassion and solidarity; well the right's for resilience and work ethic and responsibility. I'm like, I like all six of those. Those are values that our mamas taught us. The right and the left don't have ownership of those, excluding the other side."
In 2018, actor Matthew McConaughey marched with the far-left March For Our Lives group where he called on law-abidi… https://t.co/mM6v017JjX

— Ryan Saavedra (@Ryan Saavedra) 1605966866.0
The only firm policy stance the actor has taken is on gun control. In 2018, he spoke at the March for Our Lives rally in Austin calling for a ban on assault weapons for civilians, restricting high-capacity magazines, and strengthening background checks.

"Those are the three main stipulations," McConaughey said at the rally, "and to those three, I can say — if you can say it with me — all right, all right, all right."
It's unclear whether the actor's lack of clear positions is a clever way to avoid alienating the millions of people who go to see his films or part of his personality. Anyone who's seen his series of car commercials for Lincoln can attest that he seems to hold a rather abstract view of the world.
It's also questionable whether the political center that he's trying to appeal to actually exists. People often talk about wanting bipartisanship and more moderate candidates, but those candidates tend not to fare very well in primaries.

The poll found that Democrats prefer a progressive candidate over a centrist (51% to 25%) and only 20% of Republicans are interested in voting for a centrist.
But if he runs as an independent, all bets could be off. After all, it was both the far left and far right who wrote off Joe Biden's centrist 2020 presidential campaign as "out of touch." And we all know that worked out "alright, alright, alright" for the commander-in-chief.