Rep. Bonnie Watson Coleman belted out her frustrations over gun violence at an emotionally charged moment on the House floor.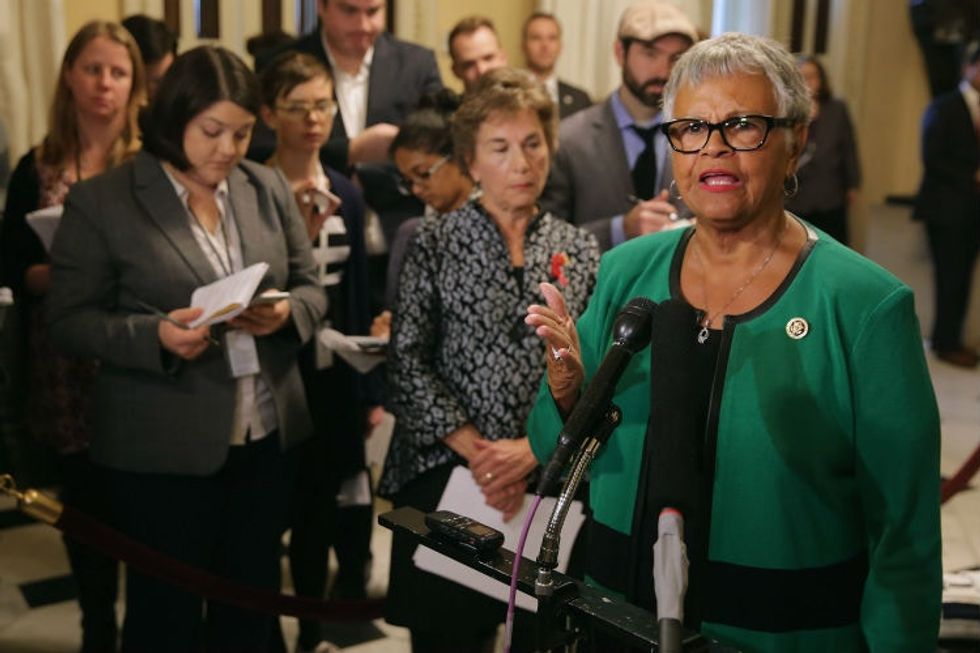 Rep. Bonnie Watson Coleman at a press conference in 2015. Photo by Chip Somodevilla/Getty Images.
In the House of Representatives on May 21, the 10 names of those who lost their lives in the Santa Fe, Texas, high school shooting were read aloud, and Republican Rep. Randy Weber requested a moment of silence for the victims in his district.

The instant the gavel banged to end the moment, Watson Coleman — a New Jersey Democrat who's been staunchly in favor of stronger gun laws — began yelling, her voice filling the quiet chamber.


---
"Your moment of silence doesn't save one single solitary life!" she screamed. "Do something!"
The moment of silence begins at about the 2:40 mark in the video below, shared by NBC News (story continues below):
Watson Coleman's outburst reflects the same frustration many Americans have as Congress fails to act after yet another senseless massacre.
Thoughts and prayers were offered by Republicans after the Parkland, Florida, school shooting. They were offered after the Sutherland Springs church shooting. They were offered after the 2017 Las Vegas shooting. They've been offered time and time again.
But without real legislation — overwhelmingly popular, bipartisan, commonsense gun control laws — thoughts and prayers won't change the status quo.
"We can and should pray, just like we can and must do something," Watson Coleman tweeted on May 18.
"I'm lower than heartbroken, I'm sickened that we remain completely frozen on anything to address gun violence in the U.S. in its many forms" she said.
Instead of solely offering thoughts and prayers, let's force Congress to enact real solutions.
And make sure to vote in November too.
Learn more about common sense gun laws at Everytown for Gun Safety. Learn more about registering to vote at USA.gov.