Photo: Jason DeCrow for United Nations Foundation
True
Some people say that while change is inevitable, progress is a choice. In other words, it's a purposeful act—like when American media mogul and philanthropist Ted Turner established the United Nations Foundation 25 years ago.
Turner recognized that the United Nations is indispensable to tackling humanity's greatest challenges and driving global progress, and he also knew that solving complex, worldwide problems require a blend of diverse solutions and partners. He's a pretty smart guy.
As a strategic partner of the United Nations, the UN Foundation seeks to solve the world's biggest challenges by bringing together different perspectives, fresh thinking, and innovative ideas. Think of it as a massive table, where the best and the brightest from all over the world are invited to bring new and creative ideas to solve complex problems affecting humanity. That's the UN Foundation, and it's awesome.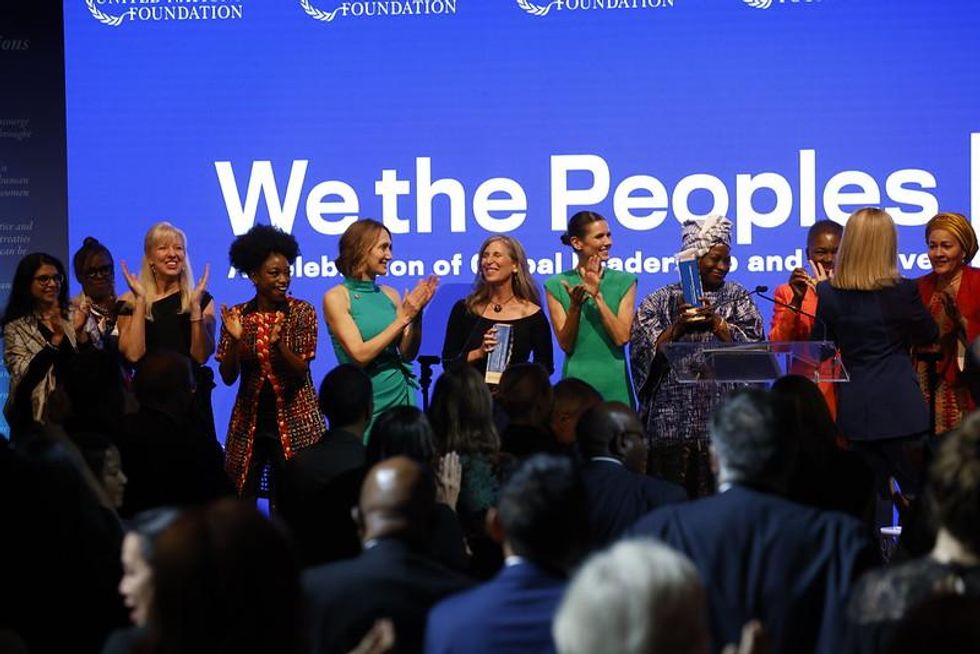 Honorees, speakers and guests on stage at We the PeoplesPhoto: Jason DeCrow for United Nations Foundation
Every year, the organization recognizes extraordinary individuals and institutions whose work stands out as an embodiment of their guiding principles: to create a safer, healthier, and fairer world for all. This year's annual Global Leadership Awards were presented at We the Peoples in New York City's Gotham Hall, where five recipients were honored for their tireless work to push progress forward.
Here are the change-makers who accepted the awards, which celebrate the very best of humanity.
Mia Amor Mottley, 2022 Champion for Global Change award. Not only is she the first female to hold the position of Prime Minister of Barbados, she exhibits top-notch leadership in her fight for global change. She is known for fearlessly urging the leaders of larger, richer, and more powerful countries to recognize their contributions to climate change and their responsibility to help combat its disastrous effects—especially in smaller island nations. (She also encourages leaders to have "mature conversations" with their constituents, something we can all agree is woefully lacking across the board!)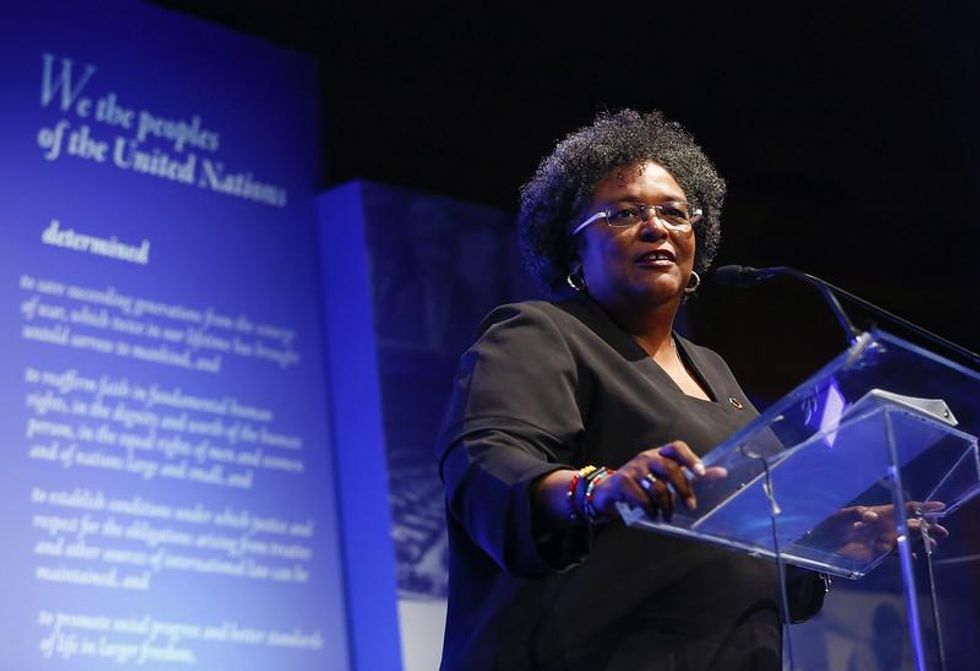 Hon. Mia Mottley, SC, MP, Prime Minister of BarbadosPhoto: Stuart Ramson for United Nations Foundation
Prime Minister Mottley takes stewardship of the environment very seriously. The island of Barbados is on the frontline of climate change impacts, which manifest in everything from more devastating hurricanes, to coastal erosion, and are getting worsefrom year to year. Not only that, she's tackling social justice reform, lack of education access, and political corruption, one step at a time. "There are so many who are voiceless and so many who are incapable of action, but if those of us who have the capacity can make that difference in their lives, then the world would be a better place," said Prime Minister Mottley. Seriously.
Forest Whitaker, SDG Vanguard Award: While Whitaker is best known for his acting roles, he is also Founder & CEO of Whitaker Peace & Development Initiative, a project aiming to promote the values of peace within communities all over the world that are impacted by conflict and violence. His work has touched the lives of approximately 1.3 million children—including former child soldiers—helping them cope with trauma and learn to thrive in their communities. The goal is to move people from chaos to hope and engagement by educating, training, and restoring peace.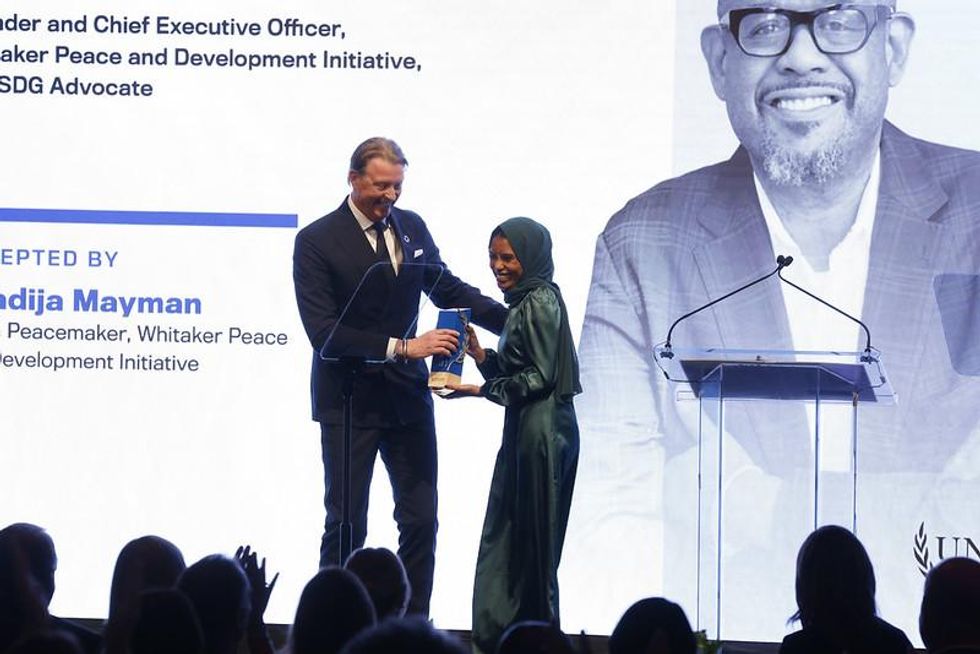 Hans Vestberg, Chairman and Chief Executive Officer of Verizon and UN Foundation Board member, presents the SDG Vanguard Award to Khadija Mayman, Youth PeacemakerPhoto: Jason DeCrow for United Nations Foundation
Whitaker staunchly values the potential of youth, insisting they deserve a seat at the table. He believes that in order to attain peace and prosperity, communities and nations must heed the voices of their young people; keeping them engaged is what preserves our future. "We must realize that whatever challenge we are faced with, young people can and should be part of the solution – both for today and tomorrow," he said.
Whitaker walks the walk— and it showed when the spotlight was put on Khadija Mayman, Youth Peacemaker for the Whitaker Peace & Development Initiative, who accepted the award on his behalf. What better way to change the world, than to start by healing our children and letting them lead?
Mia Kami, SDG Vanguard Award: Kami is a Tongan singer/songwriter. She is passionate about gender equality, indigenous rights, and climate action, reminding us that storytelling has the power to fuel political and environmental change. She channels her passions into songwriting and uses her music to inspire hope and healing.
In 2022, a devastating volcanic eruption created a massive humanitarian crisis in her home country of Tonga. The volcano generated a plume of ash that rose more than 12 miles above sea level; the next day, there was a larger, more violent eruption that created an ash plume 375 miles in diameter. This second explosive eruption produced a tsunami that affected the entire Pacific Ocean, and atmospheric pressure waves that circled Earth several times. After the eruption, satellite images show that 90% of the island is no longer visible. Kami drew attention to the crisis through song. In one of her most popular works, Rooted, she sings:
There is hope
There is strength
There is power
There is change
In you and I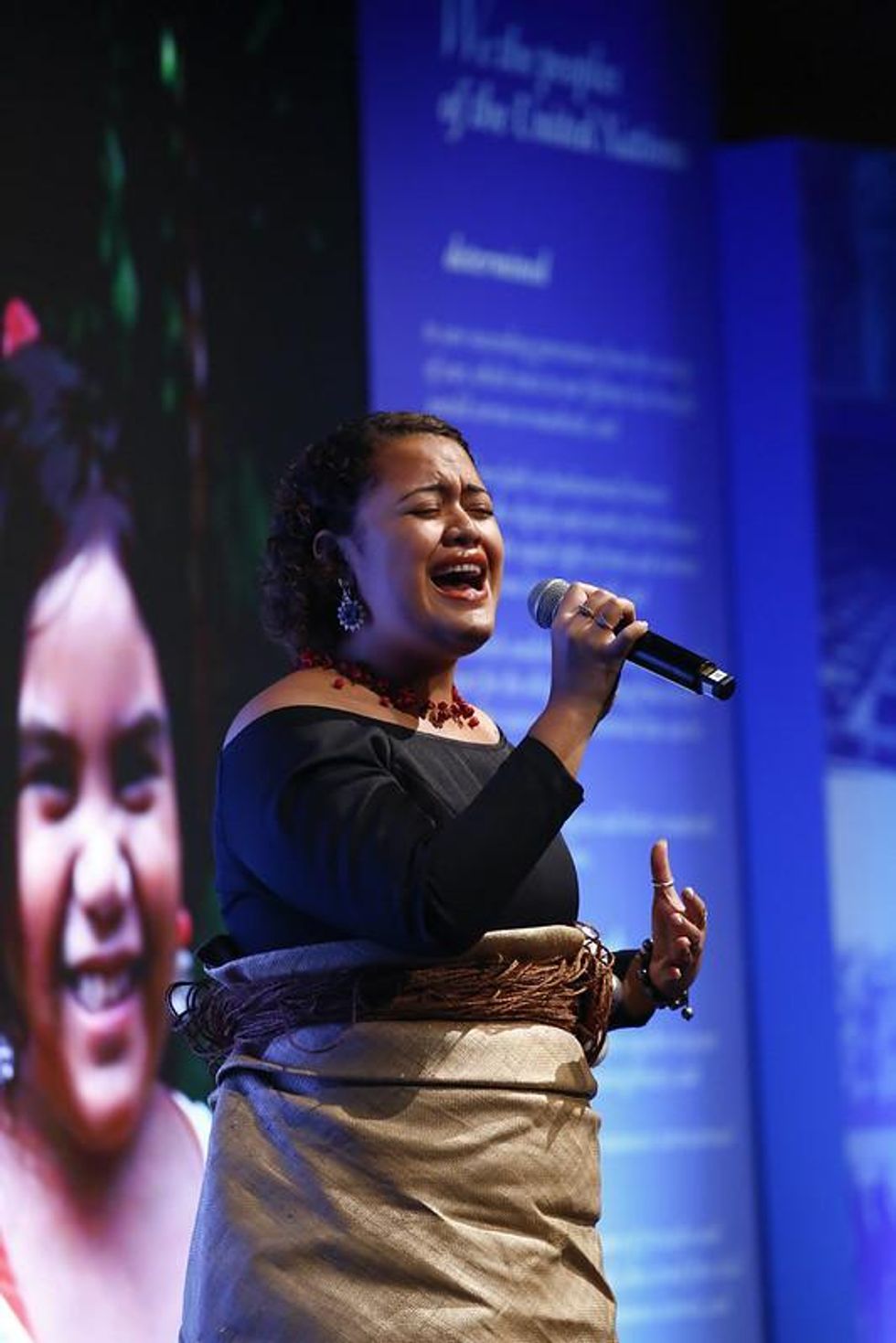 Singer-songwriter Mia Kami performs at We The Peoples 2022Photo: Stuart Ramson for United Nations Foundation
Kami's ability to bridge art and action to protect the world's oceans draws attention to issues that might otherwise go unnoticed, marking her as an extraordinary, creative change-maker.
The United Nations Population Fund (UNFPA), presented with the 2022 UN Heroes Award: Dr. Natalia Kanem, United Nations Under-Secretary-General and Executive Director of UNFPA, accepted the Award on behalf of the organization.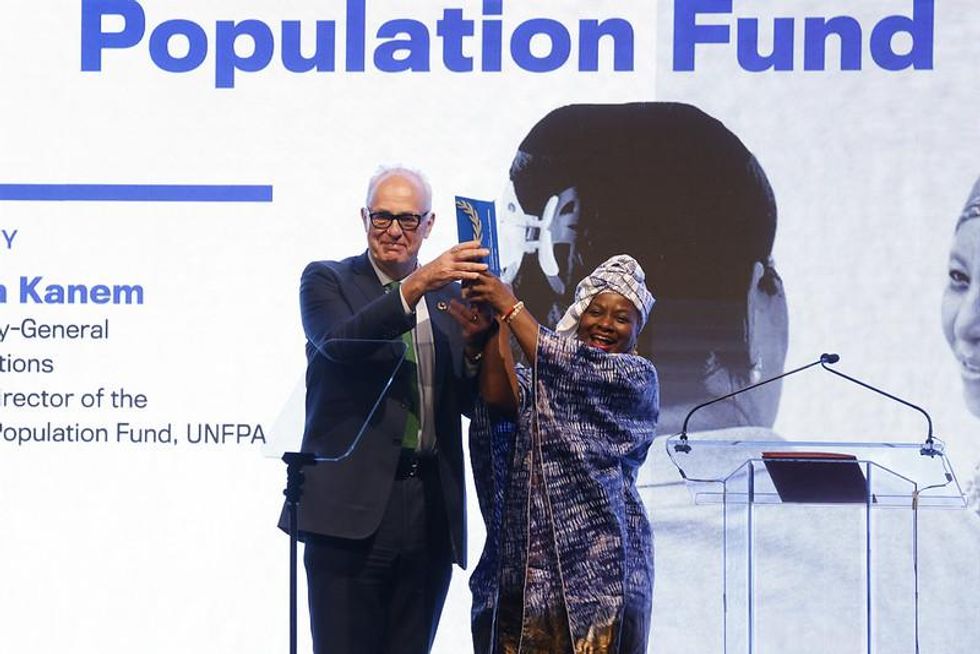 Dr. Natalia Kanem, United Nations Under-Secretary-General and Executive Director of UNFPA, accepts the 2022 UN Heroes Award, presented by Mark Malloch-Brown, President of Open Society Foundations and UN Foundation Board member at We the PeoplesPhoto: Jason DeCrow for United Nations Foundation
Founded in 1969 by concerned American citizens, this institution is the lead United Nations sexual and reproductive health and rights agency. They are there for mothers, pregnant women, and girls around the world, no matter what, and their work encompasses everything from educating women on family planning to working to end child marriage and gender-based violence—especially in times of war.
UNFPA delivers lifesaving care in places in crises so that girls and women can manage their periods, have healthy pregnancies, and deliver their babies safely. They recognize that when individuals are deprived of the right to make crucial choices about their own bodies and futures, it has a cascading impact on their families' welfare and future generations.
Unsurprisingly, courage is one of their four core values; they pride themselves on saying and doing what's right, not what's easy, all the time. That is a purposeful act of progress for certain.
Peace on Purpose/lululemon. This year, the inaugural Goal 17 Innovation in Partnership Award was presented to recognize creative, cross-sector partnerships that are driving progress forward. Most of us associate the brand name lululemon with leggings, but it turns out that they do much more than sell athletic wear. Peace on Purpose is a collaborative effort between lululemon and the UN Foundation to provide tools, such as mindfulness training, for humanitarian workers to care for their mental and physical well-being so they can effectively care for others. Support people need support people, after all!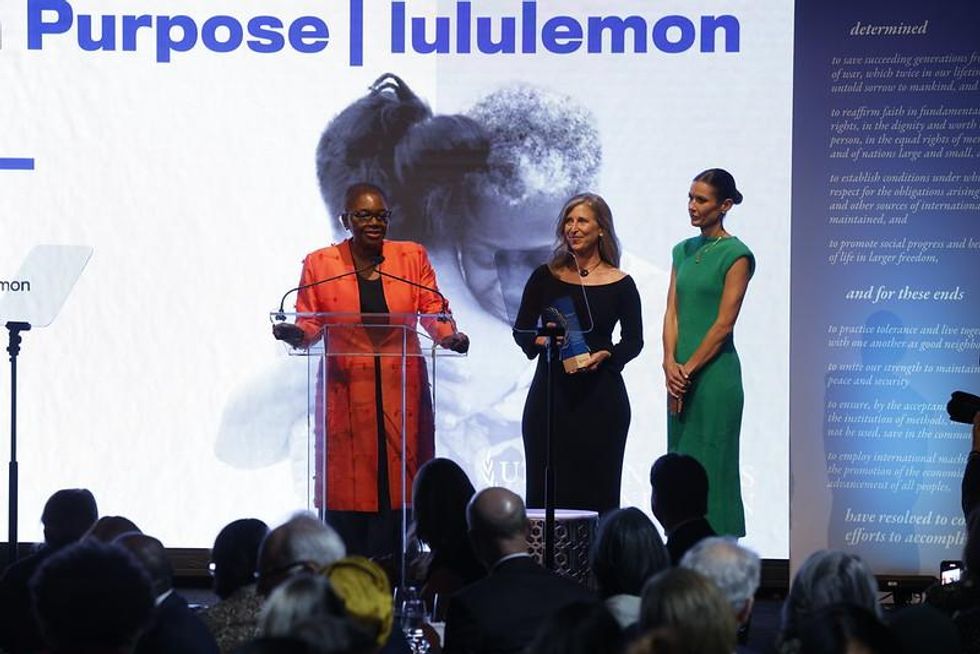 From left to right: Baroness Valerie Amos, Master, University College Oxford and Vice Chair, UN Foundation Board of Directors; Esther Speck, Senior Vice President of Sustainable Business & Impact at lululemon; Nikki Neuburger, Chief Brand Officer, lululemon.Photo: Jason DeCrow for United Nations Foundation
The award was accepted by two of lululemon's leaders: Esther Speck, Senior Vice President of Sustainable Business & Impact, and Nikki Neuburger, Chief Brand Officer. Speck is widely respected among her colleagues as one of the most result-oriented professionals in sustainability. She managed to bridge lululemon and the UN Foundation seamlessly by recognizing that lululemon focuses on offering their customers a path to wellbeing, which entails supporting humanitarian and sustainable causes.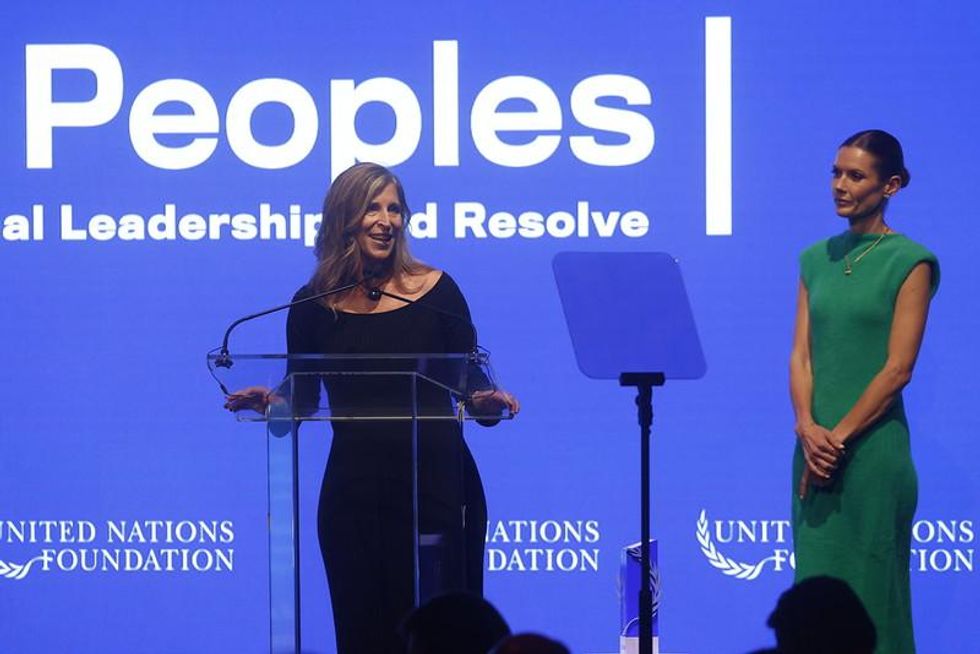 Esther Speck, Senior Vice President Sustainable Business & Impact at lululemon and Nikki Neuburger, Chief Brand Officer, lululemon.Photo: Jason DeCrow for United Nations Foundation
Neuburger is responsible for lululemon's ability to share compelling stories from their team of 2,000 global ambassadors. "We really lean into highlighting those ambassadors," said Neuburger in an interview with Ad Age, "lifting them up not only in terms of what they are doing with us, but also what they've got going on in their own communities."
The results are undeniable: over 8,000 UN workers from 137 countries have been reached through in-person and digital mental health and well-being programs! Research shows that the Peace on Purpose initiative has so far led to a 40% reduction of important psychological risk factors such as anxiety and depression, and an increase in overall well-being and resilience.

It's a dynamic table of visionaries, that's for sure—and the world is better because of them. As Elizabeth Cousens, President and CEO of the UN Foundation stated at the ceremony, "A few years ago, Ted [Turner] said: 'The world is facing some tough obstacles, but I've never found much use in giving up. It's much more effective to get to work.' Well, at the UN Foundation, we believe in getting to work. We believe that allies and partners make us stronger. We believe that progress is worth fighting for, and we know you do too."
If pushing progress forward is a choice, then these change-makers make the right one, every single day. Learn more about these change-makers and the work they are doing
here
.
Identity
Ken Ballard wants you to know his son's story.
Photo pulled from video
This article originally appeared on 07.06.17

A baseball cap on his head, his hands tucked snugly in his front blue jean pockets, Ken Ballard stood in front of a room of onlookers, admittedly a little out of his element.
But the issue at hand was so critical, Ballard said, he couldn't keep quiet.
Ballard was speaking during Texas' 85th Legislative Session this past winter about his 14-year-old transgender son, Ashur, who attempted suicide twice.
Ashur, like many trans people, had wrestled with his identity in a world where ignorance and irrational fear-mongering continue harming people like him.
"Was I going to be his bully?" an emotional Ballard said in response to his son's coming out. "Was I going to try and put him back into a box that fit the rules of my world at the time or wait it out and see if it would just pass and go back to the way it'd use to be?"
Advocacy group Equality Texas, who's worked with Ballard in fighting for LGBTQ rights in the state, recently shared a video of him speaking during the session. Although it was captured on video several months ago, Ballard's emotional plea in front of his fellow Texans is just now making waves online.
Since Equality Texas shared the video on Facebook, the comment section has filled with loving messages of support and admiration.
The comments, although mostly positive, are a bit bittersweet to Ballard.
"I ... see comments that too many parents missed out on what could have been an amazing journey for them and their child by not accepting them," Ballard explains. "Be as excited about your kid's life as you were at the sonogram, when 'we are having a baby' was enough."
The ongoing debate over trans rights isn't isolated in Ballard's home state. Legislatures at both the state and local level across the country are pushing forward with harmful bills this very moment.
A recently proposed Texas "bathroom bill" — which would have forced trans Texans to use the restroom that corresponds with the sex they were assigned at birth (not the gender they identify) — was just rejected by House Speaker Joe Straus, which was great news for human rights groups like Equality Texas.
But there's still much at stake in the Lone Star State and in jurisdictions from coast to coast.
A handful of states, including Montana, Virginia, and Minnesota — as well as local school boards spanning the U.S. — deliberating similar bathroom bills. Research shows these laws leave trans people even more vulnerable to dangerous circumstances in their own communities — yet, their passing doesn't protect anyone.
Chances are, equality — and trans lives — might be at stake in your own region of the country.
As for Ballard and Ashur, they're living proof that acceptance and inclusion save lives.
And, as Ballard's moving speech illustrates so well, it's important our laws reflect that critical reality.
"I've watched a kid go from someone who, 26 months ago, was in despair," Ballard says of his son's mental health. "Now, [he's] flourishing."
True
Innovation is awesome, right? I mean, it gave us the internet!
However, there is always a price to pay for modernization, and in this case, it's in the form of digital eye strain, a group of vision problems that can pop up after as little as two hours of looking at a screen. Some of the symptoms are tired and/or dry eyes, headaches, blurred vision, and neck and shoulder pain1. Ouch!
Eye strain from staring at devices is a widespread issue. Most people work, play, and maintain relationships through screens, which averages out to 6 hours and 35 minutes per day (and that's in addition to work or school)! That translates to 46 hours and 5 minutes per week, or 2,402 hours and 55 minutes per year.2
With numbers like these, attention to eye health is more important now than ever; our dependence on technology certainly isn't going anywhere. And just like innovation brought us technology, innovation also holds the key to combating the effects it has on our bodies. Here are some key suggestions from eye care professionals to help reduce common symptoms of digital eye strain. Spoiler alert: none of them involve wearing glasses!
Follow the 20-20-20 rule.
You can find some relief by taking a 20-20-20 break: every 20 minutes, look at something 20 feet away for 20 seconds. It's easy to remember because we all want 20/20 vision, and it's a good excuse to look out the window.
Adjust your workspace screen to be slightly below eye level and about an arm's length away.
This simple tweak to your work area can really improve your posture, as well as the amount of strain on your eyes. A win-win!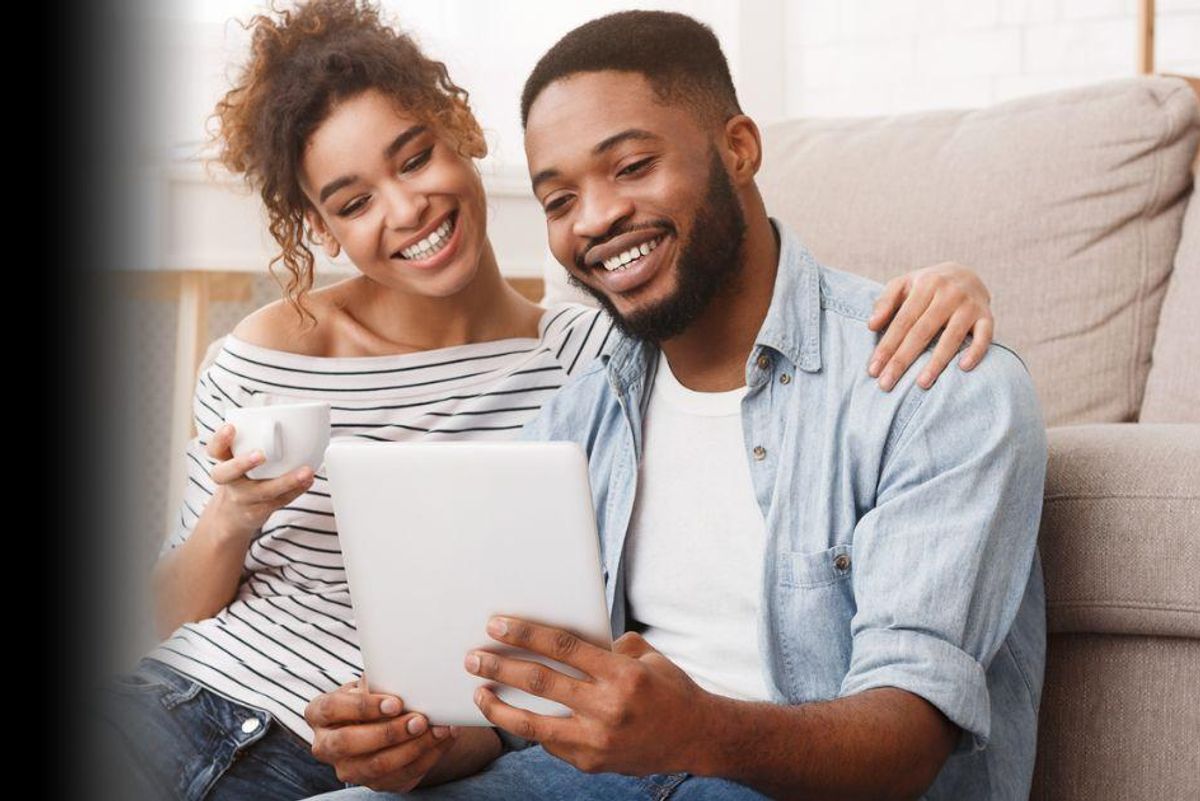 Adjust the brightness of your device.
Brightness levels also play into how hard our eyes have to work. Our screen brightness should match our surroundings, especially during the evening hours.
Say hello to Biofinity Energys® contact lenses!
These contact lenses are specifically made to address eye dryness and tiredness caused by digital devices. Digital Zone Optics® lens design and Aquaform® Technology are two innovations that when combined help with the tiredness and dryness that can be caused by digital eye fatigue.
Additionally, Biofinity Energys® monthly replacement contact lenses are designed to help our eyes better adapt for a more comfortable wearing experience3. This part is tricky because contacts can be hard to adjust to, and trust me—no one wants what feels like gritty sandpaper in there. Comfort is key!
If you're sick of wearing glasses all the time and feel ready to do something new, visit biofinityenergys.com to learn more and to get your free trial certificate.

Asurion-sponsored survey by Market Research Firm Solidea Solutions conducted August 18-20, 2019 of 1,998 U.S. smartphone users, compared to an Asurion-sponsored survey conducted by market research company OnePoll between Sept. 11 – 19, 2017 of 2000 U.S. adults with a smartphone.
Health
This question is still relevant as ever.
Photo from Pixabay
This article originally appeared on 10.12.17

"Why didn't she say anything sooner?"
It's the question that frustrates sexual assault prevention advocates and discredits the victims who bravely come forward after they've been targeted.

Stars Angelina Jolie and Gwyneth Paltrow — who both disclosed to The New York Times they'd been sexually harassed by movie mogul Harvey Weinstein years ago — are among the latest women now having to trudge through a predictable wave of victim-blaming following their disclosures.
Paltrow and Jolie's descriptions of abuse follow an explosive report in the Times on Oct. 5, 2017, that chronicled decades of alleged sexual harassment at the hands of Weinstein — a man with seemingly boundless sway and power in the filmmaking world.
Sadly, Paltrow and Jolie were met with various forms of the question. "Why didn't the women of Hollywood stop him?" sprouted up immediately in corners of the internet.
\u201cGwyneth Paltrow and Angelina Jolie just publicly accused Harvey Weinstein of sexual harassment \nhttps://t.co/fviyF1kruY\u201d

— BuzzFeed (@BuzzFeed) 1507659784
One viral comment on the Times article, however, nailed why questioning a victim's actions after surviving sexual harassment or assault does so much harm.
"It is disheartening to see so many comments already blaming women for not 'speaking up,'" the reader, identified as "K" from Brooklyn, began.
"Please count yourself lucky that you've never had your career on the line based on whether or not you sleep with your boss," they continued. "It has nothing to do with fame and riches; this happens to women making minimum wage in retail as well as women who fought through it to become CEOs."
"An NYT reader's reaction to Gwyneth Paltrow, Angelina Jolie and others saying Harvey Weinstein harassed them https://t.co/apUsZUGbKI"
\u201cAn NYT reader's reaction to Gwyneth Paltrow, Angelina Jolie and\nothers saying Harvey Weinstein harassed them https://t.co/apUsZUGbKI\u201d

— The New York Times (@The New York Times) 1507663802
"K" continued, giving context as to why it's often very difficult and complicated for survivors to speak up after being abused (emphasis added):
"The psychology behind this kind of thing is not that complex, so please spare a moment to consider: Not only are these women made to feel humiliated and embarrassed, but in some cases if they had come forward, they not only would never work again, they also would be seen as whiners and 'too sensitive.' Both Jolie and Paltrow fended him off. Imagine if they made a big stink about it. They would have been ripped apart in the media! 'Oh for goodness' sake, a dirty old man came on to you. You rejected him and moved on, why the fuss?' But, of course, now we must insist on blaming them for 'perpetuating' Weinstein's behavior. Please."
As "K" described, victims often stay silent because they're vulnerable to the power abusers have over the situation; victims could lose their job or see their credibility attacked, for instance. These kinds of power dynamics — whether it be in Hollywood or not — play a big role in why victims stay silent.
\u201cGwyneth Paltrow and Angelina Jolie speak out about their own "bad experiences" with Harvey Weinstein https://t.co/SAPyBtYi5Y\u201d

— British Vogue (@British Vogue) 1507743900
For victims of sexual harassment, the threat to their livelihood does not end after a single encounter with an abuser. If a young, less accomplished Paltrow had spoken out against a figure like Weinstein, would he have irreversibly tarnished her reputation? Would he have planted unforgiving stories about her in the media? Would she have ever worked again? These are the sorts of threats victims weigh before speaking out. A predator's hold on a victim's career or reputation creates a culture of silence.
The commenter also used Brad Pitt's involvement in the story to note a sexist double standard in how we see victims of sexual assault.
If we're blaming Paltrow and Jolie for not speaking up sooner, why aren't we blaming Brad Pitt as well?
Pitt, who'd been romantically involved with both Paltrow and Jolie at different points in his career, reportedly knew about Weinstein's predatory behavior, according to The Daily Beast, yet he worked with Weinstein on two films following the disturbing encounters. The fact that he's largely been left out of the discussion says a lot about how we view victims of sexual assault, particularly when they're women.

"K" went on to say that the attitudes of blaming women for their own persecution are astounding: "Note that the comments have not centered around Brad Pitt's not saying anything, though he knew about it with not one but TWO romantic partners...It is not the women's job to monitor men's behavior."
\u201cAngelina Jolie said that after what Harvey Weinstein did to her during her youth, she never wanted to work with him again. Her former husband and father of her kids, Brad Pitt, KNEW about the situation and fought w her. He continued to work with his partner\u2019s abuser +\u201d

— \ud83d\udd2a (@\ud83d\udd2a) 1630756734
The assertions made by "K," whose comment drew over 3,000 likes and a long thread of supportive replies, aren't just steeped in opinion; advocates argue sexual harassment is rarely just about sex — asserting power plays an instrumental role.
"Most frequently, survivors of sexual harassment, exploitation and violence delay making an official report of what has happened out of fear of how others will respond," Kristen Houser, chief public affairs officer at the National Sexual Violence Resource Center, explained to HuffPost in March 2017. "From retaliation by the perpetrator to gossip, dismissive responses and outright victim blaming by colleagues, friends and family."
We need to stop asking "Why didn't she say anything?" and instead wonder "Why aren't we doing more to support survivors?"
Get stories worth sharing delivered to your inbox