Health
Trying to eat healthier? Try these 4 totally doable tricks.
Around 1 a.m. on April 24, semi-truck drivers in the Oak Park area of Michigan received a distress call from area police: An unidentified man was standing on the edge of a local bridge, apparently ready to jump onto the freeway below.

Those drivers then did something amazing. They raced to the scene to help — and lined up their trucks under the bridge, providing a relatively safe landing space should the man jump.
Fortunately, he didn't.
The impressive line-up wasn't a coincidence — the drivers were prepared for exactly this sort of situation.Sgt. Jason Brockdorff of the Huntington Woods Police Department told The Detroit News that the response was something local police and truck drivers had actually trained for. But what was unusual was the sheer number of drivers who responded to the call.
"That's a practice we use if we have a jumper," Brockdorff said. "We try to do it every time, to lessen the distance someone would travel if they were to jump. Fortunately, that didn't happen."
The incident lasted nearly four hours, into the early morning. However, once the trucks were in place, the police were able to more comfortably negotiate with the unidentified man.
Eventually, the man walked off the bridge on his own and is currently receiving medical help.
In a pair of tweets, the local police department called attention to the incident to remind people in similar situations of the importance of seeking mental health services (emphasis mine):
This photo does show the work troopers and local officers do to serve the public. But also in that photo is a man struggling with the decision to take his own life. Please remember help is available through the National Suicide Prevention Lifeline at 1-800-273-8255.
You can also call a loved one, member of the clergy or 911. There are so many people that can help you make the choice to get help and live! It is our hope to never see another photo like this again.


Working together, the police and everyday strangers saved a life.
Ordinary people heeded the call of service to help a fellow person who was struggling. It's a powerful image that's impossible to ignore, and a reminder of humanity at its best.
This article originally appeared on 04.24.18
All images provided by Prudential Emerging Visionaries
True
A changemaker is anyone who takes creative action to solve an ongoing problem—be it in one's own community or throughout the world.
And when it comes to creating positive change, enthusiasm and a fresh perspective can hold just as much power as years of experience. That's why, every year, Prudential Emerging Visionaries celebrates young people for their innovative solutions to financial and societal challenges in their communities.
This national program awards 25 young leaders (ages 14-18) up to $15,000 to devote to their passion projects. Additionally, winners receive a trip to Prudential's headquarters in Newark, New Jersey, where they receive coaching, skills development, and networking opportunities with mentors to help take their innovative solutions to the next level.
For 18-year-old Sydnie Collins, one of the 2023 winners, this meant being able to take her podcast, "Perfect Timing," to the next level.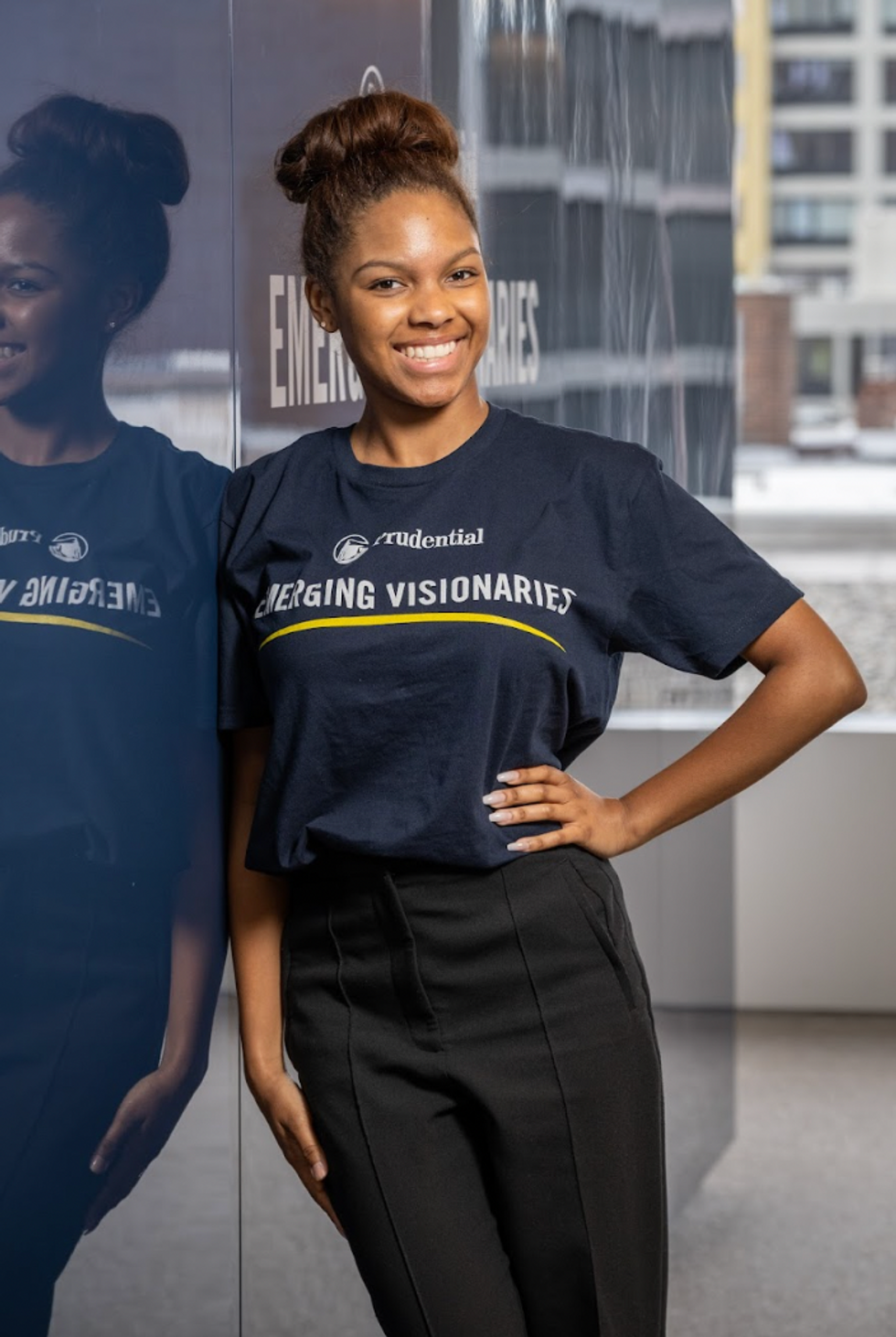 Since 2020, the Maryland-based teen has provided a safe platform that promotes youth positivity by giving young people the space to celebrate their achievements and combat mental health stigmas. The idea came during the height of Covid-19, when Collins recalled social media "becoming a dark space flooded with news," which greatly affected her own anxiety and depression.
Knowing that she couldn't be the only one feeling this way, "Perfect Timing" seemed like a valuable way to give back to her community. Over the course of 109 episodes, Collins has interviewed a wide range of guests—from other young influencers to celebrities, from innovators to nonprofit leaders—all to remind Gen Z that "their dreams are tangible."
That mission statement has since evolved beyond creating inspiring content and has expanded to hosting events and speaking publicly at summits and workshops. One of Collins' favorite moments so far has been raising $7,000 to take 200 underserved girls to see "The Little Mermaid" on its opening weekend, to "let them know they are enough" and that there's an "older sister" in their corner.
Of course, as with most new projects, funding for "Perfect Timing" has come entirely out of Collins' pocket. Thankfully, the funding she earned from being selected as a Prudential Emerging Visionary is going toward upgraded recording equipment, the support of expert producers, and skill-building classes to help her become a better host and public speaker. She'll even be able to lease an office space that allows for a live audience.
Plus, after meeting with the 24 other Prudential Emerging Visionaries and her Prudential employee coach, who is helping her develop specific action steps to connect with her target audience, Collins has more confidence in a "grander path" for her work.
"I learned that my network could extend to multiple spaces beyond my realm of podcasting and journalism when industry leaders are willing to share their expertise, time, and financial support," she told Upworthy. "It only takes one person to change, and two people to expand that change."
Prudential Emerging Visionaries is currently seeking applicants for 2024. Winners may receive up to $15,000 in awards and an all-expenses-paid trip to Prudential's headquarters with a parent or guardian, as well as ongoing coaching and skills development to grow their projects.
If you or someone you know between the ages of 14 -18 not only displays a bold vision for the future but is taking action to bring that vision to life, click
here
to learn more. Applications are due by Nov. 2, 2023.
Music
Angelina Jordan's AGT performance was instantly legendary.
Education
They were doing trigonometry 1500 years before the Greeks.
via UNSW
Dr. Daniel Mansfield and his team at the University of New South Wales in Australia have just made an incredible discovery. While studying a 3,700-year-old tablet from the ancient civilization of Babylon, they found evidence that the Babylonians were doing something astounding: trigonometry!

Most historians have credited the Greeks with creating the study of triangles' sides and angles, but this tablet presents indisputable evidence that the Babylonians were using the technique 1,500 years before the Greeks ever were.
Mansfield and his team are, understandably, incredibly proud. What they discovered is that the tablet is actually an ancient trigonometry table.
Mansfield said:
"The huge mystery, until now, was its purpose – why the ancient scribes carried out the complex task of generating and sorting the numbers on the tablet. Our research reveals that Plimpton 322 describes the shapes of right-angle triangles using a novel kind of trigonometry based on ratios, not angles and circles. It is a fascinating mathematical work that demonstrates undoubted genius."
\u201cAussie mathematician cracks code of famous 3,700-year-old Babylonian clay tablet https://t.co/f7h6oIfBDr\u201d

— China Xinhua News (@China Xinhua News) 1503639811
"The tablet not only contains the world's oldest trigonometric table; it is also the only completely accurate trigonometric table, because of the very different Babylonian approach to arithmetic and geometry. This means it has great relevance for our modern world. Babylonian mathematics may have been out of fashion for more than 3,000 years, but it has possible practical applications in surveying, computer graphics and education. This is a rare example of the ancient world teaching us something new."
The tablet predates Greek astronomer Hipparchus, who has long been regarded as the father of trigonometry. Mansfield's colleague, Norman Widberger, added:
"Plimpton 322 predates Hipparchus by more than 1,000 years. It opens up new possibilities not just for modern mathematics research, but also for mathematics education. With Plimpton 322 we see a simpler, more accurate trigonometry that has clear advantages over our own."
"A treasure trove of Babylonian tablets exists, but only a fraction of them have been studied yet. The mathematical world is only waking up to the fact that this ancient but very sophisticated mathematical culture has much to teach us."
People were understandably excited by the news.
\u201cA 3,700 year olf Babylonian tablet revealed as the world's first trigonometry table https://t.co/AQlpsndM92\u201d

— The Conversation (@The Conversation) 1503613440
Some mathematicians actually think studying the Babylonians back then could help us improve the way we do trigonometry today.
\u201cBabylonian tablet Plimpton 322 will make studying maths easier, mathematician says https://t.co/s13ReWdD0c | @abcnews\u201d

— ABC Australia (@ABC Australia) 1503644411
\u201c"With Plimpton 322 we see a simpler, more accurate trig. (with) clear advantages over our own."\n@n_wildberger: https://t.co/xoZBNxvxZ8\n#TOK\u201d

— Roo Stenning (@Roo Stenning) 1503658186

Of course, there were the haters...
\u201cFind someone who loves you as much as this guy dislikes a hypothesis about Babylonian math: https://t.co/AznQgoYxFP\u201d

— Miles Brundage (@Miles Brundage) 1503605001
But all in all, Twitter users were pretty impressed with the Babylonians' skills.
And they figured it out 3,700 years ahead of me...and counting.— Marty (@Marty) 1503631905
\u201c@prophiphop And we're over here trying to figure out how to do trig with our TI-83s... man I love it when the ancients show what real intelligence is.\u201d

— Kenny Hayse (@Kenny Hayse) 1503633184
Congratulations to Dr. Mansfield and his team on their incredible discovery... and for making trigonometry exciting!
This article originally appeared on 07.10.21
Get stories worth sharing delivered to your inbox
Joy
This is honestly better than most romantic love stories.
Identity
Christopher Hannah and Cole the Deaf Dog have inspired children and veterans for over 6 years.
Joy
We mustn't hurt a man's feelings.
With permission from Sarah Cooper.
Note: This an excerpt is from Sarah Cooper's book, How to Be Successful Without Hurting Men's Feelings.
In this fast-paced business world, female leaders need to make sure they're not perceived as pushy, aggressive, or competent.
One way to do that is to alter your leadership style to account for the fragile male ego.
Should men accept powerful women and not feel threatened by them? Yes. Is that asking too much?
IS IT?
Sorry, I didn't mean to get aggressive there. Anyhoo, here are twelve non-threatening leadership strategies for women.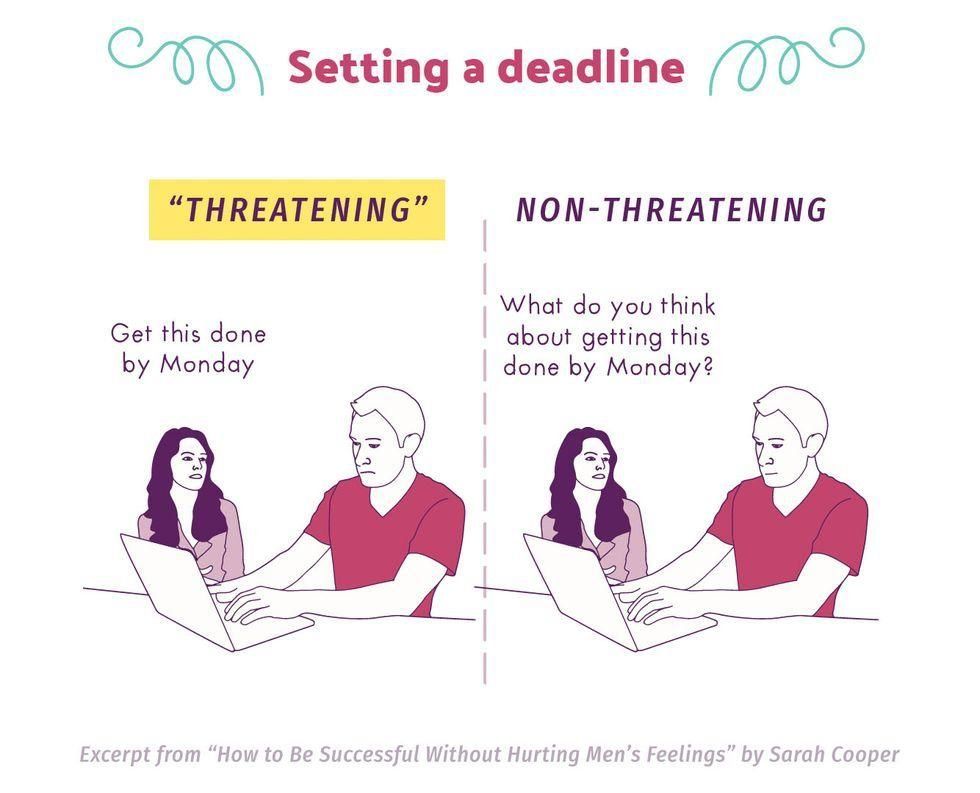 Encourage.
With permission from Sarah Cooper.
When setting a deadline, ask your coworker what he thinks of doing something, instead of just asking him to get it done. This makes him feel less like you're telling him what to do and more like you care about his opinions.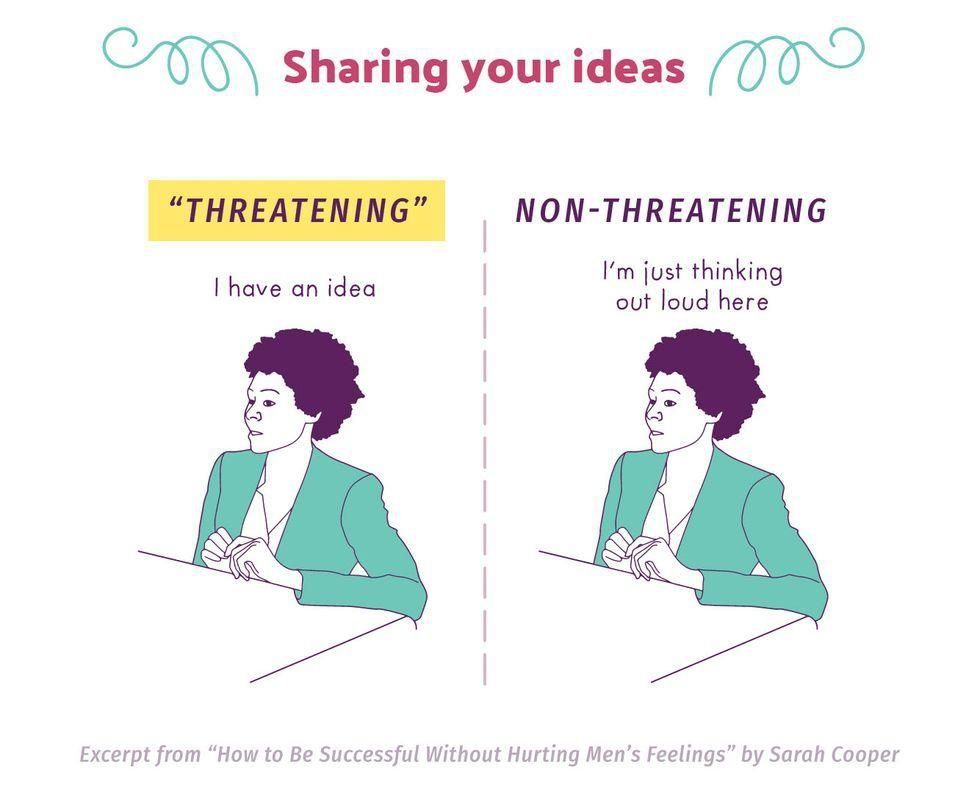 Sharing ideas.
With permission from Sarah Cooper.
When sharing your ideas, overconfidence is a killer. You don't want your male coworkers to think you're getting all uppity. Instead, downplay your ideas as just "thinking out loud," "throwing something out there," or sharing something "dumb," "random," or "crazy."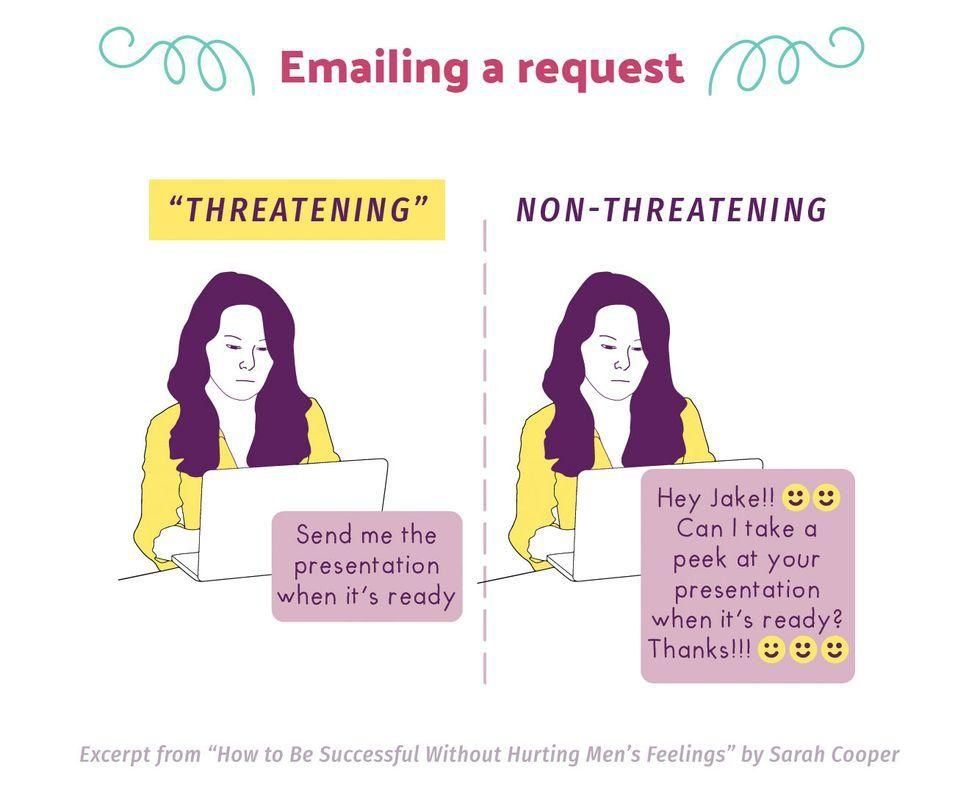 Email requests.
With permission from Sarah Cooper.
Pepper your emails with exclamation marks and emojis so you don't come across as too clear or direct. Your lack of efficient communication will make you seem more approachable.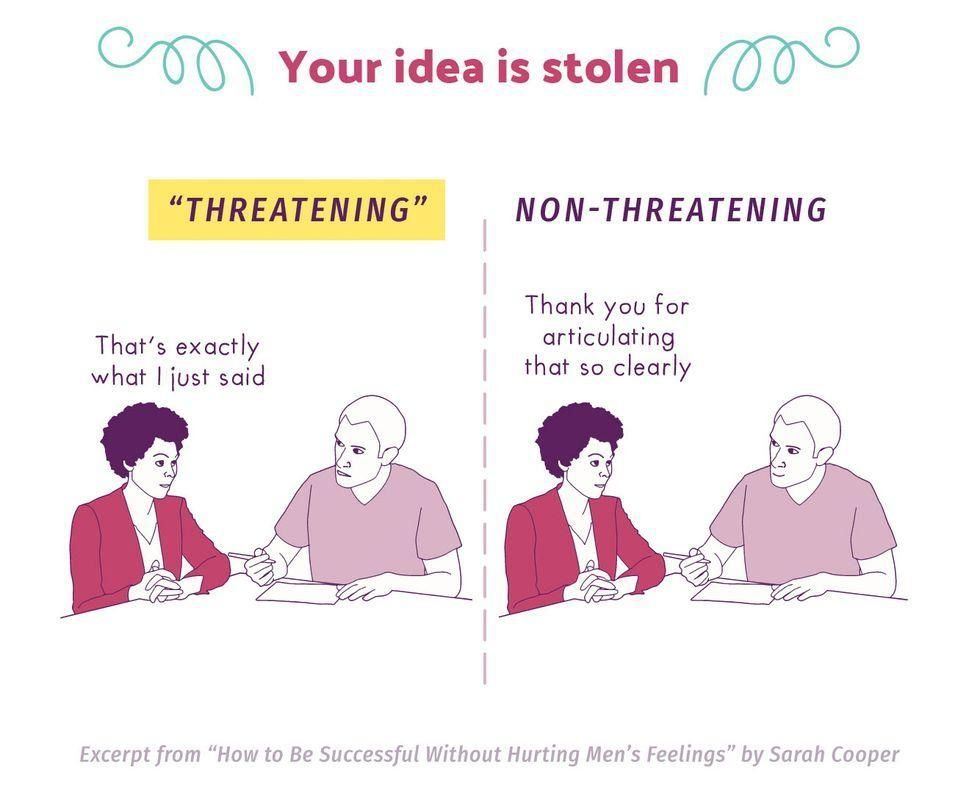 Idea sharing.
With permission from Sarah Cooper.
If a male coworker steals your idea in a meeting, thank him for it. Give him kudos for how he explained your idea so clearly. And let's face it, no one might've ever heard it if he hadn't repeated it.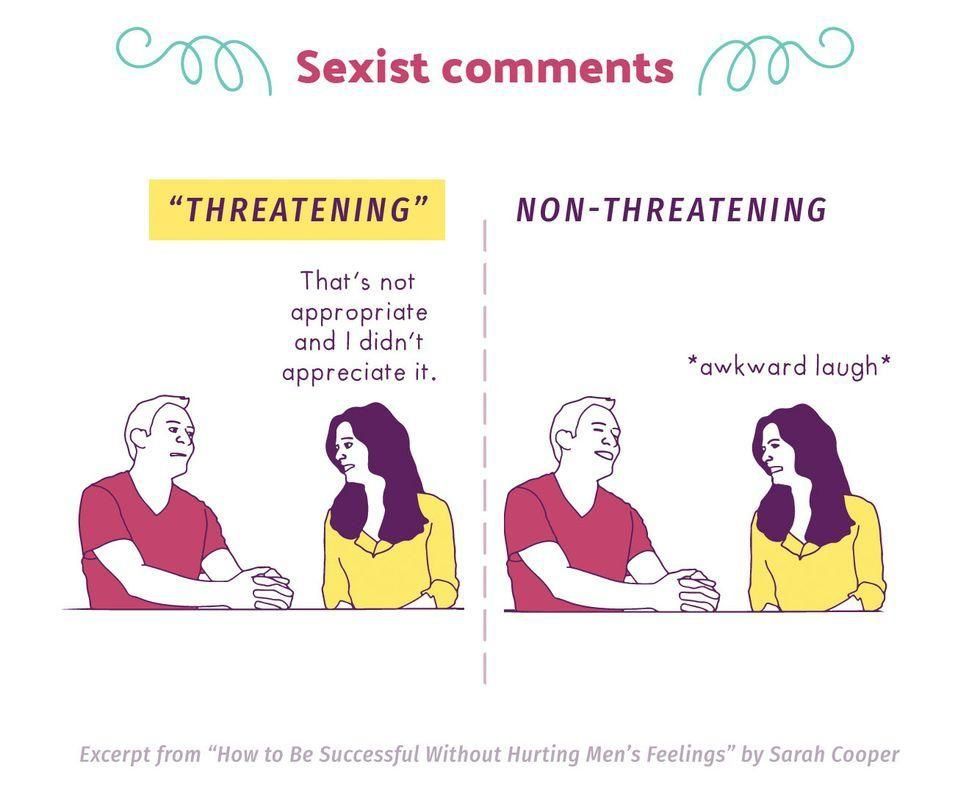 Sexism.
With permission from Sarah Cooper.
When you hear a sexist comment, the awkward laugh is key. Practice your awkward laugh at home, with your friends and family, and in the mirror. Make sure you sound truly delighted even as your soul is dying inside.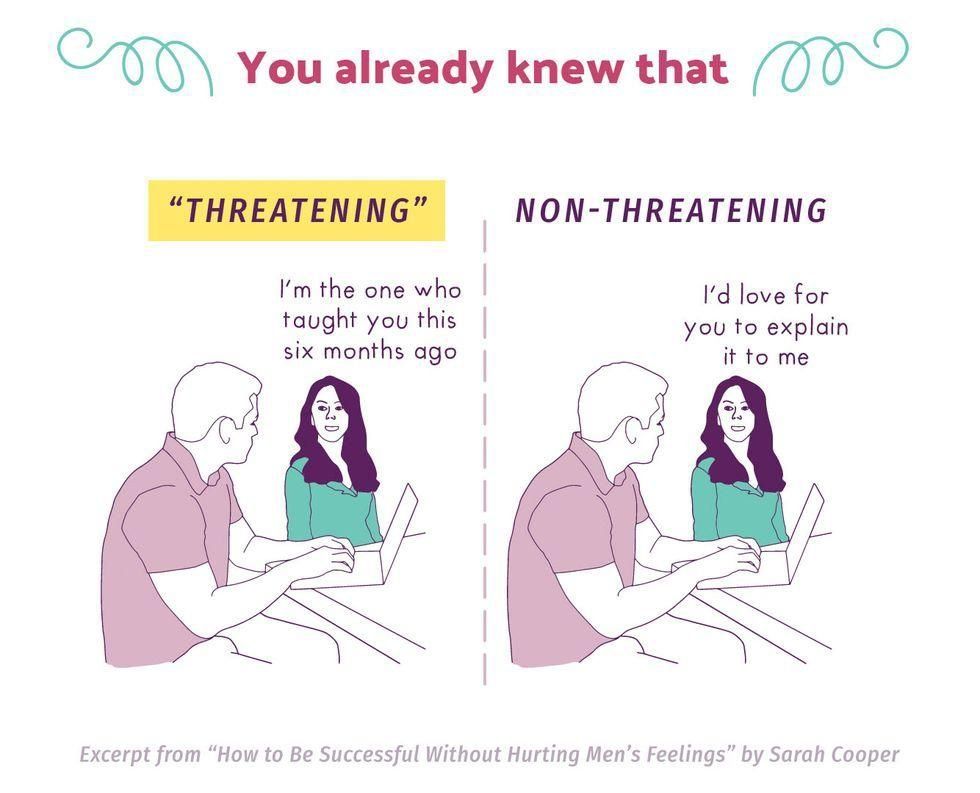 Mansplain.
With permission from Sarah Cooper.
Men love explaining things. But when he's explaining something and you already know that, it might be tempting to say, "I already know that." Instead, have him explain it to you over and over again. It will make him feel useful and will give you some time to think about how to avoid him in the future.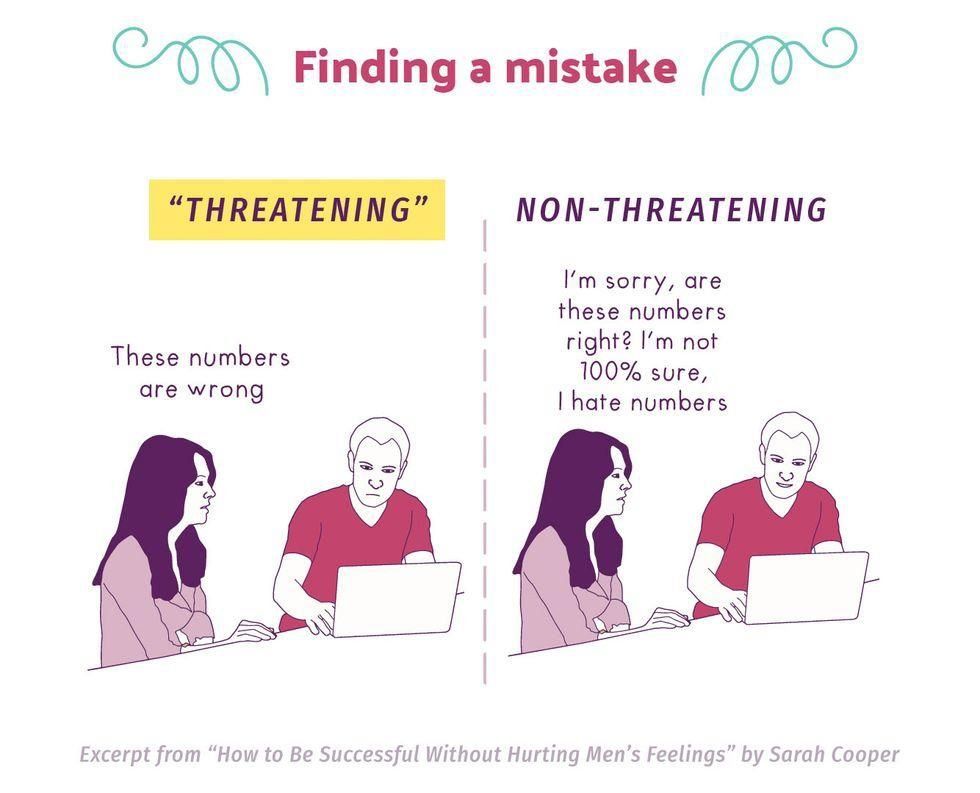 Mistakes.
With permission from Sarah Cooper.
Pointing out a mistake is always risky so it's important to always apologize for noticing the mistake and then make sure that no one thinks you're too sure about it. People will appreciate your "hey what do I know?!" sensibilities.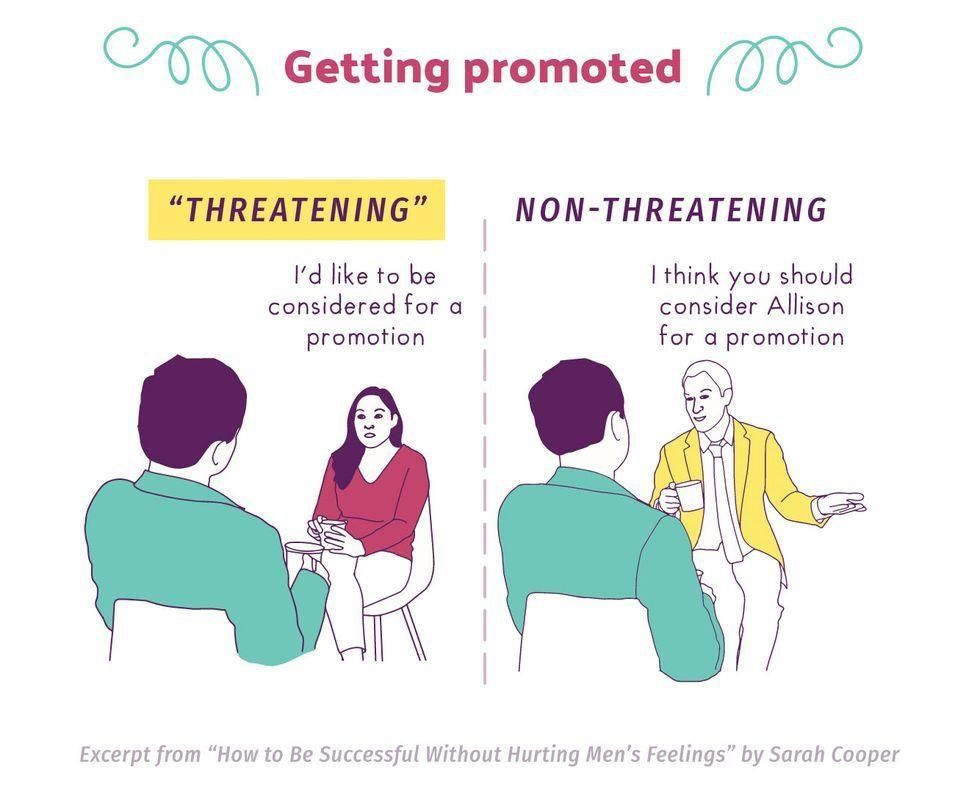 Promotions.
With permission from Sarah Cooper.
Asking your manager for a promotion could make you seem power- hungry, opportunistic, and transparent. Instead, ask a male coworker to vouch for you. Have your coworker tell your manager you'd be great for the role even though you don't really want it. This will make you more likely to actually get that promotion.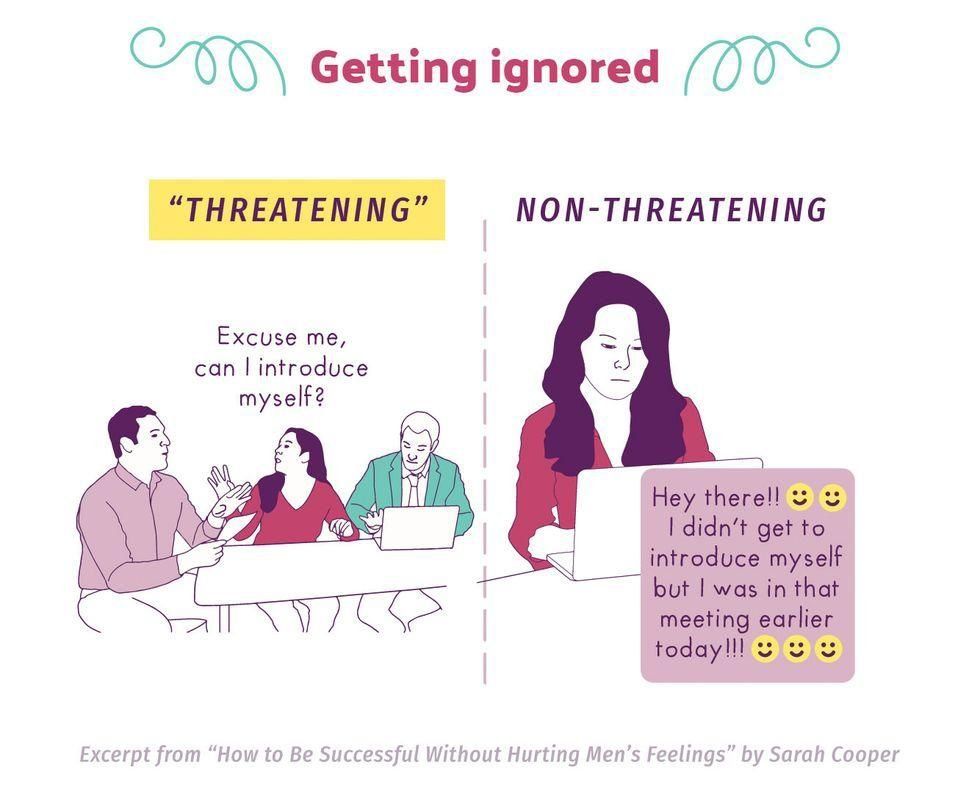 Rude.
With permission from Sarah Cooper.
Sometimes not everyone is properly introduced at the start of a meeting. Don't take it personally even if it happens to you all the time, and certainly don't stop the meeting from moving forward to introduce yourself. Sending a quick note afterward is the best way to introduce yourself without seeming too self-important.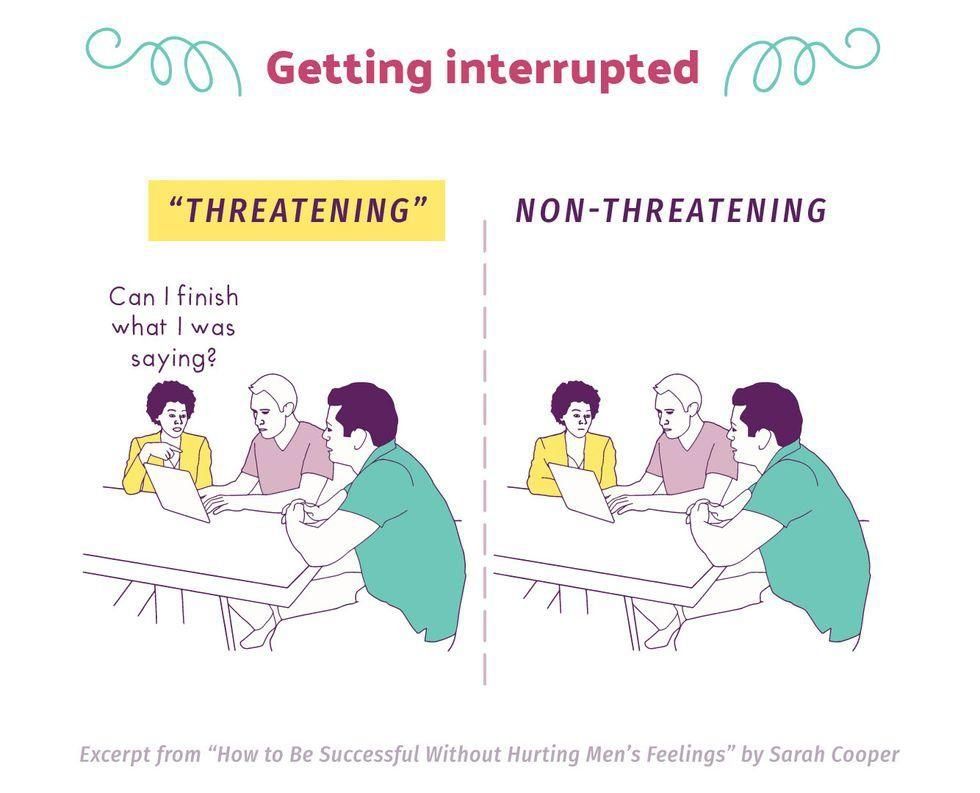 Interruptions.
With permission from Sarah Cooper.
When you get interrupted, you might be tempted to just continue talking or even ask if you can finish what you were saying. This is treacherous territory. Instead, simply stop talking. The path of least resistance is silence.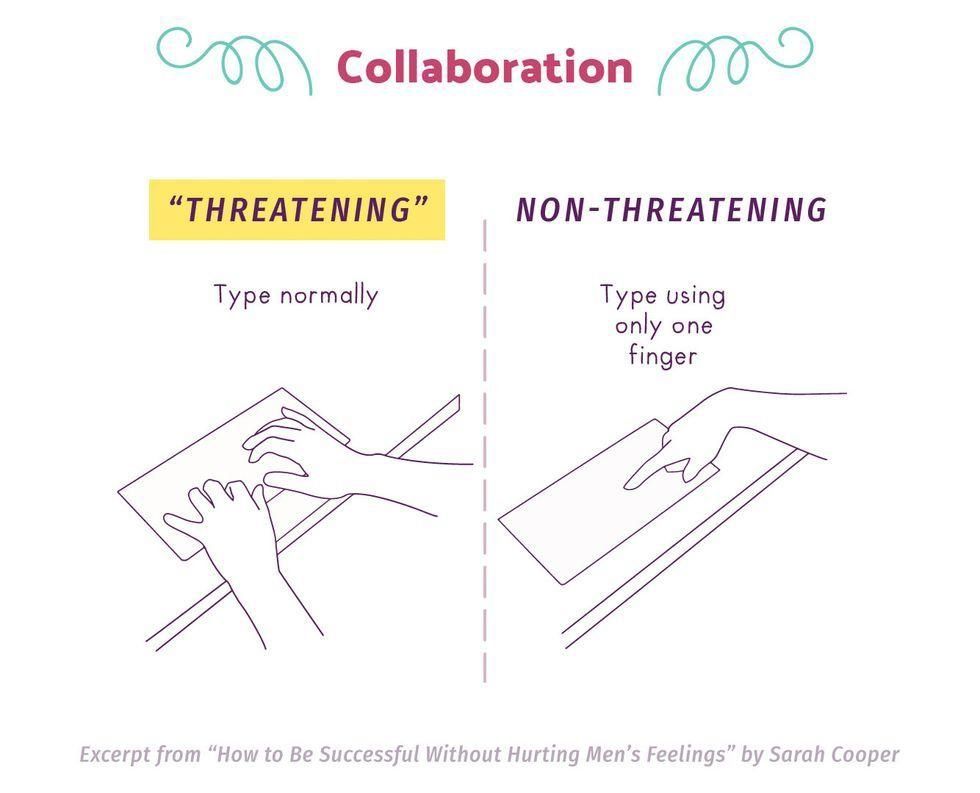 Collaboration.
With permission from Sarah Cooper.
When collaborating with a man, type using only one finger. Skill and speed are very off-putting.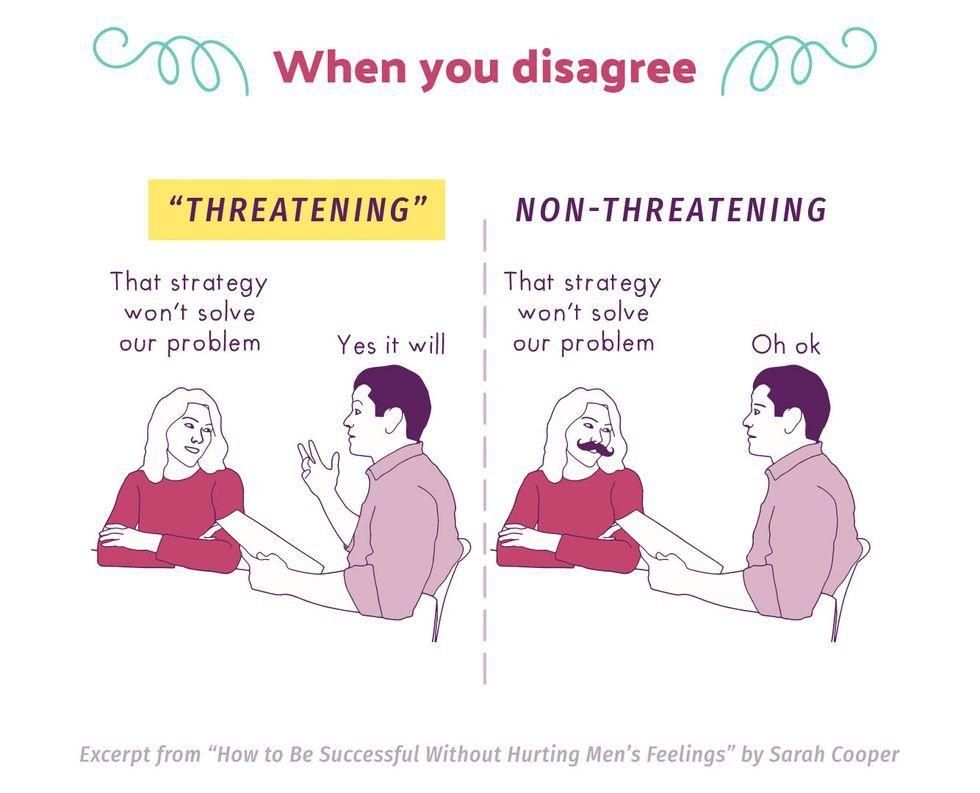 Disagreements.
With permission from Sarah Cooper.
When all else fails, wear a mustache so everyone sees you as more man-like. This will cancel out any need to change your leadership style. In fact, you may even get a quick promotion!

In conclusion...
With permission from Sarah Cooper.
Many women have discovered the secret power of non-threatening leadership. We call it a "secret power" because no one else actually knows about it. We keep our power hidden within ourselves so that it doesn't frighten and intimidate others. That's what makes us the true unsung heroes of the corporate world.
About the Author: Sarah Cooper
Sarah Cooper is a writer, comedian, and author of 100 Tricks to Appear Smart in Meetings. Her new book, How to Be Successful Without Hurting Men's Feelings, is out now.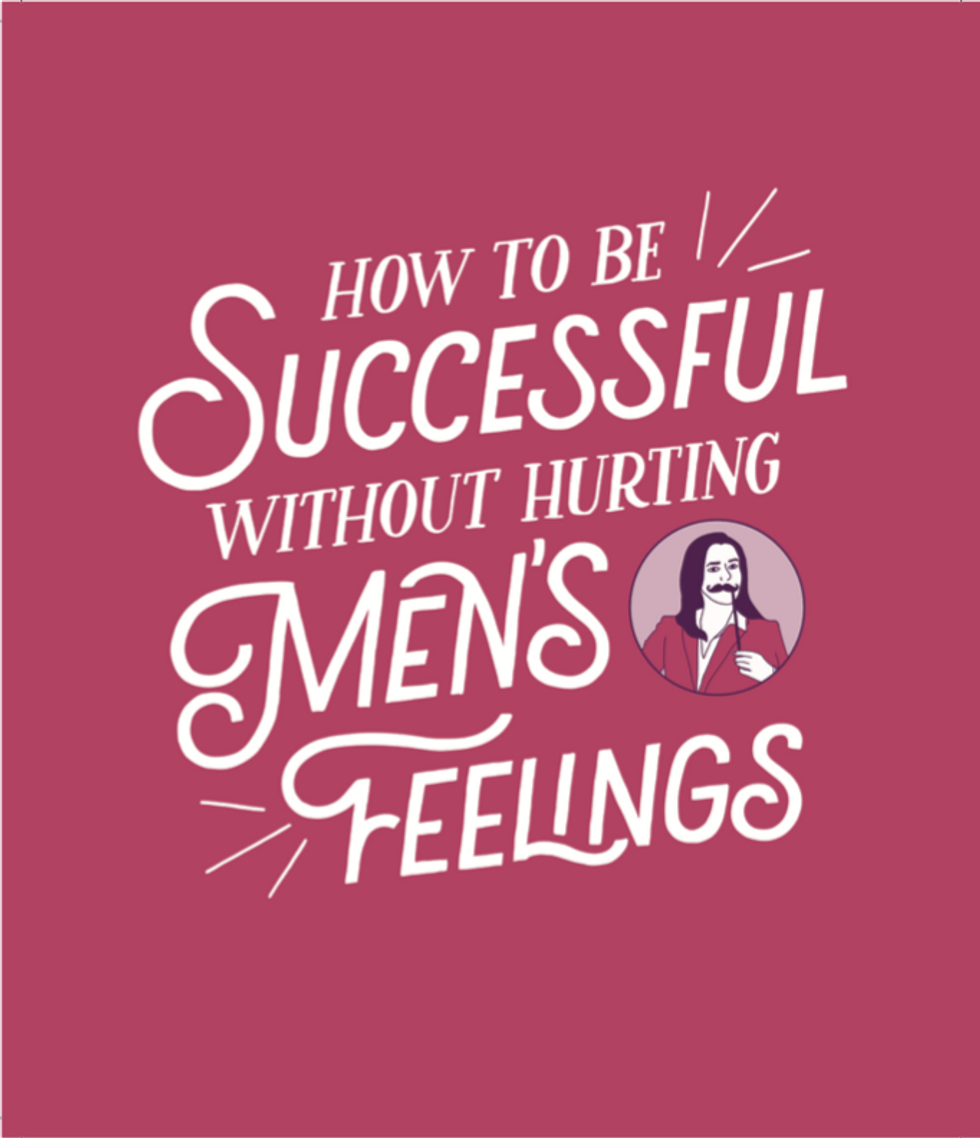 The comedic book cover.
With permission from Sarah Cooper.
A satirical take on what it's like to be a woman in the workplace, Cooper draws from her experience as a former executive in the world of tech (she's a former Googler and Yahooer). You can get the book here.
This article was originally published on March 25, 2019.
Get stories worth sharing delivered to your inbox