Identity
It's okay to have "curly hair."
When you start dating the love of your life, you want to share it with the people closest to you. Sadly, 18-year-old Leah Menzies couldn't do that. Her mother died when she was 7, so she would never have the chance to meet the young woman's boyfriend, Thomas McLeodd. But by a twist of fate, it turns out Thomas had already met Leah's mom when he was just 3 years old. Leah's mom was Thomas' kindergarten teacher.
The couple, who have been dating for seven months, made this realization during a visit to McCleodd's house. When Menzies went to meet his family for the first time, his mom (in true mom fashion) insisted on showing her a picture of him making a goofy face. When they brought out the picture, McLeodd recognized the face of his teacher as that of his girlfriend's mother.
Menzies posted about the realization moment on TikTok. "Me thinking my mum (who died when I was 7) will never meet my future boyfriend," she wrote on the video. The video shows her and McLeodd together, then flashes to the kindergarten class picture.
"He opens this album and then suddenly, he's like, 'Oh my God. Oh my God — over and over again," Menzies told TODAY. "I couldn't figure out why he was being so dramatic."
Obviously, Menzies is taking great comfort in knowing that even though her mother is no longer here, they can still maintain a connection. I know how important it was for me to have my mom accept my partner, and there would definitely be something missing if she wasn't here to share in my joy. It's also really incredible to know that Menzies' mother had a hand in making McLeodd the person he is today, even if it was only a small part.

@speccylee

Found out through this photo in his photo album. A moment straight out of a movie 🥲

♬ iris - 🫶
"It's incredible that that she knew him," Menzies said. "What gets me is that she was standing with my future boyfriend and she had no idea."
Since he was only 3, McLeodd has no actual memory of Menzies' mother. But his own mother remembers her as "kind and really gentle."
The TikTok has understandably gone viral and the comments are so sweet and positive.
"No the chills I got omggg."
"This is the cutest thing I have watched."

"It's as if she remembered some significance about him and sent him to you. Love fate 😍✨"
In the caption of the video, she said that discovering the connection between her boyfriend and her mom was "straight out of a movie." And if you're into romantic comedies, you're definitely nodding along right now.
Menzies and McLeodd made a follow-up TikTok to address everyone's positive response to their initial video and it's just as sweet. The young couple sits together and addresses some of the questions they noticed pop up. People were confused that they kept saying McLeodd was in kindergarten but only 3 years old when he was in Menzies' mother's class. The couple is Australian and Menzies explained that it's the equivalent of American preschool.
They also clarified that although they went to high school together and kind of knew of the other's existence, they didn't really get to know each other until they started dating seven months ago. So no, they truly had no idea that her mother was his teacher. Menzies revealed that she "didn't actually know that my mum taught at kindergarten."
"I just knew she was a teacher," she explained.
She made him act out his reaction to seeing the photo, saying he was "speechless," and when she looked at the photo she started crying. McLeodd recognized her mother because of the pictures Menzies keeps in her room. Cue the "awws," because this is so cute, I'm kvelling.
Joy
Irene and Tony Demas regularly traded food at their restaurant in exchange for crafts. It paid off big time.
The grilled cheese at Irene and Tony Demas' restaurant was truly something special. The combination of freshly baked artisan bread and 5-year-old cheddar was enough to make anyone's mouth water, but no one was nearly as devoted to the item as the restaurant's regular, John Kinnear.
Kinnear loved the London, Ontario restaurant's grilled cheese so much that he ordered it every single day, though he wouldn't always pay for it in cash. The Demases were well known for bartering their food in exchange for odds and ends from local craftspeople and merchants.
"Everyone supported everyone back then," Irene told the Guardian, saying that the couple would often trade free soup and a sandwich for fresh flowers. Two different kinds of nourishment, you might say.
And so, in the 1970s the Demases made a deal with Kinnear that he could pay them for his grilled cheese sandwiches with artwork. Being a painter himself and part of an art community, Kinnear would never run out of that currency.
Little did Kinnear—or anyone—know, eventually he would give the Demases a painting worth an entire lifetime's supply of grilled cheeses. And then some.
One day, Kinnear brought in some works from a friend by the name of Maud Lewis. Despite living in abject poverty and suffering from challenging health conditions, Lewis would create colorful, cheerful paintings using whatever materials she could get access to, be that leftover paint used for boats or discarded wooden boards.
According to Good News Network, Kinnear and Lewis had made their own trade: some painting supplies in exchange for a few of her pieces, which were brought to the restaurant.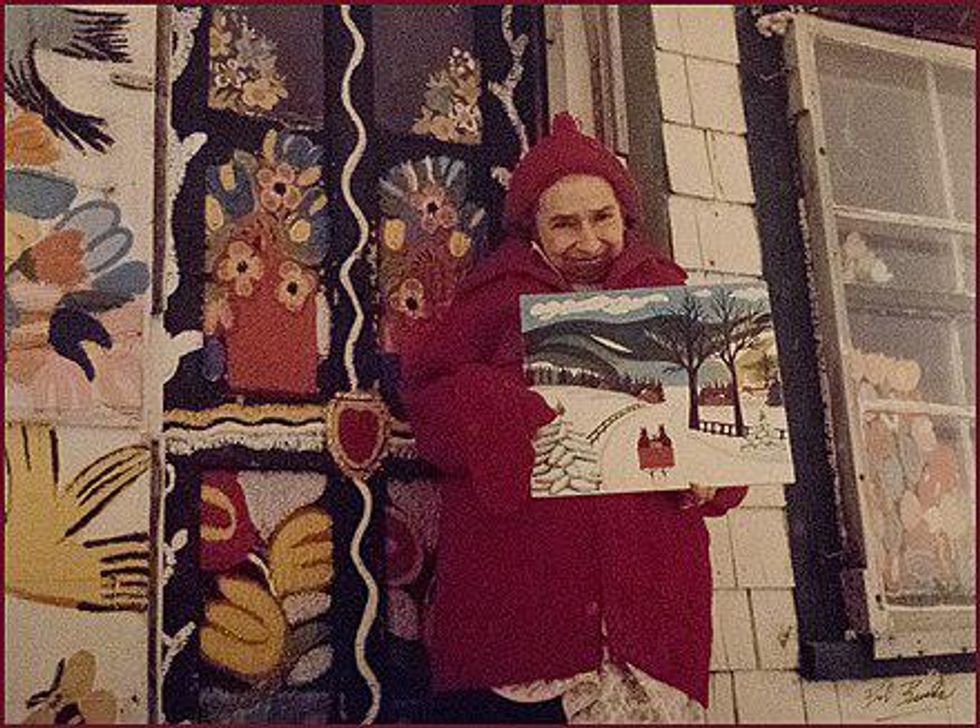 A picture of Maud Lewis holding one of her works.
One painting in particular struck the then-pregnant Irene in a profound way—a cheery image of an old black pickup truck cruising through a neighborhood, complete with a bright yellow house with a flower-lined yard.
Because of the pure innocence expressed in the piece, Irene thought a child might have created it. She told the Guardian, "I just sat there in silence for quite a while. I'd never ever seen any art like that before. At first I thought they might be playing some sort of trick on me."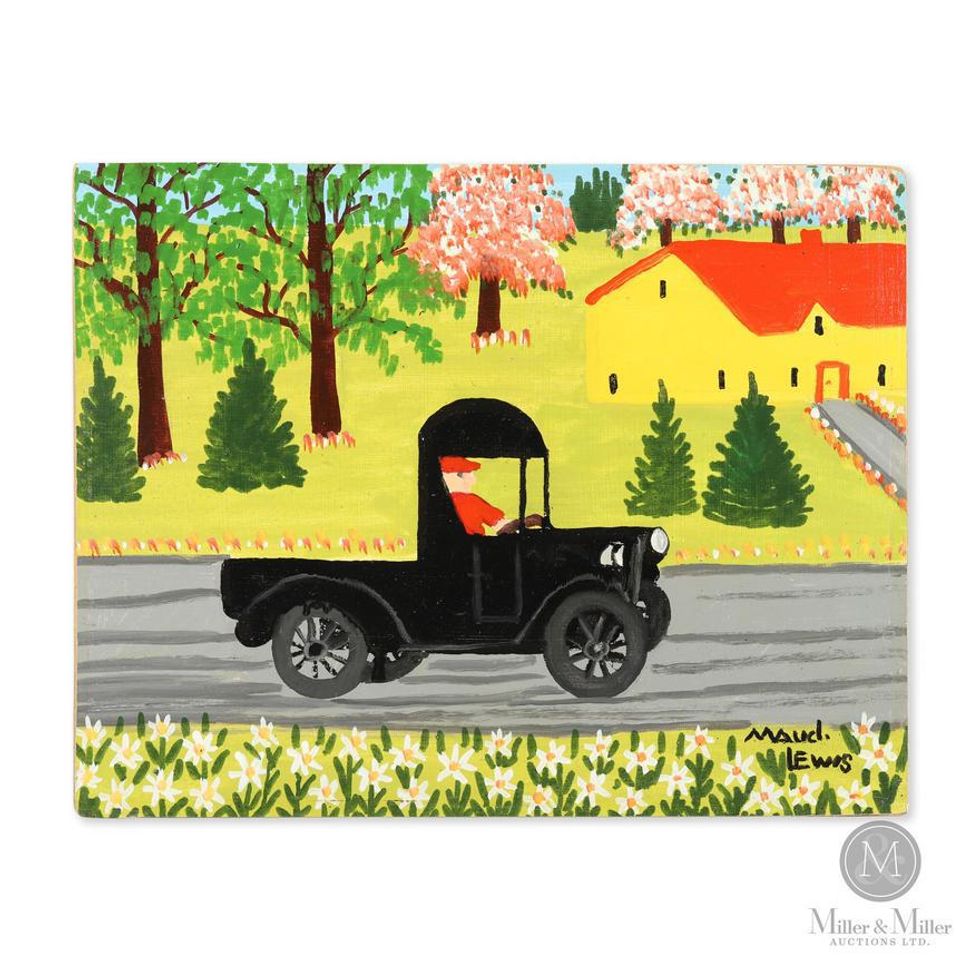 Lewis would often repeat happy themes throughout her work.
images4-cdn.auctionmobility.com
Nevertheless, Irene selected the work and hung it in her expected son's bedroom, where it remained for 50 years.
As an artist, Lewis never reached acclaim while she was alive, but over the years her art has made its way into the spotlight and there was even a romantic biopic made about her, starring Sally Hawkins and Ethan Hawke.
The movie caused Lewis' work to "double and triple in value" according to Ethan Miller, chief executive officer and auctioneer at Miller & Miller Auctions in New Hamburg, Ontario, who noted that the truck painting in particular was a rare piece.
Soon, the Demases realized that they owned the work of a now-famous painter and they put the work up for sale. It was subsequently auctioned off for $350,000. The letters written between Kinnear and Lewis—also sold at auction—were bought for $70,000. Not bad for free grilled cheese.
Painting swapped in 70s for grilled cheese sandwich serves up windfall https://t.co/LC0teC431o

— The Guardian (@guardian) May 8, 2022
Not only do the Demases have an exciting new chapter of possibilities in their lives, but an artist has received long overdue recognition. Talk about a win-win situation.
Get stories worth sharing delivered to your inbox
Get stories worth sharing delivered to your inbox