Joy
Master storyteller Elyse Myers has people rolling at her 'edible plates' wedding mishap
There's a reason this video has more than 10 million views.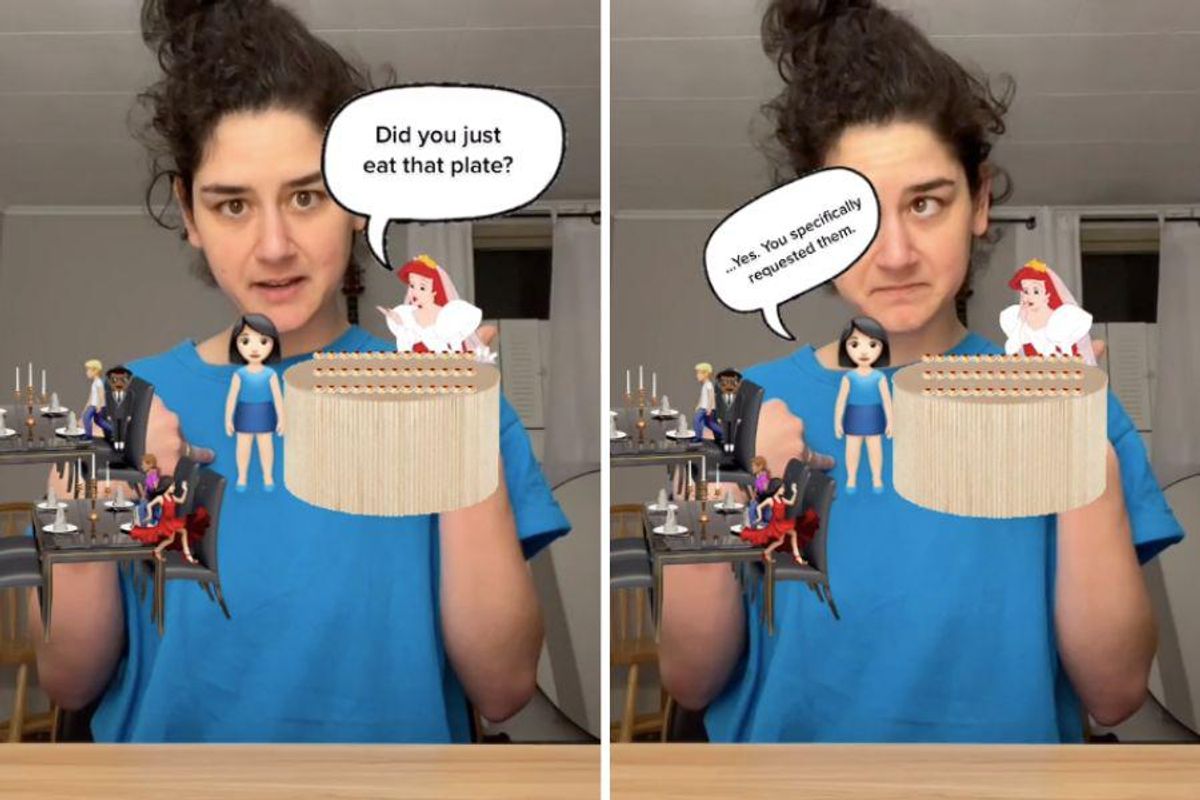 If you haven't discovered Elyse Myers' TikTok channel yet, you're in for a treat.
You know a person has some kind of "X factor" when they manage to gather over 5 million followers without being a celebrity first and without taking off their clothes. Elyse Myers definitely has that X factor.
Sometimes she offers snippets of wise life advice, like this:
Sometimes she shares what it's like to live with ADHD and social anxiety. Sometimes she dances or sings (she has a gorgeous, husky singing voice). Sometimes she's serious, sometimes she's silly, but where she really shines is in her storytelling.
Myers often shares interesting and/or funny stories from her life, many of which come from her time working as a cater waiter. It's hard to describe why, but the way she spins a tale is so engaging. It's not that she's particularly animated—in fact, her low-key verbal delivery is part of the appeal—but her combo of quick talking, illustrative hand gestures and perfectly timed pauses just works. And the cartoon overlays are just a little cherry on top.
---
All of her stories are great, but one recent saga she shared really takes the cake—or the quiche, as it were.
In response to the question, "What's one of the funniest things that's happened to you as a cater waiter?" Myers describes how she was working a wedding for a bride who requested that all of the service items—plates, bowls, cups, etc.—be edible. Odd request, Myers thought, but she went with it, informing the guests that they could eat their plate right along with their mini quiches. She even tried it herself.
As her caption says, "Turns out, it was as weird as I thought it was."
Just wait for the end:
@elysemyers

Turns out, it was as weird as I thought it was. 🍮 #coffeetalk #ecofriendly
People were dying over the ending.
"The secondhand embarrassment I feel right now hurts, I am so sorry 😭😭😭" wrote one person.
"My steering wheel is covered in coffee. I was not ready. 🤣🤣🤣🤣🤣," wrote another.
"I CAN'T BREATHE 🤣 I AM WHEEZING SO HARD THAT MY CATS HAVE SCATTERED."
"I AM HOWLINGGGGG."
"Thank you, Elyse. I'm home with covid and I just snort splattered my screen with snot laughing at this." (Ew.)
Someone asked how many people ate the plates, and Myers responded, "At least 7." Can you even imagine?
Definitely go check out her other videos if you haven't already. But just for funsies, here's one more. The "proof" at the end is too much.
@elysemyers

I left it to the professionals after that. #coffeetalk #theadhdway