Democracy
Senator Cory Booker brought Ketanji Brown Jackson to tears in Supreme Court confirmation hearing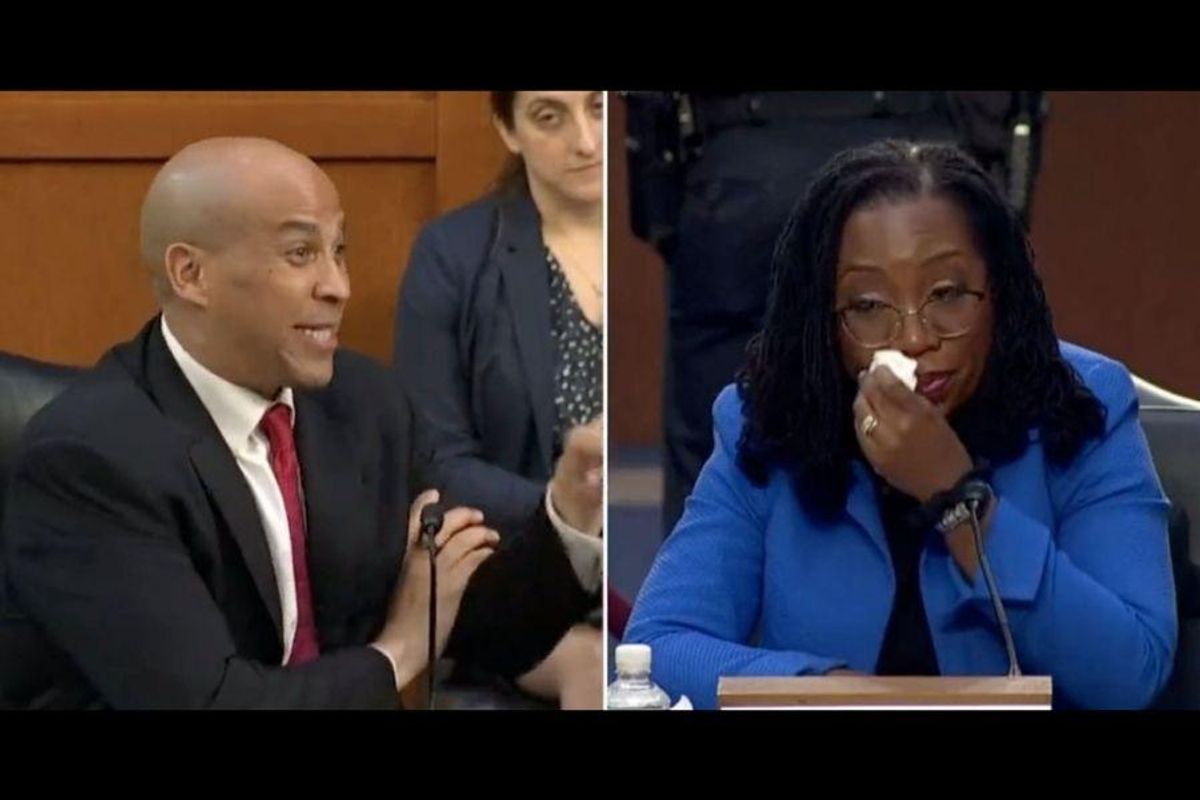 Judge Ketanji Brown Jackson has spent the past three days being interviewed by members of the U.S. Senate as they consider her nomination for Supreme Court justice. As expected, it has been ugly at times, with some members of Congress attempting to paint her in a negative light.
Jackson came into these hearings as one of the most qualified candidates ever, and she has handled everything thrown at her with grace, poise and barrels full of patience. Someone serving on the highest court in the land should have the temperament to handle questions and concerns without erupting into emotional outbursts, so her collectedness is not unexpected. At the same time, it can't have been easy to be grilled for hours on end, especially when you know certain politicians are determined to make you out to be someone you're not.
Jackson's nomination is also historically significant. If confirmed, she will be the first Black woman to serve as a Supreme Court justice. Considering the fact that 96% (110 out of 115) of the Supreme Court justices up to now have been men and 97% (112 out of 115) have been white, representation on the nation's highest court has been woefully imbalanced, which is why President Biden made it a point to chose a Black woman out of all of the well-qualified candidates as his nominee.
---
This moment matters. And New Jersey Senator Cory Booker wasn't about to let the ugly politics of the last couple of days cloud that fact. In his signature, animated way, Booker celebrated Jackson's presence in the hearing in a way that moved both Jackson and those who were watching.
An excerpt of the speech quickly circulated on Twitter.
Just watch this video. Just watch.pic.twitter.com/wmERvmniL5

— Kyle Griffin (@Kyle Griffin) 1648072521
He begins by quoting poet Langston Hughes' "Let America Be America Again," then pointing out the various groups of people who have had to fight for their freedom in this country. He pointed out how much each of those groups loved America, to push this country to live to its ideals, to make it what it has always claimed to be.
"All of these people loved America," he said. "You are here because of that kind of love."
Booker's joy at the historic significance of this moment was personal, but contagious. He's right—this is a moment to celebrate. And it was lovely to see him reflect that back to her with words of praise and encouragement.
Watch the full video below—it's even more powerful—and see some of the reactions from people who were moved by Booker's words:
How important that Ketanji Brown Jackson receives these public words of encouragement in the middle of this confirmation hearing. To provide her strength and resolve in the middle of all of this nonsense. \u201cYou are worthy.\u201dThose three words are everything. #SheWillRise

— April (@April) 1648071635
The way Cory poured into her to recharge her. \ud83e\udd79

— Monica Williams (@Monica Williams) 1648073278
I am writing this as a white man of a certain age. Sen. Cory Booker isn't going on. He's telling the story the right way... with the moral force that it deserves. Judge Jackson's story is an American story. And she will make a terrific contribution 2 the highest court n our land.

— Eclecticity (@Eclecticity) 1648074312
Booker's full comments are even more powerful. Watch them here:
He took out the trash with a fierce joy and love that I could have never found. That was brilliant.

— THEE Jay B. (@THEE Jay B.) 1648071680