True
The experiences we have at school tend to stay with us throughout our lives. It's an impactful time where small acts of kindness, encouragement, and inspiration go a long way.
Schools, classrooms, and teachers that are welcoming and inclusive support students' development and help set them up for a positive and engaging path in life.
Here are three of our favorite everyday actions that are spreading kindness on campus in a big way: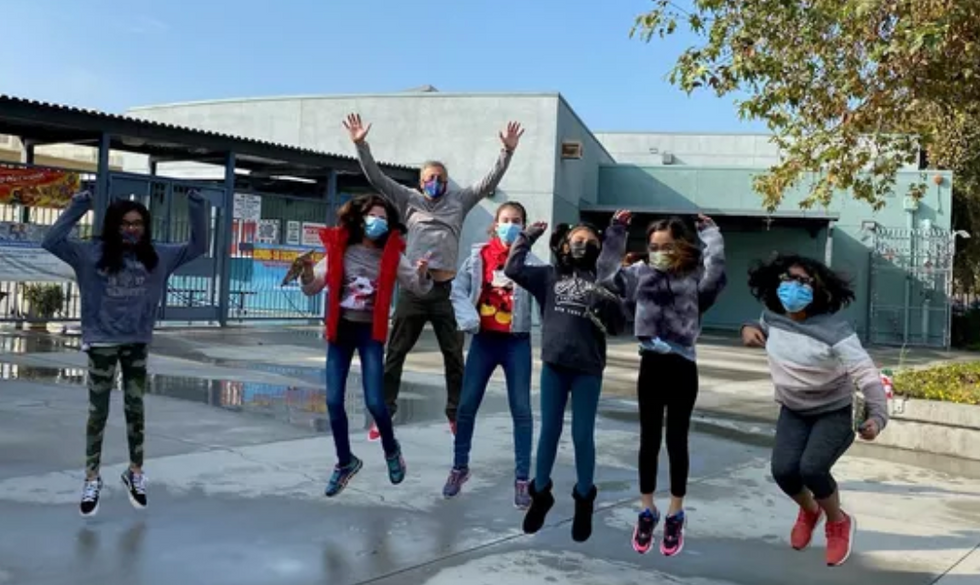 Image courtesy of Mark Storhaug
1. Pickleball to Get Fifth Graders Moving
Mark Storhaug is a 5th grade teacher at Kingsley Elementary in Los Angeles, who wants to use pickleball to get his students "moving on the playground again after 15 months of being Zombies learning at home."

Pickleball is a paddle ball sport that mixes elements of badminton, table tennis, and tennis, where two or four players use solid paddles to hit a perforated plastic ball over a net. It's as simple as that.
Kingsley Elementary is in a low-income neighborhood where outdoor spaces where kids can move around are minimal. Mark's goal is to get two or three pickleball courts set up in the schoolyard and have kids join in on what's quickly becoming a national craze. Mark hopes that pickleball will promote movement and teamwork for all his students. He aims to take advantage of the 20-minute physical education time allotted each day to introduce the game to his students.
Help Mark get his students outside, exercising, learning to cooperate, and having fun by
donating to his GoFundMe
.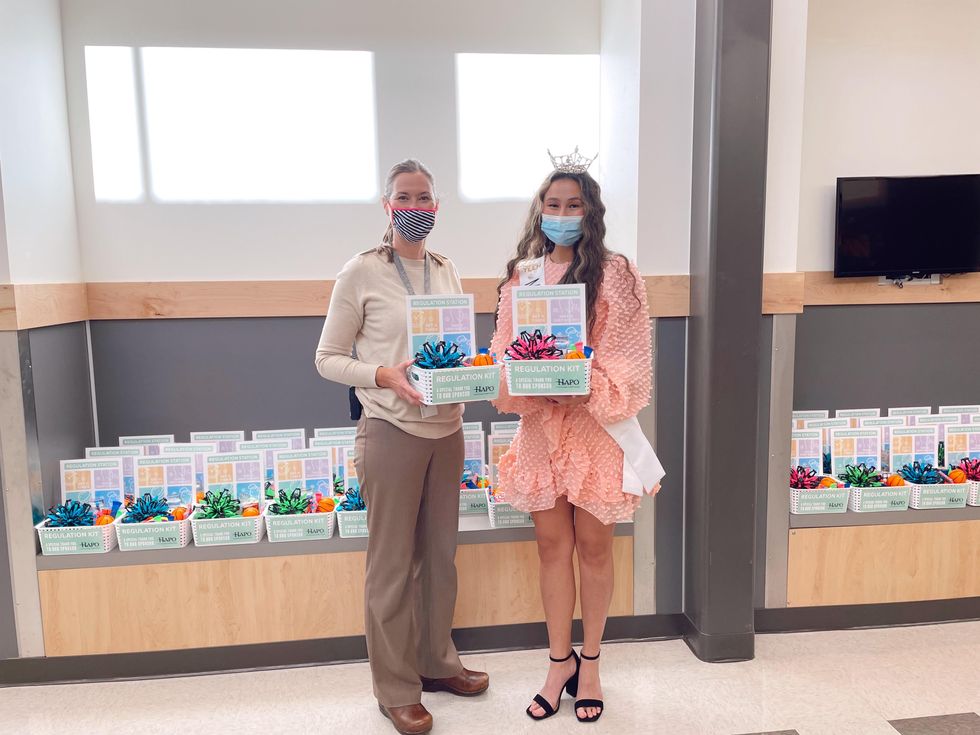 Image courtesy of Kaiya Bates
2. Staying C.A.L.M: Regulation Kits for Kids
According to the WHO around 280 million people worldwide suffer from depression. In the US, 1 in 5 adults experience mental illness and 1 in 20 experience severe mental illness, according to the National Alliance on Mental Illness.
Kaiya Bates, who was recently crowned Miss Tri-Cities Outstanding Teen for 2022, is one of those people, and has endured severe anxiety, depression, and selective mutism for most of her life.
Through her GoFundMe, Kaiya aims to use her "knowledge to inspire and help others through their mental health journey and to spread positive and factual awareness."
She's put together regulation kits (that she's used herself) for teachers to use with students who are experiencing stress and anxiety. Each "CALM-ing" kit includes a two-minute timer, fidget toolboxes, storage crates, breathing spheres, art supplies and more.
Kaiya's GoFundMe goal is to send a kit to every teacher in every school in the Pasco School District in Washington where she lives.
To help Kaiya achieve her goal, visit Staying C.A.L.M: Regulation Kits for Kids.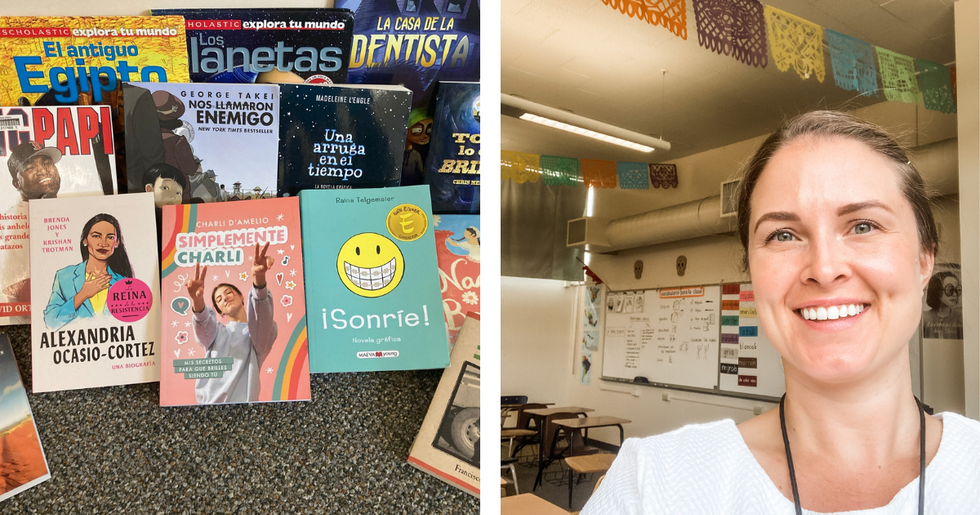 Image courtesy of Julie Tarman
3. Library for a high school heritage Spanish class
Julie Tarman is a high school Spanish teacher in Sacramento, California, who hopes to raise enough money to create a Spanish language class library.
The school is in a low-income area, and although her students come from Spanish-speaking homes, they need help building their fluency, confidence, and vocabulary through reading Spanish language books that will actually interest them.
Julie believes that creating a library that affirms her students' cultural heritage will allow them to discover the joy of reading, learn new things about the world, and be supported in their academic futures.
To support Julie's GoFundMe, visit Library for a high school heritage Spanish class.
Do YOU have an idea for a fundraiser that could make a difference? Upworthy and GoFundMe are celebrating ideas that make the world a better, kinder place. Visit upworthy.com/kindness to join the largest collaboration for human kindness in history and start your own GoFundMe.

From Your Site Articles
Related Articles Around the Web
This article originally appeared on 06.28.21

After Ahmaud Arbery, an unarmed Black man, was pursued and shot by three white residents while jogging through a Georgia suburb, Ellen and Patrick Miller* of San Diego hung a Black Lives Matter flag in front of their house. It was a small gesture, but something tangible they could do.
Like many people, they wanted to both support the BLM movement and bring awareness about racism to members of their community. Despite residing in a part of the county notoriously rumored to be marred by white supremacists and their beliefs, their neighbors didn't say much about it—at first.
Recently, though, during a short window when both Ellen and Patrick were out of the house, someone sliced the flag in two and left the remains in their yard.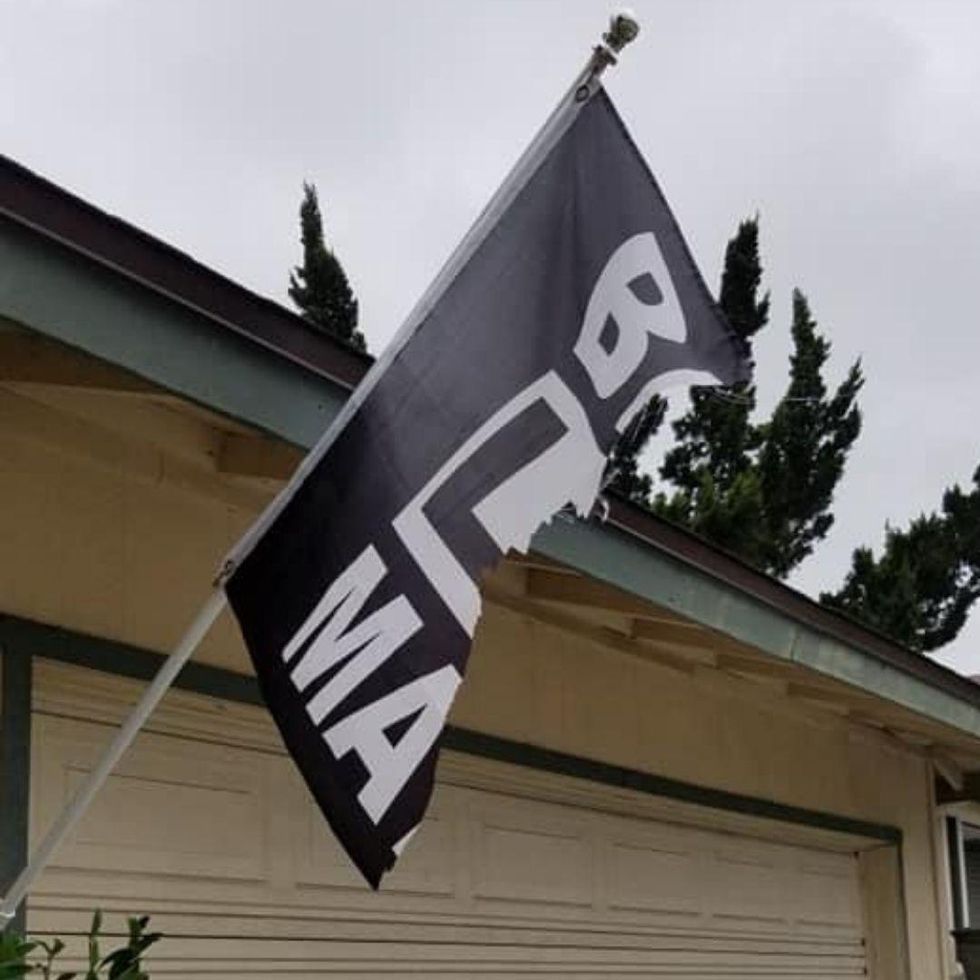 via Paula Fitzgibbons
They were upset, but not surprised.

"Nobody prior to May of 2020 said a word about our BLM flag," Ellen explains. "After George Floyd and the protesting started, we had about 50% positive interactions with our neighbors, quietly offering solidarity as they passed by on their morning and evening walks. Then 25% of interactions were a lot of older busybodies 'pearl clutching' and hoping that 'nobody takes this the wrong way and commits vandalism' against us." Then there were the men who would drive past and scream obscenities at Ellen while she unpacked groceries with her young child.

Instead of backing down, Ellen and Patrick grew more involved. They worked to educate themselves about racism. They attended and planned local BLM rallies—including a particularly turbulent one in the middle of their intolerant suburb where members of extremist groups suddenly appeared across the street to counter-protest. They donated to BLM and joined a leadership club that Ellen says "helps students of color with special needs navigate current society."
By the time Ellen and Patrick's flag was vandalized, they had already collected some back-ups. Undeterred, they replaced the flag with one that supports a broader mix of voices including the LGBTQ+ community, which they'd planned to hang for Pride Month in June.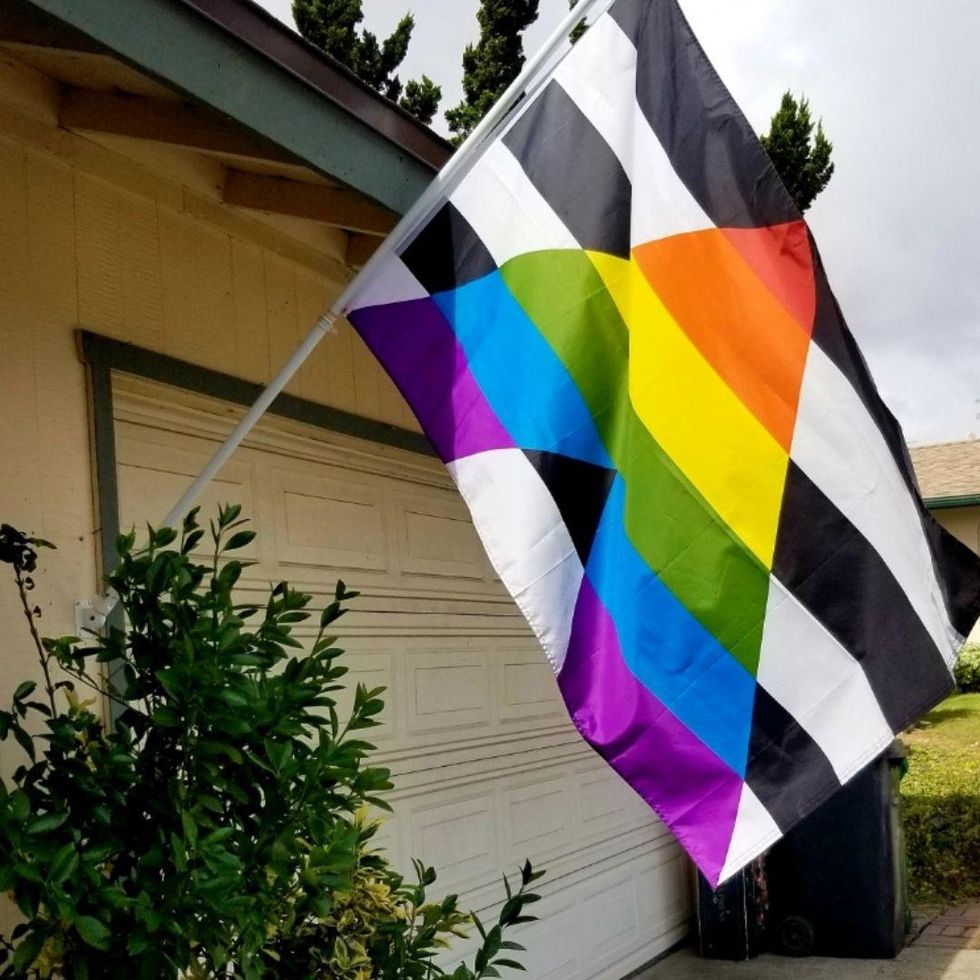 via Paula Fitzgibbons
Though they felt the sting of violation, they understood there was no comparison to the indignities Black people in their area experience. As Ellen shares, it was mostly "a sad confirmation of the reputation of our town."

If the simple act of hanging a flag propelled Ellen and Patrick to lend greater support to the BLM movement, what happened next confirmed the need to continue working hard toward effective allyship.

Ellen explains that a couple of days after their BLM flag was vandalized, Patrick rushed into the house with tears in his eyes and handed her the typed note that was left at their front door along with two wrapped packages.
"I busted into an ugly cry as well," Ellen adds.
The note read:
"I saw your ripped BLM flag on Tuesday morning. I realize it could've been 'just the wind' but there are a fair number of other flags I see flying high in this neighborhood without tattering so suddenly…
So, just in case somebody vandalized it on purpose, I went ahead and made a $ donation to BLM on your behalf!
I also wanted to order you a replacement BLM flag in case you still wanted to fly it, then in a fit of passion I ordered two, so that there's another back-up, or a gift for another good person with a flag pole.
Also quick sidenote, I love your LGBTQ+ Ally flag too! As a "B," it gives me a sense of camaradery [sic]!
Do with these new flags as you will. It was simply my wish to 'fix' the torn flags the same way I wish to 'fix' some of the unkind acts against our fellow human beings. I saw it as a chance to remind you, remind myself, remind vandals and kind people alike that you can't tear away someone's humanity, you can't tear away their pride, you can't tear up love and compassion and good hearts the way you can tear up the fabric.
We'll continue to fly high!"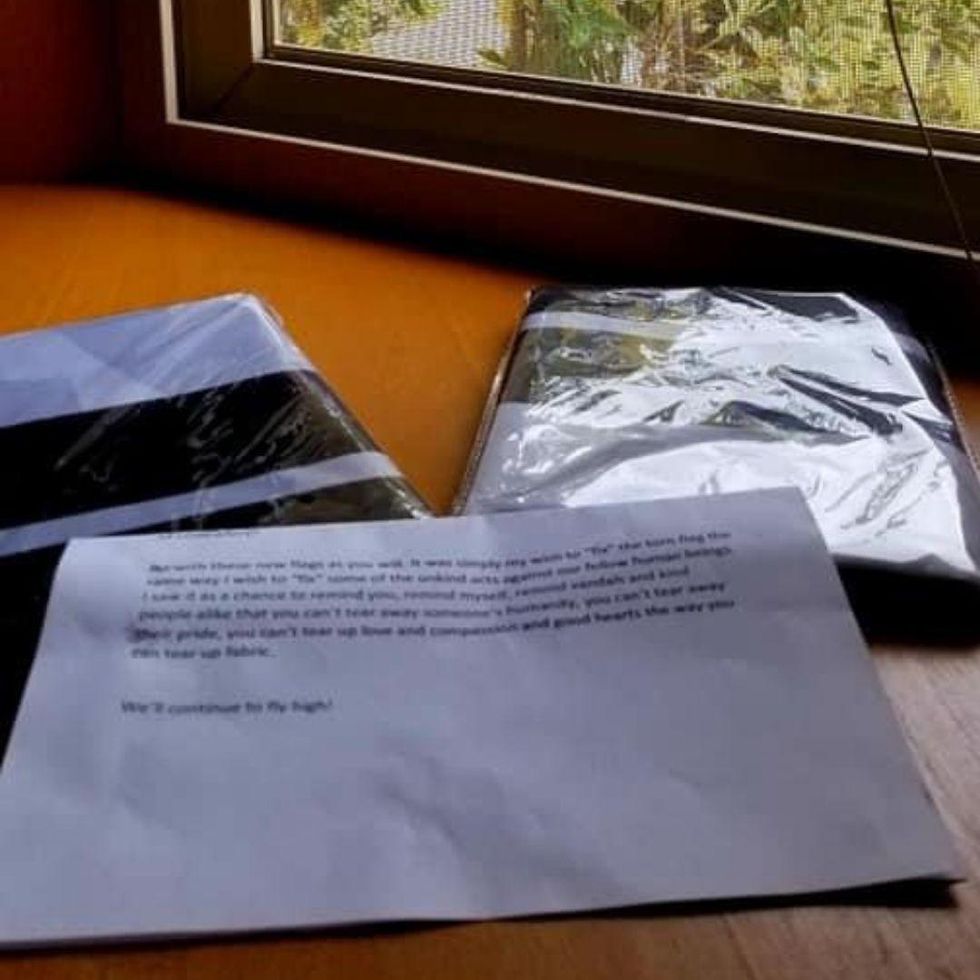 via Paula Fitzgibbons
The note confirmed Ellen and Patrick's hope that flying a simple flag might help people feel more welcome in their neighborhood.

"We no longer felt indignant, but happy that our flag symbol made another neighbor feel safe," Ellen says.
Flying a BLM flag in a neighborhood with ties to white supremacy allowed the Millers to make a statement against the prevailing racist attitudes in their town. It also moved them to act intentionally in support of BLM. They never imagined the vandalism of that same flag might someday invite more neighbors into solidarity as well.
As another resident of their town commented, "It's nice to know you aren't an island when it comes to compassion in your neighborhood."
*Names have been changed at their request.
True
When a pet is admitted to a shelter it can be a traumatizing experience. Many are afraid of their new surroundings and are far from comfortable showing off their unique personalities. The problem is that's when many of them have their photos taken to appear in online searches.
Chewy, the pet retailer who has dedicated themselves to supporting shelters and rescues throughout the country, recognized the important work of a couple in Tampa, FL who have been taking professional photos of shelter pets to help get them adopted.

"If it's a photo of a scared animal, most people, subconsciously or even consciously, are going to skip over it," pet photographer Adam Goldberg says. "They can't visualize that dog in their home."
Adam realized the importance of quality shelter photos while working as a social media specialist for the Humane Society of Broward County in Fort Lauderdale, Florida.
"The photos were taken top-down so you couldn't see the size of the pet, and the flash would create these red eyes," he recalls. "Sometimes [volunteers] would shoot the photos through the chain-link fences."

That's why Adam and his wife, Mary, have spent much of their free time over the past five years photographing over 1,200 shelter animals to show off their unique personalities to potential adoptive families. The Goldbergs' wonderful work was recently profiled by Chewy in the video above entitled, "A Day in the Life of a Shelter Pet Photographer."
Get stories worth sharing delivered to your inbox