Videos
A weatherman who said Llanfair­pwllgwyngyll­gogery­chwyrn­drobwll­llan­tysilio­gogo­goch is a hero.
Liam Dutton, everyone.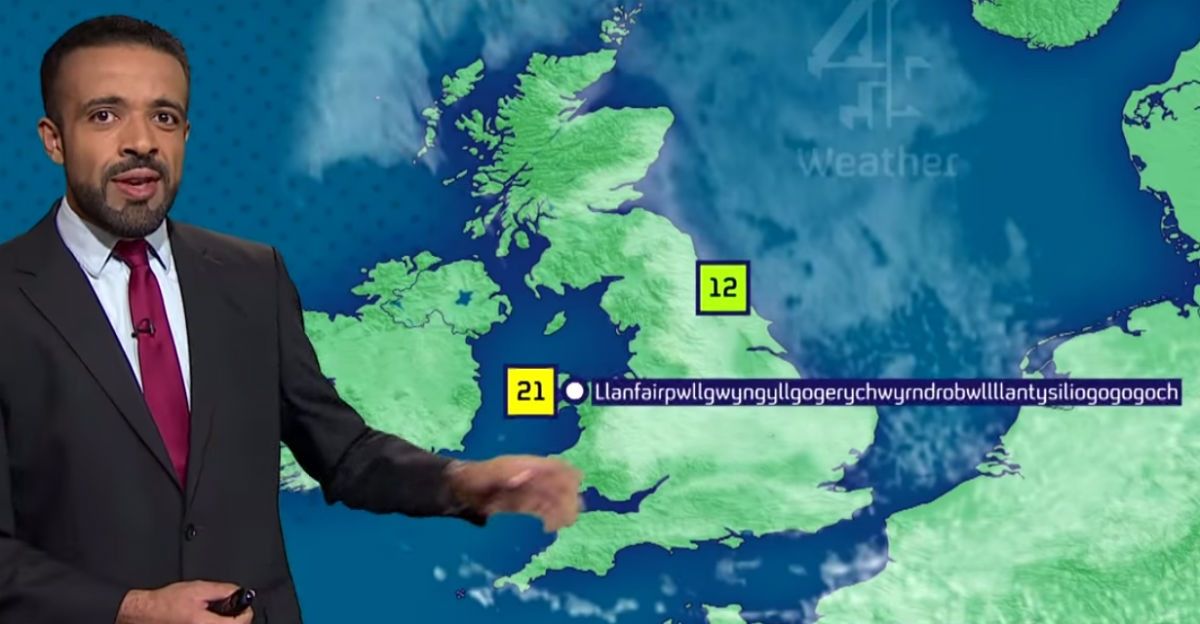 This article originally appeared on 09.11.15



It's maybe the chillest revolutionary thing to nail the pronunciation of Llanfair­pwllgwyngyll­gogery­chwyrn­drobwll­llan­tysilio­gogo­goch.
Here's why.
Liam Dutton is way more than a weatherman who can pronounce a Welsh word you probably didn't know existed.
By casually name-checking a rare culture with so much casual and dapper respect, he's preserving some pretty important history, giving the Welsh language life, celebrating differences, and reporting the weather.
---
He's ... The Weatherman.

Preserver of culture, predictor of weather.
The original township of Llanfair Pwllgwyngyll was renamed Llanfair­pwllgwyngyll­gogery­chwyrn­drobwll­llan­tysilio­gogo­goch in the 1860s as part of a publicity stunt to have the longest railway station name in Britain. That was right around the time that the number of Welsh speakers dropped. Big time.
Over the years, certain Celtic languages have become rarer and rarer. Some, like Cumbric, have died out. The Welsh language is a survivor, but it's at risk of a similar fate.
A couple of centuries ago, most of residents of Wales spoke Welsh. But even by the early 1900s, less than a quarter of the population reported they spoke it, either exclusively or at all. You can really see the shift in this chart from the 1911 census. The 1800s were rough on Welsh culture. The reason behind the decline is the same one behind the devaluation of a lot of minority cultures — bossy majorities (in this case, English speakers) who think they're the best just because they're the majority.
To that majority's credit though, after about 100 years of being jerks, things changed in the 1990s. The Welsh Language Act 1993 did a lot to make it so that Welsh was treated on par with English.
Now Welsh, unlike many rare indigenous and minority languages (like Basque, Lakota, Louisiana Creole French, and so so SO many more) is being supported and celebrated — not just by its own native speakers, but by others in the country, too.
It's an awesome example of how, yeah, we're all one people, one country, and all that, but we don't have to give up what makes us unique just to fit in.
Indigenous and rare languages are important for many reasons. Cultures are important. Differences are important. And this weatherman is showing us how to celebrate that with respect, impeccable pronunciation, and a little bit of fun, too.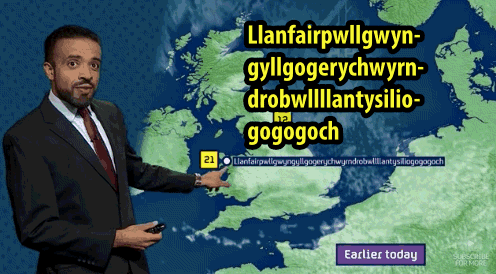 I love this. It's such a simple and subtle way to support the rare and different types of humans of the past and the present. Peace by way of meteorology!
I'm sharing this because we all deserve to be supported like this. Our cultures deserve it. And also ... you deserve it! Not just during the occasional weather report, but every single day.
I learned a lot from this dapper weatherman. Long live the chill revolution of Llanfair­pwllgwyngyll­gogery­chwyrn­drobwll­llan­tysilio­gogo­goch!