Images courtesy of Letters of Love
True
When Grace Berbig was 7 years old, her mom was diagnosed with leukemia, a cancer of the body's blood-forming tissues. Being so young, Grace didn't know what cancer was or why her mother was suddenly living in the hospital. But she did know this: that while her mom was in the hospital, she would always be assured that her family was thinking of her, supporting her and loving her every step of her journey.
Nearly every day, Grace and her two younger sisters would hand-make cards and fill them with drawings and messages of love, which their mother would hang all over the walls of her hospital room. These cherished letters brought immeasurable peace and joy to their mom during her sickness. Sadly, when Grace was just 10 years old, her mother lost her battle with cancer."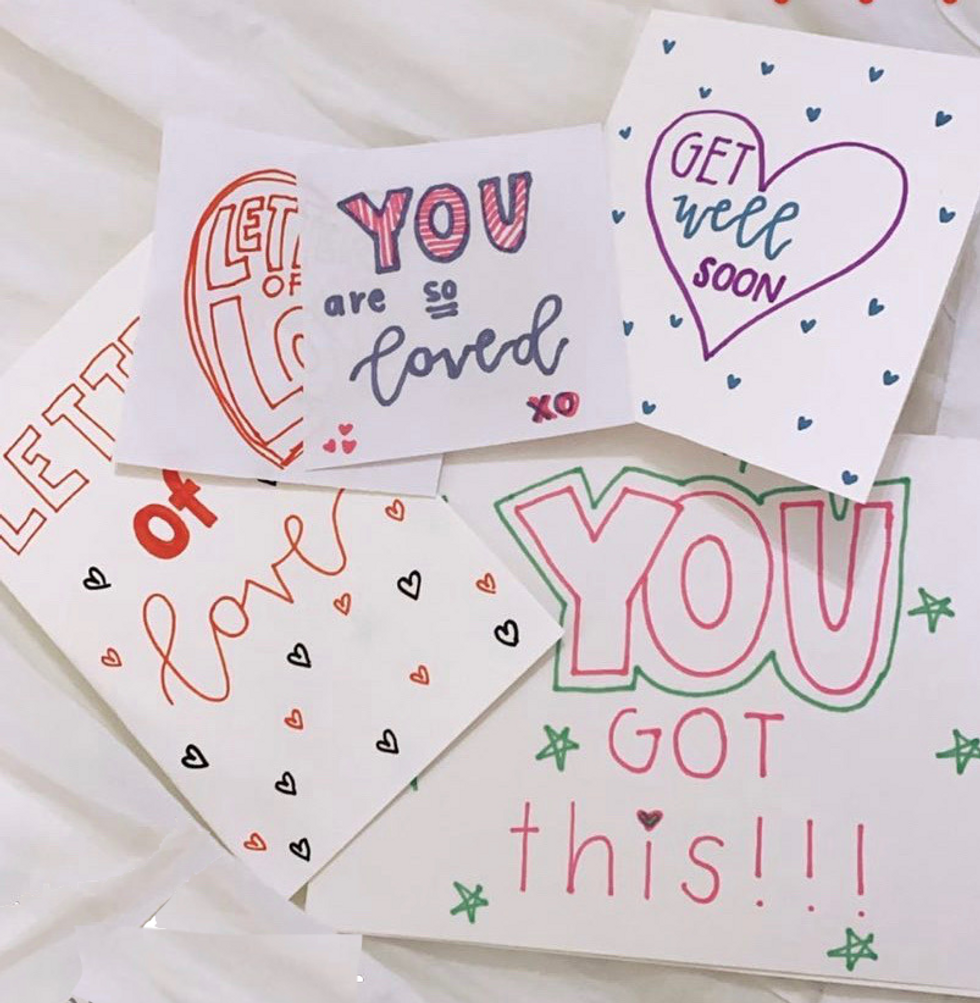 Image courtesy of Letters of Love
Losing my mom put the world in a completely different perspective for me," Grace says. "I realized that you never know when someone could leave you, so you have to love the people you love with your whole heart, every day."
Grace's father was instrumental in helping in the healing process of his daughters. "I distinctly remember my dad constantly reminding my two little sisters, Bella and Sophie, and I that happiness is a choice, and it was now our job to turn this heartbreaking event in our life into something positive."
When she got to high school, Grace became involved in the Leukemia & Lymphoma Society and a handful of other organizations. But she never felt like she was doing enough.
"I wanted to create an opportunity for people to help beyond donating money, and one that anyone could be a part of, no matter their financial status."
In October 2018, Grace started
Letters of Love
, a club at her high school in Long Lake, Minnesota, to emotionally support children battling cancer and other serious illnesses through letter-writing and craft-making.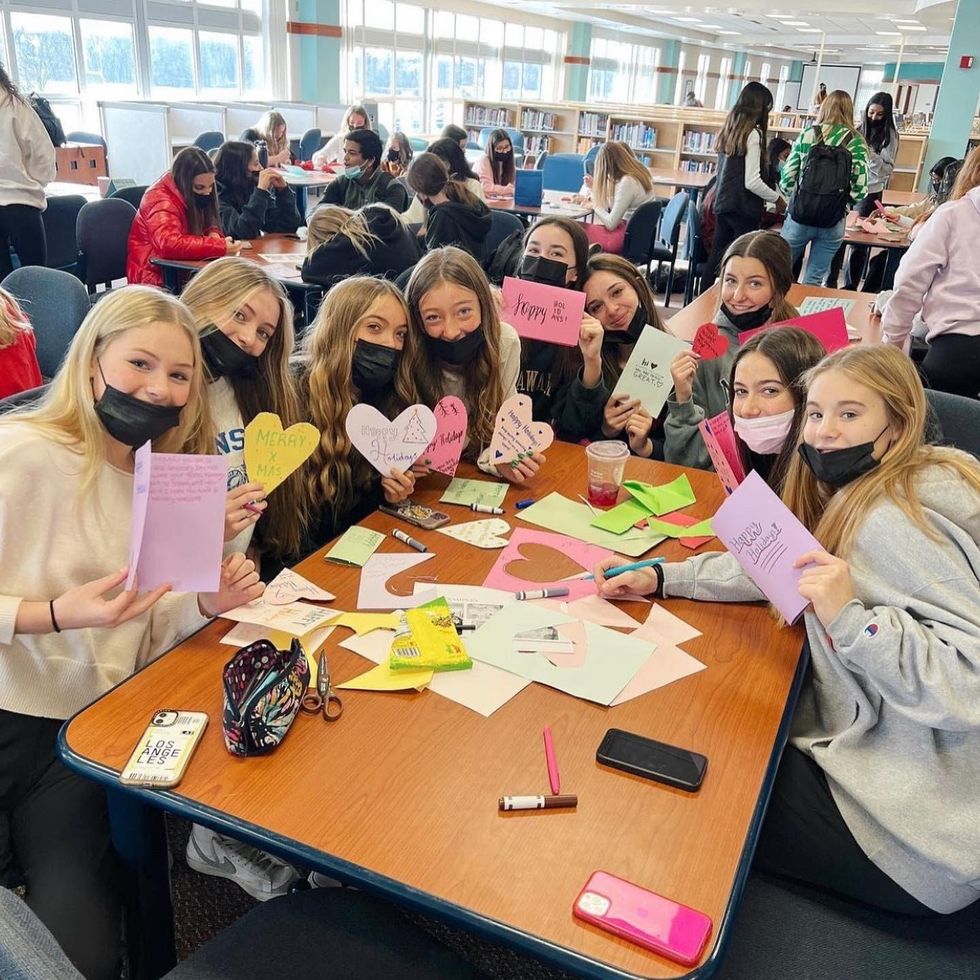 Image courtesy of Letters of Love
Much to her surprise, more than 100 students showed up for the first club meeting. From then on, Letters of Love grew so fast that during her senior year in high school, Grace had to start a GoFundMe to help cover the cost of card-making materials.
Speaking about her nonprofit today, Grace says, "I can't find enough words to explain how blessed I feel to have this organization. Beyond the amount of kids and families we are able to support, it allows me to feel so much closer and more connected to my mom."
Since its inception, Letters of Love has grown to more than 25 clubs with more than 1,000 members providing emotional support to more than 60,000 patients in children's hospitals around the world. And in the process it has become a full-time job for Grace.
"I do everything from training volunteers and club ambassadors, paying bills, designing merchandise, preparing financial predictions and overviews, applying for grants, to going through each and every card ensuring they are appropriate to send out to hospitals."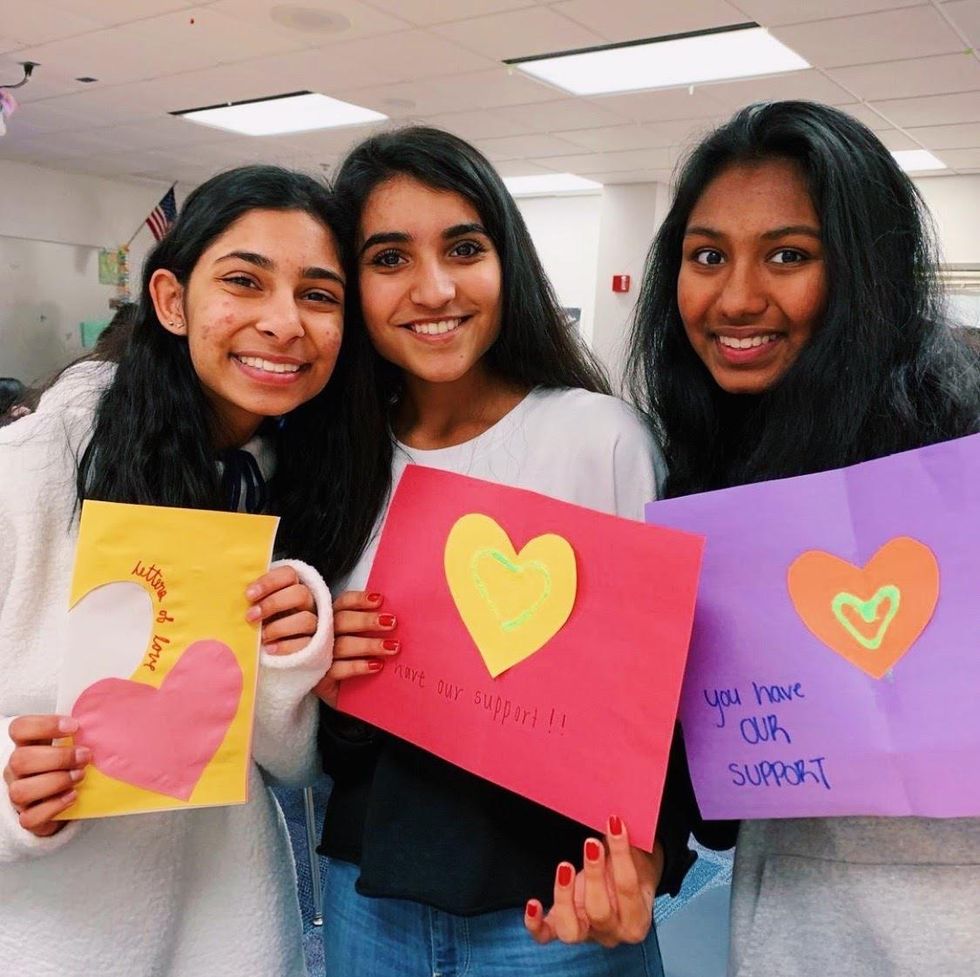 Image courtesy of Letters of Love
In addition to running Letters of Love, Grace and her small team must also contend with the emotions inherent in their line of work.
"There have been many, many tears cried," she says. "Working to support children who are battling cancer and other serious and sometimes chronic illnesses can absolutely be extremely difficult mentally. I feel so blessed to be an organization that focuses solely on bringing joy to these children, though. We do everything we can to simply put a smile on their face, and ensure they know that they are so loved, so strong, and so supported by people all around the world."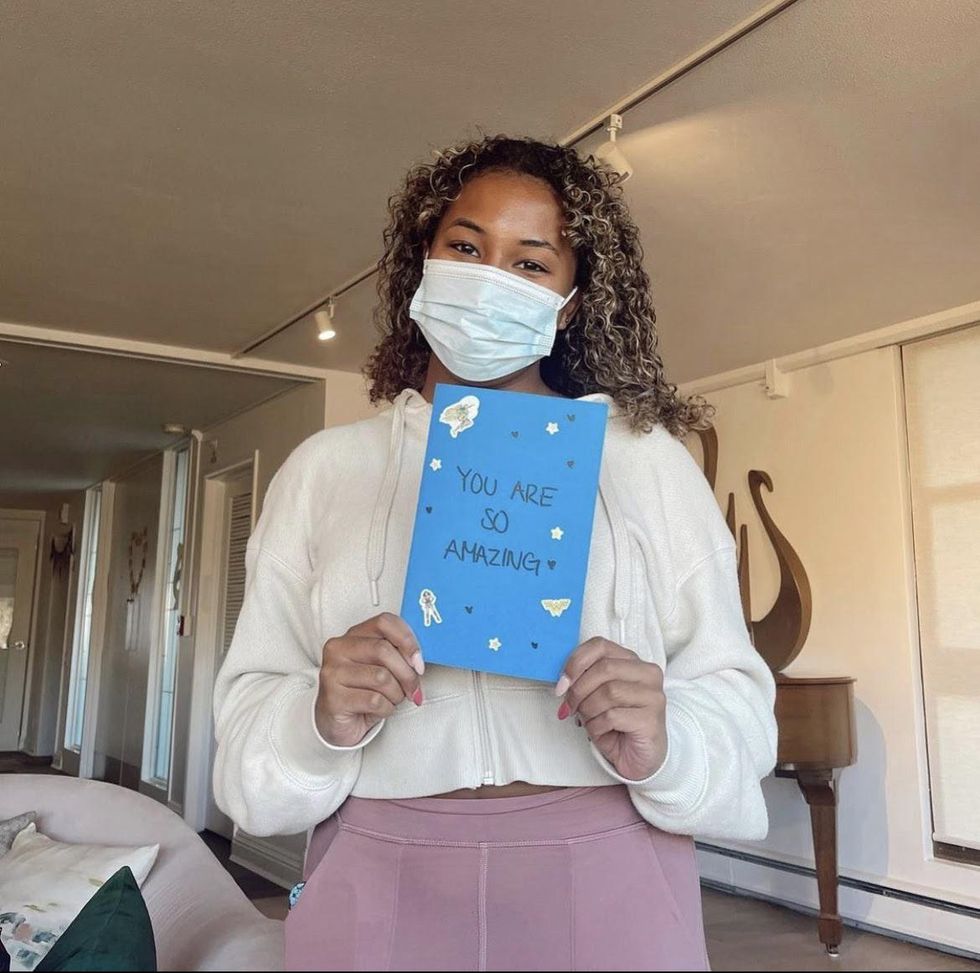 Image courtesy of Letters of Love
Letters of Love has been particularly instrumental in offering emotional support to children who have been unable to see friends and family due to COVID-19. A video campaign in the summer of 2021 even saw members of the NFL's Minnesota Vikings and the NHL's Minnesota Wild offer short videos of hope and encouragement to affected children.
Grace is currently taking a gap year before she starts college so she can focus on growing Letters of Love as well as to work on various related projects, including the publication of a children's book.

"The goal of the book is to teach children the immense impact that small acts of kindness can have, how to treat their peers who may be diagnosed with disabilities or illness, and how they are never too young to change the world," she says.
Since she was 10, Grace has kept memories of her mother close to her, as a source of love and inspiration in her life and in the work she does with Letters of Love.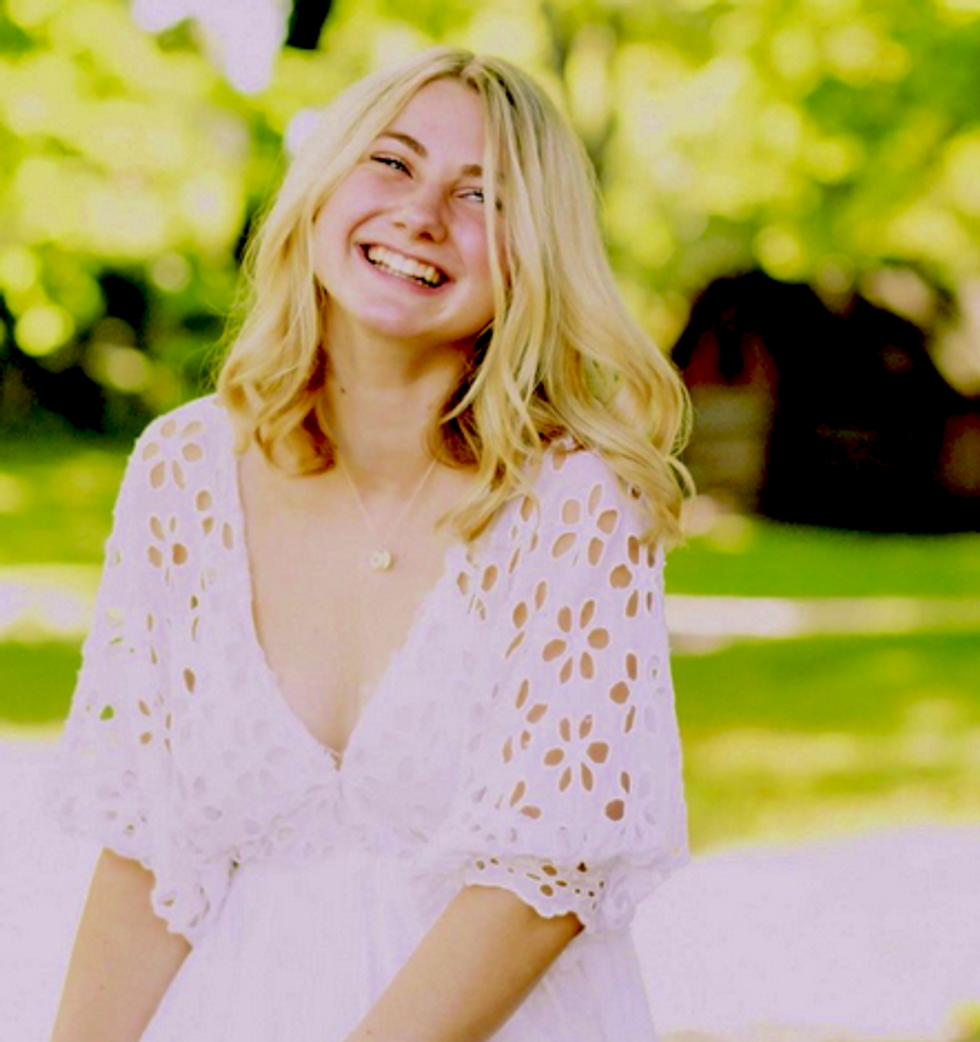 Image courtesy of Grace Berbig
"When I lost my mom, I felt like a section of my heart went with her, so ever since, I have been filling that piece with love and compassion towards others. Her smile and joy were infectious, and I try to mirror that in myself and touch people's hearts as she did."
For more information visit Letters of Love.
Please donate to Grace's GoFundMe and help Letters of Love to expand, publish a children's book and continue to reach more children in hospitals around the world.
Images courtesy of AFutureSuperhero and Friends and Balance Dance Project
True
The day was scorching hot, but the weather wasn't going to stop a Star Wars Stormtrooper from handing out school supplies to a long line of eager children. "You guys don't have anything illegal back there - any droids or anything?" the Stormtrooper asks, making sure he was safe from enemies before handing over a colorful backpack to a smiling boy.
The man inside the costume is Yuri Williams, founder of AFutureSuperhero And Friends, a Los Angeles nonprofit that uplifts and inspires marginalized people with small acts of kindness.
Yuri's organization is one of four inaugural grant winners from the Upworthy Kindness Fund, a joint initiative between Upworthy and GoFundMe that celebrates kindness and everyday actions inspired by the best of humanity. This year, the Upworthy Kindness Fund is giving $100,000 to grassroots changemakers across the world.
To apply, campaign organizers simply tell Upworthy how their kindness project is making a difference. Between now and the end of 2021, each accepted individual or organization will receive $500 towards an existing GoFundMe and a shout-out on Upworthy.
Meet the first four winners:
1: Balance Dance Project: This studio aims to bring accessible dance to all in the Sacramento, CA area. Lead fundraiser Miranda Macias says many dancers spend hours a day at Balance practicing contemporary, lyrical, hip-hop, and ballet. Balance started a GoFundMe to raise money to cover tuition for dancers from low-income communities, buy dance team uniforms, and update its facility. The $500 contribution from the Kindness Fund nudged Balance closer to its $5,000 goal.
2: Citizens of the World Mar Vista Robotics Team: In Los Angeles, middle school teacher James Pike is introducing his students to the field of robotics via a Lego-building team dedicated to solving real-world problems.
James started a GoFundMe to crowdfund supplies for his students' team ahead of the First Lego League, a school-against-school matchup that includes robotics competitions. The team, James explained, needed help to cover half the cost of the pricey $4,000 robotics kit. Thanks to help from the Upworthy Kindness Fund and the generosity of the Citizens of the World Middle School community, the team exceeded its initial fundraising goal.
Citizens of the World Mar Vista Robotics Team video update youtu.be
3: Black Fluidity Tattoo Club: Kiara Mills and Tann Parker want to fix a big problem in the tattoo industry: there are too few Black tattoo artists. To tackle the issue, the duo founded the Black Fluidity Tattoo Club to inspire and support Black tattooers. While the Brooklyn organization is open to any Black person, Kiara and Tann specifically want to encourage dark-skinned artists to train in an affirming space among people with similar identities.
To make room for newcomers, the club recently moved into a larger studio with a third station for apprentices or guest artists. Unlike a traditional fundraiser that supports the organization exclusively, Black Fluidity Tattoo Club will distribute proceeds from GoFundMe directly to emerging Black tattoo artists who are starting their own businesses. The small grants, supported in part with a $500 contribution from the Upworthy Kindness Fund, will go towards artists' equipment, supplies, furnishings, and other start-up costs.
4: AFutureSuperhero And Friends' "Hope For The Holidays": Founder Yuri Williams is fundraising for a holiday trip to spread cheer to people in need across all fifty states.
Along with collaborator Rodney Smith Jr., Yuri will be handing out gifts to children, adults, and animals dressed as a Star Wars' Stormtrooper, Spiderman, Deadpool, and other movie or comic book characters. Starting this month, the crew will be visiting children with disabilities or serious illnesses, bringing leashes and toys to animal shelters for people taking home a new pet, and spreading blessings to unhoused people—all while in superhero costume. This will be the third time Yuri and his nonprofit have taken this journey.
AFutureSuperhero started a GoFundMe in July to cover the cost of gifts as well as travel expenses like hotels and rental cars. To help the nonprofit reach its $15,000 goal, the Upworthy Kindness Fund contributed $500 towards this good cause.
Think you qualify for the fund? Tell us how you're bringing kindness to your community. Grants will be awarded on a rolling basis from now through the end of 2021. For questions and more information, please check out our FAQ's and the Kindness Toolkit for resources on how to start your own kindness fundraiser.
popular
'Be the teacher America's children of color deserve, because we, the teachers, are responsible for instilling empathy and understanding in the hearts of all kids. We are responsible for the future of this country.'
This article originally appeared on 12.07.15


Fifth-grade teacher Emily E. Smith is not your ordinary teacher.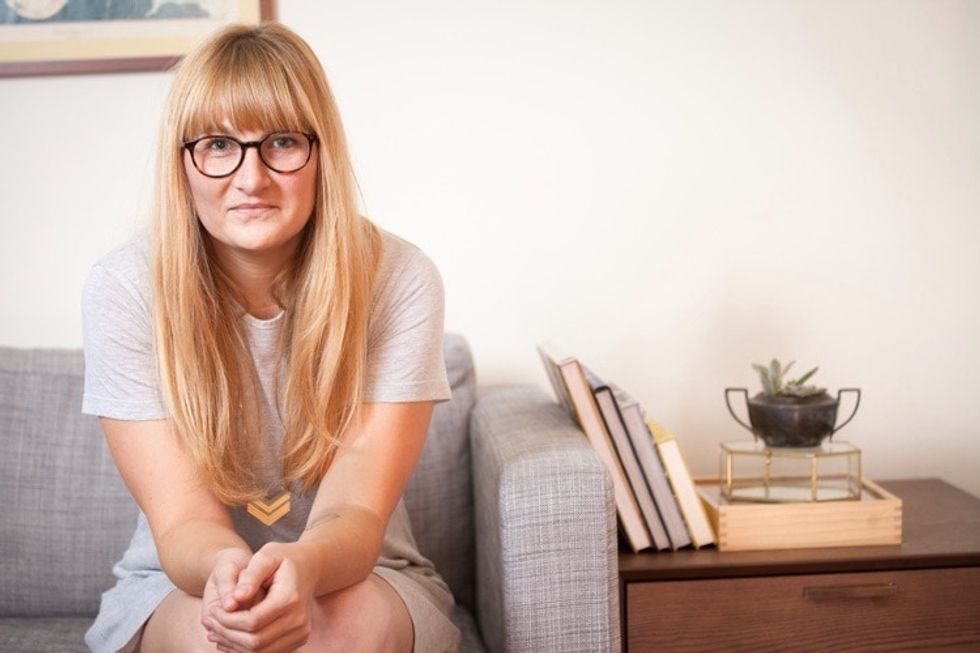 Photo by John Pike. Used with permission.
She founded The Hive Society — a classroom that's all about inspiring children to learn more about their world ... and themselves — by interacting with literature and current events. Students watch TED talks, read Rolling Stone, and analyze infographics. She even has a long-distance running club to encourage students to take care of their minds and bodies.
Smith is such an awesome teacher, in fact, that she recently received the 2015 Donald H. Graves Award for Excellence in the Teaching of Writing.
It had always been her dream to work with children in urban areas, so when Smith started teaching, she hit the ground running. She had her students making podcasts, and they had in-depth discussions about their readings on a cozy carpet.
But in her acceptance speech for her award, she made it clear that it took a turning point in her career before she really got it:
"Things changed for me the day when, during a classroom discussion, one of my kids bluntly told me I "couldn't understand because I was a white lady." I had to agree with him. I sat there and tried to speak openly about how I could never fully understand and went home and cried, because my children knew about white privilege before I did. The closest I could ever come was empathy."
Smith knew that just acknowledging her white privilege wasn't enough.
She wanted to move beyond just empathy and find a way to take some real action that would make a difference for her students.
She kept the same innovative and engaging teaching methods, but she totally revamped her curriculum to include works by people who looked like her students. She also carved out more time to discuss issues that her students were facing, such as xenophobia and racism.
And that effort? Absolutely worth it.
As she said in her acceptance speech:
"We studied the works of Sandra Cisneros, Pam Munoz Ryan, and Gary Soto, with the intertwined Spanish language and Latino culture — so fluent and deep in the memories of my kids that I saw light in their eyes I had never seen before."
The changes Smith made in her classroom make a whole lot of sense. And they're easy enough for teachers everywhere to make:
— They studied the work of historical Latino figures, with some of the original Spanish language included. Many children of color are growing up in bilingual households. In 2007, 55.4 million Americans 5 years of age and older spoke a language other than English at home.
— They analyzed the vision of America that great writers of color sought to create. And her students realized that our country still isn't quite living up to its ideals. Despite progress toward racial equality with the end of laws that enforced slavery or segregation, we still have a long way to go. Black people still fare worse than white people when it comes to things like wealth, unfair arrests, and health.
— They read excerpts from contemporary writers of color, like Ta-Nehisi Coates who writes about race. Her students are reading and learning from a diverse group of writers. No small thing when they live in a society that overwhelmingly gives more attention to white male writers (and where the number of employees of color in the newspaper industry stagnates at a paltry 12%).
— They read about the Syrian crisis, and many students wrote about journeys across the border in their family history for class. The opportunity particularly struck one student; the assignment touched him so much that he cried. He never had a teacher honor the journey his family made. And he was proud of his heritage for the first time ever. "One child cried," Smith shared, "and told me he never had a teacher who honored the journey his family took to the United States. He told me he was not ashamed anymore, but instead proud of the sacrifice his parents made for him."
Opportunities like this will only increase as the number of children from immigrant families is steadily increasing. As of 2013, almost 17.4 million children under 18 have at least one immigrant parent.
Smith now identifies not just as an English teacher, but as a social justice teacher.
Smith's successful shift in her teaching is an example for teachers everywhere, especially as our schools become increasingly ethnically and racially diverse. About 80% of American teachers are white. But as of last year, the majority of K-12 students in public schools are now children of color.
As America's demographics change, we need to work on creating work that reflects the experiences that our students relate to. And a more diverse curriculum isn't just important for students of color. It's vital for everyone.
As Smith put it, "We, the teachers, are responsible for instilling empathy and understanding in the hearts of all kids. We are responsible for the future of this country."
Get stories worth sharing delivered to your inbox
Get stories worth sharing delivered to your inbox