More
A convicted troll took a shot at Puerto Rico. Then Alexandria Ocasio-Cortez stopped by.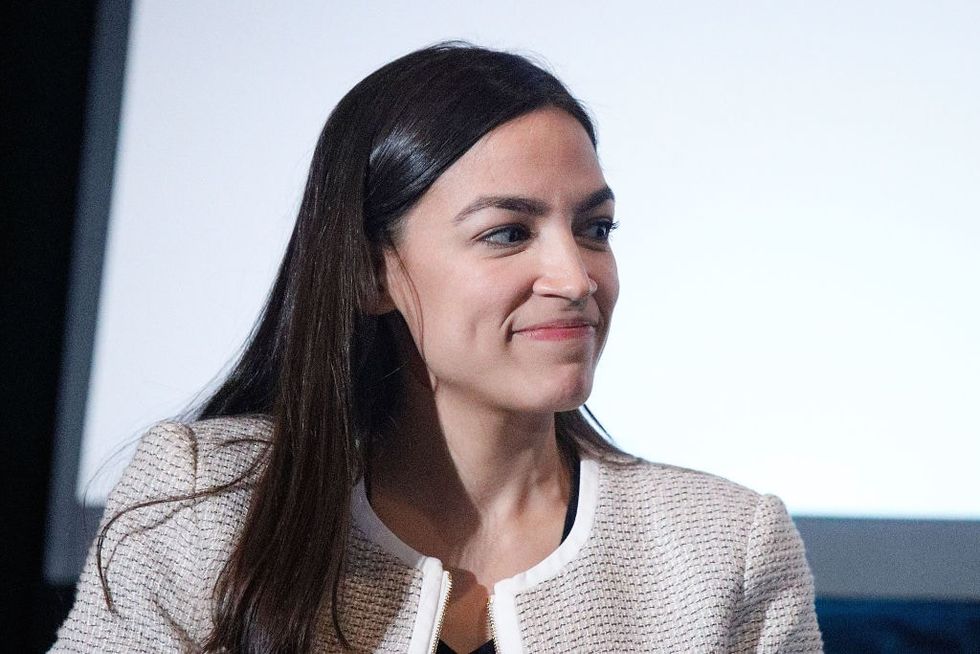 Why would anyone attack Puerto Rico? The island and its residents are still recovering from the devastating effects of Hurricane Maria.
Despite losing an estimated 70 percent of its agriculture during the hurricane and enduring an estimated $9 billion in damages, the people of Puerto Rico continue to focus on recovery efforts. And along the way, they continue to make very meaningful contributions to the United States, despite an ongoing and seemingly endless pursuit of statehood.
In case you didn't get that, Puerto Rico is the "good guy" in this story.
---
So, who's the bad guy? Enter Dinesh D'Souza.
The right-wing commentator has become more of a troll than a thought leader in recent years. He's even a convicted felon. But that has only seemed to accelerate his ridiculous, attention-seeking missives on Twitter and in other dark corners of the Internet.
Less than a year after Hurricane Maria, D'Souza took to Twitter to attack Puerto Rico, saying: "Normally colonies provide resources for the nations that rule them. What does Puerto Rico provide the US?"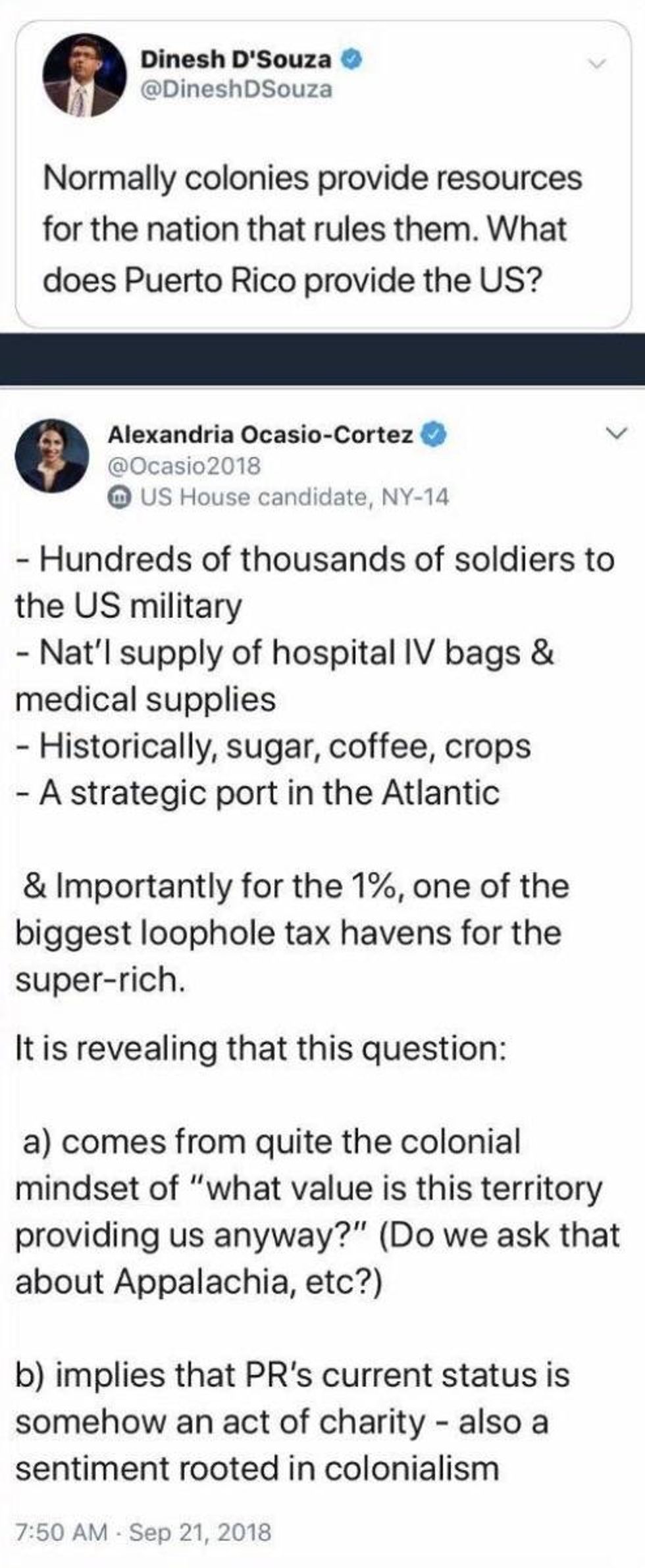 The xenophobic, degrading and ignorant comment seemingly came out of nowhere, though seemed to be stoked over the controversy surrounding President Trump's response to the hurricane relief effort.
Thankfully, Rep. Alexandra Ocasio-Cortez was quick to respond with some mic dropping facts:
- Hundreds of thousands of soldiers to the US military
- Nat'l supply of hospital IV bags & medical supplies
- Historically, sugar, coffee, crops
- A strategic port in the Atlantic
& Importantly for the 1%, one of the biggest loophole tax havens for the super-rich.
It is revealing that this question:
a) comes from quite the colonial mindset of "what value is this territory providing us anyway?" (Do we ask that about Appalachia, etc?)
b) implies that PR's current status is somehow an act of charity - also a sentiment rooted in colonialism
Despite getting absolutely owned (or maybe because of it?) D'Souza has remained obsessed with AOC. In fact, the pinned tweet on his account is a bizarre missive claiming that President Franklin Roosevelt was a racist.
.@AOC is onto something, but she needs to carry it through. She DID mention a racist president, but it's not Ronal… https://t.co/tidIs8Vb4g

— Dinesh D'Souza (@Dinesh D'Souza) 1552850712.0
We might not be able to change his mind when it comes to the basic facts or decency. But we can stay laser focused on our own actions. The people of Puerto Rico still need our help. And they certainly don't need grief from outcasts like Dinesh D'Souza.