Community
Here's what people facing food insecurity want you to know about solving the hunger problem in America
True
Even though America is the world's wealthiest nation, about 1 in 6 of our neighbors turned to food banks and community programs in order to feed themselves and their families last year. Think about it: More than 9 million children faced hunger in 2021 (1 in 8 children).

In order to solve a problem, we must first understand it. Feeding America, the nation's largest domestic hunger-relief organization, released its second annual Elevating Voices: Insights Report and turned to the experts—people experiencing hunger—to find out how this issue can be solved once and for all.
Here are the four most important things people facing hunger want you to know.
Hunger is still an urgent crisis despite signs of economic recovery. In the months following the peak of the COVID-19 pandemic, headlines report that the nation's economic health is bouncing back after years of hardship. However, a big chunk of our population is experiencing a different reality. Recovery has been uneven nationwide, and grocery prices are still higher than normal despite easing supply chain issues. With the end of the federal support offered throughout the pandemic, child poverty rates have shot up, and families like Donnette McManus' are feeling the squeeze.
"Even though you have your list, you have your budget, things are changing so quickly. Your salary can't keep up. So, you get to the store with the same exact list, the same 10 items can cost you 50% more," said McManus, who lives in Massachusetts.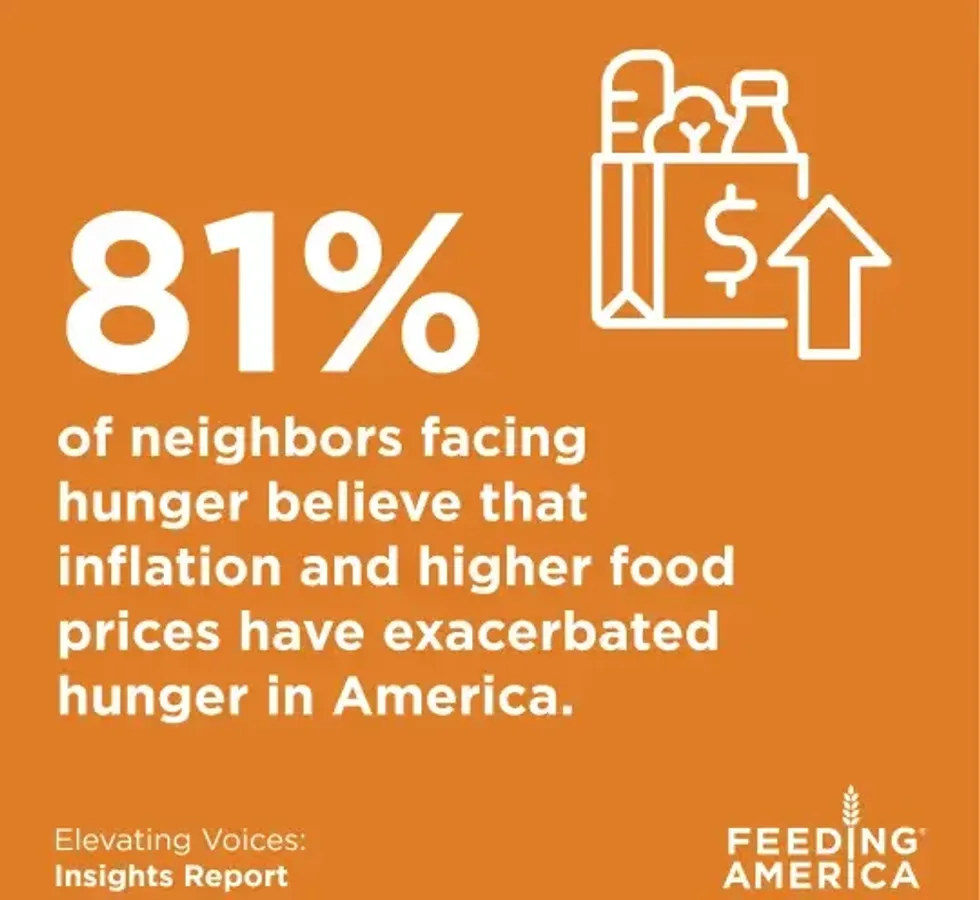 Feeding America Insights Report
People facing hunger say that ending food insecurity is about more than just food. Ending hunger may sound like a simple task: make sure everyone, regardless of who they are and where they live, has access to the food they need. However, as neighbor-advocate Jennifer Estrada of Wisconsin pointed out, the reality is a bit more complex, especially considering that hunger is only a symptom of bigger economic challenges.
"As much as you work, the system is set up for you to continue in a cycle of food insecurity," said Estrada. "Your whole check goes to a rent payment if you're not fortunate enough to own a house, with nothing leftover. But you get kicked off if you make $2 more. There needs to be some security, there needs to be a revamping of the whole system ... It seems like instead of creating less barriers to help the families in our community, it seems like policies and procedures continue to make more barriers."
One of the biggest takeaways from the 2023Insights Report is that housing is unaffordable. Working 40+ hours a week still isn't enough to get by for many folks. Stopping hunger in its tracks is as much about strengthening economic well-being as it is about providing equitable access to enough nourishing food.
Hunger is an issue that intersects with more than what we put on our plates. Hunger strikes without discrimination, affecting anyone, anywhere, at any time. Millions of people in the U.S. are just one job loss, missed paycheck, or medical emergency away from experiencing food insecurity. Due to a long history of racism, discrimination, and oppression in our country, hunger impacts some communities more than others, including communities of color and communities in rural areas.
While the impact of hunger is widespread, people facing it note that the stigma associated with it can strip people of their dignity or deter them from accessing the food assistance programs they're eligible for and need. There are also inequitable systems in place that do not work for everyone.
"Your basic clerk at your local DHS [Department of Human Services] office is only employed to input information and output information back to you. A lot of times, you feel like you're not even a human. You're just a number to them. And if I'm just going to be a number to you, I have a mental meltdown," said Kimberly Harris, a resident of Washington, D.C.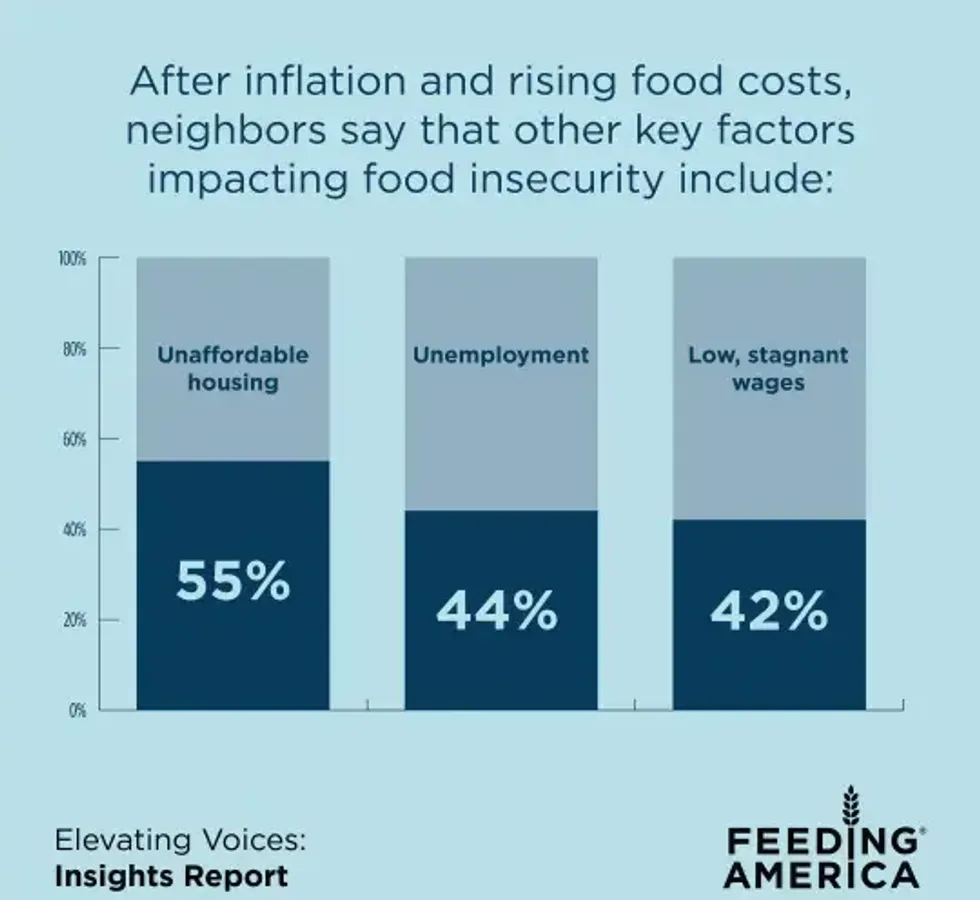 Feeding America Insights Report
Ending food insecurity requires a catalyzing movement. While hunger remains a widespread and persistent problem, our country already has the tools to eradicate it forever—they just need to be utilized. Most people facing hunger said that federal and local governments should treat hunger as an urgent crisis—signaling that it will take all of us to bring hunger to a halt.
So how can you take action right now? Do your part and visit FeedingAmerica.org/ElevatingVoices to read the 2023 Elevating Voices: Insights Report and sign a petition to encourage Congress to pass legislation that will help ensure no one in America goes hungry. Let's all pitch in to make the wealthiest nation become the happiest and most prosperous—for all.
Pets
A quick trip to the vet confirmed the cats' and family's suspicions.
Family
What exactly are "girl" chores, anyway?
Get stories worth sharing delivered to your inbox
Photo by Omar Lopez on Unsplash
Madeleine Albright once said, "There is a special place in hell for women who don't help other women." It turns out that might actually be a hell on Earth, because women just do better when they have other women to rely on, and there's research that backs it up.

A study published in the Harvard Business Review found that women who have a strong circle of friends are more likely to get executive positions with higher pay. "Women who were in the top quartile of centrality and had a female-dominated inner circle of 1-3 women landed leadership positions that were 2.5 times higher in authority and pay than those of their female peers lacking this combination," Brian Uzzi writes in the Harvard Business Review.
Part of the reason why women with strong women backing them up are more successful is because they can turn to their tribe for advice. Women have to face different challenges than men, such as unconscious bias, and being able to turn to other women who have had similar experiences can help you navigate a difficult situation. It's like having a road map for your goals.
​It's interesting to note that women in leadership positions who lacked this style of support system didn't make as much as the women who did. "While women who had networks that most resembled those of successful men (i.e., centrality but no female inner circle) placed into leadership positions that were among the lowest in authority and pay," Uzzi writes. Men and women have different needs, and that even extends to their tribe.
But it's not just in the workplace. A 2006 study found that women who had 10 or more friends were more likely to survive the disease than women who lacked close friends. The study found socially isolated women were 64% more likely to die from cancer, and 43% more likely to have a breast cancer reoccurrence. Friendship is literally the best medicine.
Never underestimate the power of a group text with your girlfriends. Having a place to commiserate over sexism and support other women with goofy gifs when someone succeeds can enrich your life on all fronts.

This article originally appeared on 12.03.19
Joy
His videos are like therapy.
Education
"The results of these digitally enhanced recordings are arresting, almost unbelievable. The idea of hearing the voices of actual slaves from the plantations of the Old South is as powerful—as startling, really—as if you could hear Abraham Lincoln or Robert E. Lee speak." - Ted Koppel
Library of Congress
When we think about the era of American slavery, many of us tend to think of it as the far distant past. While slavery doesn't exist as a formal institution today, there are people living who knew formerly enslaved black Americans first-hand. In the wide arc of history, the legal enslavement of people on U.S. soil is a recent occurrence—so recent, in fact, that we have voice recordings of interviews with people who lived it.

Many of us have read written accounts of enslavement, from Frederick Douglass's autobiography to some of the 2,300 first-person accounts housed in the Library of Congress. But how many of us have heard the actual voices of people who were enslaved telling their own stories?
ABC News' Nightline with Ted Koppel aired a segment in 1999 in which we can hear the first-person accounts of people who had been enslaved taken from interviews conducted in the 1930s and 40s (also housed in the Library of Congress). They include the voice of a man named Fountain Hughes, who was born into slavery in 1848 and whose grandfather had "belonged to" Thomas Jefferson.
As Koppel says in the segment, "The results of these digitally enhanced recordings are arresting, almost unbelievable. The idea of hearing the voices of actual slaves from the plantations of the Old South is as powerful—as startling, really—as if you could hear Abraham Lincoln or Robert E. Lee speak."
Indeed, hearing formerly enslaved people share their experiences of being bought and sold like cattle, sleeping on bare pallets, and witnessing whippings for insubordination is a heartbreaking reminder of how close we are to this ugly chapter of our history. The segment is well worth ten minutes to watch:
This article originally appeared on 03.09.20
Get stories worth sharing delivered to your inbox