More
When this young hockey player was bullied by racists, his hero sent him an inspirational message.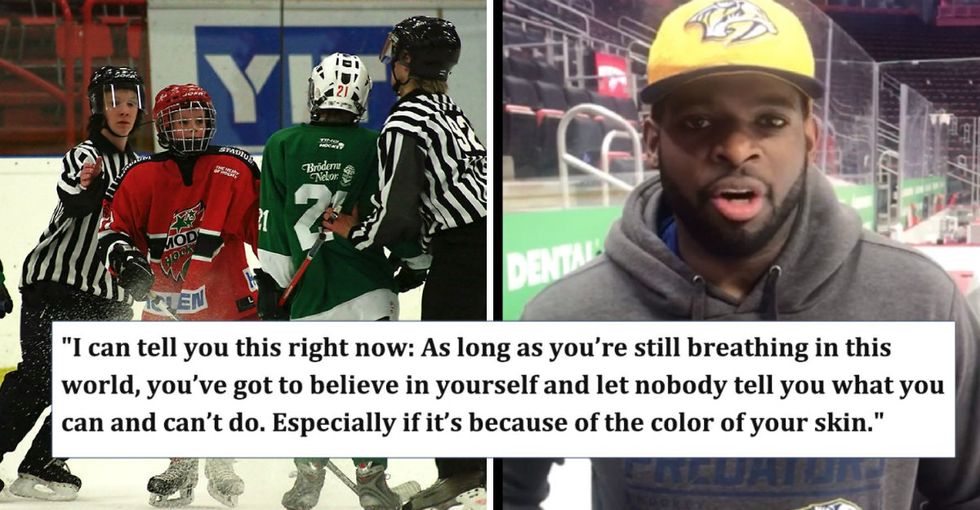 While playing hockey in Michigan, 13-year-old Ty Cornett was subjected to racial slurs and threats from other opponents, and more surprisingly, parents.
The bullying started during a tournament last spring, and continued until eventually Cornett's parents considered removing the child from hockey after an excessively bad incident earlier in the season.  
But when Nashville Predators defenseman P.K. Subban was tipped off to the bullying by the father of one of Cornett's teammates, the professional hockey player texted Cornett a video offering the youth words of encouragement.
Subban recorded the video while playing against the Detroit Red Wings in Little Caesars Arena, nearly 40 miles from Cornett's home in Plymouth.
---
"I can tell you this right now: As long as you're still breathing in this world, you've got to believe in yourself and let nobody tell you what you can and can't do," says Subban in the video. "Especially if it's because of the color of your skin."
"… I just want to tell you that when you're playing hockey, you play because you love the game and you want to play. Let nobody take that away from you."
Subban is no stranger to racism. As one of nine active black NHL players, Subban has had racial slurs and trash thrown at him by hockey fans at times.
The video was posted on Reddit by user hockey7676, one of Cornett's parents. They detailed his experiences in the comments:
[rebelmouse-image 19397854 dam="1" original_size="1594x426" caption="Reddit" expand=1]Reddit
Subban's words impacted Cornett. "Saturday night he received the message and went nuts," said Cornett's father, Matthew, to NHL.com. "He has probably watched the video 500 times."
"This has meant the world to Ty," said Matthew. "As a parent, I cried when I saw the video. It's been very tough to hear your son called horrible things.
"This video meant as much to my wife and I as it did to Ty."
Subban's video seems to have given Cornett the encouragement he needed. According to Matthew, "That night he had a game, and I have never seen him happier to go."