Planet
The ocean is the heart of our planet. It needs our help to be healthy.
Ocean Wise
True
The ocean covers over 71% of the Earth's surface and serves as our planet's heart. Ocean currents circulate vital heat, moisture, and nutrients around the globe to influence and regulate our climate, similar to the human circulatory system. Cool, right?
Our ocean systems provide us with everything from fresh oxygen to fresh food. We need it to survive and thrive—and when the ocean struggles to function healthfully, the whole world is affected.
Pollution, overfishing, and climate change are the three biggest challenges preventing the ocean from doing its job, and it needs our help now more than ever. Humans created the problem; now humans are responsible for solving it.
#BeOceanWise is a global rallying cry to do what you can for the ocean, because we need the ocean and the ocean needs us. If you're wondering how—or if—you can make a difference, the answer is a resounding YES. There are a myriad of ways you can help, even if you don't live near a body of water. For example, you can focus on reducing the amount of plastic you purchase for yourself or your family.
Another easy way to help clean up our oceans is to be aware of what's known as the "dirty dozen." Every year, scientists release an updated list of the most-found litter scattered along shorelines. The biggest culprit? Single-use beverage and food items such as foam cups, straws, bottle caps, and cigarette butts. If you can't cut single-use plastic out of your life completely, we understand. Just make sure to correctly recycle plastic when you are finished using it. A staggering 3 million tons of plastic ends up in our oceans annually. Imagine the difference we could make if everyone recycled!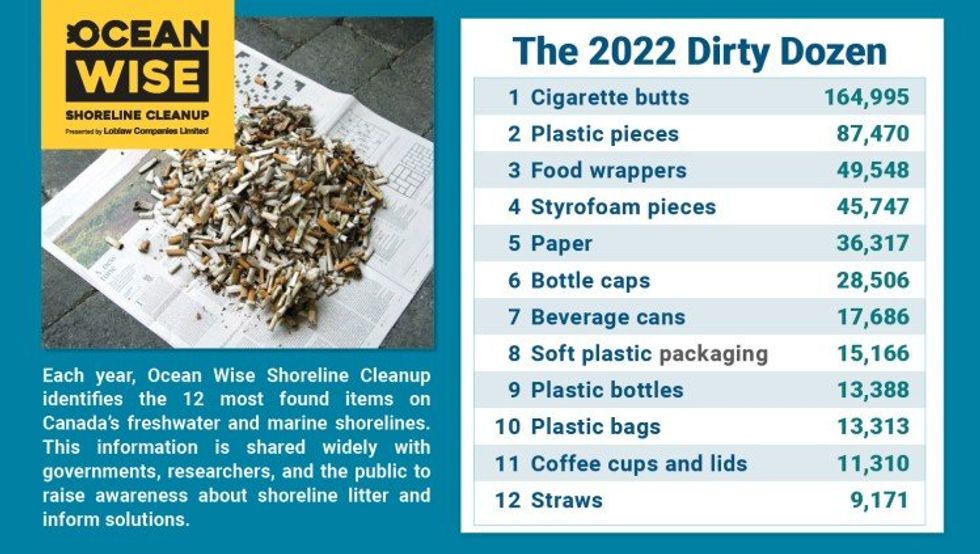 The 2022 "Dirty Dozen" ListOcean Wise
If you live near a shoreline, help clean it up! Organize or join an effort to take action and make a positive impact in your community alongside your friends, family, or colleagues. You can also tag @oceanwise on social if you spot a beach that needs some love. The location will be added to Ocean Wise's system so you can submit data on the litter found during future Shoreline Cleanups. This data helps Ocean Wise work with businesses and governments to stop plastic pollution at its source. In Canada, Ocean Wise data helped inform a federal ban on unnecessary single-use plastics. Small but important actions like these greatly help reduce the litter that ends up in our ocean.
Ocean Wise, a conservation organization on a mission to restore and protect our oceans, is focused on empowering and educating everyone from individuals to governments on how to protect our waters. They are making conservation happen through five big initiatives: monitoring and protecting whales, fighting climate change and restoring biodiversity, innovating for a plastic-free ocean, protecting and restoring fish stocks, and finally, educating and empowering youth. The non-profit believes that in order to rebuild a resilient and vibrant ocean within the next ten years, everyone needs to take action.
Become an Ocean Wise ally and share your knowledge with others. The more people who know how badly the ocean needs our help, the better! Now is a great time to commit to being a part of something bigger and get our oceans healthy again.

Joy
The safe was stolen 22 years ago.
Experience dining room furniture that's as much about craftsmanship and quality as it is about sustainability and style.
When it comes to furniture, the essence of true value transcends mere affordability. It's also about the craftsmanship, the meticulous attention to detail, and the rich stories behind the finished piece. And with dining room furniture from Plank+Beam, every grain of wood, every finish, and every design element is a vivid testament to an unwavering commitment to quality and excellence.
Now, think about the furniture that graces your dining spaces. Does it elevate every meal, every gathering, every moment shared? In an era where dining and entertaining are central to our lifestyles, there's a growing emphasis on selecting furniture that stands as a testament to quality and timeless elegance. A truly modern dining space is as much about the experience as it is about aesthetics. And with brands like Plank+Beam setting the gold standard, curating that perfect dining ambiance has never been more attainable.
At the heart of Plank+Beam lies a simple yet profound belief that it's entirely possible to meld the allure of solid wood furniture with unmatched value. This isn't just about crafting a piece of furniture; it's about creating art that's accessible. Every curve, every finish, every texture is a testament to their commitment to quality without the exorbitant price tag. With Plank+Beam, you're not just buying furniture; you're embarking on a journey where every step, from browsing to delivery, is crafted with you in mind.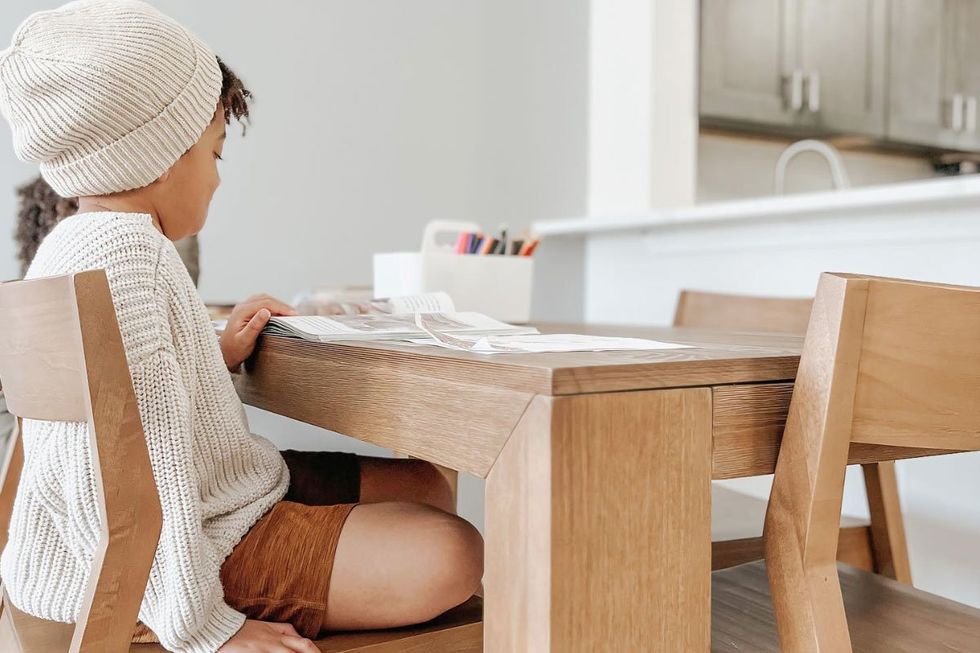 When you think of Plank+Beam, imagine a dance between German precision and Danish artistry. It's a blend that brings forth the meticulousness of German engineering and the flair of Danish design. This European influence isn't just a nod to the past; it's a forward-thinking approach to furniture crafting, ensuring each piece is both functional and a work of art.

But the story doesn't end in Europe. Charleston, a city renowned for its legacy of artisans and craftsmen, plays muse to Plank+Beam. Drawing from Charleston's rich tapestry of design and craftsmanship, the brand weaves a narrative that's as much about honoring tradition as it is about setting new standards in furniture design.
Every Plank+Beam creation is a testament to unparalleled craftsmanship. The heart of their work lies in the solid New Zealand pine wood, chosen for its enduring strength and captivating grain patterns. This wood forms the canvas upon which the brand paints its masterpiece.

Beyond the wood, the brand's dedication to durability shines through in the metal-on-metal connections, ensuring each piece stands firm through countless gatherings and celebrations. The finishing touch? A meticulous multi-step process that not only accentuates the wood's inherent beauty but also guarantees its longevity.

For Plank+Beam, quality is more than just a benchmark—it's a narrative woven into the very fabric of their brand. It's evident in the precision engineering, the thoughtful design, and the promise that each table, chair, or bench will not only be a visual delight but also a lasting companion for memorable dining experiences. In every detail, from the choice of materials to the final delivery, Plank+Beam commits to elevating the essence of dining, one exquisite piece at a time.

Imagine a dining set that's more than just a place to eat; it's a statement, a conversation starter. The Modern Solid Wood Dining Table Set with 2 Benches from Plank+Beam is precisely that. Its textured wire-brush finish exudes a contemporary charm, while the knot-free New Zealand pine wood ensures durability and a premium feel. But what truly sets it apart is its transformative power. Whether it's a casual family dinner or a festive gathering, this set elevates any dining space, making every meal feel like an event.
There's something timeless about a classic, and the Classic Solid Wood Dining Table is no exception. Crafted with meticulous attention to detail, its solid pine wood construction stands as a testament to Plank+Beam's commitment to quality. But it's not just about looks. This table is a chameleon, seamlessly fitting into a cozy breakfast nook, a bustling kitchen, or even a chic office space. Its versatility ensures that no matter where it's placed, it becomes the room's centerpiece, drawing admiration and compliments alike.
Chairs are often the unsung heroes of a dining space, but with Plank+Beam's Solid Wood Dining Chair set, they take center stage. Marrying modern neutral finishes with a sleek, minimalist design, these chairs epitomize understated elegance. But they're not just about aesthetics. Designed with comfort in mind, they offer a seating experience that's as delightful as the meals you'll enjoy on them. Whether paired with a Plank+Beam table or standing alone, they bring a touch of style and sophistication to any dining area.
Plank+Beam stands out, not just for its exquisite pieces but for its unwavering commitment to the customer. They've reimagined the entire process, putting you, the customer, at the forefront. Gone are the days of endless browsing and uncertainty. With Plank+Beam, you're in control, choosing pieces that resonate with your style, all at your own pace. It's a refreshing take on furniture shopping, where your needs and preferences take center stage.
But it's not just about selection; it's about getting your chosen pieces to you with minimal fuss. Plank+Beam has revolutionized the shipping process, ensuring that from the moment you click 'buy' to the moment your furniture graces your space, the journey is smooth and swift. Compact packaging, fast deliveries, and a commitment to getting it right the first time mean you spend less time waiting and more time enjoying your new pieces.
And if ever you're in a quandary, wondering which piece would best suit your space, Plank+Beam's US-based Expert Team is just a chat away. These folks live and breathe furniture, ready to guide you, offer suggestions, and ensure that your Plank+Beam experience is nothing short of exceptional. It's not just about selling furniture; it's about building relationships, one happy customer at a time.
In the quest for furniture that truly transforms your dining experience, Plank+Beam emerges as the clear choice. Delve into their curated collections and witness firsthand the fusion of artistry and engineering. Let each piece not just adorn your space, but also narrate tales of impeccable craftsmanship. Because with Plank+Beam, it's not just about furniture—it's about creating moments, memories, and milestones. With Plank+Beam, you're choosing timeless elegance. Dive in and redefine your dining narrative. Click here to explore more.
Science
30 dump truck loads and two years later, the forest looks totally different.
Get stories worth sharing delivered to your inbox
Mental Health
Sometimes anger is hiding something bigger than a fleeting emotion.
Here's what people facing food insecurity want you to know about solving the hunger problem in America
Even though America is the world's wealthiest nation, about 1 in 6 of our neighbors turned to food banks and community programs in order to feed themselves and their families last year. Think about it: More than 9 million children faced hunger in 2021 (1 in 8 children).

In order to solve a problem, we must first understand it. Feeding America, the nation's largest domestic hunger-relief organization, released its second annual Elevating Voices: Insights Report and turned to the experts—people experiencing hunger—to find out how this issue can be solved once and for all.
Here are the four most important things people facing hunger want you to know.
Hunger is still an urgent crisis despite signs of economic recovery. In the months following the peak of the COVID-19 pandemic, headlines report that the nation's economic health is bouncing back after years of hardship. However, a big chunk of our population is experiencing a different reality. Recovery has been uneven nationwide, and grocery prices are still higher than normal despite easing supply chain issues. With the end of the federal support offered throughout the pandemic, child poverty rates have shot up, and families like Donnette McManus' are feeling the squeeze.
"Even though you have your list, you have your budget, things are changing so quickly. Your salary can't keep up. So, you get to the store with the same exact list, the same 10 items can cost you 50% more," said McManus, who lives in Massachusetts.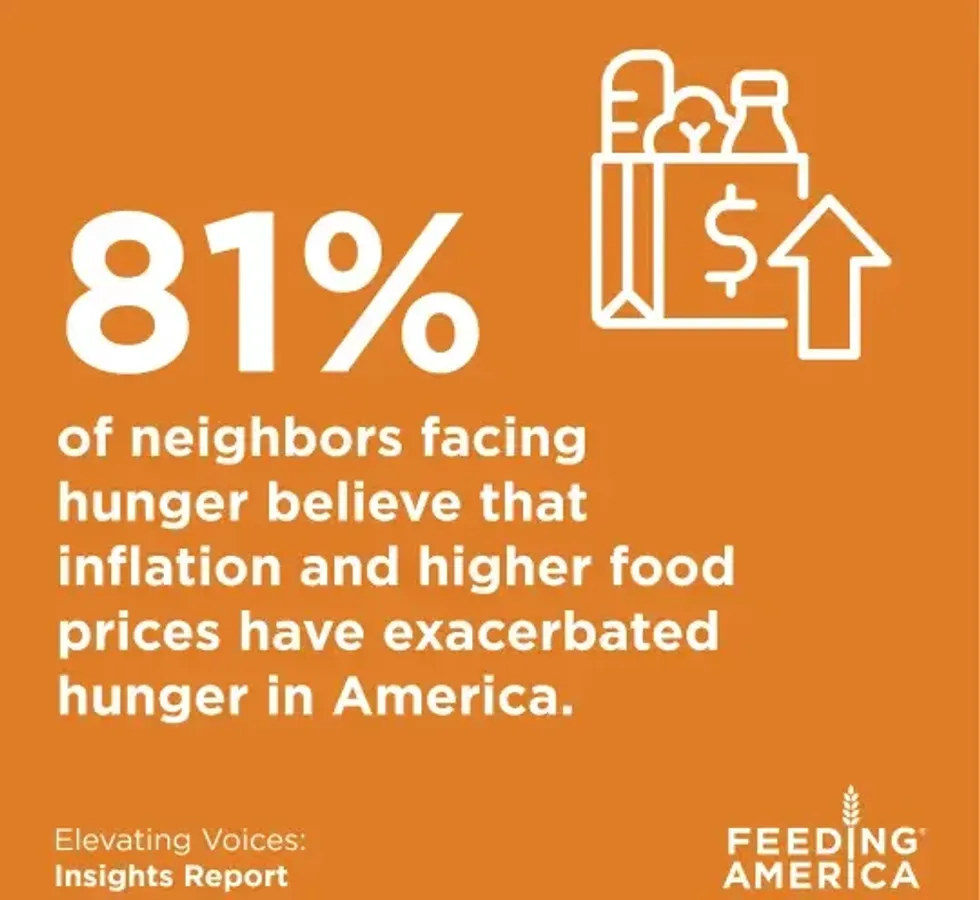 Feeding America Insights Report
People facing hunger say that ending food insecurity is about more than just food. Ending hunger may sound like a simple task: make sure everyone, regardless of who they are and where they live, has access to the food they need. However, as neighbor-advocate Jennifer Estrada of Wisconsin pointed out, the reality is a bit more complex, especially considering that hunger is only a symptom of bigger economic challenges.
"As much as you work, the system is set up for you to continue in a cycle of food insecurity," said Estrada. "Your whole check goes to a rent payment if you're not fortunate enough to own a house, with nothing leftover. But you get kicked off if you make $2 more. There needs to be some security, there needs to be a revamping of the whole system ... It seems like instead of creating less barriers to help the families in our community, it seems like policies and procedures continue to make more barriers."
One of the biggest takeaways from the 2023Insights Report is that housing is unaffordable. Working 40+ hours a week still isn't enough to get by for many folks. Stopping hunger in its tracks is as much about strengthening economic well-being as it is about providing equitable access to enough nourishing food.
Hunger is an issue that intersects with more than what we put on our plates. Hunger strikes without discrimination, affecting anyone, anywhere, at any time. Millions of people in the U.S. are just one job loss, missed paycheck, or medical emergency away from experiencing food insecurity. Due to a long history of racism, discrimination, and oppression in our country, hunger impacts some communities more than others, including communities of color and communities in rural areas.
While the impact of hunger is widespread, people facing it note that the stigma associated with it can strip people of their dignity or deter them from accessing the food assistance programs they're eligible for and need. There are also inequitable systems in place that do not work for everyone.
"Your basic clerk at your local DHS [Department of Human Services] office is only employed to input information and output information back to you. A lot of times, you feel like you're not even a human. You're just a number to them. And if I'm just going to be a number to you, I have a mental meltdown," said Kimberly Harris, a resident of Washington, D.C.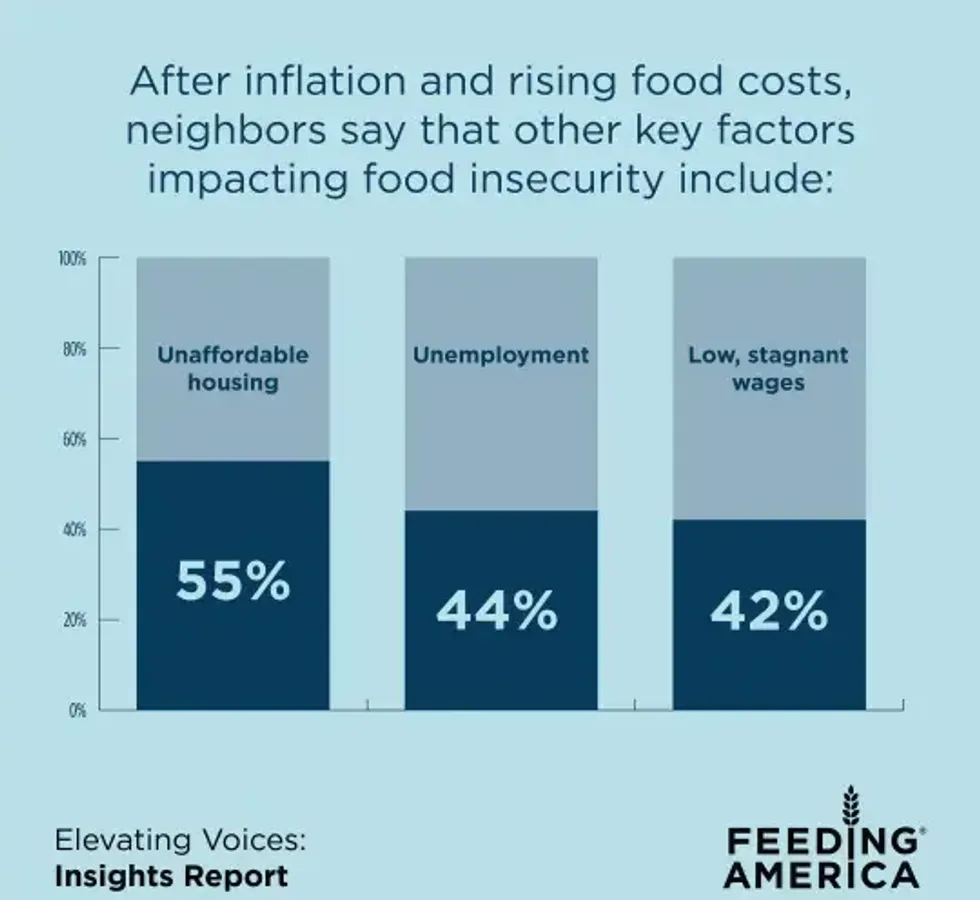 Feeding America Insights Report
Ending food insecurity requires a catalyzing movement. While hunger remains a widespread and persistent problem, our country already has the tools to eradicate it forever—they just need to be utilized. Most people facing hunger said that federal and local governments should treat hunger as an urgent crisis—signaling that it will take all of us to bring hunger to a halt.
So how can you take action right now? Do your part and visit FeedingAmerica.org/ElevatingVoices to read the 2023 Elevating Voices: Insights Report and sign a petition to encourage Congress to pass legislation that will help ensure no one in America goes hungry. Let's all pitch in to make the wealthiest nation become the happiest and most prosperous—for all.
Identity
Sorry, but you can't drive from New York to LA.
Get stories worth sharing delivered to your inbox