More
"White boys and their dogs" have had a good run. But it's time for something new.
What sorts of books did you read in elementary school?

I remember a few: "Maniac Magee," "The Phantom Tollbooth," "Old Yeller." Great books, to be sure, but they all have something sorta disappointing in common: They revolve around white boys and the occasional canine companion.
For New Jersey fifth-grader Marley Dias, that just wasn't going to work.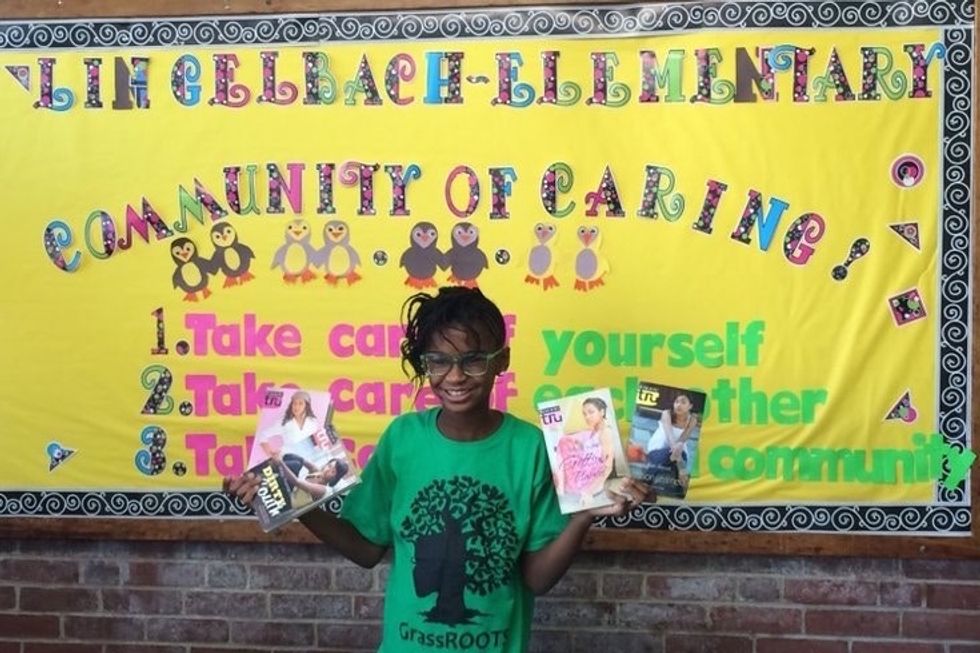 <p class="image-caption">Photo via Dr. Janice Johnson Dias, used with permission.</p><p>"I was sick of reading about white boys and dogs," she told the <a href="http://www.phillyvoice.com/11-year-old-jersey-girl-launches-1000blackgirlbooks-book-drive/?platform=hootsuite">Philly Voice</a>. <strong>Marley wanted to read about characters she could relate to instead, characters who looked like her and acted like her.</strong></p><h2>So she decided to do something about it. And that something has gotten pretty big.</h2><p>After brainstorming with her mom, Janice, <strong>Marley launched a book drive asking people to send her children's stories about female characters of color.</strong> The drive started trending on Twitter with <a href="https://twitter.com/search?q=%231000BlackGirlBooks&amp;src=typd" target="_blank">#1000BlackGirlBooks</a>, and the momentum just keeps growing.</p><p><strong>By Jan. 19, 2016, Marley had collected 400 books. By Feb. 1, that number was up to 700. </strong>She says she'll donate all additional contributions to St. Cloud Elementary School in West Orange, New Jersey. Not too shabby for just over a month of campaigning. And Marley's cause is still starting dialogues and gaining attention, especially online.</p><h2>#1000BlackGirlBooks has sparked awesome conversations about diversity in publishing on Twitter.</h2><blockquote class="twitter-tweet" data-lang="en">I just contributed these 4 books to <a href="https://twitter.com/hashtag/1000BlackGirlBooks?src=hash">#1000BlackGirlBooks</a> Happy reading :) <a href="https://t.co/emRNBzzV3v">https://t.co/emRNBzzV3v</a> <a href="https://t.co/5Etdf8iHYS">pic.twitter.com/5Etdf8iHYS</a><br>— Emily Lakdawalla (@elakdawalla) <a href="https://twitter.com/elakdawalla/status/692212805798354946">January 27, 2016</a><br></blockquote><blockquote class="twitter-tweet" data-lang="en">Marley Dias and her <a href="https://twitter.com/hashtag/1000BlackGirlBooks?src=hash">#1000BlackGirlBooks</a> movement is one of my favorite things to ever happen on book-twitter. 💗 <a href="https://t.co/2KtfZSVOlL">https://t.co/2KtfZSVOlL</a><br>— Amy Shearn (@amyshearn) <a href="https://twitter.com/amyshearn/status/696873471725432832">February 9, 2016</a><br></blockquote><blockquote class="twitter-tweet" data-lang="en">Thanks <a href="https://twitter.com/BNBuzz">@BNBuzz</a> for publishing a list of books for black girls of any age. <a href="https://t.co/bYvWKdDzPE">https://t.co/bYvWKdDzPE</a>. <a href="https://twitter.com/hashtag/1000BlackGirlBooks?src=hash">#1000BlackGirlBooks</a><br>— GrassROOTS (GCF) (@GrassRootsFound) <a href="https://twitter.com/GrassRootsFound/status/696325170320035840">February 7, 2016</a><br></blockquote><h2>Plus, you know your cause is a big deal when <a href="http://ellentube.com/videos/0_vz3xp95j" target="_blank">you end up on "Ellen."</a></h2><p>Ellen couldn't help but contribute $10,000 to Marley's book drive, and she gave Marley a personal laptop to help her brainstorm her next big move, too.</p><p><img type="lazy-image" data-runner-src="https://assets.rebelmouse.io/eyJhbGciOiJIUzI1NiIsInR5cCI6IkpXVCJ9.eyJpbWFnZSI6Imh0dHBzOi8vYXNzZXRzLnJibC5tcy8xOTQ4OTUxMy9vcmlnaW4uanBnIiwiZXhwaXJlc19hdCI6MTU5ODk0ODg4NH0.CX1Y79RXX8BwvLABXSyijtUbJp3S9aFCDQrPV7OJ32s/img.jpg?width=980" id="98752" class="rm-shortcode" data-rm-shortcode-id="b281568189f1565668329042ec198c5e" data-rm-shortcode-name="rebelmouse-image"></p><p class="image-caption">Marley, may I suggest a Twitter account? I can think of a few hundred thousand people who'd love to hear your daily thoughts. Image via <a href="http://www.fox29.com/news/82538523-story" target="_blank">Fox 29's "Good Day Philadelphia."</a></p><h2>Marley is upbeat and eloquent (plus, her glasses game is seriously on point).</h2><p><strong>And let's not forget that Marley is 11.</strong> ELEVEN. When I was 11, I couldn't even put a pair of tights on straight without assistance. (To be honest, this is something I still struggle with. Those <em>seams</em>.) But this kid is spearheading an impressive campaign and grabbing much-deserved national attention for her mission.</p><p>With diversity in America on the rise — 50.4% of children in the U.S. age 1 or younger were minorities as of July 2011 — Marley's mission is becoming more important than ever.</p><blockquote class="pull">As of July 2011, <a href="https://www.census.gov/newsroom/releases/archives/population/cb12-90.html">50.4% of children in the U.S. (age 1 or younger) were minorities</a>. That representation isn't really present in most children's books.</blockquote><h2>Marley is well past her original goal of 1,000 books, so what could be next for this rockstar?</h2><p>Student-body president? Space camp? Whatever it is, Marley's sure to succeed.</p><p><img type="lazy-image" data-runner-src="https://assets.rebelmouse.io/eyJhbGciOiJIUzI1NiIsInR5cCI6IkpXVCJ9.eyJpbWFnZSI6Imh0dHBzOi8vYXNzZXRzLnJibC5tcy8xOTQ4OTUxNC9vcmlnaW4uanBnIiwiZXhwaXJlc19hdCI6MTY0ODIwOTgxOX0.uHWb4huIKI3BbBhU3MyWWMkEYmcg9YqCI51DcIodJIw/img.jpg?width=980" id="4b67b" class="rm-shortcode" data-rm-shortcode-id="d3cadbd084ce7014915a206af11414bc" data-rm-shortcode-name="rebelmouse-image"></p><p class="image-caption">Photo via Mark Wills, used with permission.</p><p><strong>She's not afraid to be — or in this case, read — the change she wants to see in the world.</strong></p>