More
This viral video of Steve Irwin sharing his love of being a father is just too beautiful.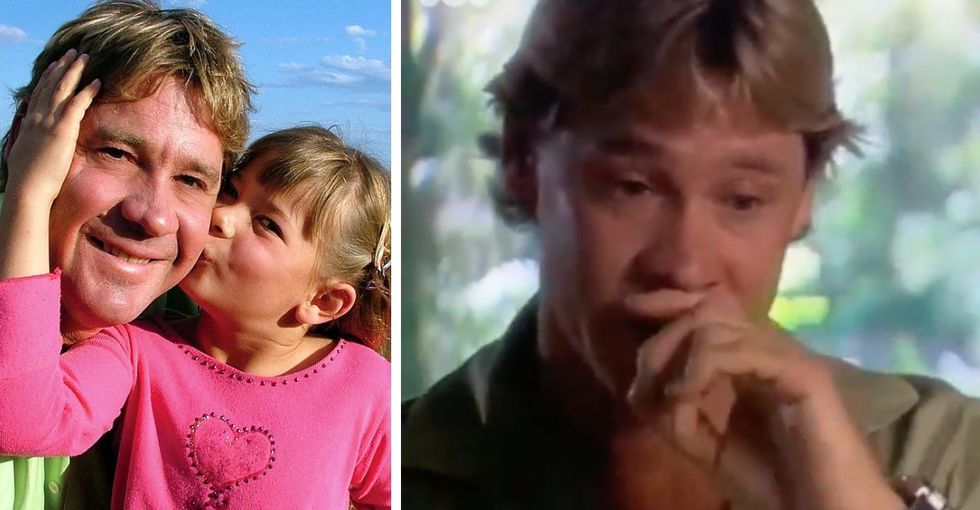 Steve Irwin was a genuine gem of a human being.
The Australian crocodile hunter/rescuer's passion for nature, his relentless positivity, and his zest for life inspired millions around the world when he was alive. His unexpected death in 2006, when a sting ray stung him in the chest, was a blow to us all, but his legacy has lived on through his wife, Terri, and their two children, Bindi and Robert.
The kids were young at the time of Irwin's passing (Bindi was 8 and Robert was 2), but as young adults, they've picked up his naturist baton and run with it. Now 20 and 14, they are both heavily involved in animal advocacy and education, sharing their father's enthusiasm for learning about the world's creatures with audiences around the globe. Bindi also works as a wildlife conservationist with the Australian Zoo.
---
If you enjoyed Steve Irwin's love for animals, wait until you see his face the first time he sees his daughter.  
Bindi recently shared a short video on her Facebook page, and you may want to grab a tissue before you watch it. For all the joy that Steve Irwin exuded when he talked about animals, nothing compares to the emotion he shares when he talks about becoming a father.
In the 2003 interview, Irwin starts off saying that he'd never wanted to be a dad. "I couldn't really give a rip," he said. But as soon as Bindi was born, he became "the proudest father." He said he carried a photo of her when he went out into the field, and if he looked at it too long, he'd start crying.
"Who would have thought someone as ugly as me could bring into the world something so beautiful," he said, "such a treasure."
The look on his face when he sees his baby girl for the first time—that look of wonder, excitement, and awe—says it all. Nothing compares to that feeling when you're a parent. Nothing.
Bindi says the moment captured in the video "made my whole life."
The video includes footage of Bindi as a baby and as a tiny little girl following in her father's footsteps. At one point, she insists that she's going to run the zoo someday. If only she knew how prophetic she was.
"Every time I watch this clip my heart overflows with emotion," Bindi wrote in the video caption. "The people that we love are always with us. Love lives on no matter what and I think that is the most beautiful thing about our existence.💛🙏🏼 Thank you, Dad, this moment captured on camera made my whole life. I love you so much."
Thank you, Bindi, for sharing this sweet, personal part of your and your dad's story with us, and for reminding us how wonderful a man he really was.