Science
How we can create equity for all communities?
All images provided by Adewole Adamson
True
Adewole Adamson, MD, of the University of Texas, Austin, aims to create more equity in health care by gathering data from more diverse populations by using artificial intelligence (AI), a type of machine learning. Dr. Adamson's work is funded by the American Cancer Society (ACS), an organization committed to advancing health equity through research priorities, programs and services for groups who have been marginalized.
Melanoma became a particular focus for Dr. Adamson after meeting Avery Smith, who lost his wife—a Black woman—to the deadly disease.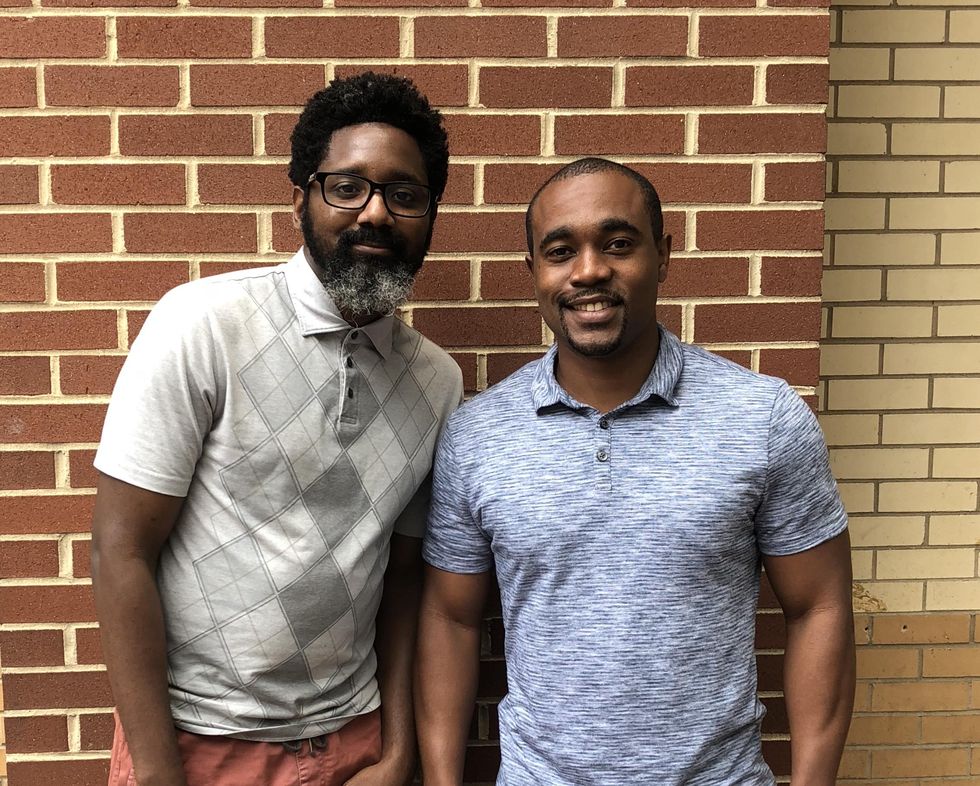 Avery Smith (left) and Adamson (sidenote)
This personal encounter, coupled with multiple conversations with Black dermatology patients, drove Dr. Adamson to a concerning discovery: as advanced as AI is at detecting possible skin cancers, it is heavily biased.
To understand this bias, it helps to first know how AI works in the early detection of skin cancer, which Dr. Adamson explains in his paper for the New England Journal of Medicine (paywall). The process uses computers that rely on sets of accumulated data to learn what healthy or unhealthy skin looks like and then create an algorithm to predict diagnoses based on those data sets.
This process, known as supervised learning, could lead to huge benefits in preventive care.
After all, early detection is key to better outcomes. The problem is that the data sets don't include enough information about darker skin tones. As Adamson put it, "everything is viewed through a 'white lens.'"
"If you don't teach the algorithm with a diverse set of images, then that algorithm won't work out in the public that is diverse," writes Adamson in a study he co-wrote with Smith (according to a story in The Atlantic). "So there's risk, then, for people with skin of color to fall through the cracks."
Tragically, Smith's wife was diagnosed with melanoma too late and paid the ultimate price for it. And she was not an anomaly—though the disease is more common for White patients, Black cancer patients are far more likely to be diagnosed at later stages, causing a notable disparity in survival rates between non-Hispanics whites (90%) and non-Hispanic blacks (66%).
As a computer scientist, Smith suspected this racial bias and reached out to Adamson, hoping a Black dermatologist would have more diverse data sets. Though Adamson didn't have what Smith was initially looking for, this realization ignited a personal mission to investigate and reduce disparities.
Now, Adamson uses the knowledge gained through his years of research to help advance the fight for health equity. To him, that means not only gaining a wider array of data sets, but also having more conversations with patients to understand how socioeconomic status impacts the level and efficiency of care.
"At the end of the day, what matters most is how we help patients at the patient level," Adamson told Upworthy. "And how can you do that without knowing exactly what barriers they face?"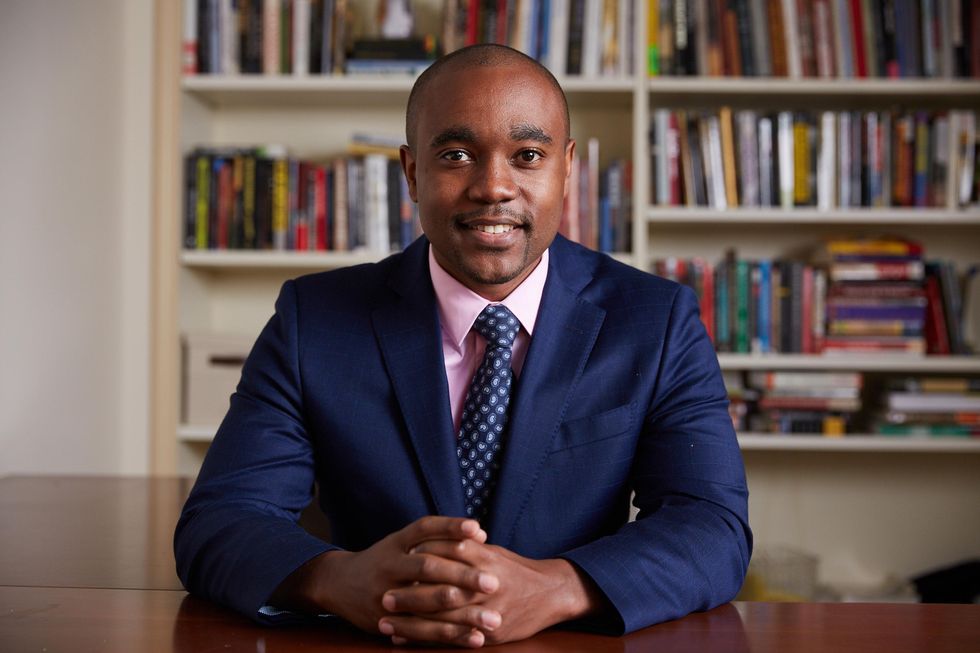 "What matters most is how we help patients at the patient level."https://www.kellydavidsonstudio.com/
The American Cancer Society believes everyone deserves a fair and just opportunity to prevent, find, treat, and survive cancer—regardless of how much money they make, the color of their skin, their sexual orientation, gender identity, their disability status, or where they live. Inclusive tools and resources on the Health Equity section of their website can be found here. For more information about skin cancer, visit cancer.org/skincancer.
Joy
Who wants to be normal on Halloween?
via Amazon
Halloween 2022 looks to be the first "normal" one since 2019, before the pandemic gave everyone a real scare. It's pretty crazy to remember that in 2020, some places didn't allow trick-or-treating at all.

For the first big Halloween in years, it's time to make a bold statement by being the one home on the block that isn't just decorated with big spiders, ghosts or tombstones. Now's the time to give people a scare they'll never forget.
Horror is all about the element of surprise, and here are nine out-of-the-box outdoor Halloween decorations that will make a real impression on your neighbors this Halloween.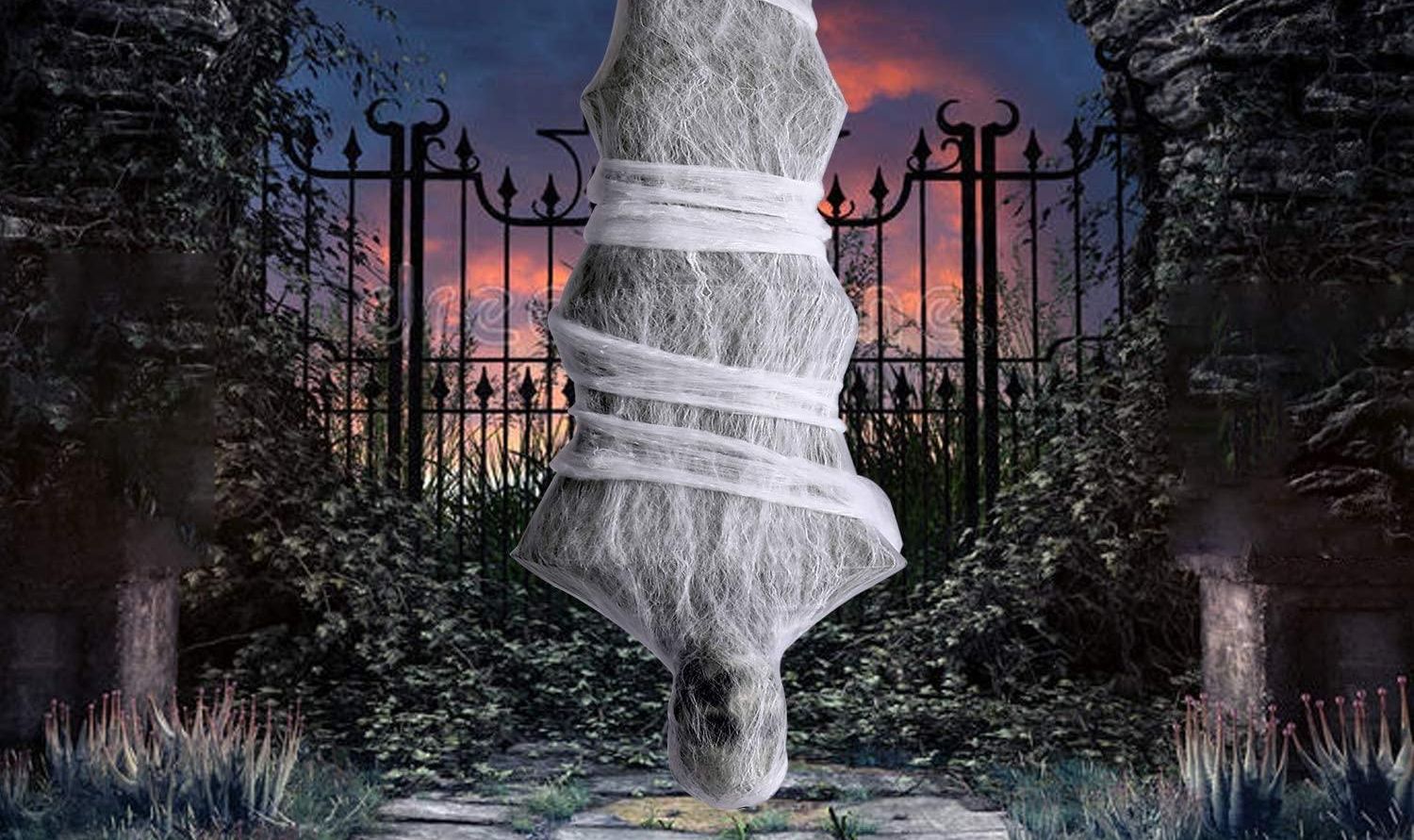 via Amazon
(Next-day delivery available through Prime.)
If a caterpillar goes into a cocoon and turns into a butterfly, what does a dead human turn into after being wrapped up in a tight silk envelope? Your neighbors' imaginations will run wild when they see this eerie cocoon hanging on your lawn but they probably won't want to see what happens next.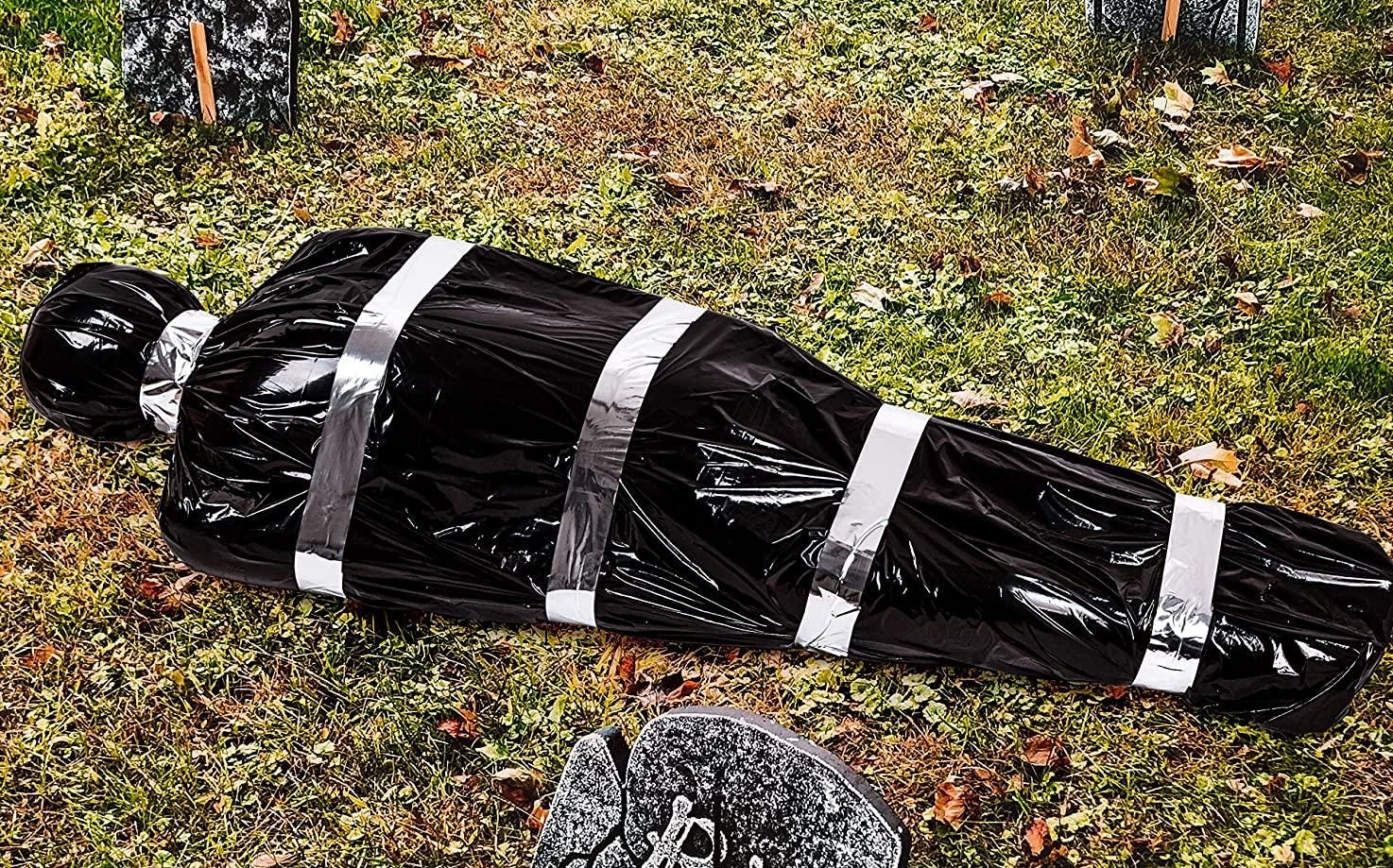 via Amazon
(Next-day delivery available through Prime.)
This body in a bag is a pretty simple Halloween prop. But it's exactly what everyone is afraid of running into, whether it's in a dumpster or washed up on the banks of the Hudson River. The true freakiness about this prop is that it could be real.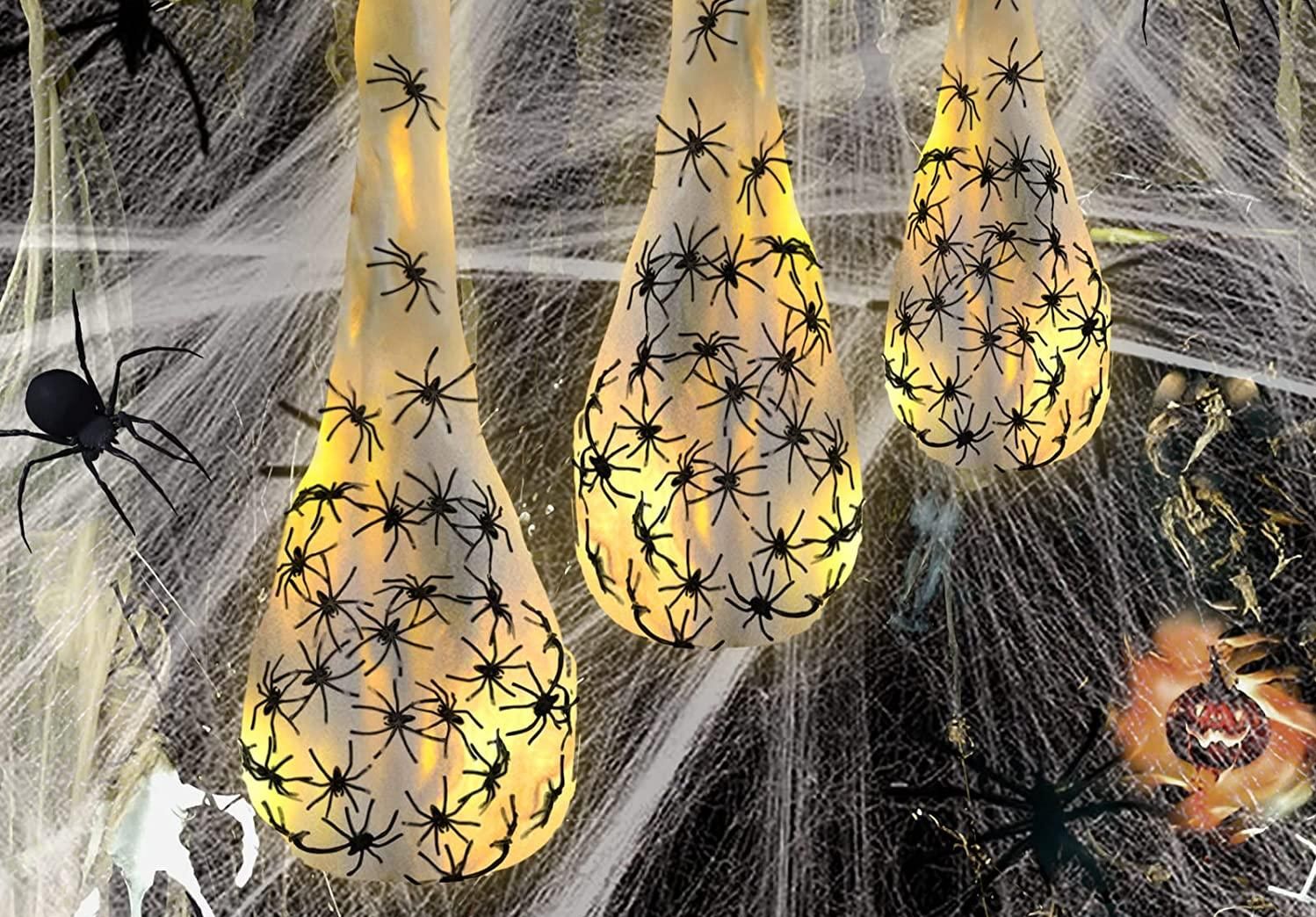 via Amazon
(Next-day delivery available through Prime.)
Spider egg sacs are super scary because, much like the human cocoon we mentioned earlier, it's all about potential. What kind of spiders are in those sacs? Black widows? Tarantulas? Brown recluses? Everybody wants to know, but no one wants to find out the hard way.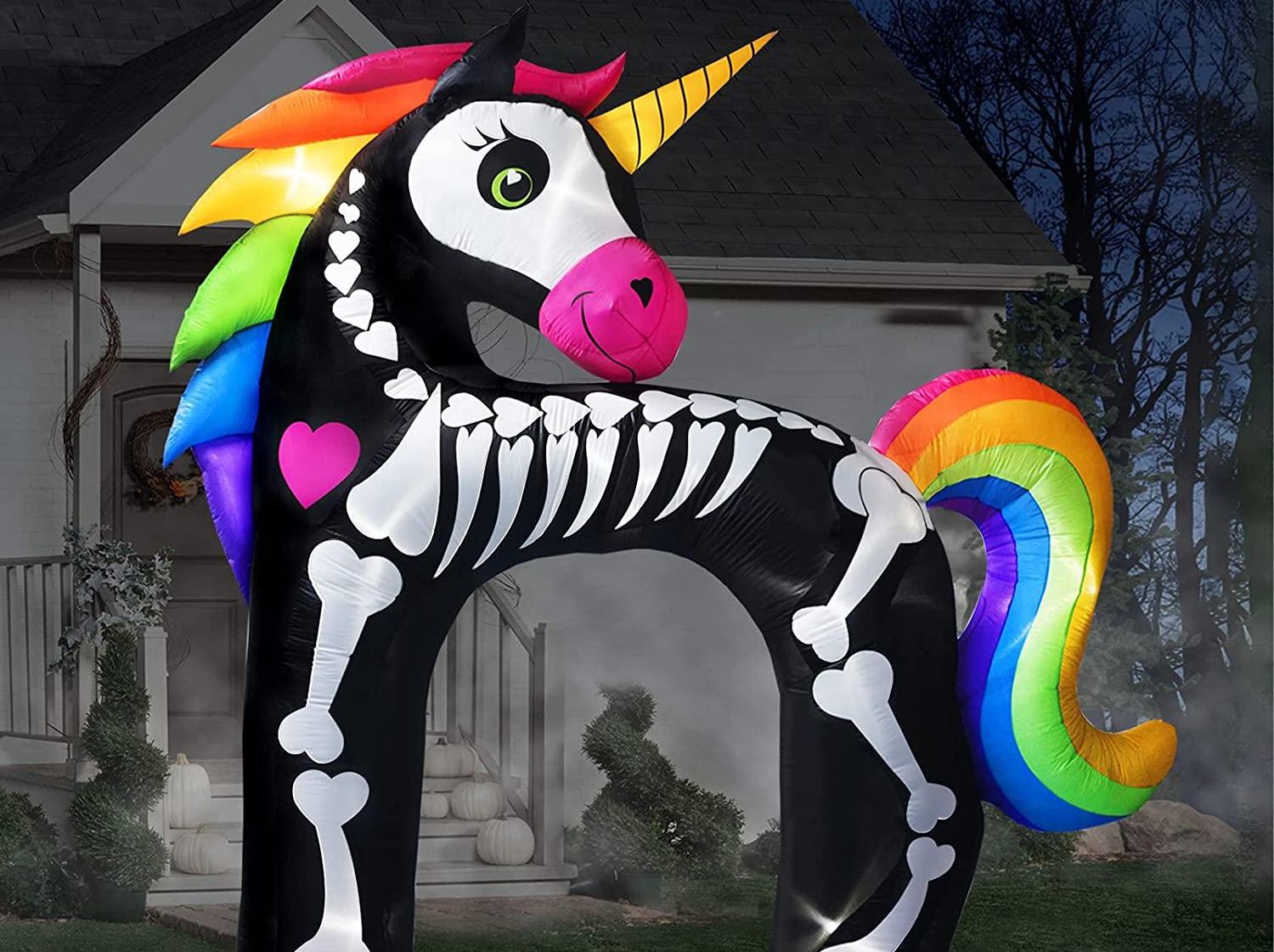 via Amazon
(Next-day delivery available through Prime.)
Ever wondered what would happen if Rainbow Dash from "My Little Pony" had her wings clipped and she fell out of the magical skies of Ponyville? Now you can follow Rainbow's magical trip through the afterlife with this 11-foot-tall blow-up arch gate sure to make your neighbors super confused.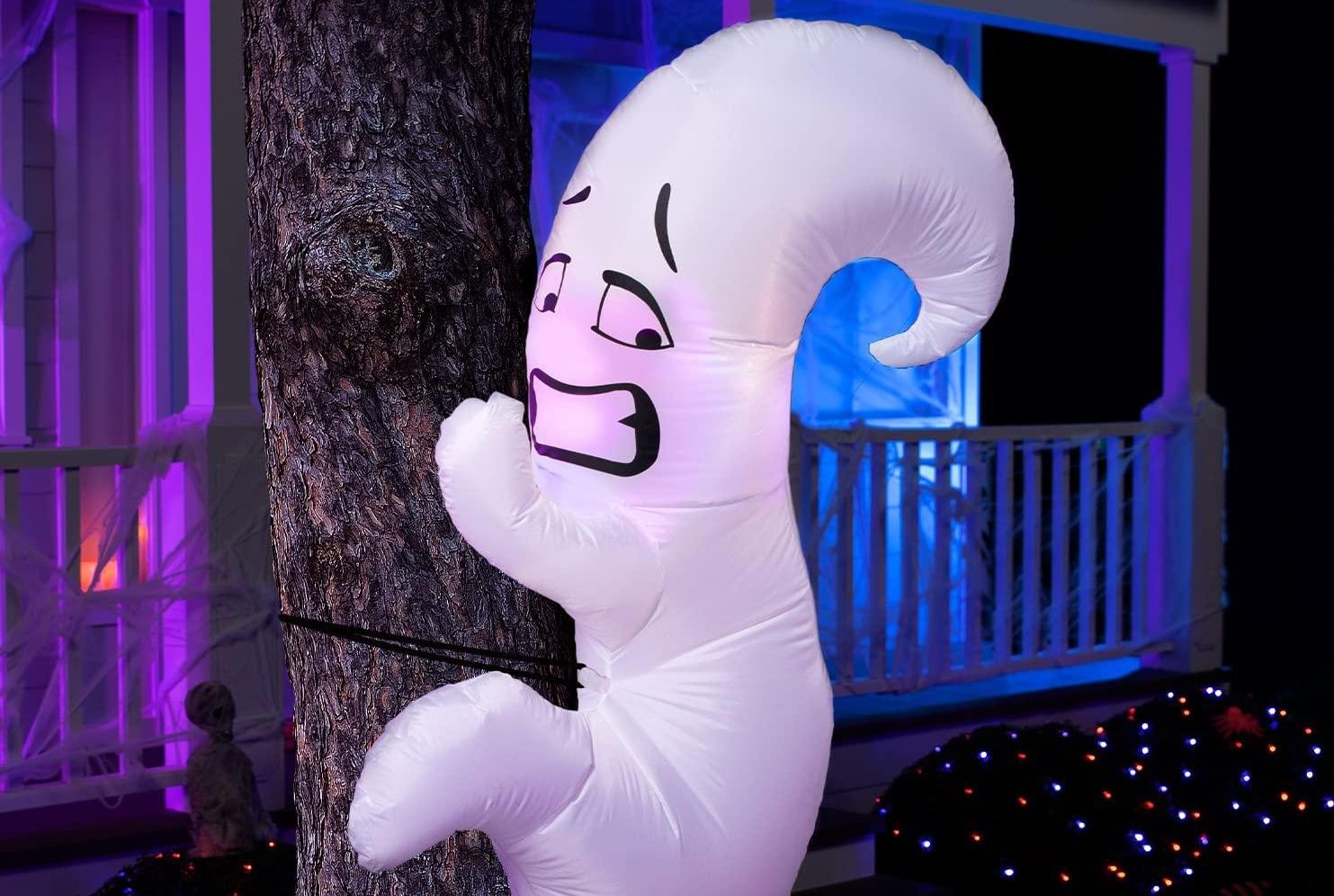 via Amazon
(Next-day delivery available through Prime.)
You know that Halloween is getting scary when ghosts are holding on for dear life. Horror is all about the imagination and what in the world is so terrible that it would freak out something that's already dead? Give your neighbors something horrifying to ponder this Halloween with this cute, frightened ghost.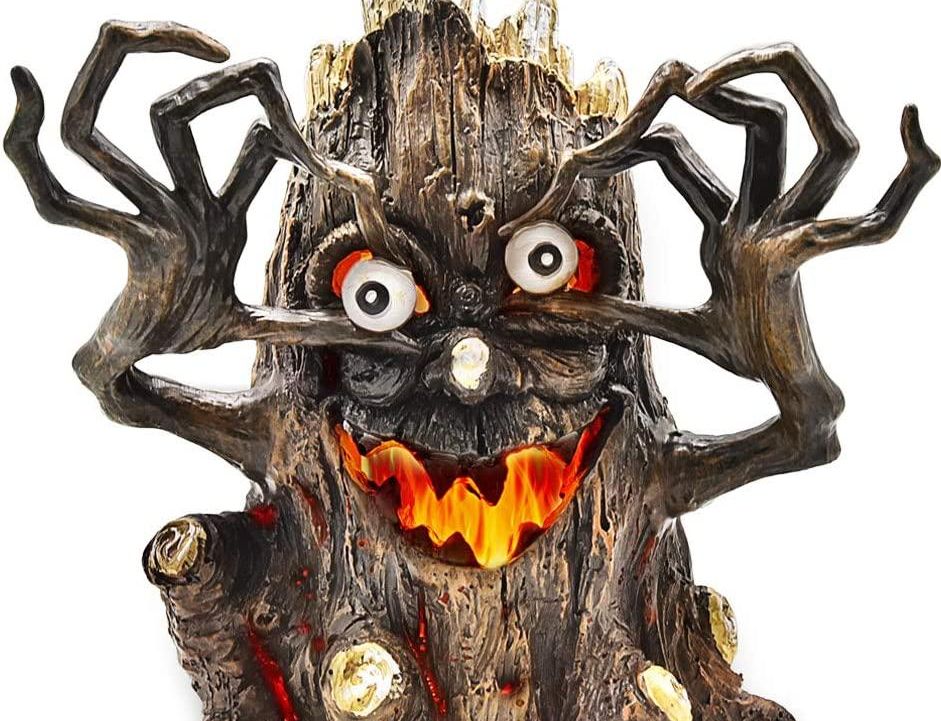 via Amazon
(Next-day delivery available through Prime.)
These solar-powered flaming trees will scare the bejesus out of trick-or-treaters as they attempt to make it up your walkway to get some treats. The flaming trees are solar-powered so they come on once the sun goes down.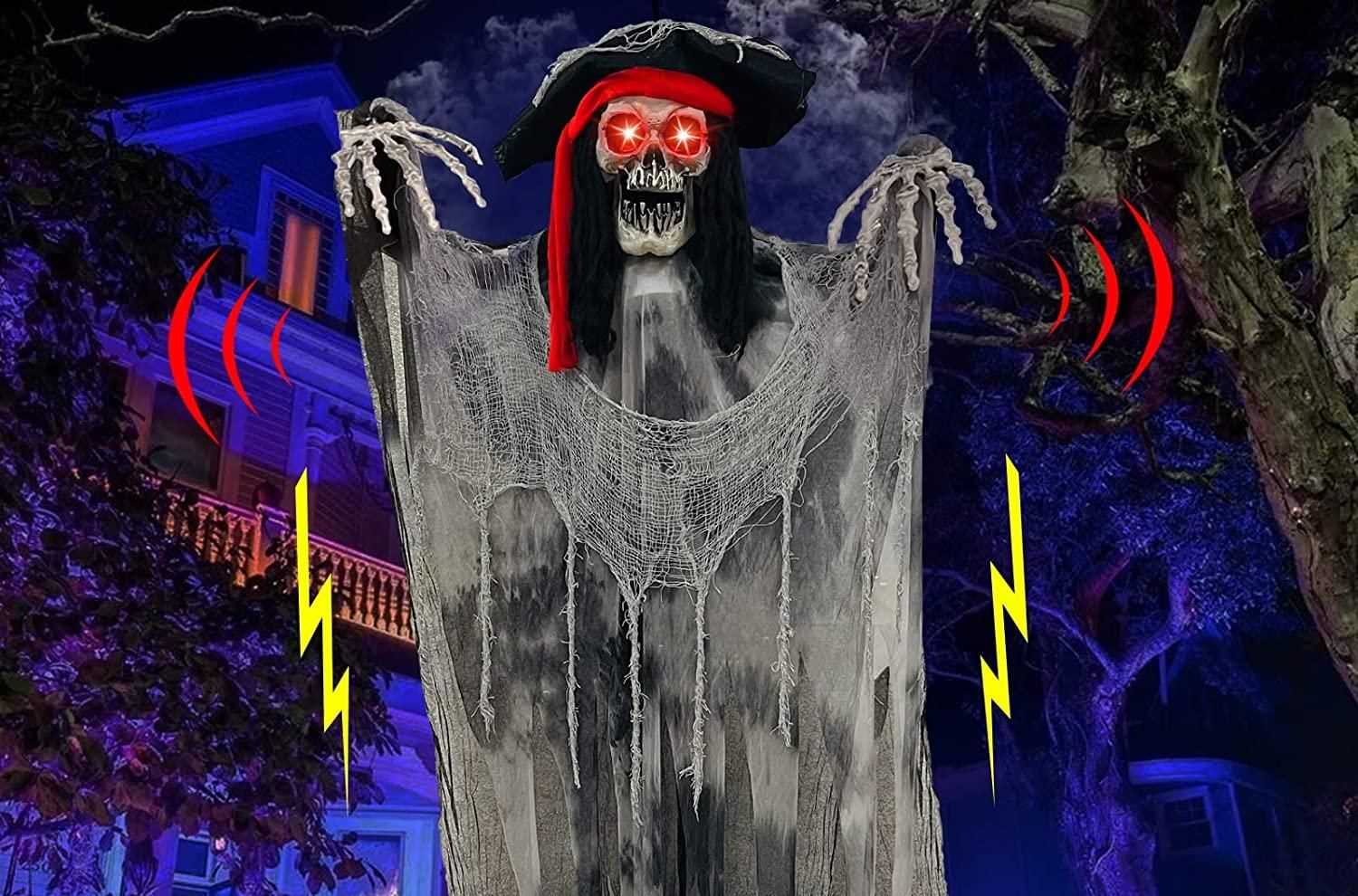 via Amazon
(Next-day delivery available through Prime.)
This six-foot-tall hanging pirate looks like an extra from "Pirates of the Caribbean." But instead of singing about the joy of life on the seven seas, he'll surprise your neighbors as they walk by your house by yelling, "Scared you, didn't I?"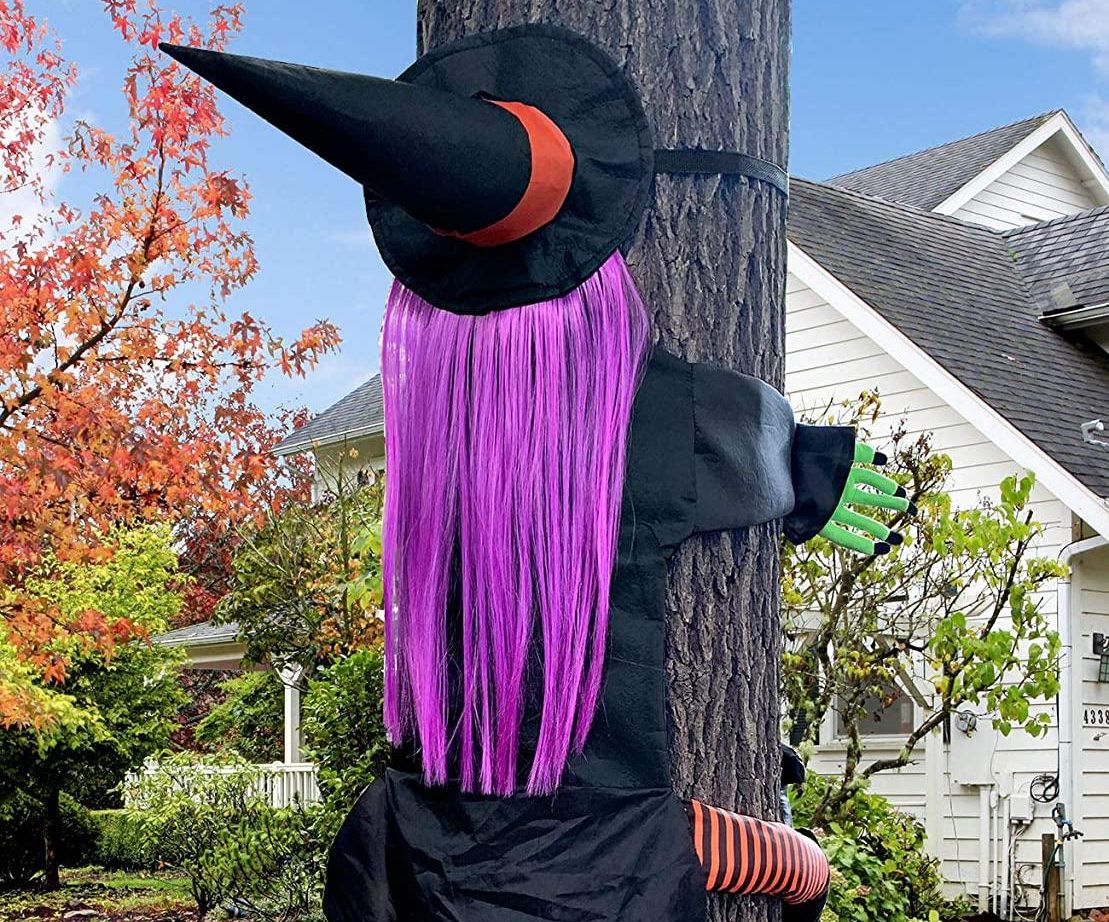 via Amazon
(Next-day delivery available through Prime.)
This witch should have asked for directions. Instead, she's done a face plant into a tree on your lawn. Your neighbors will get a good laugh from this elaborate comedy prop before they are traumatized by one of the other terrifying things you find on this list.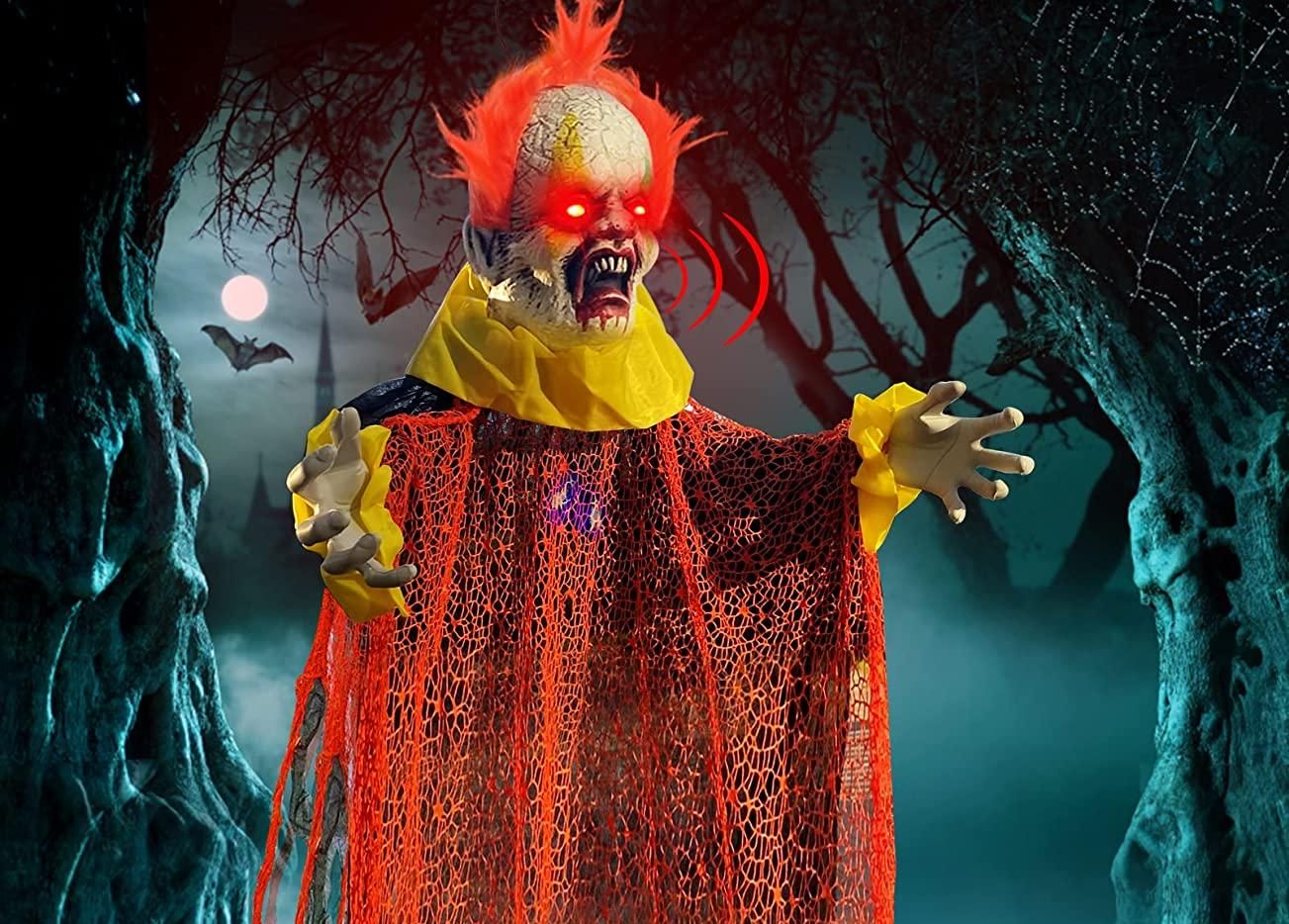 via Amazon
(Next-day delivery available through Prime.)
This 50-inch hanging talking clown ghost looks a lot like Pennywise from the "It" movies and is sure to give a huge fright to the folks who dare come down your block on Halloween. "Come closer, I got something for you and it is not a balloon" the clown will scream at your neighbors as they pray they make it through the night alive.
Upworthy may earn a percentage of proceeds from items purchased on this list
Pop Culture
'Social media is not reality and your entire life should not revolve around it.'
Get stories worth sharing delivered to your inbox
Get stories worth sharing delivered to your inbox