True
Girls are bombarded with messages from a very young age telling them that they can't, that is too big, this is too heavy, those are too much.
Unless someone takes the time to show them otherwise, they will grow up believing those limitations are true—and never reach their full potential.
Girls at Work, Inc.
, a nonprofit based in Manchester, NH, wants to change that by showing girls that they CAN.
Elaine Hamel founded Girls at Work, Inc. in 2000 because to her, empowerment isn't just a buzzword but a way of life. Their mission is to challenge traditional norms and normalize girl power, focusing specifically on uplifting and supporting inner city girls between the ages of 8 and 18, who need stability, safety, and confidence.

The girls attending summer camps or after-school programs work in groups and learn how to problem solve, communicate, and use tools to build something practical. Hamel believes that learning how to use power tools shows the girls that they can do anything they put their minds to, better preparing them for a bright future.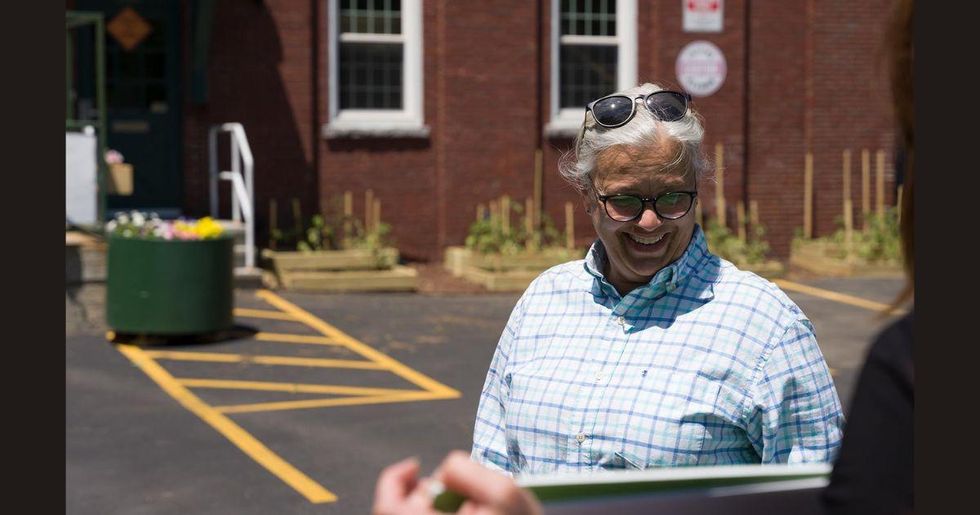 Photo courtesy of TD Bank
Elaine's forward-thinking, positive leadership, and passion for the community is exactly why TD Bank chose to honor her for the 2022 #TDThanksYou campaign, a North American campaign demonstrating the bank's gratitude and commitment to their customers by celebrating, recognizing, and thanking unsung heroes in exciting and meaningful ways. Hamel is one of six honorees recognized this year and was presented with power tools and gift certificates to purchase additional items needed to enhance the program.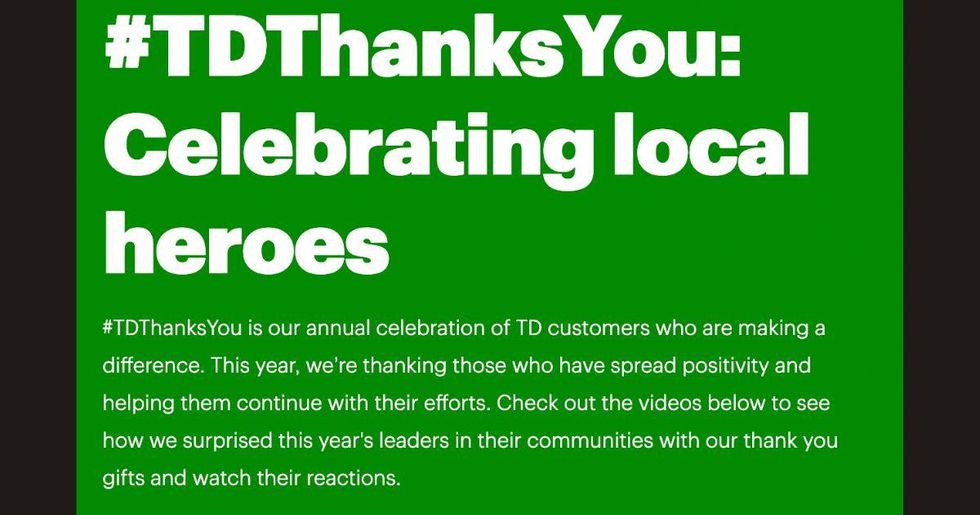 Hamel understands what it feels like to hear the word "can't." Growing up, she struggled to find her place in a world that seemed to be built by, and for, men. As a kid she loved to "create or fix things" and always found something to tinker with. Before long, she discovered not only did she enjoy building and repairing things, but she was very good at it.
She spent the next several decades breaking down the multitude of barriers that a woman pursuing a career as a general contractor faced in the 1980s and 1990s.
"It was really brutal when I first started out in construction," Hamel said. "The men were so cruel. But I grew up with five brothers and I was used to it. I told myself I'd be the boss one day…and now I am."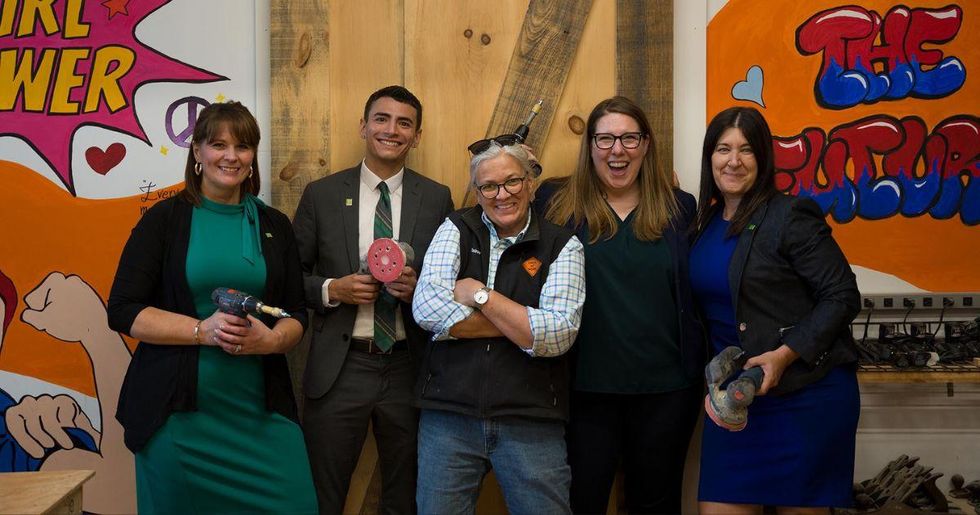 Photo courtesy of TD Bank
The process of learning how to become stronger and more confident in her natural abilities sent her career soaring, and drives her life's work—empowering girls to take up space and take control of their own lives.
"These are kids who grapple with neglect, food insecurity, and extreme poverty," said Hamel. "They're not soaring in school because they're in survival mode. They're hungry and unable to focus and learn." Hamel's solution is a fully stocked food pantry, where the girls can shop for groceries before heading home. Girls at Work, Inc. also has a "kindness closet," stocked with clothing, shoes, outerwear and other items.
After addressing their immediate needs, the girls are ready to get to work. "There are many programs out there devoted to teaching trades and skills to girls," said Hamel, "But this is about learning how to think critically and problem solve. Pushing through that is what actually empowers them."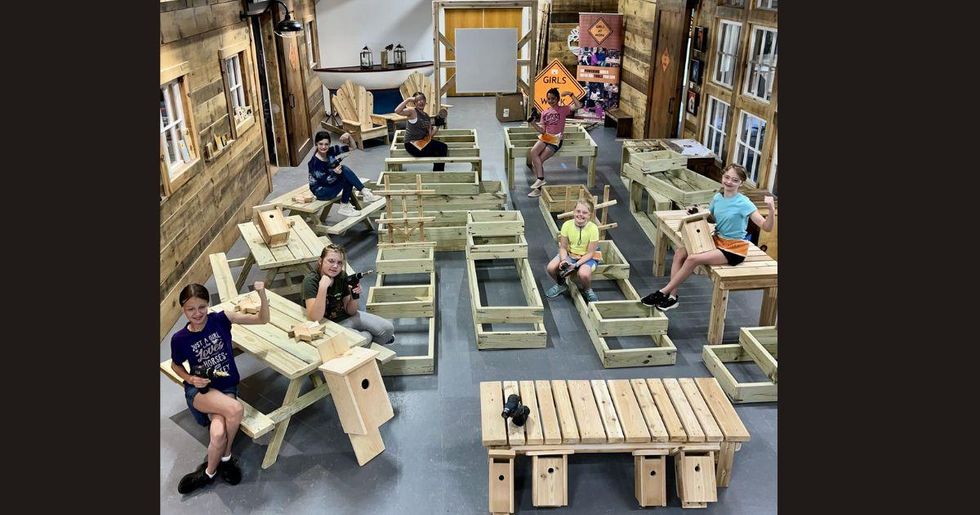 Photo courtesy of Girls at Work
The nonprofit is a vital part of the community, relying heavily on donations and volunteers to keep it going. For example, a club of retired men volunteer their time to pre-cut the lumber for Girls at Work, Inc.'s projects. The girls use that lumber to create things—like picnic tables, benches, and birdhouses—which in turn are donated to local organizations.
Hamel says she's built with over 20,000 girls so far, and her goal is to hit one million. Her dream is to secure funding to open up new locations to serve even more communities and says that watching these girls' step into their power and believe in themselves is what keeps her moving forward. The world needs more heroes like her.
To learn more about this year's #TDThanksYou heroes, visit https://www.td.com/us/en/about-us/customers/humans-with-heart
via Lewis Speaks Sr. / Facebook
This article originally appeared on 02.25.21

Middle school has to be the most insecure time in a person's life. Kids in their early teens are incredibly cruel and will make fun of each other for not having the right shoes, listening to the right music, or having the right hairstyle.

As if the social pressure wasn't enough, a child that age has to deal with the intensely awkward psychological and biological changes of puberty at the same time.
Jason Smith, the principal of Stonybrook Intermediate and Middle School in Warren Township, Indiana, had a young student sent to his office recently, and his ability to understand his feelings made all the difference.
The child was sent to the office for refusing to remove his hat in class. "So, I sat down with him and asked him why, what was going on," Smith told WRTV. "He said he just got his haircut, he didn't like the way it looked, and he thought his hairline look a little funny."
Having a haircut that's a little off can be like waving a red flag at middle school bullies. So, Smith decided to fix the situation by offering the child a haircut.
"I've been cutting hair most of my life. I played college basketball and I cut my teammates' hair before games and I've been cutting my son's hair for 17 years so I had professional clippers and edgers at home, so I said, 'If I go home and get my clippers and line you up, will you go back to class,' and he said, 'Yeah, I will,'" Smith said.
A photo of the cut was posted to Facebook where it's been seen over 21,000 times.
After Smith fixed the child's hairline, the student kept up his end of the bargain and returned to class.

"You know that age is a time for peer acceptance. It's huge. And So a young man, especially an African-American young man the barbershop is a big deal in the community. Looking good a representing and presenting yourself is huge for kids," Smith said.
A few days later, Smith posted a photo on Facebook of some memorable cuts he's given in the past. "Who knew a skill that helped me survive in college would be useful 20 years later?" he captioned the post.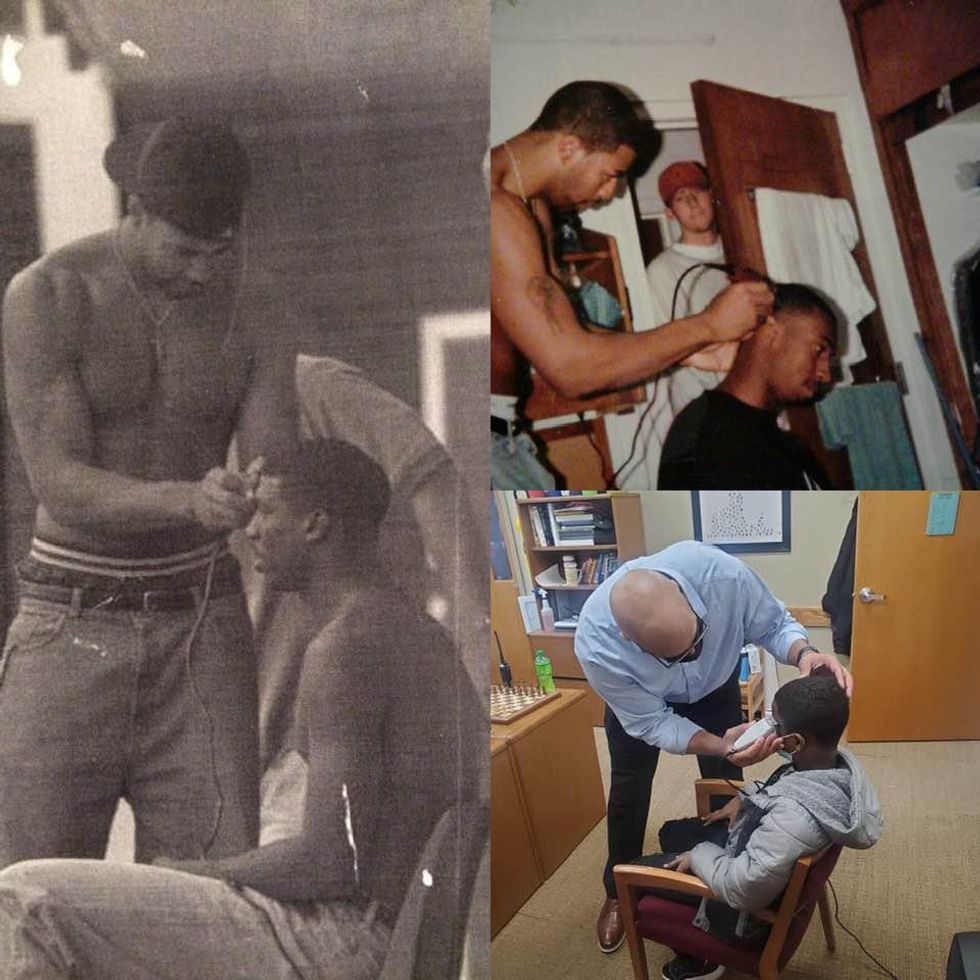 via Jason Smith / Facebook
Smith saw the situation as a way to help the child in the moment instead of having to resort to disciplinary actions. From the child's perspective what's worse -- being ridiculed in front of your peers or having a parent get angry?

"We're not disciplining with a hard fist. You could call and have the parent pick up the kid up for defiance. Or you can sit and get to the root of the problem and see what can I do to help you? What do you need right now?" Smith said.

Imagine what the world would be like if more people simply asked each other, "What do you need?"
"He really was not trying to get out of class. He just thought that he would be laughed at. So, we took the time and did what we could to help him," Smith said.
Smith recently posted a quote by professor Brené Brown on Facebook that serves as a great reminder of the practical power of solving problems at the root through compassion and direct action. "Leaders must either invest a reasonable amount of time attending to fears and feelings, or squander an unreasonable amount of time trying to manage ineffective and unproductive behavior."
Science
How we can create equity for all communities?
All images provided by Adewole Adamson
True
Adewole Adamson, MD, of the University of Texas, Austin, aims to create more equity in health care by gathering data from more diverse populations by using artificial intelligence (AI), a type of machine learning. Dr. Adamson's work is funded by the American Cancer Society (ACS), an organization committed to advancing health equity through research priorities, programs and services for groups who have been marginalized.
Melanoma became a particular focus for Dr. Adamson after meeting Avery Smith, who lost his wife—a Black woman—to the deadly disease.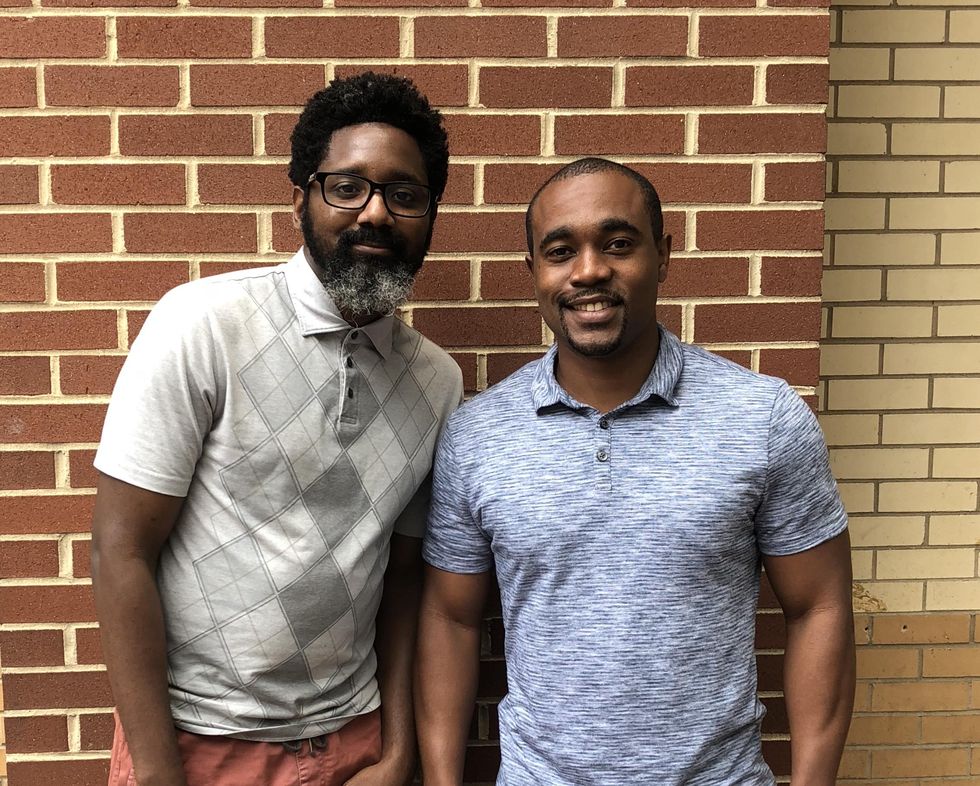 Avery Smith (left) and Adamson (sidenote)
This personal encounter, coupled with multiple conversations with Black dermatology patients, drove Dr. Adamson to a concerning discovery: as advanced as AI is at detecting possible skin cancers, it is heavily biased.
To understand this bias, it helps to first know how AI works in the early detection of skin cancer, which Dr. Adamson explains in his paper for the New England Journal of Medicine (paywall). The process uses computers that rely on sets of accumulated data to learn what healthy or unhealthy skin looks like and then create an algorithm to predict diagnoses based on those data sets.
This process, known as supervised learning, could lead to huge benefits in preventive care.
After all, early detection is key to better outcomes. The problem is that the data sets don't include enough information about darker skin tones. As Adamson put it, "everything is viewed through a 'white lens.'"
"If you don't teach the algorithm with a diverse set of images, then that algorithm won't work out in the public that is diverse," writes Adamson in a study he co-wrote with Smith (according to a story in The Atlantic). "So there's risk, then, for people with skin of color to fall through the cracks."
Tragically, Smith's wife was diagnosed with melanoma too late and paid the ultimate price for it. And she was not an anomaly—though the disease is more common for White patients, Black cancer patients are far more likely to be diagnosed at later stages, causing a notable disparity in survival rates between non-Hispanics whites (90%) and non-Hispanic blacks (66%).
As a computer scientist, Smith suspected this racial bias and reached out to Adamson, hoping a Black dermatologist would have more diverse data sets. Though Adamson didn't have what Smith was initially looking for, this realization ignited a personal mission to investigate and reduce disparities.
Now, Adamson uses the knowledge gained through his years of research to help advance the fight for health equity. To him, that means not only gaining a wider array of data sets, but also having more conversations with patients to understand how socioeconomic status impacts the level and efficiency of care.
"At the end of the day, what matters most is how we help patients at the patient level," Adamson told Upworthy. "And how can you do that without knowing exactly what barriers they face?"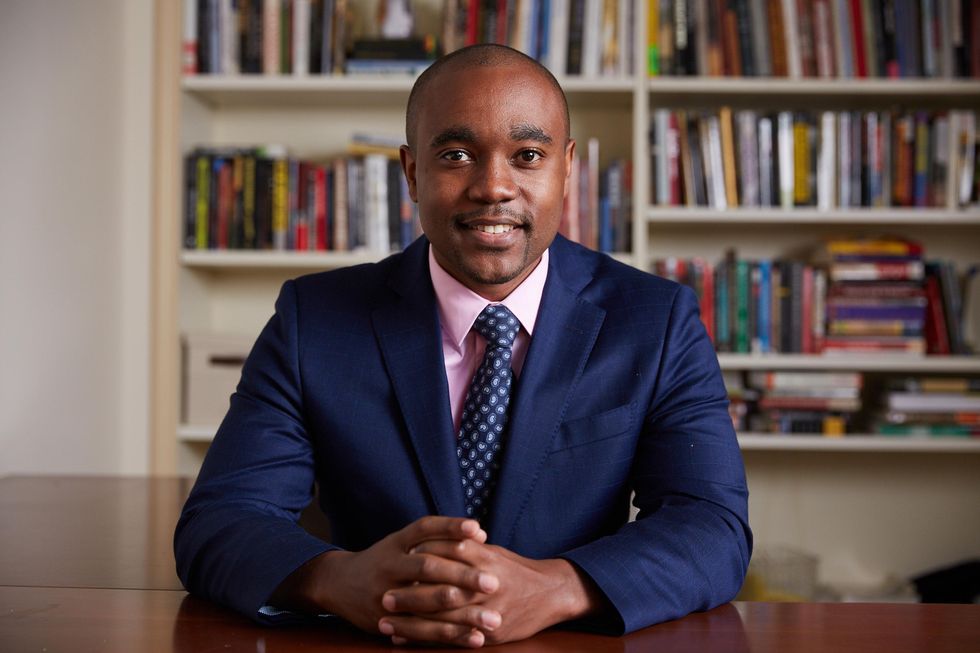 "What matters most is how we help patients at the patient level."https://www.kellydavidsonstudio.com/
The American Cancer Society believes everyone deserves a fair and just opportunity to prevent, find, treat, and survive cancer—regardless of how much money they make, the color of their skin, their sexual orientation, gender identity, their disability status, or where they live. Inclusive tools and resources on the Health Equity section of their website can be found here. For more information about skin cancer, visit cancer.org/skincancer.
Joy
You're never too old for a day of joy.
Isaiah Garza knows a thing or two about struggle. Having lived in poverty and been in and out of homelessness growing up, the Los Angeles-based designer, entrepreneur, philanthropist and public speaker hasn't traveled an easy road, but has always felt compelled to make life better for others and inspire future generations.
Thanks to Rihanna being photographed wearing one of his jewelry designs on the cover of a French magazine, Garza has gotten to fulfill his dream. His successful design business has enabled him to spend a chunk of his money and time making people's days a little brighter and sharing the effects of simple, kind and generous acts on social media.
For example, Garza recently invited a 100-year-old veteran he bumped into to spend a day with him at Disneyland. The man uses a walker, and most people probably wouldn't think to ask a centenarian with mobility challenges if they want to go to a theme park, but the day they had together speaks to the power of reaching out without assumptions about limitations.
Garza's video begins with him approaching the gentleman as he's out for a walk.
"I'm sorry to bother you," Garza says, "but I've had a really rough day. I just wanted to see if you would be willing to go to Disneyland with me today?"
Right off the bat, the ask is a lesson in kindness. Garza isn't saying, "Here, let me do this nice thing for you," but rather he's asking the gentleman to do him a favor by accompanying him.
The man's surprised reaction was understandable, but he said yes. What do you have to lose at 100? What followed was a delightful day for both of them as the man got to experience a day of Disney magic, which somehow always manages to work no matter what your age.
Watch and enjoy:
@isaiahgarza

I took a 100 year old veteran to Disneyland & we became best friends ❤️ #disneyland #kindness #friends #veteran #bestfriends
When the man tells Garza, "I thought my life was over," it's clear how much this day meant to him. When we're young, we're often so busy that we don't recognize that not everyone lives like we do. Older people often get lonely and can easily be overlooked by society, and Garza approaching this man with a Disney day invitation let him know he wasn't forgotten.
It also told him that he was seen as a full human with agency and capacity. Not many people see an old man with a walker and think, "I bet he'd like to go spend a day at Disneyland," but look how happy it made him. Assumptions about what people who are older or people with mobility issues can do—or what they might want to do—can cause us to miss out on mutually enjoyable experiences. Perhaps not everyone this gentleman's age would enjoy something as energy-filled as a day at Disney, but you never know, and it certainly doesn't hurt to ask.
Imagine if each of us reached out to an elderly neighbor and invited them to do something fun with us. It doesn't have to be a full day at a theme park—it could be a museum tour, a walk in the park, a coffee, a movie date and so on. Just the simple act of reaching out to let them know they are remembered and valued can make a big difference, but taking the time to share some joy together can be life-changing.
Garza's kind and thoughtful approach is one we can all learn from and emulate. Thanks for showing us that it doesn't take an enormous amount of effort to make the lives of those around us a whole lot richer and brighter.
Pop Culture
It was a magical time when animals played sports and yet somehow things were just simpler.
YouTube/Upworthy photo illustration
Everyone knows that '90s movies just hit different. From sports movies to rom-coms to even horror, there was an undeniable innocence, without being overly simplistic or juvenile. They didn't have nearly the amount of money going into production as they do today, but somehow managed to transport us to magical places.
Movies of the '90s are so iconic that there have been several attempts to reboot beloved titles. Which, let's face it, tends to be a fool's errand at a cash grab. These movies are so timeless that simply viewing the original is more than fine.
Not sure which movie to start with? You're in luck—a Reddit user by the name of YouBrokeMyTV asked '90s kids to share movies that took them "back to a better time," and because the internet can be a wonderful place, tons of people responded with some beloved classics.
These answers certainly don't make a definitive list (there are just so, so many gems) but they're a fun glimpse into what made '90s cinema so special. A nostalgic romp through memory lane, if you will.
Enjoy these 14 titles that just might leave you jonesing for a rewatch:
Get stories worth sharing delivered to your inbox
Get stories worth sharing delivered to your inbox