Connections Academy
True
Teens of today live in a totally different world than the one their parents grew up in. Not only do young people have access to technologies that previous generations barely dreamed of, but they're also constantly bombarded with information from the news and media.

Today's youth are also living through a pandemic that has created an extra layer of difficulty to an already challenging age—and it has taken a toll on their mental health.
According to Mental Health America, nearly 14% of youths ages 12 to 17 experienced a major depressive episode in the past year. In a September 2020 survey of high schoolers by Active Minds, nearly 75% of respondents reported an increase in stress, anxiety, sadness and isolation during the first six months of the pandemic. And in a Pearson and Connections Academy survey of US parents, 66% said their child felt anxious or depressed during the pandemic.
However, the pandemic has only exacerbated youth mental health issues that were already happening before COVID-19.
"Many people associate our current mental health crisis with the pandemic," says Morgan Champion, the head of counseling services for Connections Academy Schools. "In fact, the youth mental health crisis was alarming and on the rise before the pandemic. Today, the alarm continues."
Mental Health America reports that most people who take the organization's online mental health screening test are under 18. According to the American Psychiatric Association, about 50% of cases of mental illness begin by age 14, and the tendency to develop depression and bipolar disorder nearly doubles from age 13 to age 18.
Such statistics demand attention and action, which is why experts say destigmatizing mental health and talking about it is so important.
"Today we see more people talking about mental health openly—in a way that is more akin to physical health," says Champion. She adds that mental health support for young people is being more widely promoted, and kids and teens have greater access to resources, from their school counselors to support organizations.
Parents are encouraging this support too. More than two-thirds of American parents believe children should be introduced to wellness and mental health awareness in primary or middle school, according to a new Global Learner Survey from Pearson. Since early intervention is key to helping young people manage their mental health, these changes are positive developments.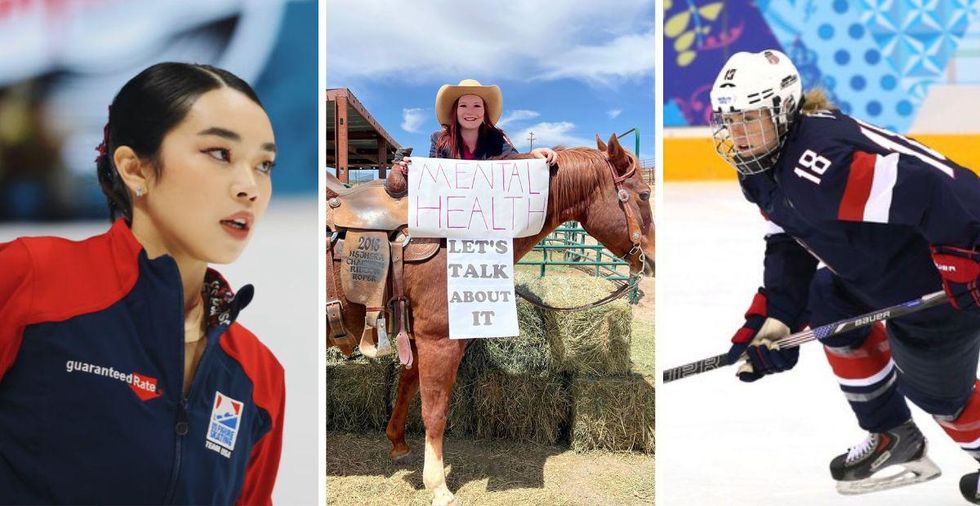 In addition, more and more people in the public eye are sharing their personal mental health experiences as well, which can help inspire young people to open up and seek out the help they need.
"Many celebrities and influencers have come forward with their mental health stories, which can normalize the conversation, and is helpful for younger generations to understand that they are not alone," says Champion.
That's one reason Connections Academy is hosting a series of virtual Emotional Fitness talks with Olympic athletes who are alums of the virtual school during Mental Health Awareness Month. These talks are free, open to the public and include relatable topics such as success and failure, leadership, empowerment and authenticity. For instance, on May 18, Olympic women's ice hockey player Lyndsey Fry will speak on finding your own style of confidence, and on May 25, Olympic figure skater Karen Chen will share advice for keeping calm under pressure.
Family support plays a huge role as well. While the pandemic has been challenging in and of itself, it has actually helped families identify mental health struggles as they've spent more time together.
"Parents gained greater insight into their child's behavior and moods, how they interact with peers and teachers," says Champion. "For many parents this was eye-opening and revealed the need to focus on mental health."
It's not always easy to tell if a teen is dealing with normal emotional ups and downs or if they need extra help, but there are some warning signs caregivers can watch for.
"Being attuned to your child's mood, affect, school performance, and relationships with friends or significant others can help you gauge whether you are dealing with teenage normalcy or something bigger," Champion says. Depending on a child's age, parents should be looking for the following signs, which may be co-occurring:
Perpetual depressed mood
Rocky friend relationships
Spending a lot of time alone and refusing to participate in daily activities
Too much or not enough sleep
Not eating a regular diet
Intense fear or anxiety
Drug or alcohol use
Suicidal ideation (talking about being a burden or giving away possessions) or plans
"You know your child best. If you are unsure if your child is having a rough time or if there is something more serious going on, it is best to reach out to a counselor or doctor to be sure," says Champion. "Always err on the side of caution."
If it appears a student does need help, what next? Talking to a school counselor can be a good first step, since they are easily accessible and free to visit.
"Just getting students to talk about their struggles with a trusted adult is huge," says Champion. "When I meet with students and/or their families, I work with them to help identify the issues they are facing. I listen and recommend next steps, such as referring families to mental health resources in their local areas."
Just as parents would take their child to a doctor for a sprained ankle, they shouldn't be afraid to ask for help if a child is struggling mentally or emotionally. Parents also need to realize that they may not be able to help them on their own, no matter how much love and support they have to offer.
"That is a hard concept to accept when parents can feel solely responsible for their child's welfare and well-being," says Champion. "The adage still stands—it takes a village to raise a child. Be sure you are surrounding yourself and your child with a great support system to help tackle life's many challenges."
That village can include everyone from close family to local community members to public figures. Helping young people learn to manage their mental health is a gift we can all contribute to, one that will serve them for a lifetime.
Join athletes, Connections Academy and Upworthy for candid discussions on mental health during Mental Health Awareness Month. Learn more and find resources here.
Joy
Whatever gets us from A to B, right?
That first car is a rite of passage into adulthood. Specifically, the hard-earned lesson of expectations versus reality. Though some of us are blessed with Teslas at 17, most teenagers receive a car that's been … let's say previously loved. And that's probably a good thing, considering nearly half of first-year drivers end up in wrecks. Might as well get the dings on the lemon, right?
Of course, wrecks aside, buying a used car might end up costing more in the long run after needing repairs, breaking down and just a general slew of unexpected surprises. But hey, at least we can all look back and laugh.
My first car, for example, was a hand-me-down Toyota of some sort from my mother. I don't recall the specific model, but I definitely remember getting into a fender bender within the first week of having it. She had forgotten to get the brakes fixed … isn't that a fun story?
Jimmy Fallon recently asked his "Tonight Show" audience on Twitter to share their own worst car experiences. Some of them make my brake fiasco look like cakewalk (or cakedrive, in this case). Either way, these responses might make us all feel a little less alone. Or at the very least, give us a chuckle.
Here are 22 responses with the most horsepower:
1. 
"1985 champagne Ford Taurus. Front and back license plates said 'Bernie'. Everyone who rode signed the roof lining. Brittany Spears sticker on the hood. Orange scuff marks lining the side from taking out rows of plastic construction barrels, on purpose." – @StaufferJacob85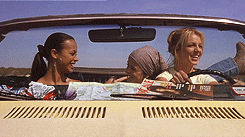 Giphy
Not sure I see the problem here. Clearly that car was work of art.
2. 
"My car in high school had a hole in the gas tank, but it was near the top, so you only had to worry about it if you put in more than $7 worth of gas." – @jimmyfallon
3. 
"Our son's first car has electric doors. They often malfunction and open / close at random when he's parked. He has to time it just right as he dives in and out or he gets stuck!" – @Sohnzie
4. 

"The sunroof blew off of #myworstcar the first time I drove it on the highway. I duct taped a piece of plexiglass over the hole & that was the roof for the next 2 years. The electrical system shorted out from water getting in and the alarm would go off randomly and the radio froze." – @hopesstillmedia
5.
"2 months after my Uncle 'got it checked by a mechanic,' the transmission went out. Over the years, the alternator broke down twice, the air conditioner, the serpentine belt, the brakes... I could go on. I think I should get a refund for the $1 gave my uncle." – @rednicknack
6.
"The 1st car I drove in the 80s was a Chevy Chevette in high school. It didn't have 2nd gear so you had to go from 1st to 3rd. The driver's seat was broken so we had a short 2x4 wedged between the back of the seat and the floor in the back." – @englishteacher8
7.
"I drove a 98 ford ranger in high school that could only go 45 mph before it started back firing. When you got up to 46, people thought you were performing a drive by shooting. Got stopped by the cops a few times for it." – @amylynnfish
8.
"My mom owned a 1992 Chrysler LeBaron, and its car radio all of a sudden stopped working. So whenever my mom wanted to listen to the 'radio', I had to do all the radio sound effects and static noise, sing random songs and commercial jingles, and recite ad voiceovers." – @DulceFloCruz99
9.
"2004 Honda Civic Coup. where to begin? the muffler that would fall off every couple miles, the ac that never worked, break pad that fell into my hand or the fact only one of the vehicle's TWO doors would open?!" – @moshimotions
10.
"I learned to drive a stick car in '86 on a '76 VW Rabbit. There was a hole in the floor near the shift. I always felt like Fred Flintstone and if I had a problem I could just use my feet!" – @AnnMcD87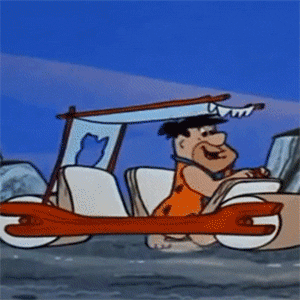 Yabba Dabba drive
Giphy
11.
"I had a 91 Acura and it had some alternator problem where it would not start if it was hot (I lived in Pasadena at the time) so it was hot a lot. In my 21 year old mind, I decided to not fix the problem, just park the car on a slope wherever I went so I could start it." – @astovesand
12.
"My first car, a maroon Mitsubishi Colt Vista, had a nest of bees living in both the driver and passenger side doors." – @BrnSkr
13.
"My car in college always overheated and broke down in the same place going up a mountain. I often had to drive in front of a sign that said 'Kentucky prison ahead, please do not pick up hitchhikers.'" – @HancockTraci
14.
"My first car when I was 17 had a hole in the pipe that takes the petrol to the tank, I'd put 30 in but average around 15 that made it to the tank if I was lucky. When I drop into the forecourt I would get the "get the f#c@n sand bucket ready" eye roll of the cashier." – @asalllas
15.
"My first car was a 1981 gold Honda civic station wagon called the Jesus-mobile because it had one of those fish stickers on the back and would leak water and make a whine noise." – @KyleKerouac

17.
"My first car was a Corvair. It had many issues, but the worst was when the motor mounts broke without warning and the engine literally fell out into the street while I was driving." – @styllpoint
18.
"I stapled a tie die tapestry to the roof of the interior and it fell down while my mom was backing out of the driveway and she hit the mailbox." – @JDylanNYC
19.
"I had a Toyota that was 4 different colors. Had replacement parts on it but couldn't afford to get it painted. It had a cracked distributor cap so every time it rained, I had to take it apart to dry it out so the car would start." – @kmacassar
20.

"#Myworstcar was an Acura that my dad bought at the police auction. He made me deep clean it and something suspiciously blood-colored came up from the back carpet." – @KatieKlauss
21.
"In HS I had a 1970 Ford Maverick. Every time I turned left in the summertime, the AC drain drained into the passenger floorboard. Well-placed coffee cans caught most of the water." – @saxmelody
22.
"My Brother and I had to get out and walk to the top of steep hills on family trips because our car was so underpowered." – @Sohnzie
Get stories worth sharing delivered to your inbox
Get stories worth sharing delivered to your inbox