More
The results from this website could easily be real celebrity apologies.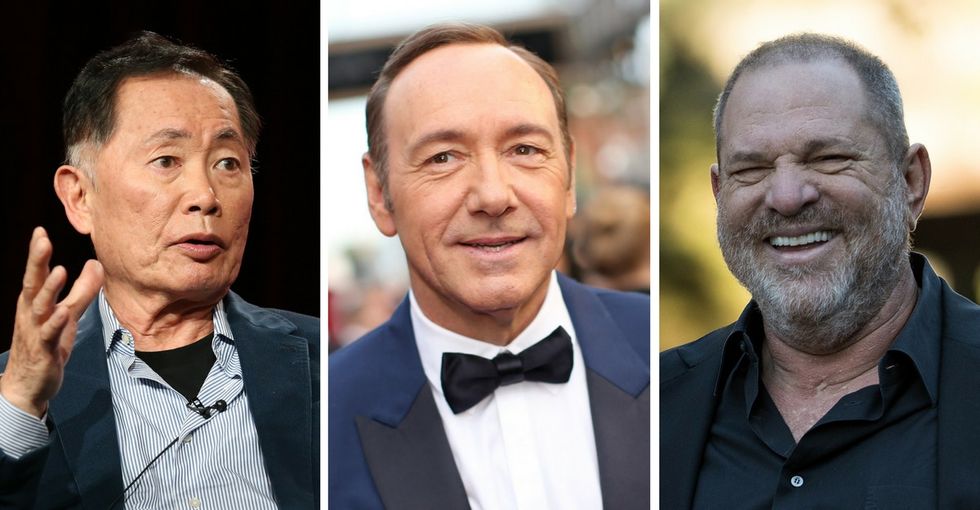 Why are celebrity apologies so ... bad? Like ... head-scratchingly bad?
Harvey Weinstein prefaced his by saying that he "came of age in the '60s and '70s, when all the rules about behavior in workplaces were different." Louis C.K. noted that he "never showed a woman [his] dick without asking first." Kevin Spacey felt the need to say, "I choose now to live as a gay man."
For having access to some of the best public relations professionals in the world, it seems celebrities just can't seem to put together a statement of contrition that actually comes off as genuine.
---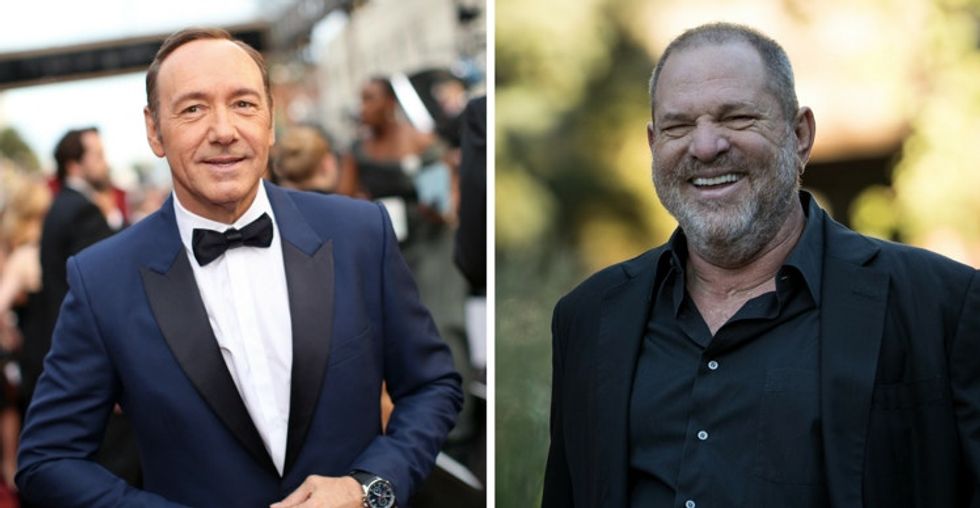 Kevin Spacey and Harvey Weinstein have both recently released less-than-stellar apologies for truly reprehensible acts. Photos by Christopher Polk/Getty Images, Photo by Drew Angerer/Getty Images.
Author Dana Schwartz jokingly tweeted plans to start "a small business ghostwriting half-hearted apologies for celebrity pervs." Within 24 hours, it became a reality.
Teaming up with designers Rob Sheridan and Scott McCaughey, Schwartz launched the Celebrity Perv Apology Generator, where anyone can go and get their very own half-assed apology for free. It's satire at its best, reflecting non-apologies back on the celebrities who give them.
"Please consult for all your celebrity perv apology needs," Schwartz tweeted.
The Celebrity Perv Apology Generator is up and running. Please consult for all your celebrity perv apology needs: https://t.co/1r7SwV2MMs

— Dana Schwartz (@Dana Schwartz)1511212360.0
In cycling through a few results on the apology generator, some familiar phrases popped up.
"As someone who grew up in a different era, the allegations against me are troubling," reads one of the responses.

"As someone who grew up in a different era, the allegations against me are troubling. I comforted myself by saying that at least I asked before I 'honked' her boobs and demanded she watch me shower, and of course now I realize my behavior was wrong. In conclusion, I'm not saying the victim is a 'liar,' I'm just saying 'she's not telling the truth about the thing that happened because maybe it didn't even happen.'"
"As a father of daughters," begins another.

"As the father of daughters, I feel tremendously guilty now that the things I did have been made public. I imagined that any woman would have been thrilled to see a tiny penis peeking out from below my pasty, middle-aged paunch like the head of a geriatric albino turtle moments from death, and of course now I realize my behavior was wrong. In conclusion, I will wait 2-3 years before reappearing in film and TV and just sort of hope you all forget about this."
The common thread in each of these results is that the words "I'm sorry" are nowhere to be found, instead, replaced by a litany of excuses.

"As a male feminist, harassment is completely unacceptable — especially when people find out about it. At the time I believed that my sociopathic manipulation of the 22-year-old in my office was consensual, and of course now I realize my behavior was wrong. In conclusion, I will delete my Twitter account because I hate to see people who are mad at me."
"I found myself getting really exacerbated by the cycle of accusation, blowback, and apology," Schwartz explains in a Twitter direct message.
"The apologies just became these rote boxes to check, like a whole new genre of writing complete with its own cliches and recycled phrases," she says.
The generator was born out of the idea that the types of apologies we've been seeing from celebrities are so generic that they might as well be pre-written or even automated.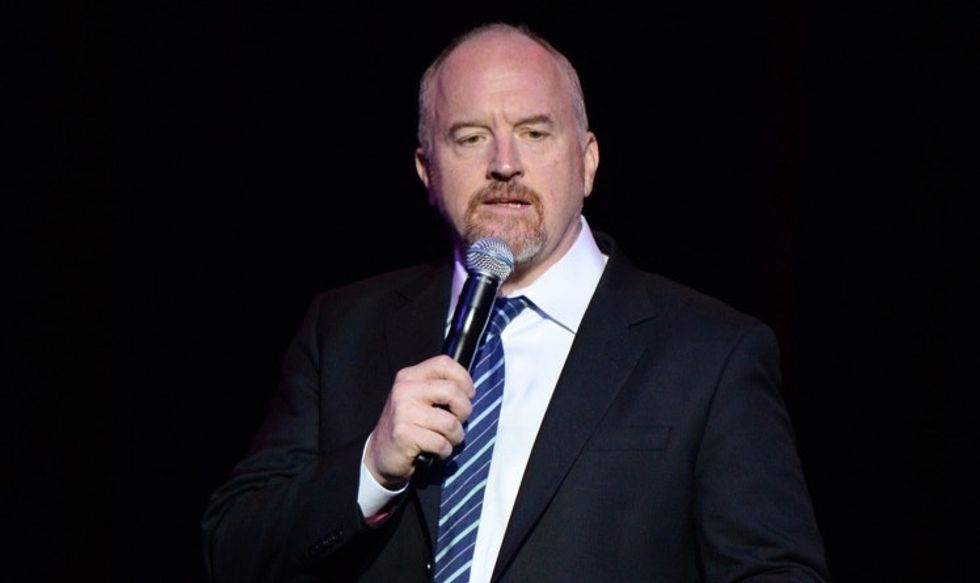 "At the time, I said to myself that what I did was OK because I never showed a woman my dick without asking first, which is also true," comedian Louis C.K. wrote in a statement to the New York Times. Photo by Kevin Mazur/Getty Images for The Bob Woodruff Foundation.
Apologies are important, so what makes a good one?
According to Schwartz, a good apology must be earnest, specific, and remorseful. "Actually saying, 'I'm sorry' helps, and not making excuses," she writes, adding that the best apologies would have happened years ago and not just when someone's professional reputation is on the line.
A 2014 paper by Stanford psychologist Karina Schumann, published in the Journal of Experimental Social Psychology suggests that a good apology actually has eight specific parts:
The words "I'm sorry."
The words "I was wrong," or some variation thereof.
An acknowledgment of the action being apologized for.
An honest description of the action without blaming others.
An emphasis on understanding how the wronged person has been hurt.
An outline of plans to make amends for the damage the was done.
An assurance that what's being apologized for won't happen again.
An ask for forgiveness.
Not every apology will be accepted, and that's OK. We all make mistakes in our lives; we all have moments or actions that have probably necessitated an apology or two along the way. Not every apology has to be a big public show — in fact, most genuine apologies aren't.
In an ideal world, the offending action wouldn't have happened in the first place. This isn't that world, however. People make mistakes, and when they do, they should say they're sorry — they should just make sure it doesn't sound like something you'd find on Schwartz's website.