Andy woke up with no sight and a tube down his throat.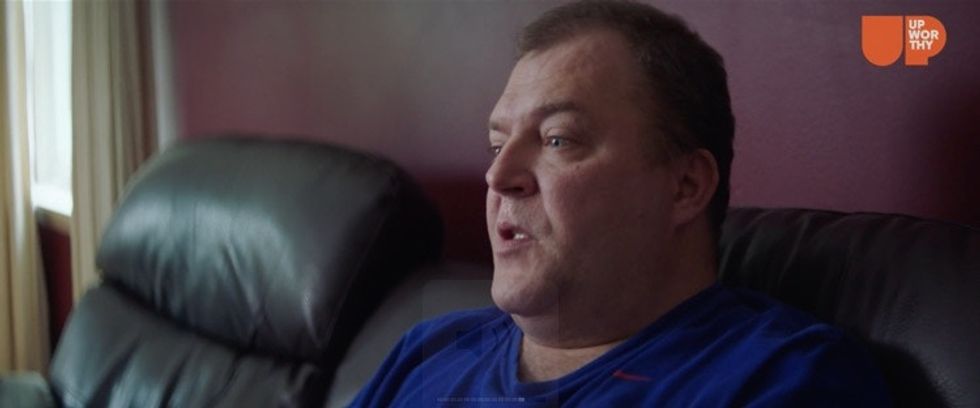 On Sept. 28, 2011, an unknown person assaulted Andy. The attack knocked him unconscious, and when he woke up, he couldn't see anymore. The assault had damaged his optic nerve.
"I thought to myself, 'Hah. Whatever. You'll just open me up, reattach the wires and lights come back on again,'" recalls Andy. But that wasn't going to happen. "[The doctor] put his hand on my shoulder and said, 'I'm sorry, Andy.'"
<h2>Over time, Andy adjusted to losing his sight. But it wasn't easy.</h2><p><a href="https://nfb.org/blindness-statistics" target="_blank">More than 7 million American adults</a> are blind or have a visual disability and it doesn't necessarily have to be a sad thing. But for Andy, losing his sight was difficult. </p><p><strong>"The hardest thing for me being completely blind is not seeing my family every day," says Andy. </strong>"For me to learn to accept, 'You're never going to see again, Andy. You're never going to see your wife, your children, your dog.' Taken away in the blink of an eye. It's not fair."</p><h2>But then the doctor said he might know something that could help.</h2><p>There's a weird device out there called the <strong>BrainPort. It lets people see with their tongues.</strong> Yeah — their tongues. The device has three parts: a small camera, an iPhone-sized computer, and a weird half-spatula/half-lollipop-looking thing. </p><div><div class="push-wrapper--mobile" data-card="image" data-reactroot=""><img type="lazy-image" data-runner-src="https://assets.rebelmouse.io/eyJhbGciOiJIUzI1NiIsInR5cCI6IkpXVCJ9.eyJpbWFnZSI6Imh0dHBzOi8vYXNzZXRzLnJibC5tcy8xOTUyNzAzNS9vcmlnaW4uanBnIiwiZXhwaXJlc19hdCI6MTYzNTAyMjI4MH0.KWqePZq8k_05QD97cIp8MCTKmuVIHjTiB2GMvruXuw4/img.jpg?width=980" id="bf98c" class="rm-shortcode" data-rm-shortcode-id="35f8d5a9f41d259a8c2773412dcfaf7a" data-rm-shortcode-name="rebelmouse-image"></div></div><p>Using it is pretty simple: The camera and computer capture an image, then send it as a pattern of buzzes to the lollipop, which the person puts in their mouth (the buzzes apparently <a href="https://www.scientificamerican.com/article/device-lets-blind-see-with-tongues/" target="_blank">feel kind of like Pop Rocks</a> candy.)</p><h2>A buzzing lollipop sounds pretty weird, but it does seem to work.</h2><div><div class="push-wrapper--mobile" data-card="image" data-reactroot=""><img type="lazy-image" data-runner-src="https://assets.rebelmouse.io/eyJhbGciOiJIUzI1NiIsInR5cCI6IkpXVCJ9.eyJpbWFnZSI6Imh0dHBzOi8vYXNzZXRzLnJibC5tcy8xOTUyNzAzNi9vcmlnaW4uanBnIiwiZXhwaXJlc19hdCI6MTU5MzA3NzU2MH0.wJrAMuiL204Uo-49cpQwR5zWq7k9r_srikOGdjt9cIg/img.jpg?width=980" id="99d4a" class="rm-shortcode" data-rm-shortcode-id="85cfc0213a0abf31dcb6d34c003baa24" data-rm-shortcode-name="rebelmouse-image"></div></div><p>Our brains are actually pretty good at figuring out how to use new information (it also helps that our tongues are incredibly sensitive, as anyone who's accidentally bitten theirs can tell you). It took a little while for Andy to get used to the buzzing sensation, but not that long.</p><p>"I felt this buzzing on my tongue, and I felt the impression. And then I saw my hand. For the first time in five years, I saw my hand," Andy explains. "Something that small is huge."</p><p><a href="http://science.howstuffworks.com/brainport3.htm" target="_blank"><strong>If certain studies are correct</strong></a><strong>, Andy's brain could have processed the signals in his vision centers, as if the information was coming from his eyes themselves.</strong></p><h2>Seeing his hand must have been big. But not as big as seeing his family again.</h2><div><div class="push-wrapper--mobile" data-card="image" data-reactroot=""><img type="lazy-image" data-runner-src="https://assets.rebelmouse.io/eyJhbGciOiJIUzI1NiIsInR5cCI6IkpXVCJ9.eyJpbWFnZSI6Imh0dHBzOi8vYXNzZXRzLnJibC5tcy8xOTUyNzAzNy9vcmlnaW4uanBnIiwiZXhwaXJlc19hdCI6MTU5NzU1ODg3MX0.9rcJ1N7VB2a21yCmmGpKB8t-y4_3aLw4xOvHSQQSBJ8/img.jpg?width=980" id="ec588" class="rm-shortcode" data-rm-shortcode-id="1db94a363cd2945568d8ae58bd9f7eca" data-rm-shortcode-name="rebelmouse-image"></div></div><p>"The first person was [my son] little Andy. He shook his hand back and forth and he said, 'Dad, you can see me?'" says Andy. You could see the emotion in his face. "He said, 'Hey, pop.'"</p><p>"It had been five years since I've seen my kids," Andy says. "It's incredible."</p><h2>Watch Andy's story below:</h2><div><div data-card="youtube" data-reactroot=""><div><span style="display:block;position:relative;padding-top:56.25%;" class="rm-shortcode" data-rm-shortcode-id="5abd7407c624f77888663ad8ece32446"><iframe type="lazy-iframe" data-runner-src="https://www.youtube.com/embed/D1ehHIGzmPc?rel=0" width="100%" height="auto" frameborder="0" scrolling="no" style="position:absolute;top:0;left:0;width:100%;height:100%;"></iframe></span></div></div></div>