What's the best thing you've ever found on a hike? I can almost certainly guarantee that Jude Sparks has got you beat.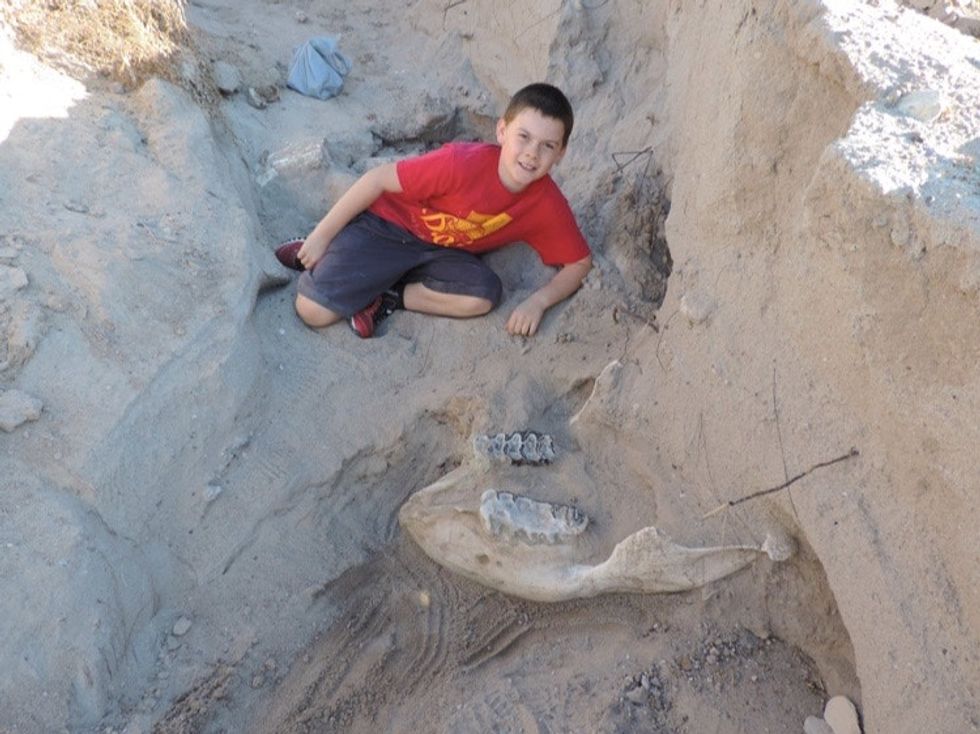 Jude Sparks and his amazing find. Is it uncouth to be a little jealous? Photo via Peter Houde.
In November 2016, then-9-year-old Jude Sparks was hiking with his parents and younger brothers in the desert outside Las Cruces, New Mexico. The kids had walkie-talkies and as Jude dashed away to hide from his younger brothers, he tripped and fell, plowing nearly face first into a weird looking rock.
<p>The rock was mottled, shiny, and dark. It looked like fossilized wood, <a href="https://www.nytimes.com/2017/07/19/science/boy-fossil-new-mexico.html" target="_blank">he told The New York Times</a>. On second glance, though, he realized it wasn't wood. It was <em>teeth. </em></p><p>An entire jawbone, in fact, nearly as large as Sparks himself, was half-buried in the dry, desert soil.</p><h2>Sparks had stumbled across something amazing — the fossil of a gigantic ancient creature.</h2><p>At first they didn't know what they were looking at. Sparks' younger brother Hunter thought it was a cow skull. His parents suspected elephant. They snapped a quick cell phone picture and, when they got home, got in touch with New Mexico State University biology professor Peter Houde. </p><h2>Houde immediately recognized the bizarre jaw as part of a stegomastodon — an ancient elephant cousin and a part of a truly amazing group of animals.</h2><p>The rock Sparks had tripped on was actually the tip of the elephantine creature's tusk.</p><p class="shortcode-media shortcode-media-rebelmouse-image"><img type="lazy-image" data-runner-src="https://assets.rebelmouse.io/eyJhbGciOiJIUzI1NiIsInR5cCI6IkpXVCJ9.eyJpbWFnZSI6Imh0dHBzOi8vYXNzZXRzLnJibC5tcy8xOTUyOTQ5Ni9vcmlnaW4uanBnIiwiZXhwaXJlc19hdCI6MTYyNzQ1MDk5Mn0.-r64CTSO1o8ZqfcPlNWsyT9sumiCP-p7fBkVFauvEP0/img.jpg?width=980" id="fed6b" class="rm-shortcode" data-rm-shortcode-id="aaafa0d91022dfe28880089bdfb71367" data-rm-shortcode-name="rebelmouse-image"><small class="image-media media-caption" placeholder="add caption...">A reconstruction of what the animal might have looked like. Image by <a href="https://commons.wikimedia.org/wiki/File:Stegomastodon.jpg">Margret Flinsch/Wikimedia Commons</a>.</small></p><p>Stegomastodons were not elephants, though they did look like them. They're not a type of mammoth either. Instead, they're what's known as a gomphothere, an offshoot of the elephant family tree. </p><p>The skull Sparks found was about 1.2 million years old, though other gomphotheres are known to have lived quite recently. The first people to visit North America <a href="https://phys.org/news/2014-07-gomphothere-archaeologists-bones-elephant-ancestor.html" target="_blank">might have even sunk their teeth into roast gomphothere steaks</a>.</p><h2>Jude's discovery turned up one of New Mexico's most complete stegomastodons ever.</h2><p>Professor Houde enlisted about a dozen students to excavate the creature and bring it back to the college for examination, preservation, and hopefully, display.</p><p>"I have every hope and expectation that this specimen will ultimately end up on exhibit and this little boy will be able to show his friends and even his own children, 'look what I found right here in Las Cruces,'" said Houde in <a href="http://newscenter.nmsu.edu/Articles/view/12599/nmsu-experts-dig-up-las-cruces-boy-s-million-year-old-fossil-find" target="_blank">a press release</a>. They also found the rest of the creature's skull nearby.</p><p class="shortcode-media shortcode-media-rebelmouse-image"><img type="lazy-image" data-runner-src="https://assets.rebelmouse.io/eyJhbGciOiJIUzI1NiIsInR5cCI6IkpXVCJ9.eyJpbWFnZSI6Imh0dHBzOi8vYXNzZXRzLnJibC5tcy8xOTUyOTQ5Ny9vcmlnaW4uanBnIiwiZXhwaXJlc19hdCI6MTYyMTE2MTUwM30.JiGoa5WmbTC-bOCrVfEgGJp4L3Y8RVLFDCouZ6wF34k/img.jpg?width=980" id="76953" class="rm-shortcode" data-rm-shortcode-id="d2d4c8460c845b30907b8c52a2167a55" data-rm-shortcode-name="rebelmouse-image"><small class="image-media media-caption" placeholder="add caption...">Professor Houde shows off the tusk and lower jaw of Sparks' find. Photo by NMSU/Andres Leighton.</small></p><p>Houde said Sparks' timing was critical to their find. Recent rains had washed out the soil around the fossil, letting the top of the jawbone peek out like a hidden treasure. (If you're looking for fossils yourself, after a storm is a good time to go exploring.)</p><h2>Just as Sparks literally tripped over a a scientific discovery, amateurs and accidents contribute to science all the time.</h2><p>Discoveries don't just happen at multimillion-dollar laboratories. They're often the result of just a keen eye and curious mind. Velcro, penicillin, and microwaves were all happy accidents.</p><p>Of course, it was good that Sparks left the actual excavation up to professionals. Fossils can be surprisingly fragile. Plus, the skull was technically on private land, so the university had to work out permit rights before digging.</p><p>It just goes to show, though, if you keep your eyes open, you never know what you'll find right under your feet.</p>