More
This is our world to share, now and after the election.
As Starbucks sets aside pumpkin spice lattes to make way for peppermint mochas and gingerbread-flavored drinks, the Seattle coffee-chain is doing something a little different this year.
It's tradition for the retailer to put their standard white cups with green logos into storage around this time of year to make way for a special edition red "holiday" cup. This year, however, they're going green, literally, and for a very good reason.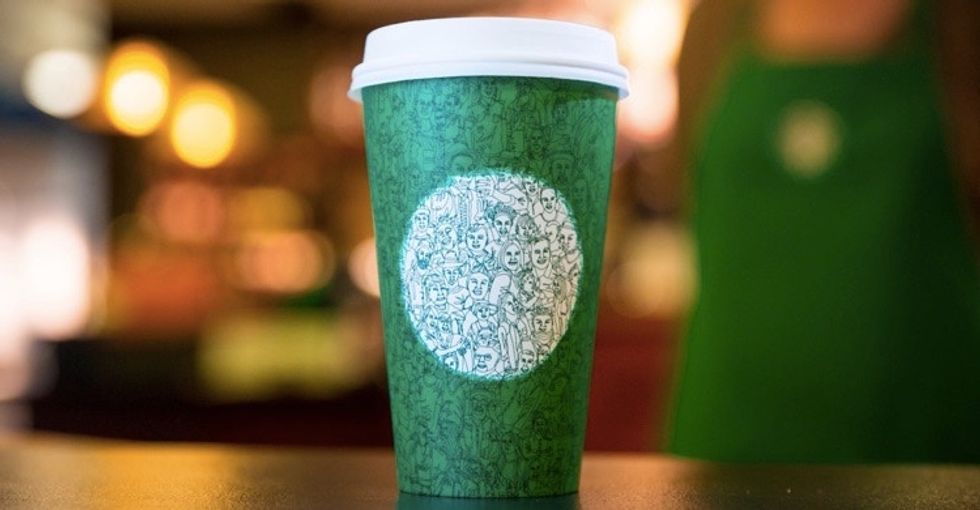 </div></div></div><h2>With the presidential election less than a week away, the United States feels more divided than usual. That's why Starbucks commissioned artist <a href="http://www.tiremanstudio.com/starbucks" target="_blank">Shogo Ota</a> to produce a special edition cup that will be available until the election.</h2><p>Ota's design, overlaid on a green cup, consists of a single line that connects a large group of people. </p><p>"The green cup and the design represent the connections Starbucks has as a community with its partners (employees) and customers," said Starbucks chairman and CEO Howard Schultz in a <a href="https://news.starbucks.com/news/starbucks-green-cup" target="_blank">press release</a>. "During a divisive time in our country, Starbucks wanted to create a symbol of unity as a reminder of our shared values and the need to be good to each other."</p><div><div class="push-wrapper--mobile" data-card="image" data-reactroot=""><img type="lazy-image" data-runner-src="https://assets.rebelmouse.io/eyJhbGciOiJIUzI1NiIsInR5cCI6IkpXVCJ9.eyJpbWFnZSI6Imh0dHBzOi8vYXNzZXRzLnJibC5tcy8xOTUyNTQ4MC9vcmlnaW4uanBnIiwiZXhwaXJlc19hdCI6MTY1Nzg1MzY4MX0.-FUhsNWxhe_X5yCuswtIhASIGM6Yzt00KQp_XKeaDWw/img.jpg?width=980" id="98ab9" class="rm-shortcode" data-rm-shortcode-id="16474fcad468fc6e04b025fda6536adf" data-rm-shortcode-name="rebelmouse-image"><div class="image-caption"><p>Ota creates his art on the window of a Starbucks store in Seattle. Photo by Joshua Trujillo/Starbucks.</p></div></div></div><p>By keeping the red cups in storage until after the election (they're coming; don't worry), Starbucks aims to mend our nation's divisions — in so much as a coffee chain can. <strong>Ota's design represents unity and is meant to serve as a symbol of our shared humanity.</strong></p><div><div class="push-wrapper--mobile" data-card="image" data-reactroot=""><img type="lazy-image" data-runner-src="https://assets.rebelmouse.io/eyJhbGciOiJIUzI1NiIsInR5cCI6IkpXVCJ9.eyJpbWFnZSI6Imh0dHBzOi8vYXNzZXRzLnJibC5tcy8xOTUyNTQ4MS9vcmlnaW4uanBnIiwiZXhwaXJlc19hdCI6MTY1MzM4MjgxNH0.oj1Al16JxCC29h_x0DIQH6pU-CJuI_1rlQWUR_P_2zY/img.jpg?width=980" id="3a778" class="rm-shortcode" data-rm-shortcode-id="c16e475035a3359a455c343e7c0c71ce" data-rm-shortcode-name="rebelmouse-image"><div class="image-caption"><p>Photo by Joshua Trujillo/Starbucks.</p></div></div></div><h2>Some people reacted to Starbucks's call for empathy with anger.</h2><p>Some decried diversity and unity (this Twitter user later tweeted that "[unity] does become more difficult the more groups are added to the mix.").</p><div><div class="push-wrapper--mobile" data-card="image" data-reactroot=""><img type="lazy-image" data-runner-src="https://assets.rebelmouse.io/eyJhbGciOiJIUzI1NiIsInR5cCI6IkpXVCJ9.eyJpbWFnZSI6Imh0dHBzOi8vYXNzZXRzLnJibC5tcy8xOTUyNTQ4Mi9vcmlnaW4uanBnIiwiZXhwaXJlc19hdCI6MTYyNTM1NzY3OH0.ME8j7QJa2pl5toPndfKOKALiIANLO6i6WbBWiXJ2i8E/img.jpg?width=980" id="65038" class="rm-shortcode" data-rm-shortcode-id="40abfc933a8cb3add996713d9e414707" data-rm-shortcode-name="rebelmouse-image"></div></div><p>And others saw this as a political message of its own.</p><div><div class="push-wrapper--mobile" data-card="image" data-reactroot=""><img type="lazy-image" data-runner-src="https://assets.rebelmouse.io/eyJhbGciOiJIUzI1NiIsInR5cCI6IkpXVCJ9.eyJpbWFnZSI6Imh0dHBzOi8vYXNzZXRzLnJibC5tcy8xOTUyNTQ4My9vcmlnaW4uanBnIiwiZXhwaXJlc19hdCI6MTYxNDg2NzcxM30.uzj6dxg7-Y2jl0q02VNeoFkDtu-VcvpKy2h5dF2G1ZY/img.jpg?width=980" id="9ee1b" class="rm-shortcode" data-rm-shortcode-id="23f329145f7ceae6344e453680ffffc4" data-rm-shortcode-name="rebelmouse-image"></div></div><p>Of course, this is social media, where you could say, "The sky is blue," and you'd be hit with responses telling you that it's actually purple. So while it's kind of ridiculous that there are people <em>this </em>upset about a call for empathy and unity, it's worth noting that these people are <a href="https://medium.com/@parkermolloy/5-things-the-media-does-to-manufacture-outrage-ba79125e1262" target="_blank">probably very small in number</a>.</p><h2>The truth is that no matter your political leanings, the message Starbucks is spreading is important. After all, when this election is over, we still have to live with one another — no matter how different we may be. </h2><p>Maybe you're a Trump supporter, or maybe you're planning on voting for Hillary Clinton. When all is said and done on Nov. 8, our country will still be made up of the same people it is today. To think that the election of one of the candidates will eliminate the anger, resentment, distrust, and hostility we face in each other in the world would be naive.</p><p>No election will solve those problems. No election <em>can</em> solve those problems. Those issues — what it means to coexist with people who hold vastly different beliefs than our own — are on <em>us</em> to solve in our everyday lives and in how we choose to treat others. <strong>This isn't a Democrat or Republican issue; this is a human issue.</strong></p><div><div class="push-wrapper--mobile" data-card="image" data-reactroot=""><img type="lazy-image" data-runner-src="https://assets.rebelmouse.io/eyJhbGciOiJIUzI1NiIsInR5cCI6IkpXVCJ9.eyJpbWFnZSI6Imh0dHBzOi8vYXNzZXRzLnJibC5tcy8xOTUyNTQ4NC9vcmlnaW4uZ2lmIiwiZXhwaXJlc19hdCI6MTYzMjExNTc5NX0.TRK44Kc72sHfcDtbjL1OQZf6jxMolzUFYbbdsWo6hfs/img.gif?width=980" id="61c12" class="rm-shortcode" data-rm-shortcode-id="1a4de683dfcd45648ba7315156891fc5" data-rm-shortcode-name="rebelmouse-image"><div class="image-caption"><p>GIF from Starbucks.</p></div></div></div><p><strong>As people, we will continue to disagree on a great many issues, some of which are very important. </strong>That is OK. There are more than 300 million people in this country. There will never come a day where we will all agree on everything, and that's a fact. There will still be issues that divide us in big ways — issues like the environment, culture, race, gender, religion, the economy, the military, and so much more.</p><p>That is OK. That is healthy. That is human.</p><div><div class="push-wrapper--mobile" data-card="image" data-reactroot=""><img type="lazy-image" data-runner-src="https://assets.rebelmouse.io/eyJhbGciOiJIUzI1NiIsInR5cCI6IkpXVCJ9.eyJpbWFnZSI6Imh0dHBzOi8vYXNzZXRzLnJibC5tcy8xOTUyNTQ4NS9vcmlnaW4uanBnIiwiZXhwaXJlc19hdCI6MTYzNjE5ODM2OX0.MlRe90vzEHMeNoJc4E2YIjl6jPCCanFpwcKPOLB-mfg/img.jpg?width=980" id="8bd47" class="rm-shortcode" data-rm-shortcode-id="a22a9ef0f71b76321d9398149d8925f7" data-rm-shortcode-name="rebelmouse-image"><div class="image-caption"><p>Ota creates his art on the window of a Starbucks store on 1st Avenue in Seattle. Photo by Joshua Trujillo/Starbucks.</p></div></div></div><h2>When we look back on history, the "right" side of some of these battles might be obvious. Others, not so much.</h2><p>If you're looking for a good barometer for what constitutes being on "the right side of history," it's usually the side rooted in empathy. Again, though, not all of these battles are as simple as "good" versus "evil" — humanity is far too complex and nuanced for that to be the case.</p><div><div class="push-wrapper--mobile" data-card="image" data-reactroot=""><img type="lazy-image" data-runner-src="https://assets.rebelmouse.io/eyJhbGciOiJIUzI1NiIsInR5cCI6IkpXVCJ9.eyJpbWFnZSI6Imh0dHBzOi8vYXNzZXRzLnJibC5tcy8xOTUyNTQ4Ni9vcmlnaW4uanBnIiwiZXhwaXJlc19hdCI6MTY0MjUyMTEwNX0.66-yKcHnT3jQMUogdUrt2MAvA9FsY65rqstc54lfa0I/img.jpg?width=980" id="44e6b" class="rm-shortcode" data-rm-shortcode-id="186073f36eedf370ce343e5e77602914" data-rm-shortcode-name="rebelmouse-image"><div class="image-caption"><p>A civil rights protest button being worn by a female demonstrator at the March on Washington, August 28, 1963. Photo by Express Newspapers/Getty Images.</p></div></div></div><h2>Empathy, unity, and life are not values exclusive to a political party. And while the value of Starbucks urging us to see that can be debated, the message should resonate.</h2><p>It's easy to feel cynical about a brand calling on humanity for any purpose. It's easy to look at the negative responses and feel disgusted by the world. It's easy to forever see yourself and what you stand for as the good in a battle versus evil.</p><p><strong>But let's not.</strong> Let's try to do what is hard — let's try to see each other as human beings. Clinton supporter, Trump supporter, Democrat, Republican, Independent, or otherwise — we all share this earth, now, next week, and the world after.</p><div><div class="push-wrapper--mobile" data-card="image" data-reactroot=""><img type="lazy-image" data-runner-src="https://assets.rebelmouse.io/eyJhbGciOiJIUzI1NiIsInR5cCI6IkpXVCJ9.eyJpbWFnZSI6Imh0dHBzOi8vYXNzZXRzLnJibC5tcy8xOTUyNTQ4OC9vcmlnaW4uanBnIiwiZXhwaXJlc19hdCI6MTYyNTA5MTM0M30.wP4VO17fG9Foou5kJnF_PM1ayEMdf8Oi8dR5q2eg-OI/img.jpg?width=980" id="3d29a" class="rm-shortcode" data-rm-shortcode-id="d2dab4e09967e7097c4f7499835c9174" data-rm-shortcode-name="rebelmouse-image"><div class="image-caption"><p>Photo by Drew Angerer/Getty Images.</p></div></div></div>