With tears collecting in her eyes, Lupe Ortiz-Tovar explained why she always felt different from the other kids.
Lupe went into foster care when she was 5 years old and lived in more than 18 homes across multiple states throughout her childhood. She learned not to get her hopes up thinking the next family would be her last.

"I think you remember the honeymoon phase of going into a family, but it's never yours," she explained in a video by the Human Rights Campaign. "It's really like you're a visitor in someone else's home and you don't know how long that's going to last."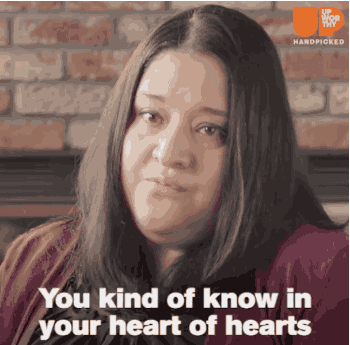 GIF via Human Rights Campaign.
<p><strong>Lupe's experience being shuffled around the foster care system is one that's shared by far too many children. </strong>A point-in-time survey found more than 420,000 kids were in foster care in the U.S. in September 2015 — up from 2011, when it stood at just over 397,000.</p><p>While there are various reasons why kids are placed into care and many children are in the system only temporarily, thousands share Lupe's story. She transferred from home to home until she aged out of the system. </p><h2>Finding a <em>real</em> home to call her own just wasn't meant to be.</h2><p class="shortcode-media shortcode-media-rebelmouse-image"><img type="lazy-image" data-runner-src="https://assets.rebelmouse.io/eyJhbGciOiJIUzI1NiIsInR5cCI6IkpXVCJ9.eyJpbWFnZSI6Imh0dHBzOi8vYXNzZXRzLnJibC5tcy8xOTUzMjI3MC9vcmlnaW4uZ2lmIiwiZXhwaXJlc19hdCI6MTYzMjYzNzczMn0.GBchPt17AG14bU-YqWEI9DCpckMsqjGImqT1569vP58/img.gif?width=980" id="8a1fc" class="rm-shortcode" data-rm-shortcode-id="16e27f7b2ca615d87a02172263491f67" data-rm-shortcode-name="rebelmouse-image"><small class="image-media media-caption" placeholder="add caption...">GIF via Human Rights Campaign.</small></p><p>Or so she thought.</p><h2>In 2005, two terrific guys came into Lupe's life.</h2><p>"Little did I know that I would meet Clay and Bryan," Lupe said. "And my dads would find <em>me</em>."</p><p class="shortcode-media shortcode-media-rebelmouse-image"><img type="lazy-image" data-runner-src="https://assets.rebelmouse.io/eyJhbGciOiJIUzI1NiIsInR5cCI6IkpXVCJ9.eyJpbWFnZSI6Imh0dHBzOi8vYXNzZXRzLnJibC5tcy8xOTUzMjI3Mi9vcmlnaW4uZ2lmIiwiZXhwaXJlc19hdCI6MTY1NTEzNDY1MX0.N7J-SUfWQGgtMRdX8Y2jolTwV6dr1Y8xIq8wDvMfsAQ/img.gif?width=980" id="506ca" class="rm-shortcode" data-rm-shortcode-id="1fc2f1572bcd1b4baa9ed3833f813580" data-rm-shortcode-name="rebelmouse-image"><small class="image-media media-caption" placeholder="add caption...">GIF via Human Rights Campaign.</small></p><p>Lupe met Clay and Bryan, a same-gender couple, while completing a summer internship with <a href="https://www.fosterclub.com/" target="_blank">Foster Club</a>, a nonprofit aimed at helping kids in foster care. </p><p>In the decade after that, Clay and Bryan became close mentors to Lupe, she says over email. And finally, in 2015 — after Clay and Bryan's marriage could be legally recognized — the couple adopted Lupe in Oklahoma when she was in her early 30s.</p><p>"There is no such thing as too late to find your forever families," Lupe said. "There are no term limits on the love that families can provide each other!"</p><h2>"We all added something to each other's lives," Lupe said in the video by HRC. "It was like a puzzle that was just waiting — we were all waiting for each other."</h2><p class="shortcode-media shortcode-media-rebelmouse-image"><img type="lazy-image" data-runner-src="https://assets.rebelmouse.io/eyJhbGciOiJIUzI1NiIsInR5cCI6IkpXVCJ9.eyJpbWFnZSI6Imh0dHBzOi8vYXNzZXRzLnJibC5tcy8xOTUzMjI3My9vcmlnaW4uZ2lmIiwiZXhwaXJlc19hdCI6MTY1NjIzNTIyMH0.37wIa9FR8JqO7qeSy0rVg3sKjfLXYXuHKMF5ONvW7uw/img.gif?width=980" id="a69e3" class="rm-shortcode" data-rm-shortcode-id="611e1822b11f88cee99b7172d51d13a5" data-rm-shortcode-name="rebelmouse-image"><small class="image-media media-caption" placeholder="add caption...">GIF via Human Rights Campaign.</small></p><h2>The Human Rights Campaign is using Lupe's story to illustrate how crucial it is to allow LGBTQ couples to have the ability to adopt. </h2><p>"Kids shouldn't have to wait to find their forever families because of discrimination," HRC states in the video. </p><p>And discrimination is very much on the table as <a href="http://www.oklegislature.gov/BillInfo.aspx?Bill=sb1140&amp;Session=1800" target="_blank">Oklahoma Senate Bill 1140</a> hangs in the balance. <strong>The bill would allow certain faith-based child welfare agencies to deny adoption opportunities to kids in need based on the potential guardians' sexual orientations or gender identities. </strong></p><p>HRC, which is <a href="https://www.hrc.org/blog/oklahoma-senate-passes-anti-lgbtq-sb1140-hrc-calls-on-house-to-reject-it" target="_blank">strongly against the legislation</a>, is urging Oklahomans to text "FAMILY" to 30644 or call 405-521-2711 to connect with a state House representative to demand the bill be defeated.</p><p>It's not just about ensuring equality for queer couples, the organization argues. Having the option also allows many children in need — like Lupe had been — to find loving parents.</p><p>"I've never had or thought about what a great father is — I've never had that picture in my life," Lupe says in the video below. "And so [Clay and Bryan] have really completed many empty pictures and have given me lots to dream about and hope for in my own life."</p><h2>Watch Lupe's story by the Human Rights Campaign, an Upworthy Handpicked video:</h2><div><div data-card="html" data-reactroot=""><div class="rm-shortcode" data-rm-shortcode-id="81bddce5eb28eaebac71a7fbc628c21c"><div class="fb-video" data-href="https://www.facebook.com/Upworthy/videos/2281063505267828/" data-allowfullscreen="true"></div></div></div></div>