All hail Boaty McBoatface, lord of the seas!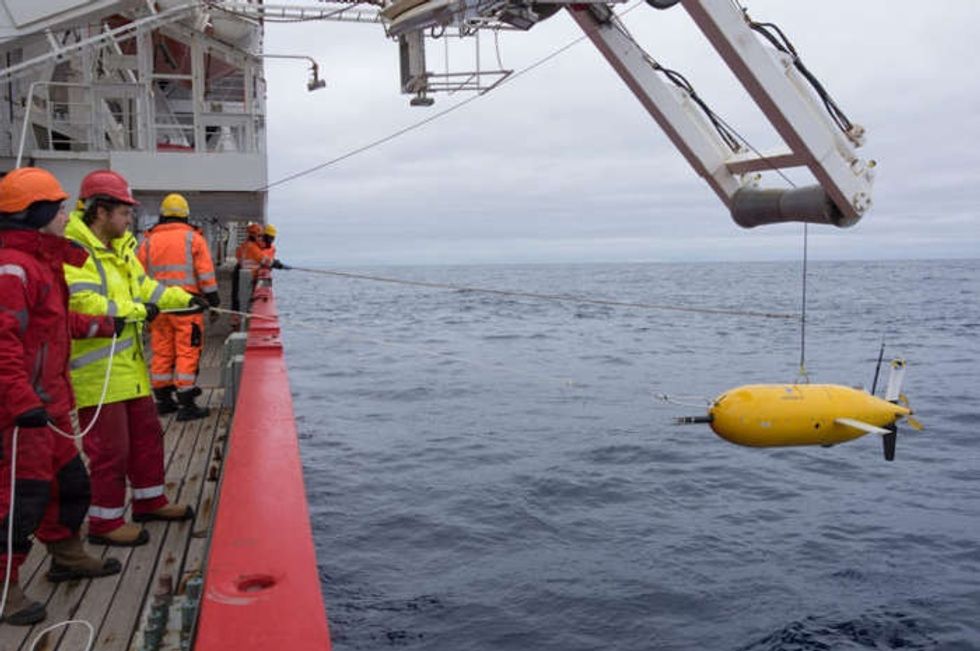 Boaty McBoatface is pulled out of the water. Photo by National Environment Research Council.
The internet-famous submarine just completed its maiden voyage, coming back with reams of "unprecedented data" about the Southern Ocean around Antarctica, according to the researchers who sailed with it.
<p>"Boaty is already delivering new insight into some of the coldest ocean waters on Earth, giving scientists a greater understanding of changes in the Antarctic region and shaping a global effort to tackle climate change," U.K. science minister Jo Johnson said in a statement. </p><h2>In 2016, the U.K.'s Natural Environmental Research Council held an online contest to name a new polar research vessel. </h2><p class="shortcode-media shortcode-media-rebelmouse-image"><img type="lazy-image" data-runner-src="https://assets.rebelmouse.io/eyJhbGciOiJIUzI1NiIsInR5cCI6IkpXVCJ9.eyJpbWFnZSI6Imh0dHBzOi8vYXNzZXRzLnJibC5tcy8xOTUyODY0My9vcmlnaW4uanBnIiwiZXhwaXJlc19hdCI6MTYxMjMzMjM3OX0.XmgTG6sQyAA9IGtIMOytKa4JDtr9q0rQ57kvt7HUNE8/img.jpg?width=980" id="b238f" class="rm-shortcode" data-rm-shortcode-id="5cf597fe7e7dfa1a045f7185fd976d38" data-rm-shortcode-name="rebelmouse-image"><small class="image-media media-caption" placeholder="add caption...">Photo by Christopher Furlong/Getty Images.</small></p><p>While the council put forth several suggestions, "Boaty McBoatface," suggested by former BBC radio host James Hand, <a href="https://www.theguardian.com/environment/2016/apr/17/boaty-mcboatface-wins-poll-to-name-polar-research-vessel" target="_blank">was the runaway winner</a>.</p><h2>The council ultimately rejected the results, christening the vessel the RRS Sir David Attenborough instead.</h2><p class="shortcode-media shortcode-media-rebelmouse-image"><img type="lazy-image" data-runner-src="https://assets.rebelmouse.io/eyJhbGciOiJIUzI1NiIsInR5cCI6IkpXVCJ9.eyJpbWFnZSI6Imh0dHBzOi8vYXNzZXRzLnJibC5tcy8xOTUyODY0NC9vcmlnaW4uanBnIiwiZXhwaXJlc19hdCI6MTY0NjMxMzQyOH0.O4s7umAqtE1FpYqk65ew_Ula6nB3hCTvTDFbQgti7qI/img.jpg?width=980" id="08a16" class="rm-shortcode" data-rm-shortcode-id="2202a4f36174fb71fe41649c040e4145" data-rm-shortcode-name="rebelmouse-image"><small class="image-media media-caption" placeholder="add caption...">Photo by Christopher Furlong/Getty Images.</small></p><h2>As a consolation prize, they elected to bestow the name on a small yellow submersible carried on board.</h2><p class="shortcode-media shortcode-media-rebelmouse-image"><img type="lazy-image" data-runner-src="https://assets.rebelmouse.io/eyJhbGciOiJIUzI1NiIsInR5cCI6IkpXVCJ9.eyJpbWFnZSI6Imh0dHBzOi8vYXNzZXRzLnJibC5tcy8xOTUyODY0NS9vcmlnaW4uanBnIiwiZXhwaXJlc19hdCI6MTYwMTA5Mjc5NX0.cFTLux2q_FdngE3JB-U3slBStnEHBBYe8X7B-WOJxwI/img.jpg?width=980" id="4ec56" class="rm-shortcode" data-rm-shortcode-id="c1e347038b29ea716cf3206f564b14ed" data-rm-shortcode-name="rebelmouse-image"><small class="image-media media-caption" placeholder="add caption...">Photo by Christopher Furlong/Getty Images.</small></p><h2>That small yellow submersible just finished beasting around some of the deepest, coldest waters around Antarctica.  </h2><p>Its mission involved mapping the region's ocean currents as well as studying their speed, temperature, and salinity.</p><p>Some scientists worry that rising temperatures and increased freshwater could be <a href="http://e360.yale.edu/features/will_climate_change_jam_the_global_ocean_conveyor_belt" target="_blank">altering the global circulation of ocean water</a>, resulting in even more rapid and drastic climate change.</p><p>The information gathered by Boaty on the flows in the Orkney Passage off the southern continent hasn't been analyzed yet, but it is the first of its kind, according to the researchers on the project.</p><h2>If it takes a tiny underwater robot with a ridiculous name to make the people of Earth get serious about the threat to the planet's ocean currents, then so be it. </h2><p>The scientists hope to learn more about the currents in the coming years, with Boaty giving them the opportunity to study the system far beyond their previous capabilities. </p><p class="shortcode-media shortcode-media-rebelmouse-image"><img type="lazy-image" data-runner-src="https://assets.rebelmouse.io/eyJhbGciOiJIUzI1NiIsInR5cCI6IkpXVCJ9.eyJpbWFnZSI6Imh0dHBzOi8vYXNzZXRzLnJibC5tcy8xOTUyODY0Ni9vcmlnaW4uanBnIiwiZXhwaXJlc19hdCI6MTYyOTAxNzE2M30.0jC6s5NWiIESaGd1h5K9PQi2Bi6ctCb7i2YN3YPevVA/img.jpg?width=980" id="f25fc" class="rm-shortcode" data-rm-shortcode-id="3afdedf09e705c95865dabb8eee5bba6" data-rm-shortcode-name="rebelmouse-image"><small class="image-media media-caption" placeholder="add caption...">Photo by Mario Tama/Getty Images.</small></p><p>"Up until now we have only been able to take measurements from a fixed point, but now, we are able to obtain a much more detailed picture of what is happening in this very important underwater landscape," University of Southampton professor Alberto Naveira Garabato, the study's leader, said in a statement. "The challenge for us now is to analyse it all."</p><p>Future Boaty missions to the area are already in the works, which is hopeful news for the planet. </p><h2>Sail on, Boaty McBoatface, you noble vessel!</h2><p>May you always receive Poseidon's favor! </p>