Two East African nations have made some groundbreaking history that's sending positive diplomacy vibes around the world.
Ethiopia and Eritrea ended a 20-year war, marking a new era for the region — and the world — in diplomacy and peace.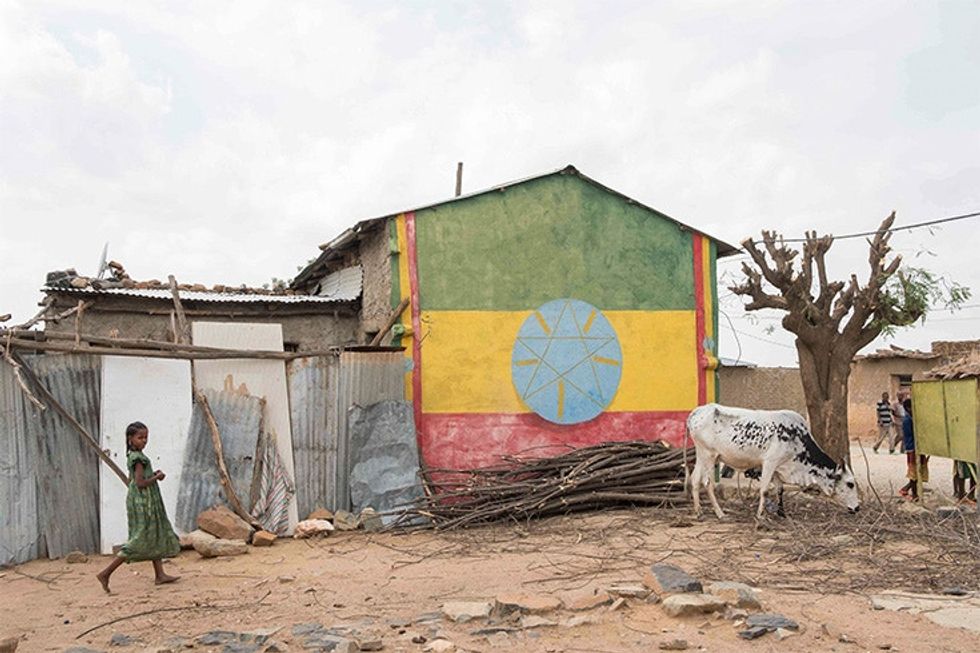 A local police station in Badme, a formerly disputed town near the border of Ethiopia and Eritrea, was painted with the design of the Ethiopian flag. Photo by Maheder Haileselassie Tadese/AFP/Getty Images.
<p>Setting an example for numerous countries in the West and East that are <a href="https://www.washingtonpost.com/opinions/trump-is-turning-other-countries-against-the-united-states/2017/05/04/40bbe7a6-310b-11e7-9534-00e4656c22aa_story.html" target="_blank">struggling to rebuild their own diplomatic relationships</a>, Ethiopian Prime Minister Abiy Ahmed and Eritrean President Isaias Afwerki <a href="https://www.cnn.com/2018/07/09/africa/ethiopia-abiy-ahmed-eritrea-war-intl/index.html" target="_blank">were seen embracing</a> and grinning as they signed an unprecedented declaration to end the war during a summit in Asmara, Eritrea's capital. In a Twitter post that documented the event, Eritrean Minister of Information Yemane Meskel said "a new era of peace and friendship has been ushered."</p><div id="95624" class="rm-shortcode" data-rm-shortcode-id="BSCPWU1559348993"><blockquote class="twitter-tweet twitter-custom-tweet" data-twitter-tweet-id="1016256932234104832" data-partner="rebelmouse"><div style="margin:1em 0">Eritrea and Ethiopia have signed a Joint Declaration of Peace and Friendship today. The Agreement, which specifies… https://t.co/vN5GnDXIet</div> — Yemane G. Meskel (@Yemane G. Meskel)<a href="https://twitter.com/hawelti/statuses/1016256932234104832">1531129508.0</a></blockquote></div><p><strong>In 1993, Eritrea voted for independence from Ethiopia.</strong> As with many <a href="http://www.washington.edu/omad/ctcenter/projects-common-book/mountains-beyond-mountains/unequal-global-exchange/" target="_blank">formerly colonized nations</a> that are newly independent, <a href="https://www.nytimes.com/2018/07/09/world/africa/ethiopia-eritrea-war.html" target="_blank">Eritrea struggled with economic growth</a>, going deeper into a hole of economic disaster and social inequity. Ethiopia, which has been landlocked since Eritrea's independence, has been strategically interested in a critical Eritrean port called Assab.</p><p>This tension between the two nations led to a brutal border war that broke out in the late 1990s and claimed the lives of roughly <a href="https://www.nytimes.com/2018/07/09/world/africa/ethiopia-eritrea-war.html" target="_blank">80,000 people</a>. After years of attempts at peace deals — including the <a href="https://peacemaker.un.org/eritreaethiopia-agreement2000" target="_blank">Algiers Agreement</a> — and deteriorating relationships, any sort of reconciliation seemed unlikely. That is, until Abiy visited Eritrea on July 8.</p><h2>Abiy became <a href="https://www.cnn.com/2018/07/09/africa/ethiopia-abiy-ahmed-eritrea-war-intl/index.html" target="_blank">the first Ethiopian leader</a> to set foot in Eritrea in the current century.</h2><p class="shortcode-media shortcode-media-rebelmouse-image"><img type="lazy-image" data-runner-src="https://assets.rebelmouse.io/eyJhbGciOiJIUzI1NiIsInR5cCI6IkpXVCJ9.eyJpbWFnZSI6Imh0dHBzOi8vYXNzZXRzLnJibC5tcy8xOTM5ODA1NS9vcmlnaW4uanBnIiwiZXhwaXJlc19hdCI6MTYwMTY4NDU0MX0.-QadapuMnsvz66Vfb5OdTGEtZOMrsCzhE2cK918pSe4/img.jpg?width=980" id="23052" class="rm-shortcode" data-rm-shortcode-id="d1e1e2b57c4960647d7a23c8df986d76" data-rm-shortcode-name="rebelmouse-image"><small class="image-media media-caption" placeholder="add caption...">Peace talks took place in Ethiopia in late June. Photo by Yonas Tadesse/AFP/Getty Images.</small></p><p>He was warmly welcomed at the airport by Afwerki and other senior Eritrean officials, showing the power of unity between African nations and a wonderful example of what ongoing peace talks can do.</p><p>Abiy, a <a href="https://foreignpolicy.com/2018/04/04/can-abiy-ahmed-save-ethiopia/" target="_blank">former soldier who fought in the war</a>, agreed to uphold Ethiopia's end of the peace deal that serves to end the border conflict. His swift actions surprised even those who had been studying the conflict for years.</p><p>"I did not expect the speed and the enthusiasm," Goitom Gebreluel, who researches Ethiopia's foreign policy at the University of Cambridge in England, <a href="https://www.nytimes.com/2018/07/09/world/africa/ethiopia-eritrea-war.html" target="_blank">told The New York Times</a>. "I believe that this had been decided a while back and the leadership changes within EPRDF [Ethiopian People's Revolutionary Democratic Front] facilitated it."</p><p>It's clear that this peace agreement took years of planning, negotiating, and peace talks, but the swift and unprecedented finale makes it clear:</p><h2>It's possible for developing nations with years of animosity toward one another to reach peace for the good of their people.</h2><p>And other nations around the world can learn from this. When leaders prioritize the health and welfare of their people — as Abiy and Afwerki did — peace becomes the obvious and easier solution.</p><p>Take note, global leaders. <strong>Ethiopia and Eritrea and leading the way on showing what good government looks like.</strong></p>