President Donald Trump's divisive comments on the NFL protests are making national headlines, but to Miami Dolphin Michael Thomas, the remarks hit close to home.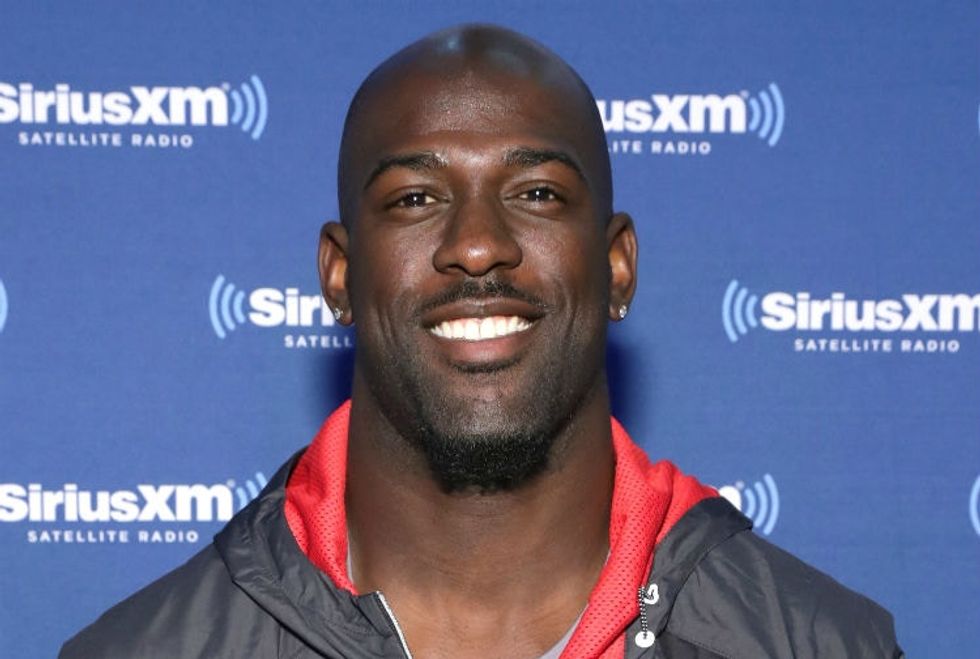 Michael Thomas. Photo by Cindy Ord/Getty Images for Sirius XM.
Speaking to reporters from the locker room on Sunday, Thomas — who has knelt during the national anthem before games — responded to Trump's claim that a "son of a bitch" like him should be fired for refusing to stand.
<p>Over the past several months, many players have kneeled during the national anthem in a peaceful, silent protest to draw attention to racial injustice — namely, police brutality targeting people of color — since former San Francisco quarterback Colin Kaepernick began kneeling last season. <br><br>"As a man, as a father, as an African-American man, as somebody in the NFL who's one of those 'sons of bitches,' yeah I take it personally," Thomas told reporters. "But at the same time, like I said in my <a href="https://twitter.com/Michael31Thomas/status/911425141346840576?ref_src=twsrc%5Etfw&amp;ref_url=http%3A%2F%2Fwww.huffingtonpost.com%2Fentry%2Fmiami-dolphins-michael-thomas-trump_us_59c88f85e4b06ddf45f8c88d" target="_blank">Twitter posts</a>, it's bigger than me."<br><br></p><h2>"I got a daughter; she's going to have to live in this world," Thomas told reporters, holding back tears. </h2><p>"I'm going to do whatever I got to do to make sure she can look at her dad and be like, 'Hey, you did something, you tried to make a change.'"</p><iframe width="100%" height="150" scrolling="no" class="rm-shortcode twitter-embed-912050451041984513" id="twitter-embed-912050451041984513" type="lazy-iframe" data-runner-src="/res/community/twitter_embed/?iframe_id=twitter-embed-912050451041984513&amp;created_ts=1506284747.0&amp;screen_name=OmarKelly&amp;text=Dolphins+safety+Michael+Thomas+started+breaking+up+when+talking+about+Trump+calling+him+%22a+son+of+a+b%21tch.%22+https%3A%2F%2Ft.co%2FZ4wroPcvzW&amp;id=912050451041984513&amp;name=Omar+Kelly" frameborder="0" data-rm-shortcode-id="HVK8OL1559350293"></iframe><p>Thomas' emotional response shows how deep the president's remarks have cut and why more athletes are now stepping up — or, rather, kneeling down — to spark change. </p><h2>Controversy surrounding the NFL protests boiled over this past weekend, after the president waded back into the world of political activism in pro sports.</h2><p>Trump set off a firestorm Friday night at his rally in Alabama, claiming NFL athletes who sit or kneel during the protests <a href="http://money.cnn.com/2017/09/23/media/donald-trump-nfl-protest-backlash/index.html" target="_blank">should be fired</a>. The following morning, he slammed Stephen Curry for planning to skip his team's potential White House visit after winning the NBA national championship in June: "invitation is withdrawn!" the president <a href="https://twitter.com/realDonaldTrump/status/911572182060453893" target="_blank">tweeted</a>. LeBron James jumped into the foray to defend Curry shortly thereafter, calling the president a "<a href="https://twitter.com/KingJames/status/911610455877021697?ref_src=twsrc%5Etfw&amp;ref_url=http%3A%2F%2Fwww.slate.com%2Fblogs%2Fthe_slatest%2F2017%2F09%2F24%2Flebron_james_tweet_calling_trump_u_bum_is_way_more_popular_than_anything.html" target="_blank">bum</a>."</p><p>Trump's bombastic remarks prompted a wave of players to kneel on Sunday. <strong>According to <a href="http://www.npr.org/sections/thetwo-way/2017/09/25/553388710/trump-renews-debate-over-national-anthem-protest-nfl-players-respond" target="_blank">NPR</a>, roughly 200 NFL athletes protested as "The Star-Spangled Banner" played before their respective games.</strong></p><p class="shortcode-media shortcode-media-rebelmouse-image"><img type="lazy-image" data-runner-src="https://assets.rebelmouse.io/eyJhbGciOiJIUzI1NiIsInR5cCI6IkpXVCJ9.eyJpbWFnZSI6Imh0dHBzOi8vYXNzZXRzLnJibC5tcy8xOTUzMjEwMy9vcmlnaW4uanBnIiwiZXhwaXJlc19hdCI6MTY0NjAyMDc0Nn0.Dk59FnVAuf3fxlz8aHCP8ire8ySIE4oxOJMhsRJLR94/img.jpg?width=980" id="af4a9" class="rm-shortcode" data-rm-shortcode-id="5de3cc3ddab391ab870eebe1f4e5b172" data-rm-shortcode-name="rebelmouse-image"><small class="image-media media-caption" placeholder="add caption...">Several Detroit Lions players kneeled during their game on Sept. 24, 2017. Photo by Rey Del Rio/Getty Images.</small></p><h2>Critics have slammed Trump for stoking a fire solely to enrage his base while ignoring other dire issues. </h2><p>"He wanted a reaction; he got that reaction," Michael Steele, former Republican National Committee Chairman, <a href="https://www.nbcnews.com/politics/white-house/trump-kneel-attack-gives-his-base-reason-stand-n804316" target="_blank">told NBC News</a>. "It's very disappointing — the same level of stuff we get from the president that doesn't advance a genuine conversation but polarizes people into camps."</p><p>Meanwhile, dilemmas are playing out on the national and global stages — the GOP's <a href="http://nymag.com/daily/intelligencer/2017/09/first-poll-on-graham-cassidy-shows-its-already-unpopular.html" target="_blank">unpopular</a> Graham-Cassidy health bill, relations with North Korea, devastation in Puerto Rico after Hurricane Maria — with little leadership or comment from the president. </p><iframe width="100%" height="150" scrolling="no" class="rm-shortcode twitter-embed-912142213286678528" id="twitter-embed-912142213286678528" type="lazy-iframe" data-runner-src="/res/community/twitter_embed/?iframe_id=twitter-embed-912142213286678528&amp;created_ts=1506306625.0&amp;screen_name=kylegriffin1&amp;text=Trump+tweets+this+weekend+about+NFL%2FNBA%2FNHL%3A+10%0A%0ATrump+tweets+this+weekend+about+Puerto+Rico%3A+0&amp;id=912142213286678528&amp;name=Kyle+Griffin" frameborder="0" data-rm-shortcode-id="7KCNXM1559350293"></iframe><p>"It just amazes me with everything else that's going on in this world, especially involving the U.S., that's what you're concerned about, my man?" Thomas noted to reporters on Sunday. "You're the leader of the free world — this is what you're talking about?"</p><p>It appears so.</p>