This is what it looks like when a piece of coral dies.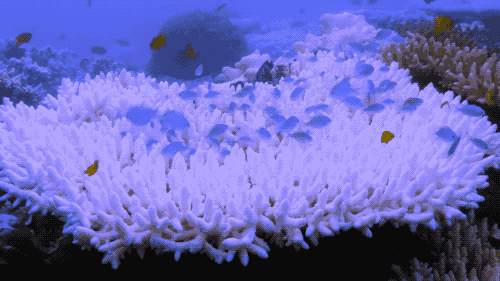 GIF via Netflix/Exposure Labs/YouTube, from the film "Chasing Coral."
This is a phenomenon known as coral bleaching, now captured in the award-winning documentary "Chasing Coral." To get these impressive shots, a team of photographers, divers, and scientists traveled the world to capture time-lapse photographs of coral bleaching events.
<p>"The beauty with time-lapse photography is that you have the ability to shift how we as humans see and perceive changes that may move in the slow lane," says photographer Zack Rago. </p><p>Getting these images was a challenge. Divers had to spend hours each day battling the currents. And it could be emotionally difficult too.</p><p>"Being the person on the ground experiencing those changes is certainly emotionally taxing. I have a deep connection to coral reef ecosystems. Spending as much time as I have documenting their death is something that fills me with guilt and shame to this day," explains Rago. "At the same time, I also cherish those dives because I know that our team has revealed this issue to the world in meaningful and powerful way."</p><p>When asked if there was any single dive that was especially hard, Rago says yes. "There is one dive that was particularly difficult. In the hours leading up to the dive, I actually watched the first edit of our time-lapses. Seeing the images from day one and immediately going back out to those dying reefs was the single most emotionally challenging dive I'll likely ever do."</p><h2>Coral bleaching happens when the water around a reef becomes too warm. </h2><p>During a bleaching event, the coral polyps (tiny creatures that actually make the reef) are effectively cooked, slowly turning white before dying. It doesn't take much, the episodes captured in Chasing Coral were the result of only a two-degree rise in water temperature, according to <a href="https://www.nytimes.com/2017/07/07/movies/chasing-coral-netflix-climate-change.html" target="_blank">The New York Times</a>. </p><p>Once the coral is dead, brown, sludgy algae take over, turning the once vibrant reef into something that looks like a parking lot.</p><p class="shortcode-media shortcode-media-rebelmouse-image"><img type="lazy-image" data-runner-src="https://assets.rebelmouse.io/eyJhbGciOiJIUzI1NiIsInR5cCI6IkpXVCJ9.eyJpbWFnZSI6Imh0dHBzOi8vYXNzZXRzLnJibC5tcy8xOTUzMjE4NS9vcmlnaW4uZ2lmIiwiZXhwaXJlc19hdCI6MTYzMjE2MjI2Nn0.ILMdOH8FAk9ObsOVJgsoP3Z4628n9PdPjNdx7Q21UGg/img.gif?width=980" id="816e7" class="rm-shortcode" data-rm-shortcode-id="b55b272b957913a933d92f8e8413abb7" data-rm-shortcode-name="rebelmouse-image"><small class="image-media media-caption" placeholder="add caption...">GIF via <a href="https://www.youtube.com/watch?v=QltN3FjwTu0">Netflix/Exposure Labs/YouTube</a>, from the film "Chasing Coral."</small></p><p>This deadly warming is fueled by climate change, as more than 90% of the excess heat in our atmosphere is absorbed by the ocean.</p><p>"Coral reefs are in trouble. We know that if current trends prevail, we will lose the majority of corals on the planet in the coming decades," says Rago. Scientists have warned that, given current trends, we could <a href="https://news.nationalgeographic.com/2017/06/coral-reef-bleaching-global-warming-unesco-sites/" target="_blank">lose most corals within 30 years</a>. Vast swaths of the Great Barrier Reef (where these photos were taken) may already be past the point of no return.</p><p>Rago is planning to head back to the Great Barrier Reef this November to help identify "super corals" that could help scientists breed heat-resistant reefs.</p><h2>As climate change becomes the new norm, it can be difficult to remember how the world once looked. </h2><p>"We need to protect what we can right now," says Rago. </p><p>There are already a lot of exciting efforts underway. Nations around the world are currently rallying around stopping or mollifying the effects of climate change, with <a href="http://unfccc.int/paris_agreement/items/9444.php" target="_blank">169 different countries</a> joining in on the landmark Paris 2015 climate agreement.</p><p>As they work out the best way to stop this, photography like these amazing time-lapse images can be a touch point for us — something to stick in our minds. And, if we fail, they can be a record for future generations.</p><p>"This problem may be hidden in our ocean, but the solutions start with us," Rago says. By sharing these images, people can help inspire friends, family members, or business or political leaders to action.</p><p>"Chasing Coral" premiered on Netflix in July 2017 and is still available to watch as of this writing. </p><h2>If you want to see more, you can watch this three-minute video, including some of the time-lapse images, below:</h2><div><!-- react-empty: 1 --></div><div><div data-card="facebook" data-reactroot=""><div class="fb-video" data-href="https://www.facebook.com/Upworthy/videos/2044236332283881/"><blockquote cite="https://www.facebook.com/Upworthy/videos/2044236332283881/" class="fb-xfbml-parse-ignore"><a href="https://www.facebook.com/Upworthy/videos/2044236332283881/">Time-lapse video captures a disturbing phenomenon known as cor...</a><p>These before-and-after images remind us of what's really at stake in the climate conversations at #COP23. (via Chasing Coral)</p>Posted by <a href="https://www.facebook.com/Upworthy/">Upworthy</a> on Friday, November 10, 2017</blockquote></div></div></div><p><em>The team was also able to capture a weird, rare event known as </em><a href="https://www.youtube.com/watch?v=O3U3mx7KT-s" target="_blank"><em>coral fluorescence</em></a><em>, which is well worth a watch. If you'd like to find out more about the film, you can <a href="http://www.chasingcoral.com/" target="_blank">visit their website</a>.</em></p>