Heroes
Alzheimer's disease can be brutal. Here's how one woman says we can help.
"Everybody has to die, but I wanted to die after the kids grow up," Jim Garner says in a video from 2013.
That video, posted to the Daily Press website, was recorded three years after Jim was diagnosed with early-onset Alzheimer's disease. In the two years since, Jim's condition has continued to deteriorate, and he's lost the ability to speak or write.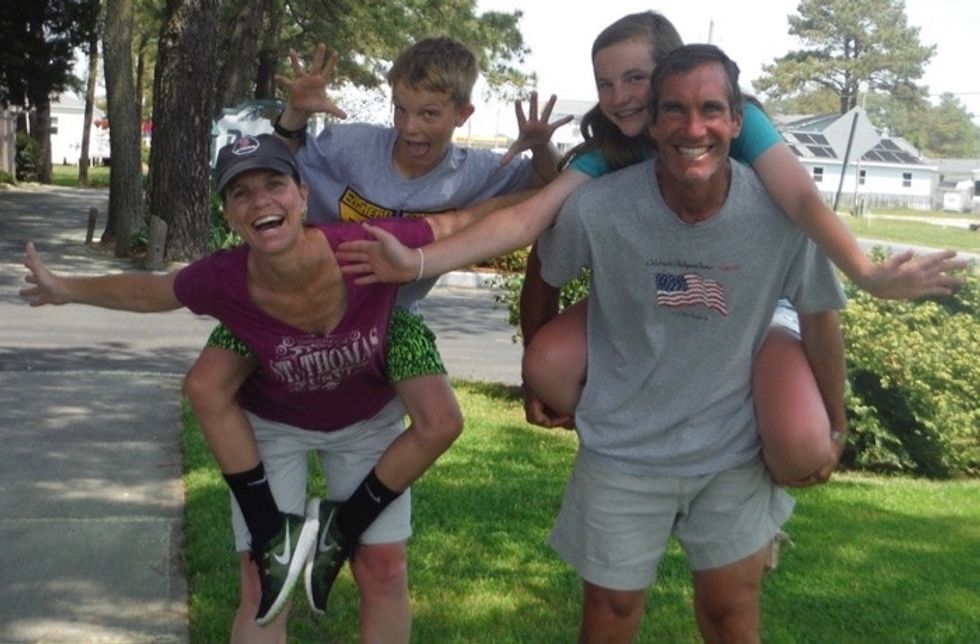 <p class="image-caption">The Garner family, Mother's Day 2015. All photos from Karen Garner, used with permission.</p><h2>A 23-year veteran of the Air Force, Jim and his wife Karen hoped the VA would pay for the care he needs.</h2><p>"And although Jim is a 23-year Air Force veteran and retiree, he does not qualify for any support from the VA that would pay for the care he needs," <a href="https://www.facebook.com/karen.h.garner.9/posts/10206612668047780" target="_blank">Karen wrote in a Facebook post about why her family was not celebrating Veterans Day this year</a>.</p><p><img type="lazy-image" data-runner-src="https://assets.rebelmouse.io/eyJhbGciOiJIUzI1NiIsInR5cCI6IkpXVCJ9.eyJpbWFnZSI6Imh0dHBzOi8vYXNzZXRzLnJibC5tcy8xOTUxMDY3NS9vcmlnaW4uanBnIiwiZXhwaXJlc19hdCI6MTY0Nzg3NDgxNn0.I6SyZN9GrLemTDIdIbt5t-IXJ-gLIZUemxpWCWI4bn8/img.jpg?width=980" id="fb5b1" class="rm-shortcode" data-rm-shortcode-id="bd44aa967a6140688a82a79b9c0a7e9c" data-rm-shortcode-name="rebelmouse-image"></p><p class="image-caption">Jim and Karen, December 2013.</p><h2>The Department of Veterans Affairs provides care for Alzheimer's patients — but there are conditions.</h2><p>Late last week, I spoke with Karen over the phone, and asked why the VA refused care for her husband. </p><p>After all, <a href="http://www.va.gov/geriatrics/Alzheimers_And_Dementia_Care.asp" target="_blank">the VA website has this to say about Alzheimer's care</a>:</p><blockquote>"Care for Veterans with Alzheimer's or dementia is provided throughout the full range of VA health care services. Depending on the Veteran's needs, services may include home based primary care, homemaker and home health aide, respite, adult day health care, outpatient clinic, inpatient hospital, nursing home, or hospice care. Caregiver support is an essential part of all of these services."</blockquote><p><img type="lazy-image" data-runner-src="https://assets.rebelmouse.io/eyJhbGciOiJIUzI1NiIsInR5cCI6IkpXVCJ9.eyJpbWFnZSI6Imh0dHBzOi8vYXNzZXRzLnJibC5tcy8xOTUxMDY3Ni9vcmlnaW4uanBnIiwiZXhwaXJlc19hdCI6MTYyOTAzMDY0MH0.88hUogirP1Ft5mNG97QYk_ITEazZyF_CYatrJwpRUMU/img.jpg?width=980" id="a7e1c" class="rm-shortcode" data-rm-shortcode-id="b8287dfbcd6425155c67d98d160c3e7b" data-rm-shortcode-name="rebelmouse-image"></p><p class="image-caption">Jim on his 50th birthday.</p><h2>According to Karen, Jim was denied assistance because his diagnosis came after he retired in 2005.</h2><p>Because Alzheimer's runs in Jim's family, it wasn't considered a service-related disease. And because Jim's diagnosis came after he'd retired in 2005 — and because their household income exceeded the threshold to receive assistance — Karen and Jim are on their own. <br></p><blockquote class="pull"><em>"When Jim and I got married 18 years ago, I envisioned a life of travel, raising our children, and eventually growing old together. Jim is the one growing old, right before my eyes, seemingly aging years in days."</em></blockquote><p>And while that income threshold might make sense for someone without a family to care for, Jim and Karen have two children. <strong>Jim's care costs around $4,000 per month. </strong>He is no longer able to work, and Karen is in the uncomfortable position of trying to financially support their family and care for her husband at the same time. <a href="http://missingjim.com/2015/07/16/a-broken-system-will-not-a-broken-woman-make/#sthash.WsQPEGYH.dpbs" target="_blank">In a blog post from July 2015, Karen details her experience battling what she calls a "broken system."</a></p><p><img type="lazy-image" data-runner-src="https://assets.rebelmouse.io/eyJhbGciOiJIUzI1NiIsInR5cCI6IkpXVCJ9.eyJpbWFnZSI6Imh0dHBzOi8vYXNzZXRzLnJibC5tcy8xOTUxMDY3Ny9vcmlnaW4uanBnIiwiZXhwaXJlc19hdCI6MTYyNjk2NDEyN30.KkZaPwUamsIPNpHfW-1gp9KTCJQe5cYjjMGeX5pxhJM/img.jpg?width=980" id="05e2b" class="rm-shortcode" data-rm-shortcode-id="84d13ec0ac959bfc4492f26873a9e469" data-rm-shortcode-name="rebelmouse-image"></p><p class="image-caption">The Garner family, December 2014.</p><p>Upworthy reached out to the VA for clarification on these requirements but have not heard back.</p><h2>Karen is tired of fighting the VA, but she refuses to give up — for Jim or anyone else.</h2><p>She wants to help others with Alzheimer's. It's why she's such an outspoken advocate for Alzheimer's care, having spoken to legislators, conferences, and the media about raising awareness and pushing for additional research around the disease.</p><p><img type="lazy-image" data-runner-src="https://assets.rebelmouse.io/eyJhbGciOiJIUzI1NiIsInR5cCI6IkpXVCJ9.eyJpbWFnZSI6Imh0dHBzOi8vYXNzZXRzLnJibC5tcy8xOTUxMDY3OC9vcmlnaW4uanBnIiwiZXhwaXJlc19hdCI6MTYyMjc1MzI2Mn0.C9rKU8zCLdZhT3CdVaegcwxDvmpXLCFi9NxNXBTfUPU/img.jpg?width=980" id="4b5fa" class="rm-shortcode" data-rm-shortcode-id="28fd4583b198c8db74d0030cfff29d6d" data-rm-shortcode-name="rebelmouse-image"></p><p class="image-caption">Karen and Jim, 2008.</p><p>"When Jim and I got married 18 years ago, I envisioned a life of travel, raising our children, and eventually growing old together. Jim is the one growing old, right before my eyes, seemingly aging years in days. Our future life we dreamed of isn't going to happen," she wrote in her Facebook post on Veterans Day. </p><p>"Instead, I have spent our last few years fighting — fighting to get a diagnosis. Fighting to get disability. Fighting for research. Fighting for a cure. Fighting to get financial assistance. Fighting to get quality care from the VA or anyone else who offers it. Fighting to keep my family together and in peace. Fighting to pay for Jim's new home. It has been an exhausting war and I just try to win as many battles as I can while knowing we are far from being done."</p><p><img type="lazy-image" data-runner-src="https://assets.rebelmouse.io/eyJhbGciOiJIUzI1NiIsInR5cCI6IkpXVCJ9.eyJpbWFnZSI6Imh0dHBzOi8vYXNzZXRzLnJibC5tcy8xOTUxMDY3OS9vcmlnaW4uanBnIiwiZXhwaXJlc19hdCI6MTYzNTc2OTk4NX0.PKOo81K-HZK5MYhbV0z0E6DhlM3Of1aqVFMDiTvVjkk/img.jpg?width=980" id="b68e7" class="rm-shortcode" data-rm-shortcode-id="e4433fe37f4a70f227a8ba755236ec2a" data-rm-shortcode-name="rebelmouse-image"></p><p class="image-caption">Karen and Jim, 1998.</p><h2>Stigma keeps a lot of people from opening up about Alzheimer's. Karen wants to change that.</h2><p>It's part of the reason she's been tracking her family's journey at <a href="http://missingjim.com/" target="_blank"><strong>MissingJim.com</strong></a> over the past two and a half years.</p><p>"There are so many people who don't speak up about what it's like dealing with Alzheimer's, and I wanted to fight that stigma," she told me. To her, it's important to share her family's stories, even if they are <a href="http://missingjim.com/2015/01/13/please-fix-that-chick-you-see-in-the-mirror/#sthash.WUw52WbR.dpbs" target="_blank">sad</a>.</p><p><img type="lazy-image" data-runner-src="https://assets.rebelmouse.io/eyJhbGciOiJIUzI1NiIsInR5cCI6IkpXVCJ9.eyJpbWFnZSI6Imh0dHBzOi8vYXNzZXRzLnJibC5tcy8xOTUxMDY4MS9vcmlnaW4uanBnIiwiZXhwaXJlc19hdCI6MTYxODkxNzk2Mn0.ONuhaxtwnclXFk3FEiZphTd9oFFbG5O4tzcqXgrC7ww/img.jpg?width=980" id="274bc" class="rm-shortcode" data-rm-shortcode-id="78852772037dee20aa175bc05f288767" data-rm-shortcode-name="rebelmouse-image"></p><p class="image-caption">The Garner family, Christmas Eve 2009.</p><h2>Karen has four suggestions to change how we treat Alzheimer's patients.</h2><p>First and foremost, <strong>we need to make sure family and caretakers have the resources they need</strong>. As mentioned above, Jim's care currently runs around $4,000 per month (nearly $50,000 per year). That's not something most families can realistically come up with.</p><p>Second, <strong>we need to simplify dealing with insurance companies or government agencies</strong>. Karen detailed the hours spent filling out paperwork and applying for assistance. This problem is not unique to Alzheimer's patients. As anyone who's had to navigate the bureaucracy involved with health care can confirm, it can all be discouraging — if not entirely overwhelming.</p><p>Third, <strong>we need to get serious about funding research</strong>. A report from the <a href="http://www.alz.org/boomers/" target="_blank">Alzheimer's Association</a> paints a grim picture for the future of Alzheimer's research. As other diseases such as HIV, stroke, heart disease, breast cancer, and prostate cancer claim fewer lives, Alzheimer's deaths have been on the rise. It's the <a href="https://www.nia.nih.gov/alzheimers/publication/alzheimers-disease-fact-sheet" target="_blank">sixth-leading cause of death in America</a>, and it receives just a fraction of research funding compared to cancer, heart disease, and HIV.</p><p>Finally, and this one comes from Jim, himself: <b></b></p><p><img type="lazy-image" data-runner-src="https://assets.rebelmouse.io/eyJhbGciOiJIUzI1NiIsInR5cCI6IkpXVCJ9.eyJpbWFnZSI6Imh0dHBzOi8vYXNzZXRzLnJibC5tcy8xOTUxMDY4Mi9vcmlnaW4uanBnIiwiZXhwaXJlc19hdCI6MTY1MzgwMzQ1MH0.KUN56AMEBGFdr7QI7DlNVHofwkOUFiGVPGFwfe-L0zA/img.jpg?width=980" id="9287b" class="rm-shortcode" data-rm-shortcode-id="2c9a7054e8b293de1b8bfaf2ed4e8a29" data-rm-shortcode-name="rebelmouse-image"></p><p class="image-caption">Jim, November 2015.</p><h2>Let's start with that last one, OK? Let's share the stories of people like Jim and Karen. Let's fight stigma.</h2>