More
No homophobes are gonna rain on Stephen Amell's Pride parade.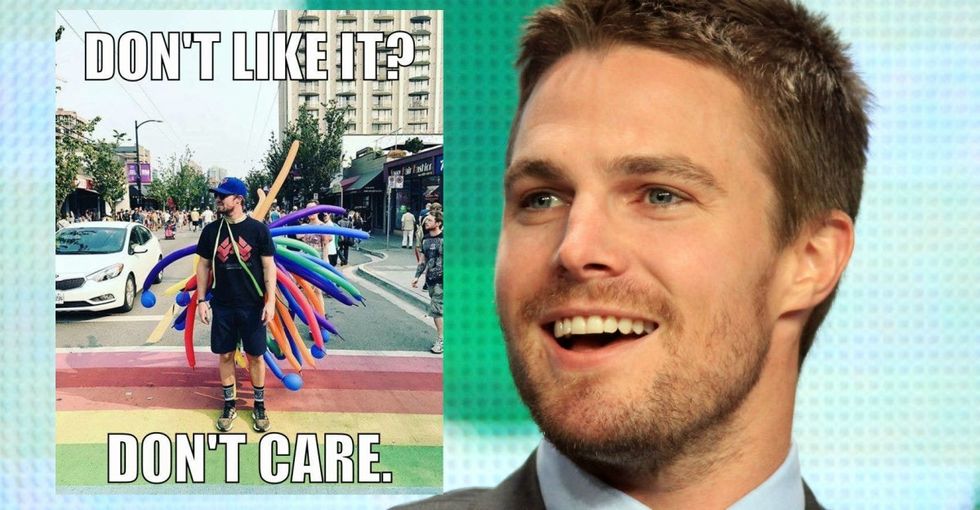 Actor Stephen Amell ("Arrow") has been an outspoken supporter of the LGBTQ community for years.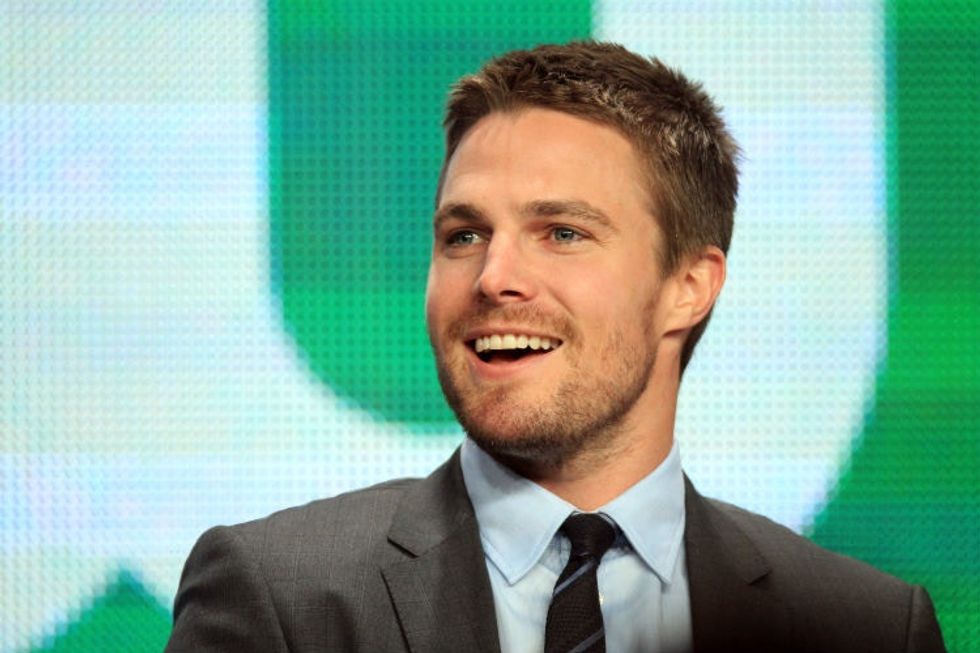 Photo by Frederick M. Brown/Getty Images.
So it wasn't all that surprising when he posted photos of himself attending Vancouver's LGBTQ Pride festivities.
The Canadian actor, who identifies as straight, was in town filming the latest season of "Arrow," when he gleefully snapped photos at the parade alongside his wife, Cassandra.
But then, as they so often do, anti-LGBTQ Facebook trolls started chiming in.
The majority of comments on Amell's Pride pictures were positive, to be sure. But a surprising number of haters began throwing in their two cents with bigoted, ignorant, or simply nonsensical remarks.
"Looking like a moron you sure fit in," one user wrote.
"How come we don't see Hollywood actors putting on this much show for homeless kids and families and poverty or veterans?" someone asked, as if it's some kind of competition (side note: we, um, do see that from celebrities — all the time) or as though every human can only pick one cause to support.
"By doing this, you are disrupting the common sense created by God," interjected another.
The homophobia didn't sit well with Amell.
On Aug. 7, the actor responded to the negativity in a separate post, noting he'll be stepping up his Pride game next year, thanks to all the homophobes.
"I had a fantastic weekend in Vancouver with my wife and friends, met some terrific people and more than anything just tried to soak in all the positive energy from people living their best lives," Amell wrote.
"If I'm in Vancouver next year I won't just go back, I'll walk in the parade," he continued. "So for everyone in their negative pants: Go be on the wrong side of history on somebody else's Facebook page."
The follow-up post amassed a whopping 53,000 Likes and thousands more comments and shares.
Amell's prideful Facebook posts are just his latest show of LGBTQ allyship.  
The actor defended and proudly supported "Arrow" co-star Colton Haynes when Haynes came out as gay last year.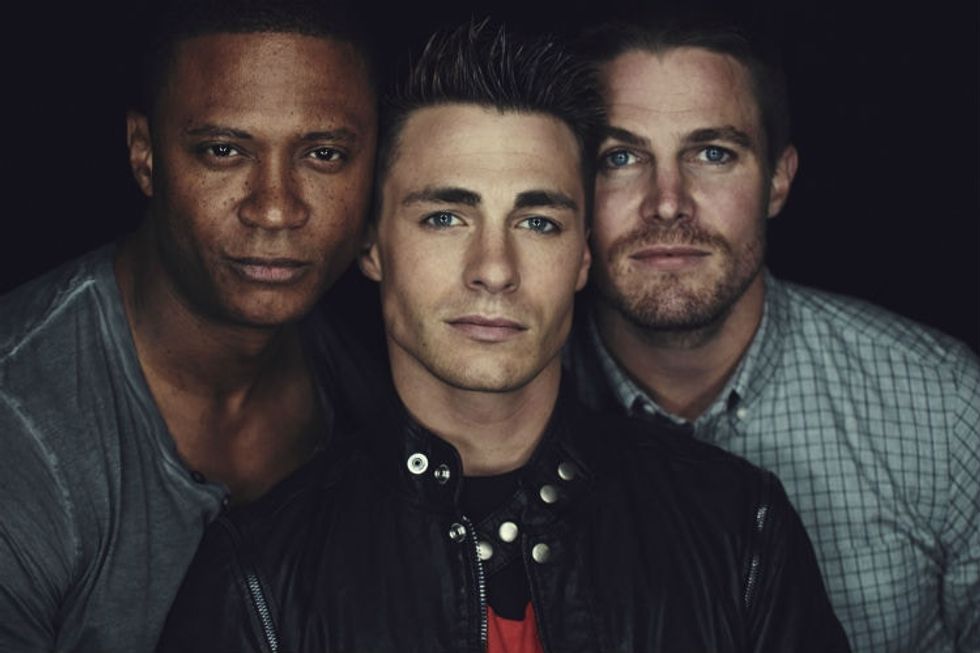 Stephen Amell (right), alongside "Arrow" co-stars Colton Haynes (middle) and David Ramsey (left), at Comic-Con in 2016. Photo by Smallz+Raskind/Warner Bros. Entertainment Inc. via Getty Images.
"I'm so happy for Colton," Amell explained in May 2016. "When he came back to 'Arrow' this year simply for an episode, it was such a different version of Colton. He and I bonded more. I'm very, very happy for him."
Amell, who's had roles in LGBTQ-themed series "Queer As Folk" and "Dante's Cove," has been known to boldly bat down homophobia and was an outspoken proponent of same-sex marriage long before it was legal nationwide in the U.S.
"Marriage — and all the benefits that come with it — should be available to everybody," he wrote in 2013. "Some of the most loving, powerful relationships I've witnessed have been same-sex couples."