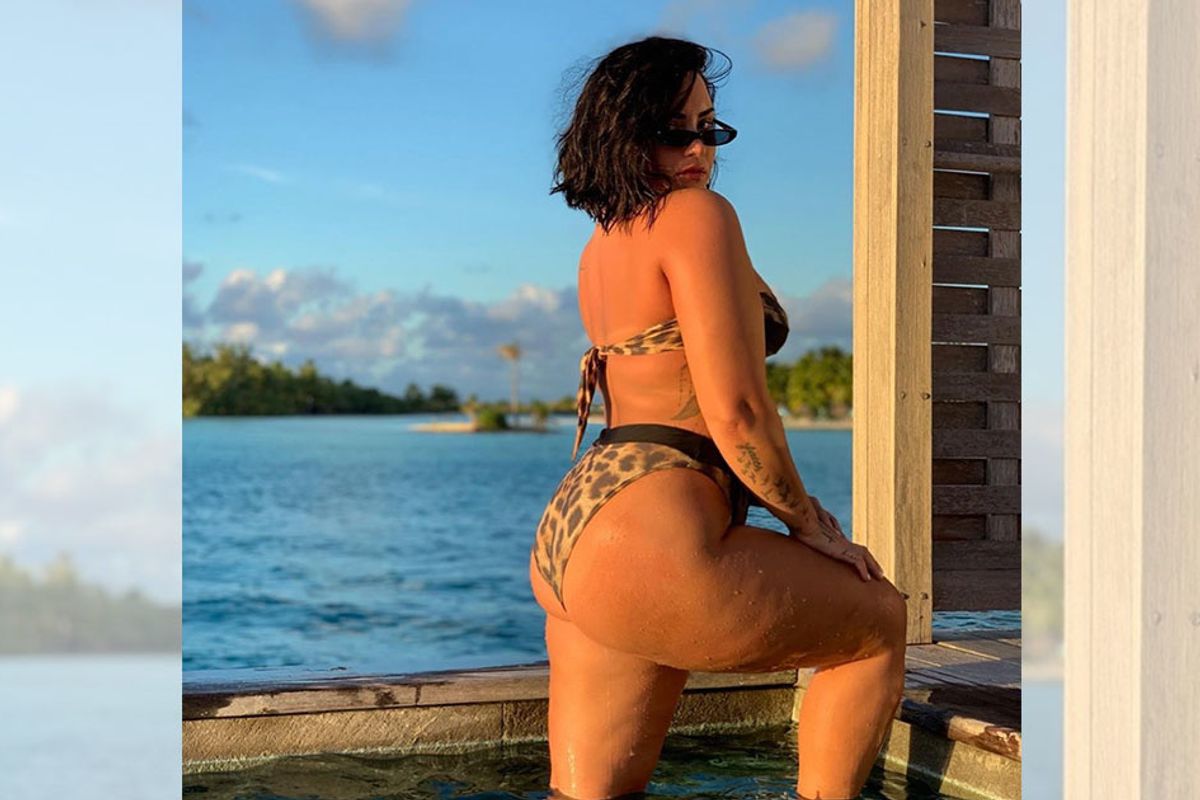 Instagram / Demi Lovato
Cellulite is surprisingly common. It is believed that 85 to 98 percent of women carry around the subcutaneous fat. Genetics, lifestyle habits, and/or good old fashioned estrogen are at the root of that pesky puckered skin. It doesn't matter what dress size you wear. Cellulite happens. But even though it is very common, women spend time and money on creams and treatments trying to erase this "flaw."
Demi Lovato embraced her imperfections (if cellulite can even be called that, since it's so common), and posted an unedited photo on Instagram showing it off. In the photo, which was taken in Bora Bora, the singer is shown striking a powerful pose, wearing an animal print bikini, looking fierce with her cellulite is proudly on display.
---
Lovato captioned the photo with an inspiring post that stressed the need for her to embrace who she is, as she is. "This is my biggest fear. A photo of me in a bikini unedited. And guess what, it's CELLULIT!!!! I'm just literally sooooo tired of being ashamed of my body, editing it (yes the other bikini pics were edited - and I hate that I did that but it's the truth) so that others think I'm THEIR idea of what beautiful is, but it's just not me. This is what I got. I want this new chapter in my life to be about being authentic to who I am rather than trying to meet someone else's standards. So here's me, unashamed, unafraid and proud to own a body that has fought through so much and will continue to amaze me when I hopefully give birth one day," Lovato wrote.

Her caption also included a message of empowerment for the women who have dimpled derrières. "Anyway, here's me, RAW, REAL! And I love me. And you should love you too!" she wrote.
She also acknowledged that feelings about your body can be complicated. "Just so everyone's clear.. I'm not stoked on my appearance BUT I am appreciative of it and sometimes that's the best I can do. I hope to inspire someone to appreciate their body today too," she said.
Fans and other celebrities supported the singer for facing her fears. "Literally shaking still.. that was so hard for me to post," Lovato wrote on a follow up Instagram story. "But wow.. so blown away by the love and support.. let's be the change we want to see!!!"
Inspired by Lovato, others posted photos on Instagram that celebrate their cellulite.
Why is it so important that Lovato chose to show her thighs as they are? By doing so, she encourages others to embrace their cellulite, making it less likely to be perceived as a flaw, and more likely to be perceived as a common occurrence.