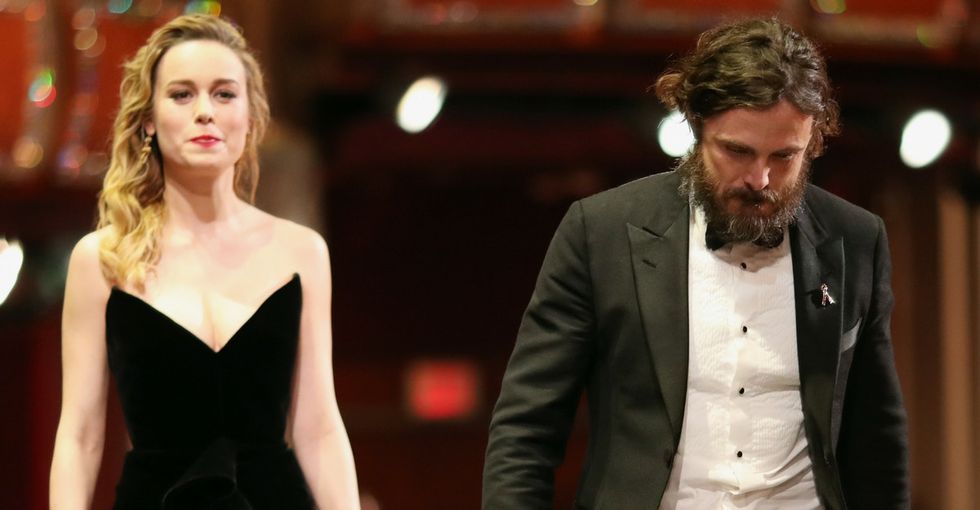 Last year Brie Larson presented Casey Affleck with the Oscar for Best Actor, and it was ... uncomfortable.
Just a year earlier, Larson had won the Oscar for her powerhouse performance in "Room," playing a woman who was held kidnapped, sexually assaulted, and forced to live in captivity with her young son. Hers was a moving performance that reflected a lot of Larson's own advocacy work for victims of sexual harassment and violence. But then she was asked to present one of acting's top honors to Affleck, who had been sued on multiple occasions for sexual harassment years earlier.
The audience erupted in applause as Affleck's name was announced and he took the stage — with one very notable exception: Larson. After offering Affleck a polite hug, she stood off to the side, motionless. In a pre-#MeToo, pre-Time's Up environment, her reluctance to follow the unspoken rules of being a presenter was a statement in itself.
---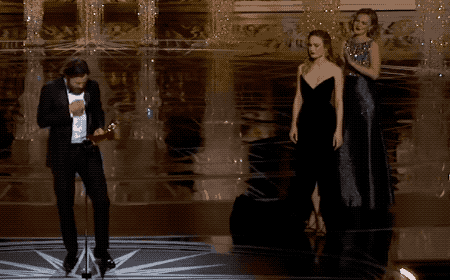 Larson stands still as Affleck takes the stage in 2017. GIF from Oscars/YouTube.
"I think that whatever it was that I did onstage kind of spoke for itself," she told Vanity Fair when asked about whether she was trying to make a statement by not clapping. "I've said all that I need to say about that topic."
Since then, a lot has changed in Hollywood — and Affleck will be absent from the Oscar stage this year as a result.
It's Academy Award tradition that the previous year's Best Actor winner presents this year's Best Actress award (and the past Best Actress presents Best Actor). But Affleck, who was scheduled to present, will not be in attendance when Hollywood gathers for the show on March 4.
Deadline reported that "Affleck did not want to become a distraction from the focus that should be on the performances of the actresses in the category and that is why he made the proactive move," calling it "a no-win situation."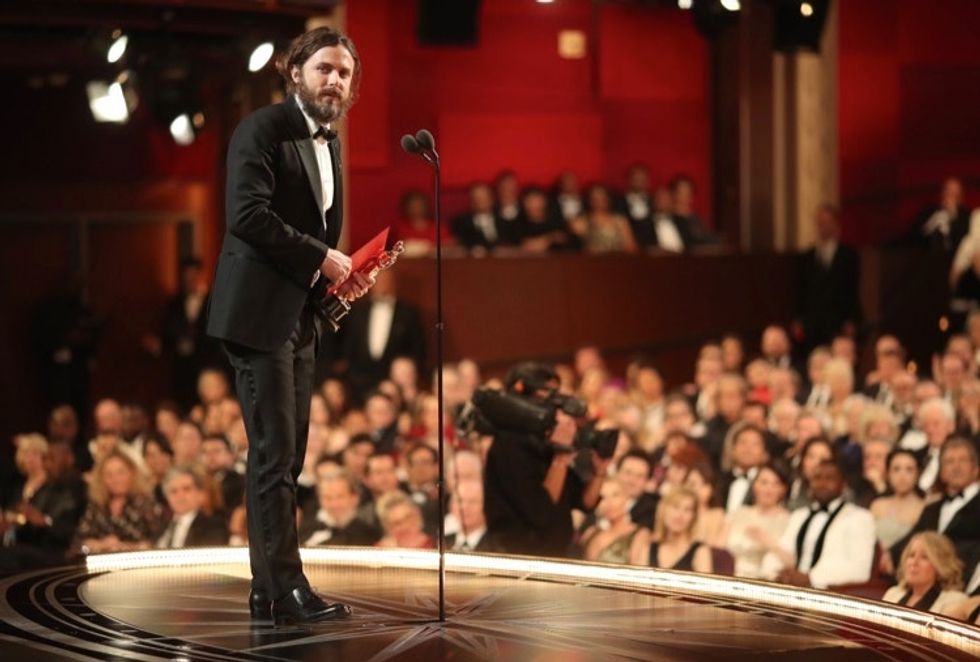 Affleck accepts Best Actor during the 2017 Oscars. Photo by Christopher Polk/Getty Images.
Thanks to the activism of the past year, actors like Affleck are finally being held accountable for their actions.
It's proof that, when journalists, witnesses, and survivors speak out, they have the power to change the world for the better.
Without Jodi Kantor and Megan Twohey's bombshell New York Times exposé detailing megaproducer Harvey Weinstein's history of sexual assault and harassment, and without some of the brave actresses willing to go on record for it, it's hard to imagine that the #MeToo movement would have taken off the way it has.
In a world without the #MeToo movement (which was founded years ago by Tarana Burke, but given fresh life post-Weinstein), it's easy to picture Affleck on stage this year, again receiving cheers from a complicit audience. It's easy to imagine his past sexual harassment suits being brushed off as ancient history, or for audiences to be urged to separate the artist from the art; it's easy to picture a culture that has continued to laud the likes of Roman Polanski or Woody Allen treating Affleck the same way.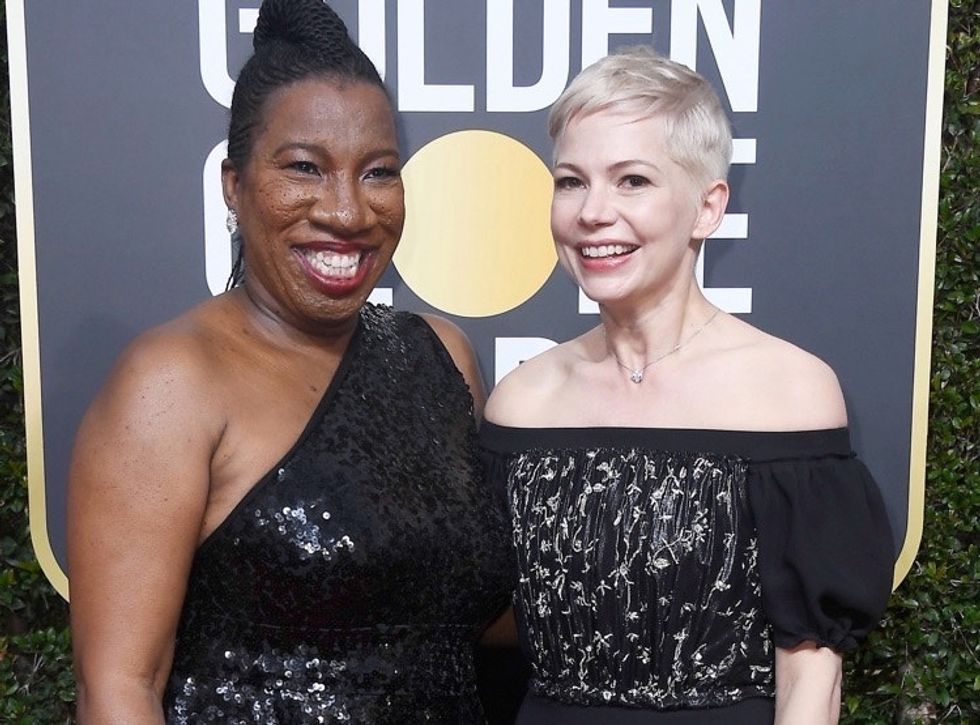 Tarana Burke poses with Affleck's "Manchester By the Sea" co-star, actress Michelle Williams at this year's Golden Globes. Photo by Frazer Harrison/Getty Images.
But activists, journalists, and regular, everyday people helped change that. Continued pressure and momentum can help reshape culture in powerful ways. The fact that Casey Affleck will not be on stage is a reminder that we can make the world a better place if we use our voices to advocate for a more just society.
In a world where cynicism and despair often win out, stories like these might just lend a little hope.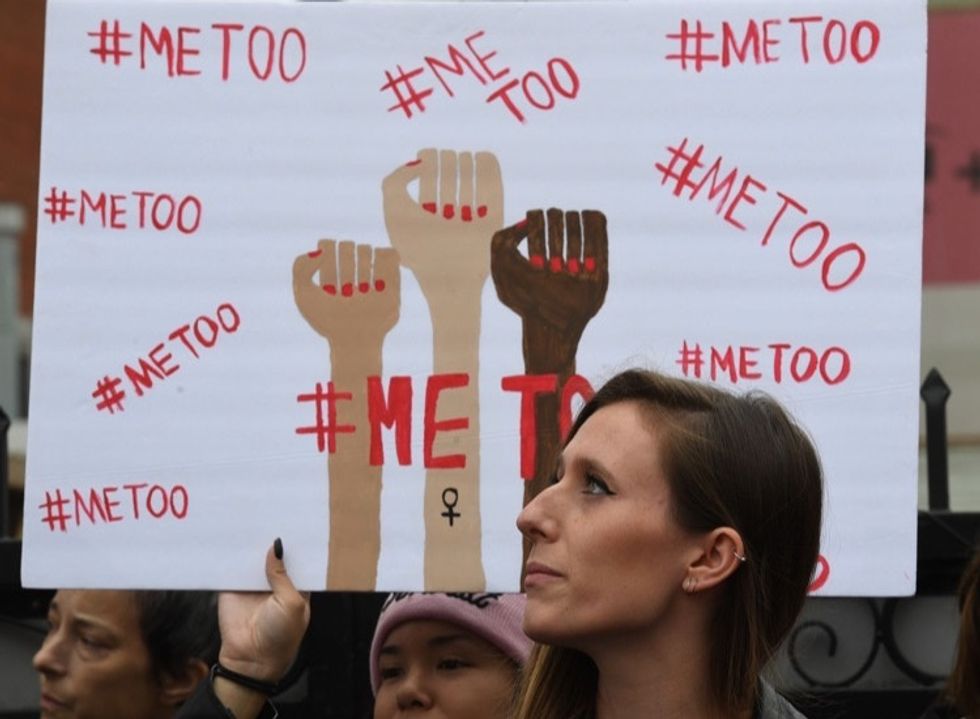 #MeToo demonstrators. Photo by Mark Ralston/AFP/Getty Images.