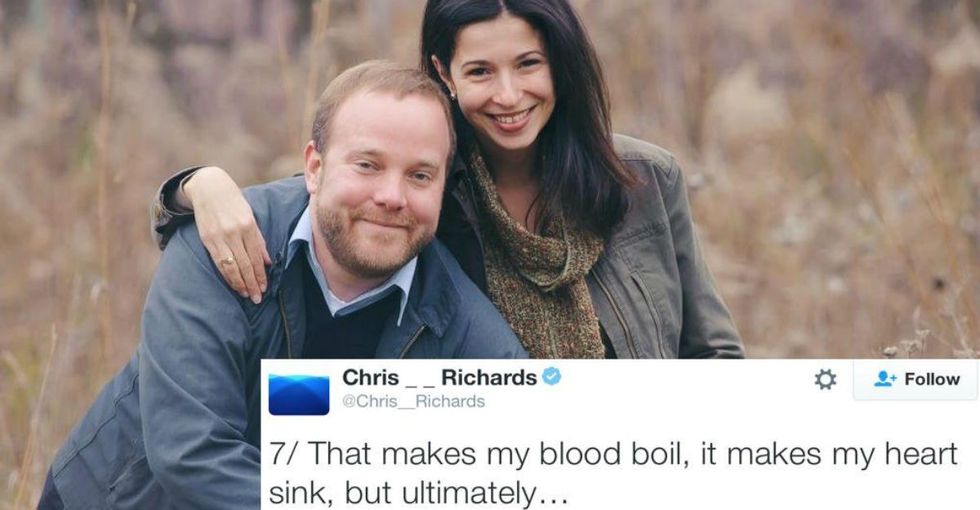 The Washington Post's pop music critic Chris Richards — who is married to Washington Post feature writer Caitlin Gibson — celebrated a "not uncommon, but always cool" moment in his marriage: The husband-and-wife duo each had stories running on the same page of the paper's Style section.
The stories could hardly be more different in tone or subject matter: Gibson focused on a young girl's heartbreaking firsthand Twitter accounts of war-ravaged Syria ("The tooth fairy is afraid of the bombing here, it run away to its hole").  
Richards drummed up some juicy Grammy drama in a piece about Beyoncé and Adele. Yet internet trolls found reasons to leave disturbing messages in both writers' inboxes.
---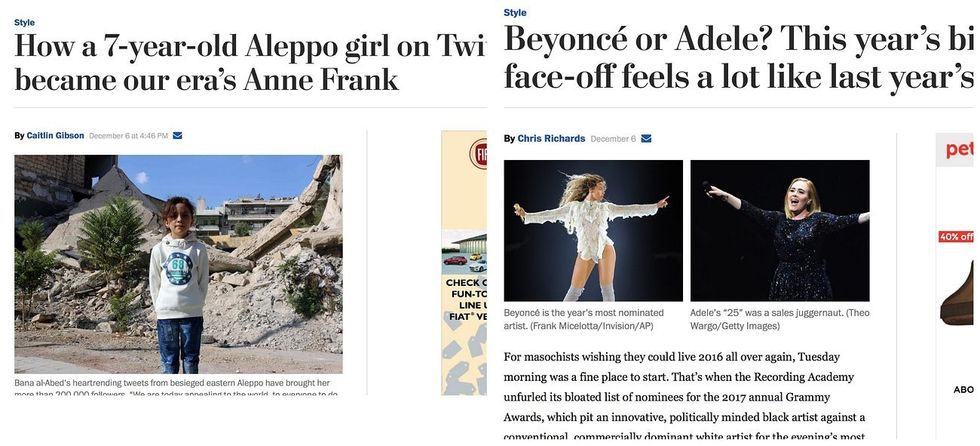 Richards noticed a stark difference between the hate mail he and his wife received: Hers was rife with sexist name-calling while the insults he received were mainly limited to perceived faults in his story, not his gender.
2. All too common and always uncool: Our respective inboxes began to fill with emails from racist readers making ugly complaints.

— Chris _ _ Richards (@Chris _ _ Richards) 1481146225.0
4. So… plenty of these emails were already waiting on our phones before we even got out of bed. But here's the difference:

— Chris _ _ Richards (@Chris _ _ Richards) 1481146292.0
6. None. Zero. In fact, I can't remember a reader calling me a name in my entire career. Ever. Yet, my wife experiences it regularly.

— Chris _ _ Richards (@Chris _ _ Richards) 1481146352.0
8. It's become my regular reminder that the women of this world are constantly fighting against a hatred that men do not see.

— Chris _ _ Richards (@Chris _ _ Richards) 1481146444.0
8. And for what it's worth, I wanted to make it visible here. Peace.

— Chris _ _ Richards (@Chris _ _ Richards) 1481146461.0
In addition to shining a light on sexism, Richards' foray into Twitter commentary taught him another valuable lesson: Counting isn't his strong suit.
Easy thing I am bad at: numbering tweets in a thread

— Chris _ _ Richards (@Chris _ _ Richards) 1481147561.0
This thread. 👏🏻❤️️ https://t.co/EqabuXKRAx

— Caitlin Gibson (@Caitlin Gibson) 1481151692.0
Meanwhile, Gibson cheered on her husband's statements.
Though 2016 has three more weeks to go, we'll go ahead and say it: This reporter pair is our GOOD Couple of the Year.
This article originally appeared on GOOD.