More
The real-life heroes of the Avengers surprised children's hospitals with a $5 million donation.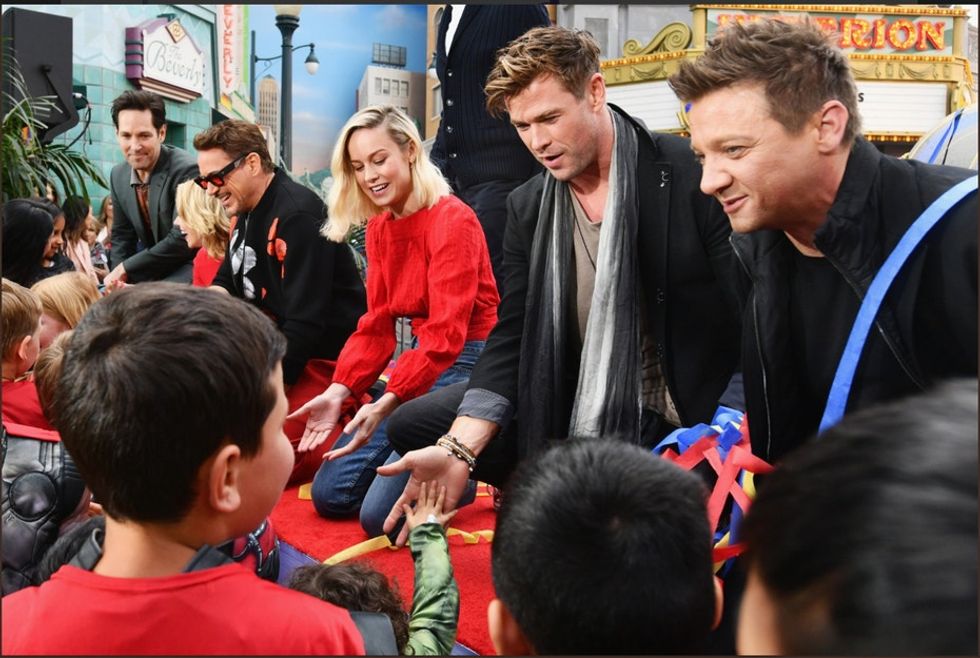 In Endgame, the Avengers have to team up to save the universe from Thanos, but their real-life counterparts are also teaming up to save kids right here on Earth.
Avengers actors Robert Downey Jr., Chris Hemsworth, Scarlett Johansson, Jeremy Renner, Paul Rudd and Brie Larson showed up with Disney CEO Robert Iger at Disney California Adventure Park to help announce a donation of $5 million to children's hospitals across the country.
At the event, members of the local Boys& Girls Clubs also got to hang out with the Avengers at Downtown Disney's LEGO store, plus they all went home with new toys. So basically, a bunch of kids just had the best day ever.
---
A portion of the donation will go to non-profit Give Kids the World, which provides all-expense paid week long vacations for critically ill kids and their families.
Starlight Children's Foundation will also receive a donation of cash and toys through the Avengers Universe Unites campaign. Disney contributed $1 million to the donation. The LEGO group, Hasbro, Funko, and Amazon collaborated on the rest of the donation.
A superhero is someone who works to save their community from harm, so basically the cast of The Avengers are all now superheroes in real life, too.
"The super heroes in Avengers personify traits like courage, perseverance, bravery and hope — the same traits countless kids and their families in children's hospitals exhibit every day," Iger said in a press release.
At the event, Robert Downey Jr. (aka Iron Man, himself) stressed the importance of giving back to children in need. "More than any time, it's a time to give back to these courageous kids who inspire us," Downey Jr. said.
Ant-Man, otherwise known as Paul Rudd, acknowledged that childhood illness doesn't impact just the child, but rather, the whole family. "I'm grateful and touched to be a part of this group," Rudd said. "I work with a lot of kids and families. It's not just the kids. It's the entire family. The parents, the brothers, the sisters. This is a real honor to giveback. I would like to say the Ant-Man toy is particularly small. So, when you're walking around barefoot, just be careful. It's a little bit like stepping on a LEGO."
It really takes a village to help a sick child. The Avengers remind us that you don't need to be able to fly or shoot lasers from your eyes in order to save a life. Those who haven't been given mysterious superpowers can still make the world a better place just by getting involved.