More
These cleaners brave the elements to clean historic monuments.
Cleaning national monuments is not a job many people know about.
But Thorsten Mowes has been doing this job for 24 years — almost his entire career. "It started off as a small project in Germany and as it was a good idea, it has since expanded all over the world," he told Caters News.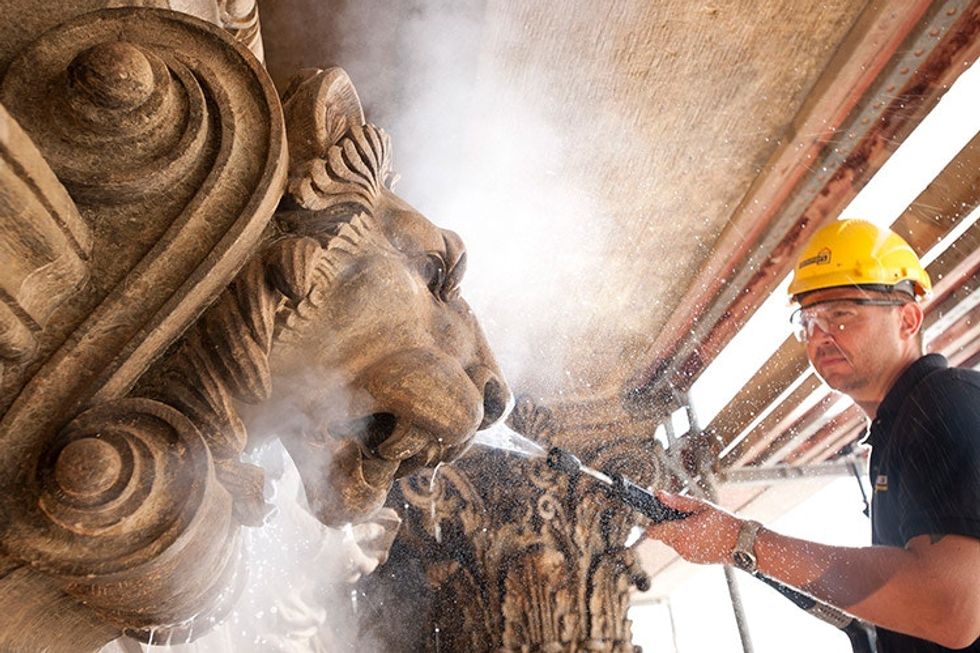 </div></div></div><h2>Mowes has dangled from the Space Needle, been face-to-face with Christ the Redeemer in Rio, and stood on George Washington's nose at Mount Rushmore. </h2><p>In total, Mowes (who works for <a href="https://www.kaercher.com/us/inside-karcher/company/about-kaercher.html" target="_blank">Karcher</a>, a German company that developed the first hot-water pressure washer) has worked on over 80 monument projects worldwide, and he's made many of the landmarks you know and love sparkle like new.</p><p>The projects range in size and complexity. <strong>Sometimes they're small projects with a few crew members, and other times they're massive projects that include cleaners, engineers, photographers, and support staff.</strong></p><div><div class="push-wrapper--mobile" data-card="image" data-reactroot=""><img type="lazy-image" data-runner-src="https://assets.rebelmouse.io/eyJhbGciOiJIUzI1NiIsInR5cCI6IkpXVCJ9.eyJpbWFnZSI6Imh0dHBzOi8vYXNzZXRzLnJibC5tcy8xOTUyMTAwMC9vcmlnaW4uanBnIiwiZXhwaXJlc19hdCI6MTY0MjMxMzQ0NH0.w6r9i-3z90MWfHTdDb7mCSZVurlP0tdEvjFClMP_3FY/img.jpg?width=980" id="a76ee" class="rm-shortcode" data-rm-shortcode-id="0ac69f65b08022f28349a8ddf1287fa5" data-rm-shortcode-name="rebelmouse-image"><div class="image-caption"><p>Photo by Caters News.</p></div></div></div><h2>When Mowes worked on the <a href="http://www.karcher.com/int/Sponsoring/Projects/Space_Needle.htm" target="_blank">Space Needle</a>, they had to work around the daily operations of the site, which is a tourist destination.</h2><p>He says they only worked at night, often in high winds, using helmet lamps, harnesses, and electric hot-water pressure washers.</p><div><div class="push-wrapper--mobile" data-card="image" data-reactroot=""><img type="lazy-image" data-runner-src="https://assets.rebelmouse.io/eyJhbGciOiJIUzI1NiIsInR5cCI6IkpXVCJ9.eyJpbWFnZSI6Imh0dHBzOi8vYXNzZXRzLnJibC5tcy8xOTUyMTAwMS9vcmlnaW4uanBnIiwiZXhwaXJlc19hdCI6MTYxNDg5MDg5MX0.X_UNhjyyEuRFW-SRe5Tsyk8oQfhcqgQU8d-cmXbwl6A/img.jpg?width=980" id="98e47" class="rm-shortcode" data-rm-shortcode-id="80dfee6cc260e8911c931ccd4e394a11" data-rm-shortcode-name="rebelmouse-image"><div class="image-caption"><p>Photo by Caters News.</p></div></div></div><p>With a lot of these projects, Mowes and his crew have to be mindful of the conservation of the edifice and of the environmental impact of their cleaning. So, often, like on the Space Needle, they clean using only hot water — heated to 194 degrees fahrenheit.</p><h2>He also routinely comes across logistical challenges on these projects, like at Mount Rushmore. </h2><p>When he cleaned Mount Rushmore in 2005, "there was no water supply nearby, no roads to give you access to the top, and the object itself is huge," Mowes told Caters News.</p><p>"<strong>In the end, we had to fly our equipment to the top in a helicopter, and have the local fire department use their fire engines to help pump the water to us through 2km long pipes.</strong> And all this had to happen while tourists still had access to see it too."</p><div><div class="push-wrapper--mobile" data-card="image" data-reactroot=""><img type="lazy-image" data-runner-src="https://assets.rebelmouse.io/eyJhbGciOiJIUzI1NiIsInR5cCI6IkpXVCJ9.eyJpbWFnZSI6Imh0dHBzOi8vYXNzZXRzLnJibC5tcy8xOTUyMTAwMi9vcmlnaW4uanBnIiwiZXhwaXJlc19hdCI6MTY2MjAwOTk3OX0.rpmnOJjX5pJfe9CjYGabDEien8hzUgkjf9Ettx0A_pg/img.jpg?width=980" id="77a1b" class="rm-shortcode" data-rm-shortcode-id="253593db89faedd33c65476ee7b70d1e" data-rm-shortcode-name="rebelmouse-image"><div class="image-caption"><p>Photo by Caters News. </p></div></div></div><h2>This cleaning is incredibly important because monuments and landmarks are susceptible to damage and corrosion. </h2><p>Mowes and his crew worked with the <a href="http://www.karcher.com/int/Sponsoring/Projects/Mount_Rushmore.htm" target="_blank">National Park Service</a> to remove lichen, algae, moss, and other stains from the faces of the sculpture, and the results are pretty stunning.</p><div><div class="push-wrapper--mobile" data-card="image" data-reactroot=""><img type="lazy-image" data-runner-src="https://assets.rebelmouse.io/eyJhbGciOiJIUzI1NiIsInR5cCI6IkpXVCJ9.eyJpbWFnZSI6Imh0dHBzOi8vYXNzZXRzLnJibC5tcy8xOTUyMTAwMy9vcmlnaW4uanBnIiwiZXhwaXJlc19hdCI6MTY0ODk5MDk5Nn0.jviFFaAcIvXGd73WuwEE9wM3-mYoJ-unlGRwU3tH3C4/img.jpg?width=980" id="7f8cf" class="rm-shortcode" data-rm-shortcode-id="00c47f249b04aa934fdc7ad6030a61ca" data-rm-shortcode-name="rebelmouse-image"><div class="image-caption"><p>Photo by Scott Olson/Getty Images.</p></div></div></div><h2>Without their heroic efforts, we could potentially lose the monuments altogether. </h2><p>So cheers to these incredible people who tackle ridiculous obstacles to preserve and restore these monuments. Not all heroes wear capes ... some wear safety harnesses!</p>