6-year-old Jack and his baby sister Everly are the best of friends.
Everly has a congenital heart condition that affects one in every 100,000 babies. She basically has half a heart, which means her body has to work really hard just to keep blood and oxygen circulating through her body. At just 7 months old, she's already had two major open-heart surgeries and is scheduled to have another this summer.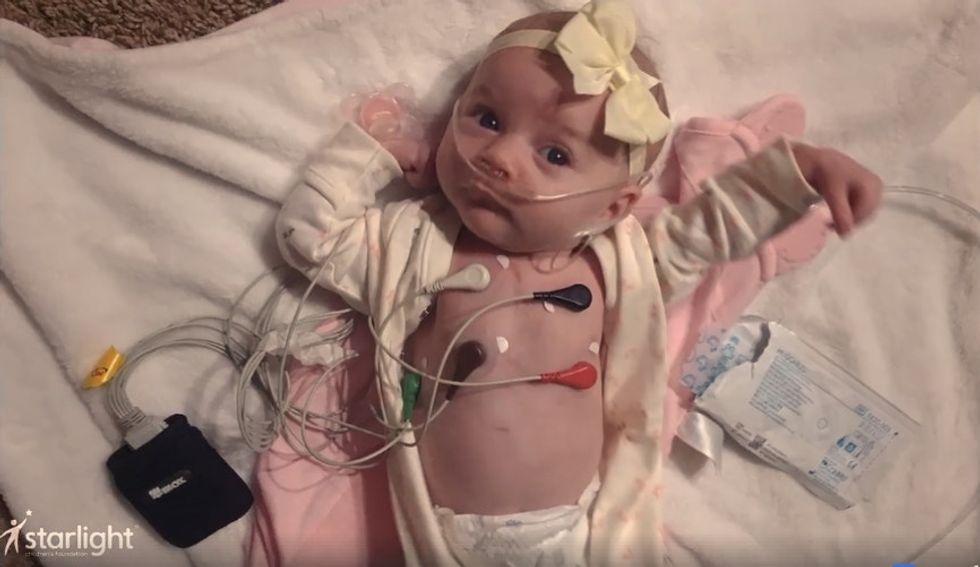 Screenshot via Starlight Children's Foundation.
<p>Because Everly's health is so delicate, even a minor cold could be catastrophic. That means Jack isn't allowed to have any friends over to play in their Crystal Lake, Illinois, home. And that means that the two siblings have become one another's favorite companions. </p><p class="shortcode-media shortcode-media-rebelmouse-image"><img type="lazy-image" data-runner-src="https://assets.rebelmouse.io/eyJhbGciOiJIUzI1NiIsInR5cCI6IkpXVCJ9.eyJpbWFnZSI6Imh0dHBzOi8vYXNzZXRzLnJibC5tcy8xOTUzMjMwOC9vcmlnaW4uanBnIiwiZXhwaXJlc19hdCI6MTY1MTgyNjQ3M30.i845CjJaC6_ATE5AjQoGOnqEN3dCHjRWS14_AVDQum8/img.jpg?width=980" id="8efd4" class="rm-shortcode" data-rm-shortcode-id="c2403cb2b77471075a7349ce268c3930" data-rm-shortcode-name="rebelmouse-image"><small class="image-media media-caption" placeholder="add caption...">Screenshot via Starlight Children's Foundation.</small></p><h2>Jack wanted to do something to make Everly's hospital stays better. </h2><p>When asked about the clothes his sister has to wear in the hospital, Jack replied, "I hate 'em ... cause your butt hangs out." Indeed, hospital gowns don't lend themselves to anyone's dignity. And nobody likes to see a kid in the hospital, much less wrapped in undeniably medical gown that just reminds everyone that the child is seriously ill.</p><p>So Jack decided to create his own gown design as part the Starlight Children's Foundation <a href="https://www.starlight.org/design-a-gown-recap/" target="_blank">Design-a-Gown contest.</a> Starlight gowns tie down the side instead of the back, so everything private gets covered. And Jack's design turns the bland, boring style into a fun, glittery, colorful outfit. </p><p class="shortcode-media shortcode-media-rebelmouse-image"><img type="lazy-image" data-runner-src="https://assets.rebelmouse.io/eyJhbGciOiJIUzI1NiIsInR5cCI6IkpXVCJ9.eyJpbWFnZSI6Imh0dHBzOi8vYXNzZXRzLnJibC5tcy8xOTUzMjMwOS9vcmlnaW4uanBnIiwiZXhwaXJlc19hdCI6MTY1MjA0ODcxMH0.O4S3OxbQOlTVoegab_t0so1z43VH9WCrs31AHH57Fpc/img.jpg?width=980" id="7fda7" class="rm-shortcode" data-rm-shortcode-id="4a48bc2148a80d003f96aacb4c537367" data-rm-shortcode-name="rebelmouse-image"><small class="image-media media-caption" placeholder="add caption...">Screenshot via Starlight Children's Foundation.</small></p><p>Covered in reds, pinks, and purples, Jack's gown design also includes four glittery hearts because, as he says, "Ev has a kind of broken heart."   </p><p>The Starlight Foundation, co-founded by Stephen Spielberg, created the contest as part of their mission, "to brighten the lives of seriously ill children and their families." They've received more than 6000 designs and personal stories from kids and families, and Jack's design is one of three finalists.</p><p>You can see Jack's design-a-gown story here:</p><div><div data-card="facebook" data-reactroot=""><div class="fb-video" data-href="https://www.facebook.com/Upworthy/videos/2310032449037600/"><blockquote cite="https://www.facebook.com/Upworthy/videos/2310032449037600/" class="fb-xfbml-parse-ignore"><a href="https://www.facebook.com/Upworthy/videos/2310032449037600/">#MyStarlightGown - Jack's Story</a><p>He's definitely a candidate for Big Brother of the Year. ❤️(via Starlight Children's Foundation)</p>Posted by <a href="https://www.facebook.com/Upworthy/">Upworthy</a> on Monday, April 23, 2018</blockquote></div></div></div><h2>Jack's sweet love for his sister makes all of our hearts melt.</h2><p>Jack's mother says that even though Everly only has half a heart, Jack's heart is "big enough for both of them." It would be easy for Jack to feel frustrated with the amount of time and attention his sister's medical care requires, but he just wants his sister to be healthy. </p><p class="shortcode-media shortcode-media-rebelmouse-image"><img type="lazy-image" data-runner-src="https://assets.rebelmouse.io/eyJhbGciOiJIUzI1NiIsInR5cCI6IkpXVCJ9.eyJpbWFnZSI6Imh0dHBzOi8vYXNzZXRzLnJibC5tcy8xOTUzMjMxMC9vcmlnaW4uanBnIiwiZXhwaXJlc19hdCI6MTY0OTgzOTk1NH0.r9HJUxa1LWIhUwJ5v7VMPH4t-VToXfBY-EICMOLeRNE/img.jpg?width=980" id="89682" class="rm-shortcode" data-rm-shortcode-id="e6a5a113dab6ba43a4ddfe915913ba8b" data-rm-shortcode-name="rebelmouse-image"><small class="image-media media-caption" placeholder="add caption...">Screenshot via Starlight Children's Foundation.</small></p><p>"He's so sweet," says his mom. "He wears his heart on his sleeve." </p><p>And now Everly and thousands of other sick kids might get to wear Jack's glittery hearts on <em>their</em> sleeves when they're in the hospital. </p><p>Thanks, Jack, for using your creativity to make sick kids happier — and for showing us all what an awesome big brother looks like. </p><p><em><strong>Note:</strong> Nope, we weren't paid to promote The Starlight Foundation — we'd tell you! We just think this is a great story about what they're doing to make the world a bit better. </em></p>