Most Shared
Stephen Colbert became a hero of political satire for fans all over the country. But his latest act of badassery has made him a hero to a bunch of kids.
Stephen Colbert is a badass.
His show, "The Colbert Report," ran strong for nine years, earning him a pile of awards, a multi-generational cult following and the chance to take over "The Late Show" when David Letterman retired in 2015. Like I said, he's a badass.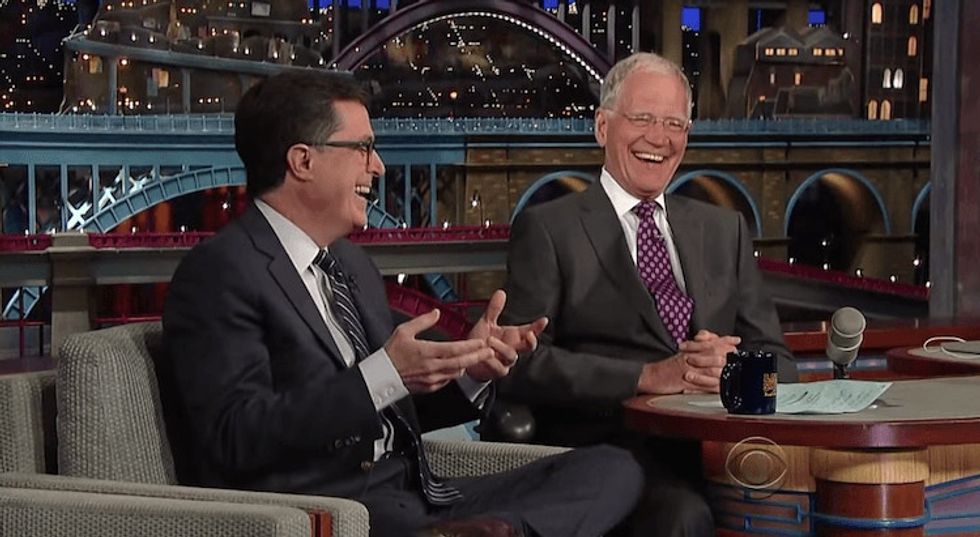 <p class="image-caption">Image via "The Late Show with David Letterman."</p><h2>While he's between gigs, Colbert has mostly kept all that badassery out of the public eye. But then I heard about this:</h2><p> <img type="lazy-image" data-runner-src="https://assets.rebelmouse.io/eyJhbGciOiJIUzI1NiIsInR5cCI6IkpXVCJ9.eyJpbWFnZSI6Imh0dHBzOi8vYXNzZXRzLnJibC5tcy8xOTUwNTEwNy9vcmlnaW4uZ2lmIiwiZXhwaXJlc19hdCI6MTY1MjAyOTYzMn0.R76eFPVBFJ61Ddiv08NVfuB-RIr6gHy2yNzyFh6_TZY/img.gif?width=980" id="e74ad" class="rm-shortcode" data-rm-shortcode-id="624b41a591a2beb8a31bc0c977174d1b" data-rm-shortcode-name="rebelmouse-image"></p><p class="image-caption">GIF via <a href="http://www.greenvilleonline.com/story/news/local/2015/05/07/stephen-colbert-funding-grant-requests-south-carolina-public-school-teachers-donorschoose-crowdfunding-site/70938100/" target="_blank">GreenvilleOnline</a>.</p><h2>In a <a href="http://www.greenvilleonline.com/story/news/local/2015/05/07/stephen-colbert-funding-grant-requests-south-carolina-public-school-teachers-donorschoose-crowdfunding-site/70938100/" target="_blank">live-streamed announcement</a> to Alexander Elementary School in Greenville, South Carolina, Colbert had happy news to share.</h2><blockquote> "I am happy to say that as a product of the South Carolina public school system ... using the proceeds from the sale of my old set on 'The Colbert Report' that we auctioned off, and with generous matching funds from the Morgridge Family Foundation and ScanSource, DonorsChoose is going to flash fund all 1,000 projects in South Carolina."</blockquote><p> <a href="http://www.donorschoose.org/" target="_blank">DonorsChoose</a> is a charity crowdfunding site for "classrooms in need." Teachers from schools with tight budgets can use the site to generate funds for the supplies they need to offer the best education they can to their students.</p><h2>Hundreds of South Carolina teachers posted thousands of project requests totaling $800,000.<span></span></h2><p> Their needs ranged from books for girls to exercise equipment for special-needs students to custom tables and other items that would make a big difference for South Carolina's cash-strapped public schools.</p><h2>Colbert, who grew up in South Carolina, wanted to see every one of their goals for the year fulfilled.</h2><p> <img type="lazy-image" data-runner-src="https://assets.rebelmouse.io/eyJhbGciOiJIUzI1NiIsInR5cCI6IkpXVCJ9.eyJpbWFnZSI6Imh0dHBzOi8vYXNzZXRzLnJibC5tcy8xOTUwNTEwOC9vcmlnaW4uZ2lmIiwiZXhwaXJlc19hdCI6MTYyNTg5NDU3N30.8mZtiZ0D4Sc8DIbZn1WZUwCSP27JckPVVafAUlRlETM/img.gif?width=980" id="ed4ea" class="rm-shortcode" data-rm-shortcode-id="0c120496285bf3c995a620f812bf62a8" data-rm-shortcode-name="rebelmouse-image"></p><p class="image-caption">GIF from "The Colbert Report."</p><p> And with the support of a few big sponsors, he raised enough money to meet the funding goals of every outstanding grant request posted by a South Carolina teacher on DonorsChoose this year.</p><h2>I know what you're thinking: This is great. Stephen Colbert is such a badass. </h2><p> And that's exactly how I feel about it. But a little context really accentuates the greatness of Colbert's initiative.</p><h2>South Carolina has one of the lowest-ranked public school systems in the U.S. </h2><p> According to WalletHub, the <a href="http://wallethub.com/edu/states-with-the-best-schools/5335/" target="_blank">South Carolina public school system ranks 42nd (out of 51)</a> in overall performance, which takes into account factors like drop-out rates, teacher-to-student ratios, test scores, graduates' likelihood of completing a college degree, and even reported incidents of bullying.</p><iframe frameborder="0" height="347" scrolling="no" src="http://d2e70e9yced57e.cloudfront.net/common/wallethub/states-with-the-best-schools-geochart.html" width="556"></iframe><p class="image-caption">Image via <a href="http://wallethub.com/edu/states-with-the-best-schools/5335/" target="_blank">WalletHub</a>.</p><h2>And the state isn't making the investments it needs to step up its public education game.</h2><p> WalletHub ranks South Carolina 36th in K-12 public school spending.</p><iframe frameborder="0" height="400" scrolling="no" src="http://d2e70e9yced57e.cloudfront.net/common/wallethub/states-with-the-best-schools-bubblechart.html" width="700"></iframe><p class="image-caption">Image via <a href="http://wallethub.com/edu/states-with-the-best-schools/5335/" target="_blank">WalletHub</a>.</p><h2>South Carolina would be wise to change that — as would every other low-performing state when it comes to education.</h2><p> According to the <a href="http://www.epi.org/publication/states-education-productivity-growth-foundations/" target="_blank">Economic Policy Institute</a>:</p><blockquote> "States can build a strong foundation for economic success and shared prosperity by investing in education. Providing expanded access to high quality education will not only expand economic opportunity for residents, but also likely do more to strengthen the overall state economy than anything else a state government can do."</blockquote><h2>Hopefully they'll figure it out. But meanwhile, send your digital high-fives to Stephen Colbert for being one badass of a do-gooder.</h2><p> <img type="lazy-image" data-runner-src="https://assets.rebelmouse.io/eyJhbGciOiJIUzI1NiIsInR5cCI6IkpXVCJ9.eyJpbWFnZSI6Imh0dHBzOi8vYXNzZXRzLnJibC5tcy8xOTUwNTEwOS9vcmlnaW4uZ2lmIiwiZXhwaXJlc19hdCI6MTYyNjY5OTQ4Nn0.VhpeFfRcE4IJvHR6NPhaRC3HnkdzUcIqoyPZlGgHmLI/img.gif?width=980" id="1fa20" class="rm-shortcode" data-rm-shortcode-id="854ddeae3117666b274097d1d665ad21" data-rm-shortcode-name="rebelmouse-image"></p><p class="image-caption">GIF via "The Colbert Report."</p>