This newborn baby gorilla has a lot to celebrate today (besides its stylish hair).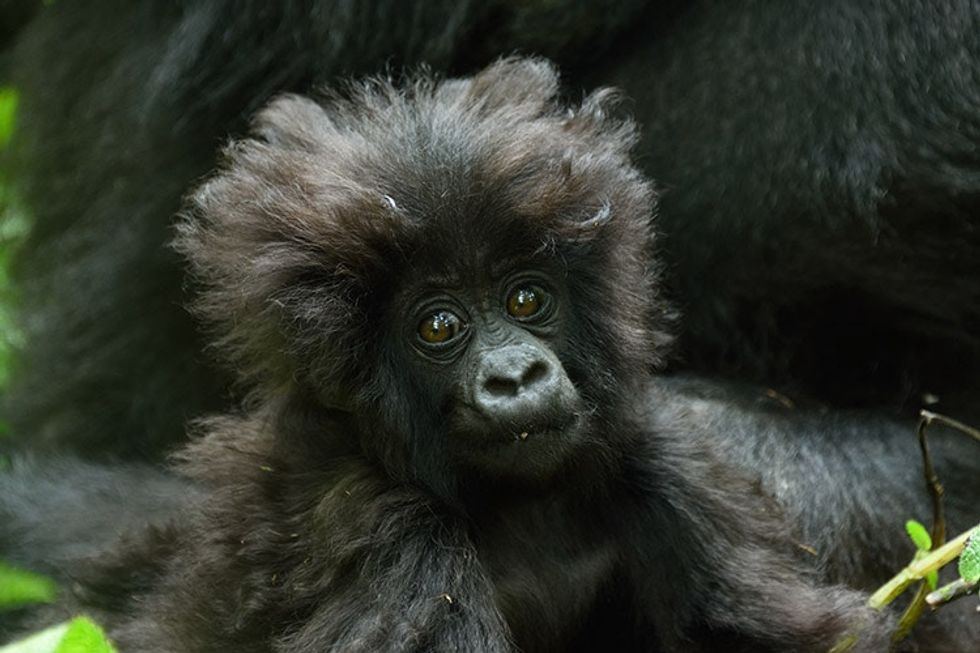 On Sept. 2, this little guy was one of 22 baby gorillas who was officially named in a Rwandan ceremony called Kwita Izina that will help conserve his endangered population.
The Kwita Izina naming ceremony helps officials monitor and track individuals and families in their habitat as well as raise awareness for conservation efforts. It also promotes awareness about the endangered species and helps conservation efforts to rehabilitate the population.
<p>The mountain gorilla is currently listed as "critically endangered" by the <a href="http://www.worldwildlife.org/species/mountain-gorilla" target="_blank">World Wildlife Fund</a>, but thanks to conservation efforts in the region, their numbers have been climbing. Each newborn gorilla is a critical part of the community, and this ceremony helps to solidify that.</p><div><div class="push-wrapper--mobile" data-card="image" data-reactroot=""><img type="lazy-image" data-runner-src="https://assets.rebelmouse.io/eyJhbGciOiJIUzI1NiIsInR5cCI6IkpXVCJ9.eyJpbWFnZSI6Imh0dHBzOi8vYXNzZXRzLnJibC5tcy8xOTUxOTkzMC9vcmlnaW4uanBnIiwiZXhwaXJlc19hdCI6MTYxNDA4MzYxNX0.Vo-HGY-zc_21sptNO5KVsEmazF6LfpBL95fOyyEeqvE/img.jpg?width=980" id="74a91" class="rm-shortcode" data-rm-shortcode-id="2468f7d461a5d5d65e47f964297135a3" data-rm-shortcode-name="rebelmouse-image"><div class="image-caption"><p>Izuru's newborn baby gorilla. Photo by Keiko Mori/Kwita Izina. </p></div></div></div><p>2016 marks the 12th ceremony since its inception in 2005. The events and ceremony are staged in Kinigi, near the park where the gorillas live. </p><h2>Half of the fewer than 900 surviving mountain gorillas live in the Volcanoes National Park in Rwanda and the Virunga National Park in Uganda.</h2><div><div class="push-wrapper--mobile" data-card="image" data-reactroot=""><img type="lazy-image" data-runner-src="https://assets.rebelmouse.io/eyJhbGciOiJIUzI1NiIsInR5cCI6IkpXVCJ9.eyJpbWFnZSI6Imh0dHBzOi8vYXNzZXRzLnJibC5tcy8xOTUxOTkzMS9vcmlnaW4uanBnIiwiZXhwaXJlc19hdCI6MTYyNTIwMzMxMn0.nuJwb_Ko1LG3IICVxSdA6JW8ARq3f-v8LlrYxMVii6c/img.jpg?width=980" id="bafc3" class="rm-shortcode" data-rm-shortcode-id="6d4a961acfb01962d32213531c7b637a" data-rm-shortcode-name="rebelmouse-image"><div class="image-caption"><p>A gorilla picks foliage to eat in a clearing on the slopes of Mount Mikeno in the Virunga National Park on Nov. 28, 2008. Photo by Roberto Schmidt/AFP/Getty Images.</p></div></div></div><h2>The Virunga Mountains was a diverse and thriving refuge for the gorillas until the <a href="https://www.iucn.org/content/land-mountain-gorilla" target="_blank">20th century</a>, when deforestation devastated the community.</h2><p>Later in the century, when human developments moved closer to the gorillas' habitat, they were forced to go higher into the mountains and endure colder temperatures, which the species has not adapted to survive in. </p><p>Poaching, illegal charcoal harvesting, disease spread from human contact, and recent civil conflict have also negatively affected the mountain gorillas.</p><div><div class="push-wrapper--mobile" data-card="image" data-reactroot=""><img type="lazy-image" data-runner-src="https://assets.rebelmouse.io/eyJhbGciOiJIUzI1NiIsInR5cCI6IkpXVCJ9.eyJpbWFnZSI6Imh0dHBzOi8vYXNzZXRzLnJibC5tcy8xOTUxOTkzMi9vcmlnaW4uanBnIiwiZXhwaXJlc19hdCI6MTYzNzM4OTY5Nn0.kJ8j_WaBXEbu2UhnxbporOd1psTt32o8gcYfoePQnIQ/img.jpg?width=980" id="baef3" class="rm-shortcode" data-rm-shortcode-id="c8494e8efc32f6aa5a7283e5b2ccf806" data-rm-shortcode-name="rebelmouse-image"><div class="image-caption"><p>Amahoro's baby, one of the new mountain gorillas to be named in this year's ceremony. Photo by Keiko Mori/Kwita Izina.</p></div></div></div><h2>The Kwita Izina ceremony has become an integral part of the mountain gorilla conservation efforts in Rwanda. </h2><p>The naming ceremony is the culminating event of a <a href="http://rdb.rw/kwitizina/?page_id=1311" target="_blank">weeklong fair</a> that includes a gala dinner to raise money for conservation as well as lectures, activities for students, and a craft exhibition. </p><p> The ceremony, which is derived from a Rwandan tradition of naming babies soon after they are born, features speeches and performances.</p><div><div class="push-wrapper--mobile" data-card="image" data-reactroot=""><img type="lazy-image" data-runner-src="https://assets.rebelmouse.io/eyJhbGciOiJIUzI1NiIsInR5cCI6IkpXVCJ9.eyJpbWFnZSI6Imh0dHBzOi8vYXNzZXRzLnJibC5tcy8xOTUxOTkzMy9vcmlnaW4uanBnIiwiZXhwaXJlc19hdCI6MTYxMTcxMzI2M30.-mNWoFahJwuKwhPgJUZW_CZFig3UVYv4G-sDDcGAmBQ/img.jpg?width=980" id="034b6" class="rm-shortcode" data-rm-shortcode-id="9953f008275a0b536ac6856eef7a0e3c" data-rm-shortcode-name="rebelmouse-image"><div class="image-caption"><p>Rwandan children perform in baby gorilla costumes for as part of the seventh annual Kwita Izina ceremony in 2011. Photo by Steve Terrill/AFP Getty Images.</p></div></div></div><p>Events like this are crucial to efforts for preventing these gorillas from disappearing. The fundraising involved with the ceremony helps support <a href="http://www.worldwildlife.org/species/mountain-gorilla" target="_blank">anti-poaching patrols and reforesting efforts</a>, and one of the main components of the ceremony is the week of events leading up to it that raise money and awareness in the community.</p><div><div class="push-wrapper--mobile" data-card="image" data-reactroot=""><img type="lazy-image" data-runner-src="https://assets.rebelmouse.io/eyJhbGciOiJIUzI1NiIsInR5cCI6IkpXVCJ9.eyJpbWFnZSI6Imh0dHBzOi8vYXNzZXRzLnJibC5tcy8xOTUxOTkzNC9vcmlnaW4uanBnIiwiZXhwaXJlc19hdCI6MTYzMDcyNzAwOH0.Q7-oBSM1oEi-5e5wp8cJvT9PHveLSu22_NAEkphFItE/img.jpg?width=980" id="44f3e" class="rm-shortcode" data-rm-shortcode-id="acdb4dc82a1507eaf08b6907de7d601b" data-rm-shortcode-name="rebelmouse-image"><div class="image-caption"><p>Armed rangers patrolling in the Virunga National park in Rwanda to protect the habitat of Agashya family mountain gorillas. Photo by Aude Genet/AFP/Getty Images.</p></div></div></div><h2>The number of mountain gorillas in the region grew from 380 in 2003 to 480 in 2010, according to the <a href="http://rdb.rw/kwitizina/?p=1241" target="_blank">Rwandan Development Board</a>. </h2><p>A <a href="https://www.ncbi.nlm.nih.gov/pmc/articles/PMC3110611/" target="_blank">PLoS One study</a> in 2011 revealed that in about 70% of the population was habituated for research and ecotourism in 2008. The study found that, "nearly 20,000 tourists visited habituated groups in Rwanda in 2008, generating approximately $8 million in revenue for the park service and providing local employment."  </p><p>These improvements and increase in awareness have helped in raising the gorilla population. But with the increased exposure of the gorillas to humans through tourism there is the risk that <a href="https://www.ncbi.nlm.nih.gov/pmc/articles/PMC3110611/" target="_blank">disease can spread</a> and harm the gorilla community. </p><div><div class="push-wrapper--mobile" data-card="image" data-reactroot=""><img type="lazy-image" data-runner-src="https://assets.rebelmouse.io/eyJhbGciOiJIUzI1NiIsInR5cCI6IkpXVCJ9.eyJpbWFnZSI6Imh0dHBzOi8vYXNzZXRzLnJibC5tcy8xOTUxOTkzNS9vcmlnaW4uanBnIiwiZXhwaXJlc19hdCI6MTYwODgxMjMwM30.uZ35iUeMtiRsX9CD_ob_IRYTHvw53v6kbdxq6prKUFM/img.jpg?width=980" id="28adf" class="rm-shortcode" data-rm-shortcode-id="c7547128913ca7e78fccd5be45261cce" data-rm-shortcode-name="rebelmouse-image"><div class="image-caption"><p>Gukina's baby gorilla, one of the 22 to be named this year. Photo by Keiko Mori/Kwita Izina.</p></div></div></div><h2>The mountain gorilla isn't out of the woods yet — though it's bouncing back slowly — and it's all thanks to the conservation efforts in Rwanda and other countries the population is getting this chance to survive and thrive.</h2><p>The Kwita Izina naming ceremony is a reminder that there is hope on the horizon for these baby gorillas to grow up in a safe and stable community. </p>