Joy
It became a beautiful display of compassion.
Pop Culture
The 42-year-old optical illusion is still astounding people.
Get stories worth sharing delivered to your inbox
Community
Sometimes the best gift is practicality.
There's a lot of preparation that goes into having a child well before they're even born. First there are the physical changes your body makes to clear up some space for a tiny human roughly the size of a watermelon. Then there's preparing the nursery, buying lots of extremely small clothes, diapers and an expected understanding that while sleep may be your friend, you won't be getting any of it for about a year.
Lots of people give plenty of advice to help you cope in the early days but after the baby arrives, the focus shifts to solely the baby. It's obviously not a deliberate shift. Babies are just more shiny and new that the parents. But not everyone forgets about the parents once baby makes their grand entrance–some go out of their way to make sure the parents feel supported.
Upworthy asked its audience, "what was the best non-baby related gift you received as a new parent," and the answers were a masterclass on how to care for new parents.
Usually when people think of new babies, they often stop short of thinking of the person that just gave birth. All of the gifts that come in are typically for the new infant, which is helpful but in the early days it can feel like you're invisible. This means that the small gestures to focus on the parent or parents can really make a big impact and it looks like the Upworthy audience is acutely aware of this fact. Here are some of the most meaningful and practical gifts:
1. Everyone has to eat, especially when you've just birthed a human
"My best friend came by a day or two after I'd given birth with fresh washed and precut fruits and veggies and this is the only thing I remember being given. I was so thirsty and depleted and that gesture was everything," Emmanuelle Hertel writes.
"My grandma brought me groceries. Right to my third floor apartment. She was way old and it was probably a big hassle for her but incredibly helpful and thoughtful. She knew it was hard to leave the house and that I was a single mom of a baby," Kristina Scott remembers.
"A basket of easy to grab finger foods, cheeses, sparkling cider. It was a godsend," Peggy Auerbacher says.
2. Cleaning is a gift of love
"A house keeping crew for a month from my sister-in-laws," Evelyn Strimel Durkin says.
"My mother had someone come in and deep clean my house right before I delivered. It stayed clean with little effort right through the first couple of weeks. And those last couple of weeks of pregnancy, I was definitely not able to clean the way that I would have liked to. It was a blessing. And a fabulous gift," Patrice Powers King writes.
"My mom came and cleaned my house top to bottom, let me shower, kept our crockpot full of healthy food, and helped me learn how to breastfeed. Best gift I've ever received," Casi Dixon Hitchens admits.
3. Giving parents a much needed break from their littles to do wild things like nap.
"When my sister in law came & took our two little ones & said "do what you want but I'm taking your kids for a few hours " These kids are now in their 50 's and I still think about that. Best gift ever," Esther Keber says.
"A friend picked up my kids and took them to her house for dinner and play when she delivered dinner for husband and me," Mara Capuano writes.
"After a C-section w my first, my Mom came to help. I needed groceries AND I just needed to get out. She said " take your time, no rush, I'm here". She knew, I just needed a minute to myself, even if it was just getting groceries. She's long gone, but she saw ME," Sandy Corr reminisces.
Of course people were happily taking notes of the thoughtful gifts other's received so they could pass along the practical joy. Is there a gift you received that simply made your life a little easier with a newborn? Tell us about it but most importantly, remember these ideas when you find yourself curious what to gift your expecting friend or relative.
Family
Too many women lose out on much needed support because of unwarranted stigma.
Canva
Jessica Porten recently visited her doctor four months after giving birth to her daughter, Kira. She wasn't feeling quite like herself.

She had been dealing with overwhelming sadness and fits of anger, which she knew was likely stemming from a case of postpartum depression.
In a Facebook post, Porten recounts the story of that appointment.
"I tell them I have a very strong support system at home, so although I would never hurt myself or my baby," she writes. "I'm having violent thoughts and I need medication and therapy to get through this."
In other words, she went to her doctor to ask for help for an extremely normal and treatable issue that affects an estimated 1 million women in the U.S. each year in one form or another.
But instead of getting help, as Porten tells it, the office did something pretty unexpected: They called the police.
Because of her admission to "violent thoughts," staff wanted the police to escort Porten to the ER for evaluation.
The cops, according to Porten, were skeptical of the need for their presence when they arrived and allowed her to drive herself to the hospital.
But the ordeal continued.
"We arrive at the ER and I'm checked in, triaged, blood drawn. I am assigned a security guard to babysit me," she writes.
She says she waited for over an hour to get a room, all while wrangling her months-old baby. After some brief tests, a lot of waiting, and a super-short interview with a social worker, she was deemed mentally fit enough to be discharged.
Porten and her 4-month-old didn't leave the hospital until after midnight.
The worst part? Porten never got the help she asked for.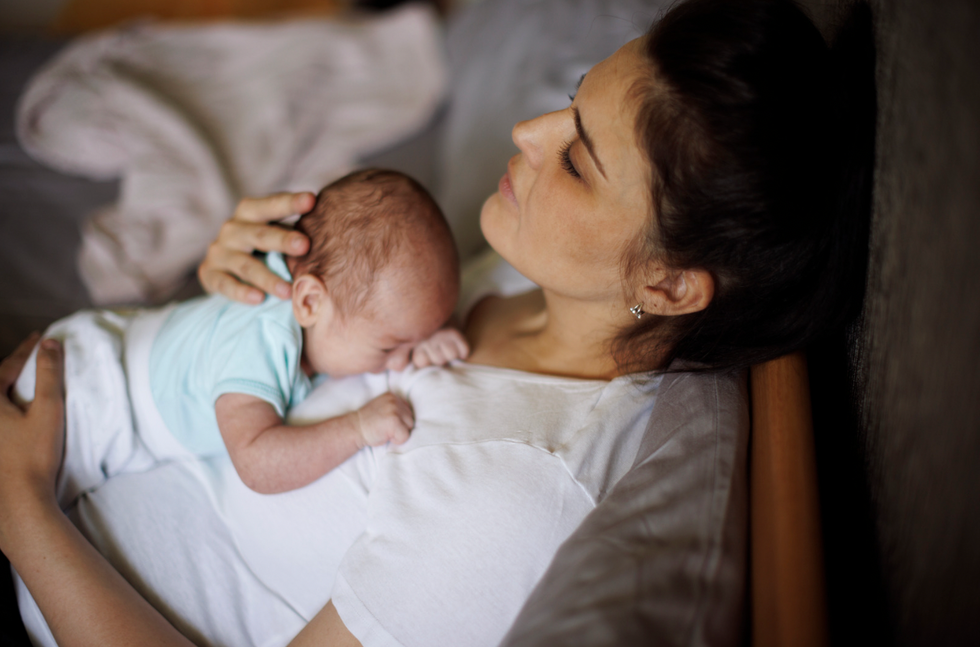 Postpartum depression is as serious as the stigma it carries
Canva
In addition to the undue stress and wasted time, Porten left the hospital without having received any medical help whatsoever.
"Not once during all of this has a doctor laid eyes on me," she writes. "Not once. Not even before they decided to call the cops on me."
Porten says that, for all her time and effort, she received some papers and pamphlets and was sent on her way.
"I'm still processing all of the emotions that are coming with being treated this way. I'm not exactly sure what to do here. I will say I am deeply hurt and upset, and above all angry and disgusted and disappointed by how this whole thing went down."
She also points out that if she had been a woman of color, her ordeal probably would have been even more drawn out and traumatic.
Postpartum depression is a serious issue - as is the stigma it carries.
Postpartum depression is common. The condition, and even the scary violent thoughts that sometimes accompany it, may even have an important evolutionary purpose. Some argue that new moms are on high alert for danger and that stress can sometimes visually manifest itself in their thoughts.
But, as with most mental health issues, postpartum depression can carry a lot of shame, embarrassment, and guilt for the women affected by it — leading them to ignore their symptoms instead of seeking help. One study even found that countries that don't recognize postpartum depression by name actually see women more likely to come forward with their symptoms.
Stories like Porten's show exactly why many women would rather suffer in silence than be poked, prodded, and treated inhumanely. And of course, not getting proper treatment will only make things wore.
It's time for a different approach.
It may be a common policy to call the police in the interest of the child's safety. But a policy that better addresses the mother's concerns and gets her the help she needs, without being shamed, is definitely a better way to go.
To get there, we need to help more honest and brave women feel comfortable coming forward about the aspects of postpartum depression that are hard to talk about. And we all need to better educate ourselves on the complexities of mental health issues and, more importantly, the human beings behind them.
You can find a link to Porten's post on Facebook here:
https://www.facebook.com/photo.php?fbid=1021317492...
This story originally appeared on 01.24.18
Get stories worth sharing delivered to your inbox