Community
Here's what people facing food insecurity want you to know about solving the hunger problem in America
True
Even though America is the world's wealthiest nation, about 1 in 6 of our neighbors turned to food banks and community programs in order to feed themselves and their families last year. Think about it: More than 9 million children faced hunger in 2021 (1 in 8 children).

In order to solve a problem, we must first understand it. Feeding America, the nation's largest domestic hunger-relief organization, released its second annual Elevating Voices: Insights Report and turned to the experts—people experiencing hunger—to find out how this issue can be solved once and for all.
Here are the four most important things people facing hunger want you to know.
Hunger is still an urgent crisis despite signs of economic recovery. In the months following the peak of the COVID-19 pandemic, headlines report that the nation's economic health is bouncing back after years of hardship. However, a big chunk of our population is experiencing a different reality. Recovery has been uneven nationwide, and grocery prices are still higher than normal despite easing supply chain issues. With the end of the federal support offered throughout the pandemic, child poverty rates have shot up, and families like Donnette McManus' are feeling the squeeze.
"Even though you have your list, you have your budget, things are changing so quickly. Your salary can't keep up. So, you get to the store with the same exact list, the same 10 items can cost you 50% more," said McManus, who lives in Massachusetts.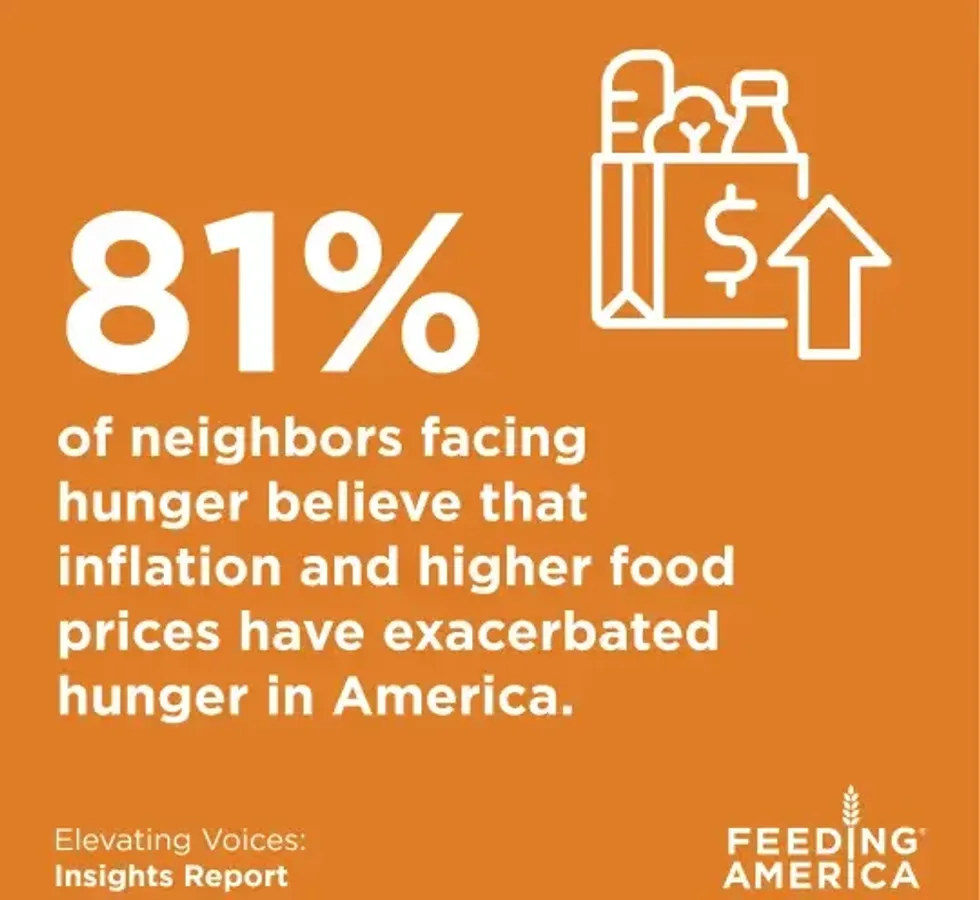 Feeding America Insights Report
People facing hunger say that ending food insecurity is about more than just food. Ending hunger may sound like a simple task: make sure everyone, regardless of who they are and where they live, has access to the food they need. However, as neighbor-advocate Jennifer Estrada of Wisconsin pointed out, the reality is a bit more complex, especially considering that hunger is only a symptom of bigger economic challenges.
"As much as you work, the system is set up for you to continue in a cycle of food insecurity," said Estrada. "Your whole check goes to a rent payment if you're not fortunate enough to own a house, with nothing leftover. But you get kicked off if you make $2 more. There needs to be some security, there needs to be a revamping of the whole system ... It seems like instead of creating less barriers to help the families in our community, it seems like policies and procedures continue to make more barriers."
One of the biggest takeaways from the 2023Insights Report is that housing is unaffordable. Working 40+ hours a week still isn't enough to get by for many folks. Stopping hunger in its tracks is as much about strengthening economic well-being as it is about providing equitable access to enough nourishing food.
Hunger is an issue that intersects with more than what we put on our plates. Hunger strikes without discrimination, affecting anyone, anywhere, at any time. Millions of people in the U.S. are just one job loss, missed paycheck, or medical emergency away from experiencing food insecurity. Due to a long history of racism, discrimination, and oppression in our country, hunger impacts some communities more than others, including communities of color and communities in rural areas.
While the impact of hunger is widespread, people facing it note that the stigma associated with it can strip people of their dignity or deter them from accessing the food assistance programs they're eligible for and need. There are also inequitable systems in place that do not work for everyone.
"Your basic clerk at your local DHS [Department of Human Services] office is only employed to input information and output information back to you. A lot of times, you feel like you're not even a human. You're just a number to them. And if I'm just going to be a number to you, I have a mental meltdown," said Kimberly Harris, a resident of Washington, D.C.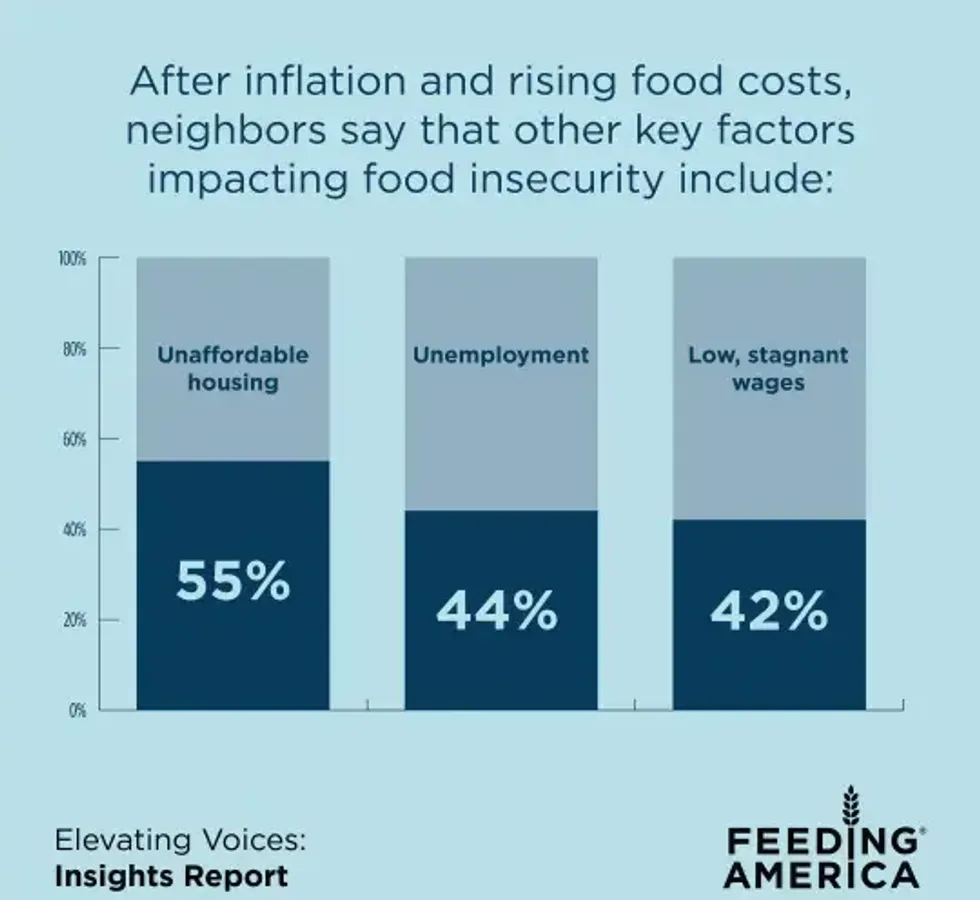 Feeding America Insights Report
Ending food insecurity requires a catalyzing movement. While hunger remains a widespread and persistent problem, our country already has the tools to eradicate it forever—they just need to be utilized. Most people facing hunger said that federal and local governments should treat hunger as an urgent crisis—signaling that it will take all of us to bring hunger to a halt.
So how can you take action right now? Do your part and visit FeedingAmerica.org/ElevatingVoices to read the 2023 Elevating Voices: Insights Report and sign a petition to encourage Congress to pass legislation that will help ensure no one in America goes hungry. Let's all pitch in to make the wealthiest nation become the happiest and most prosperous—for all.
Pets
A quick trip to the vet confirmed the cats' and family's suspicions.
Get stories worth sharing delivered to your inbox
Family
Here's why the family is moving to Spain.
Health
"Body positivity is about saying that you are more than a body and your self-worth is not reliant on your beauty."


Michelle Elman, a body positivity coach, helps people who are struggling to find confidence in their own skin.
After persevering through numerous medical conditions and surgeries in her own life, Elman realized a few years ago that body positivity wasn't just about size or weight. Things like scars, birthmarks, and anything else that makes us feel different of self-conscious have to be a part of the conversation, and she tries to make the movement accessible to everyone.
Sharing her own journey has been one of her most effective teaching tools.
In May, she shared a post on Instagram of herself trying on a dress she bought five years ago in order to prove a powerful point.
In the first photo, from 2012 — when she was a size 12, she says — she's wearing a size 14 dress. In the new photo, she's wearing the same dress, though she says she normally wears a size 20.
The dress still fit.
"NUMBERS DON'T MEAN ANYTHING," she wrote in the post. "So are you really going to let a change [in] dress size dictate your day? Are you really going to let an increase in a number affect your mood?"
"A higher dress size doesn't mean: — you are less beautiful — you are less worthy — you are less lovable — you are a worse human — you are a bad person — you are a different person AND it doesn't even mean you have a bigger body."
The viral photo inspired thousands of people. While a huge majority of the comments were positive, there was still something bugging Elman about the response.
Not everyone was getting the right message.
"Since the creation of this account, I have always been told I'm beautiful 'for my size' and I never wanted to talk about it because I thought I was being pedantic but eventually decided to speak my mind about it," she says in an email.
She decided to create a follow-up post to set a few things straight about what body positivity really means.
In the second post, she took a different approach to the "before and after" shots we see so often on Instagram. People loved it.
In the caption, Elman addresses a couple of things well-meaning people got wrong about the message she was trying to spread. Some commenters said she looked "skinnier" in the 2017 photo which, though meant as a compliment, just reinforces that being skinny is somehow better.
Others said she wasn't fat enough, to which Elman could only scoff.
"If people tell you they are a certain size, believe them," she wrote.
"People think that body positivity is about trying to convince people that bigger bodies are attractive, either physically or sexually," she says.
But that's totally missing the point of what her work is all about.
"If you are still relating your love for your body to society's perception of beauty," she says, "then you are still reliant on someone else's opinion. Body positivity is about saying that you are more than a body and your self-worth is not reliant on your beauty."
Her second post is currently sitting at over 26,500 likes on Instagram — a clear sign that this is a message many of us desperately needed to hear.
This article originally appeared on 06.08.17


On Feb. 19, 2023, "Mister Rogers' Neighborhood," turned 55 years old. And the internet was feeling feelings over it.
After premiering on Canadian TV in 1963, Fred Rogers' beloved children's program debuted in the U.S. in 1968, inspiring generations of kids across North America to be more thoughtful, kinder neighbors.

One person feeling the feels on the show's anniversary was model, author, and Twitter goddess Chrissy Teigen.


Teigen tweeted the most delightful anecdote about why Rogers would often announce that he was feeding the fish during the show.
Mister Rogers would narrate himself feeding the fish each episode with \u201cI\u2019m feeding the fish\u201d because of a letter he received from a young blind girl who was worried the fish were hungry. Love you, Mister Rogers.https://twitter.com/pbsds/status/965596450733228032\u00a0\u2026

— chrissy teigen (@chrissy teigen) 1519089788
"Mister Rogers would narrate himself feeding the fish each episode with, 'I'm feeding the fish,' because of a letter he received from a young blind girl who was worried the fish were hungry," she wrote. "Love you, Mister Rogers."
Aaaaaand I'm crying.

Rogers included the text of the girl's letter in his book, "Dear Mister Rogers, Does It Ever Rain in Your Neighborhood?" published in 1996.
As he noted in the book (emphasis added):
One girl and her family wrote to tell us there was a special reason why she wanted me to talk about feeding the fish each day.

Dear Mister Rogers,

Please say when you are feeding your fish, because I worry about them. I can't see if you are feeding them, so please say you are feeding them out loud.

Katie, age 5 (Father's note: Katie is blind, and she does cry if you don't say that you have fed the fish.)


This downright adorable clip from the series shows Rogers reassuring little Katie that the fish were always well-fed:
Sylvia Earle brought her underwater microphone to Mister Rogers' Neighborhood so children could listen to the fish in the aquarium. When the fish don't make...
"I need to feed the fish right away," Rogers said in the episode, before shaking the container of food above the tank. "I have some friends who get very concerned when I forget the fish during our visits."
Aaaaaand I'm ugly crying.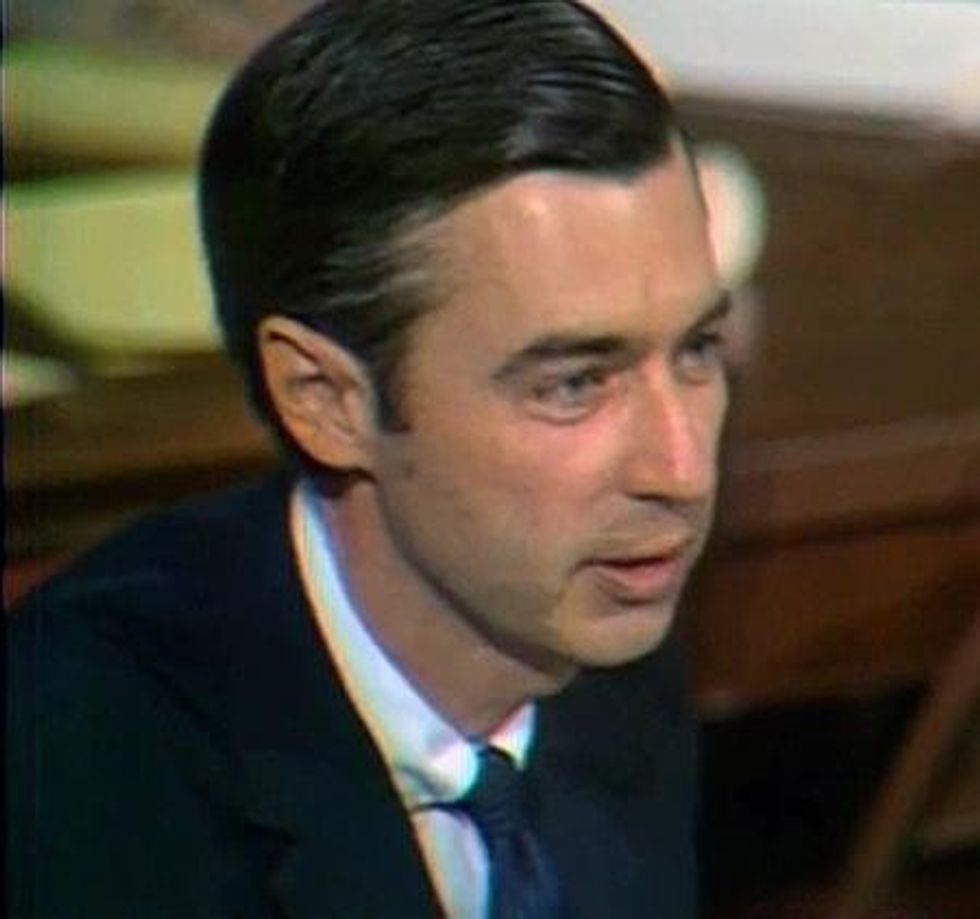 File:Mister-Rogers-Congress.jpg - Wikimedia Commons
commons.wikimedia.org
Rogers showed us how simple it often is to be a more compassionate friend.
"I just wanted you to know that even if I forget to feed them when we're together, I come back later and feed them, so they're always taken care of," Rogers concluded. "It's good to know that fish and animals and children are taken care of by those who can, isn't it?"
Yes it is, Mister Rogers. The world needs more neighbors like you.
This article originally appeared on 02.20.18


Get stories worth sharing delivered to your inbox