Pets
Every letter submitted donates a pound of food to pets in need.
via Chewy
True
Every holiday season, millions of kids send letters asking for everything from a new bike to a pony. Some even make altruistic requests such as peace on Earth or helping struggling families around the holidays.

But wouldn't the holiday season be even more magical if our pets had their wishes granted, too? That's why Chewy Claus is stepping up to spread holiday cheer to America's pets.
Does your dog dream of a month's supply of treats or chew toys? Would your cat love a new tree complete with a stylish condo? How about giving your betta fish some fresh decor that'll really tie its tank together?

Or do your pets need something more than mere creature comforts such as life-saving surgery?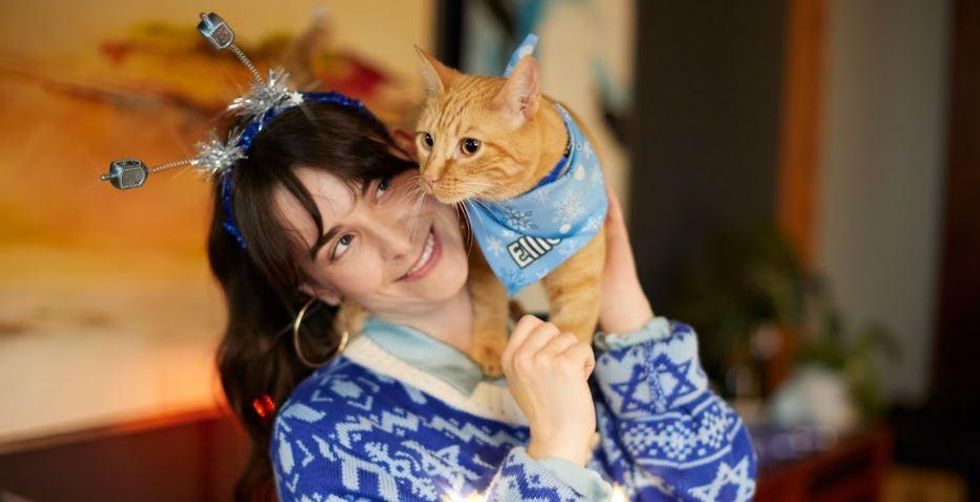 via Chewy
"At Chewy, we know pets are a part of the family and we wanted to give them a way to truly participate in the holiday season this year," said Orlena Yeung, VP of Brand Marketing at Chewy. "Through Chewy Claus, we are hoping to spread joy while recognizing the most important gift that keeps on giving—the love and companionship of our pets."
To submit your letter to Chewy Claus, just go to be.chewy.com/chewy-claus.
Not only could your pet's letter make their holidays even merrier, it will give back, too. For every letter submitted to Chewy Claus, Chewy will donate one pound of food to Greater Good Charities (up to 15,000 pounds). Further, for every product purchased during the Season of Giving, Chewy will match up to $1 million per week in a pet food and supply donation to Greater Good Charities, for a potential total of $10 million.
I've got a new dog this year, a one-year-old boxer mix named Archie and I know what he wants this holiday season.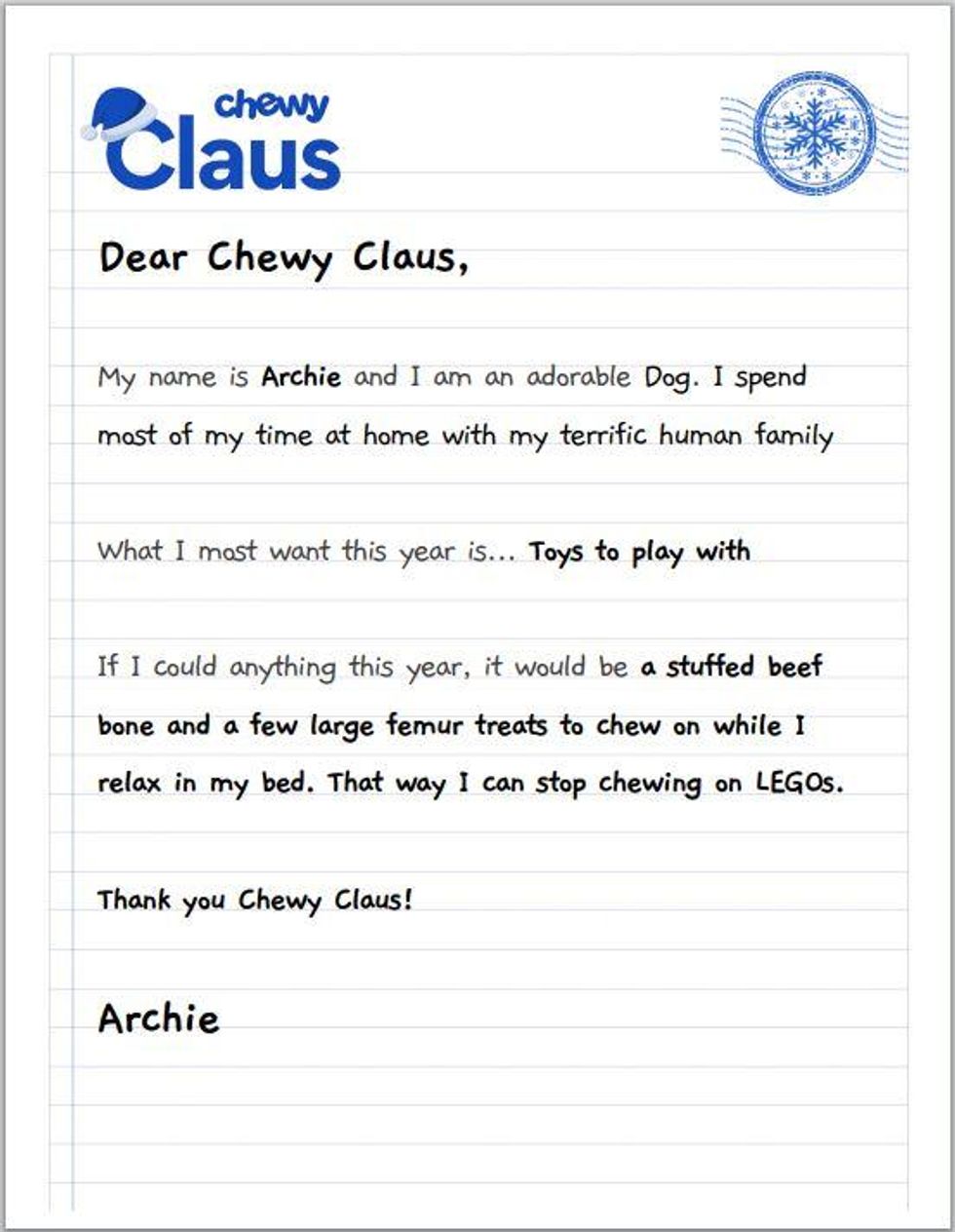 via Chewy
The first letter sent to Chewy Claus came from True & Faithful Pet Rescue in Venice, FL. The rescue, which focuses on saving senior dogs, was one of the many victims of Hurricane Ian. Their wish was simple; they asked for food for themselves and those in their community.
Chewy Claus delivered by providing a 20-thousand-pound truckload of food to True & Faithful and other shelter and rescue partners in the community. Chewy also assembled a team of volunteers to hold a clean-up day and donated the necessary funds to rebuild their beloved dog beach.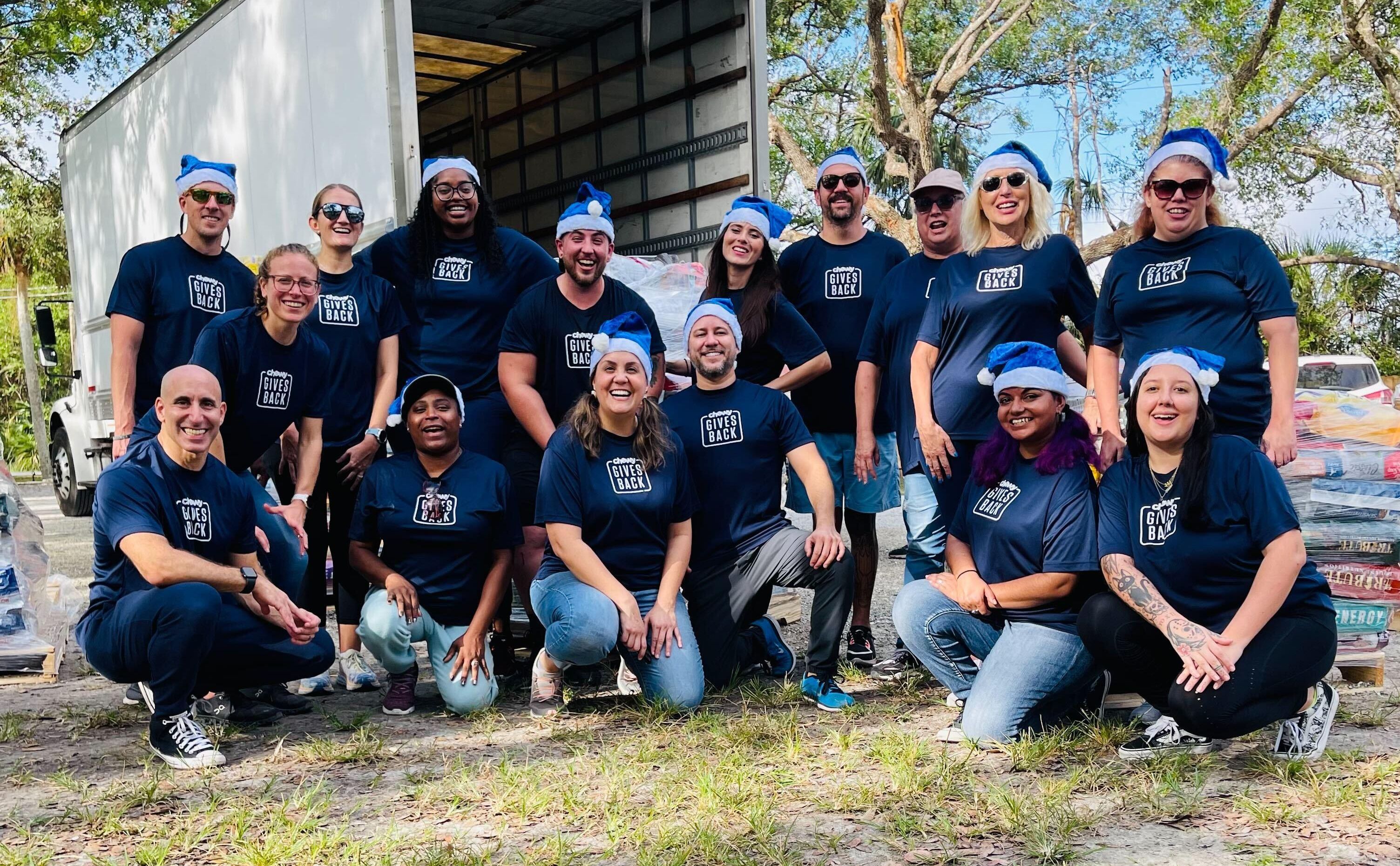 via Chewy
"We are so grateful for Chewy's support in rehabilitating our space and not only donating thousands of pounds of food to our community, but also providing the help and funds necessary to rebuild our beach," Lisa Letson, Founder of True & Faithful Pet Rescue told Upworthy. "The beach is our senior dogs' happy place, where they can live their best lives for the time they have left. It really is a dream come true for us."
Chewy is the best place to shop for pets this holiday season because it's the gift that keeps on giving. It's simple: when you shop, they donate. Chewy will also match customer purchases in the form of a product donation up to $1M per week for a potential total of $10M throughout the season of giving. That means pets living in shelters and rescues will receive toys, treats, food and other essential items this holiday season. Plus, if you write a letter to Chewy Claus, your pet may get their holiday wish and pets in need will get theirs, too—a win win win. Isn't that what the season is all about?
This article originally appeared on 07.22.21

As if a Canada goose named Arnold isn't endearing enough, his partner who came looking for him when he was injured is warming hearts and having us root for this sweet feathered couple.
Cape Wildlife Center in Barnstable, Massachusetts shared the story on its Facebook page, in what they called "a first" for their animal hospital.
"We often have people ask if they can visit the patients they dropped off, but today we had our first animal visitor!" they wrote. "For the safety of our patients we do not accommodate visitation requests, but in this case we had to make an exception!"
Arnold is a Canada goose that lives on a pond near the facility and is part of a mated pair of wild geese that have been together for several years. The center said the geese usually keep to themselves, but one of their staff noticed that Arnold was walking with a "significant limp" and kept falling over. They were able to capture him and bring him into the hospital for examination.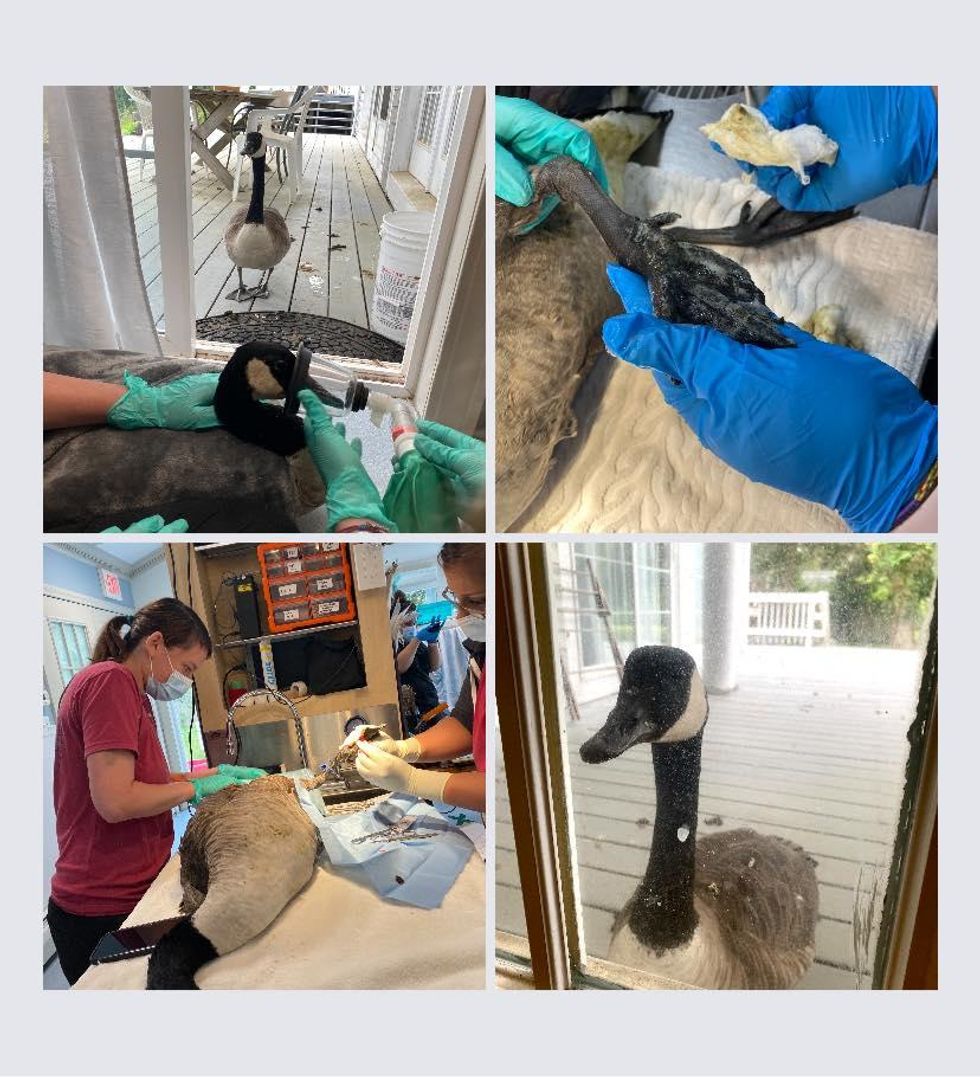 A goose visits its mate at the Cape Wildlife Center
Image Via Cape Wildlife Center/Facebook
"Upon exam our veterinary team found that he had two open-fractures on his foot," they wrote. "This means that the tissue and skin has been pulled away leaving the bone exposed. Our best guess is that a Snapping turtle or other predator attacked him while swimming."
To save his foot and help him survive, the staff knew they had to amputate one of the digits and suture the other wound closed. They gave him antibiotics and pain meds and prepped him for surgery the following morning.
Then his mate came knocking.
"Today, as we prepared to sedate Arnold and get him ready for surgery, we heard a faint tapping at the clinic door," the center wrote. "We turned to see that his mate had waddled up onto the porch and was attempting to break into our clinic! She had somehow located him and was agitated that she could not get inside. She remained there throughout the entire procedure, watching us work, never moving from the doorway."

Aww.
Surgery went well, and once Arnold woke up the staff decided to let him recover by the doorway so he and his mate could see each other.
"We opened the door and gave Arnold his flow-by oxygen in the doorway. His mate immediately calmed down and began to groom him through the door. They both seemed much more at ease in each other's presence."
AWWWW.
"Arnold will likely need several weeks of treatment in our hospital before he is ready to rejoin his mate in the wild," they added. "He will need to be kept inside for the majority of this time in order to keep his wound sterile and prevent infection. We will do our best to get him back out quickly and will perform bandage changes and treatments in view of the doorway when possible so that his mate can check up on him. ❤️"
While attempting not to anthropomorphize too much, it's so sweet to see animal partners show such genuine care for one another. Canada geese mate for life, and they are known to mourn in seclusion when they lose a mate. Seeing Arnold's mate coming to find him and comfort him during his treatment is just too lovely.
Feel good story of the day, indeed. Wishing you a speedy recovery, Arnold!
Remember when calling your parents, a tow truck or a friend when you were out and about meant digging in your pocket for a quarter to make a pay phone call? Well, a Philadelphia-based collective, PhilTel, is jumping into the past with a modern twist, by installing free-to-use pay phones throughout the city.
Of course, the pay phones that many of us grew up were removed from public places years ago. There no longer seemed to be a need for them when most people had a phone in their pocket or in their hand. But it's easy to forget that not everyone has or wants that luxury. For some people, staying that connected all the time can be too much and for others, it's simply financially impossible to own a cell phone.
Cell phones are expensive, and when you add the cost of a phone plan or paying for minutes, they quickly become out of reach for many people on fixed incomes or those experiencing homelessness. PhilTel's aim is to help close this gap by making phones accessible to all. There's only one catch: You have to leave the quarters at home!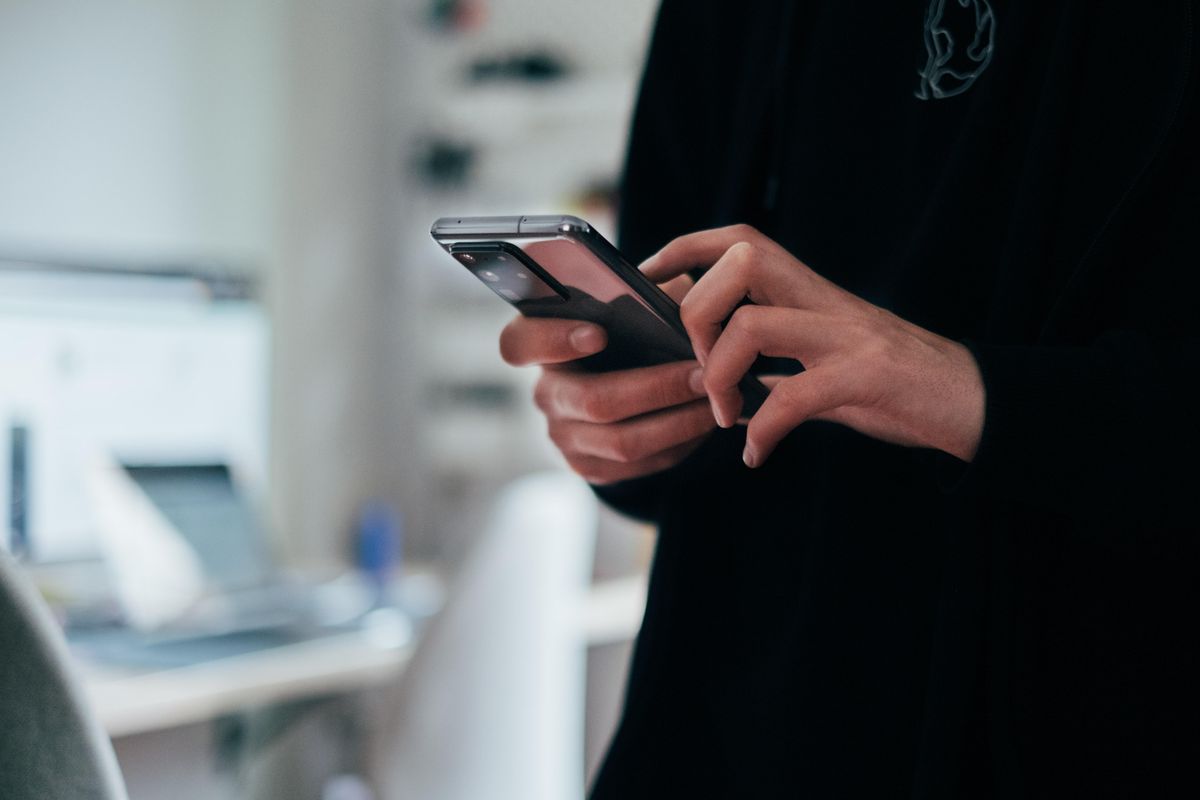 Photo by
Jonas Leupe
on
Unsplash
That's right, the phones will be free to use and that includes making nationwide calls. For the people of Philadelphia, that means a lot less asking strangers to use their phone if your battery dies or you accidentally lock your phone in your car. According to opensource.com, Mike Dank, the co-founder of PhilTel, said, "Philadelphia in particular has a lot of payphone use, even as payphone companies have been steadily removing phones from service year after year."
Dank continued, "Residents who rely on these phones are being increasingly marginalized and if this trend continues, many will be left without a communication platform they need to carry out their lives."
This isn't the first time pay phones were added to a city in the age of cellphones. PhilTel was inspired by a company called Futel in Portland, Oregon, that has a similar program.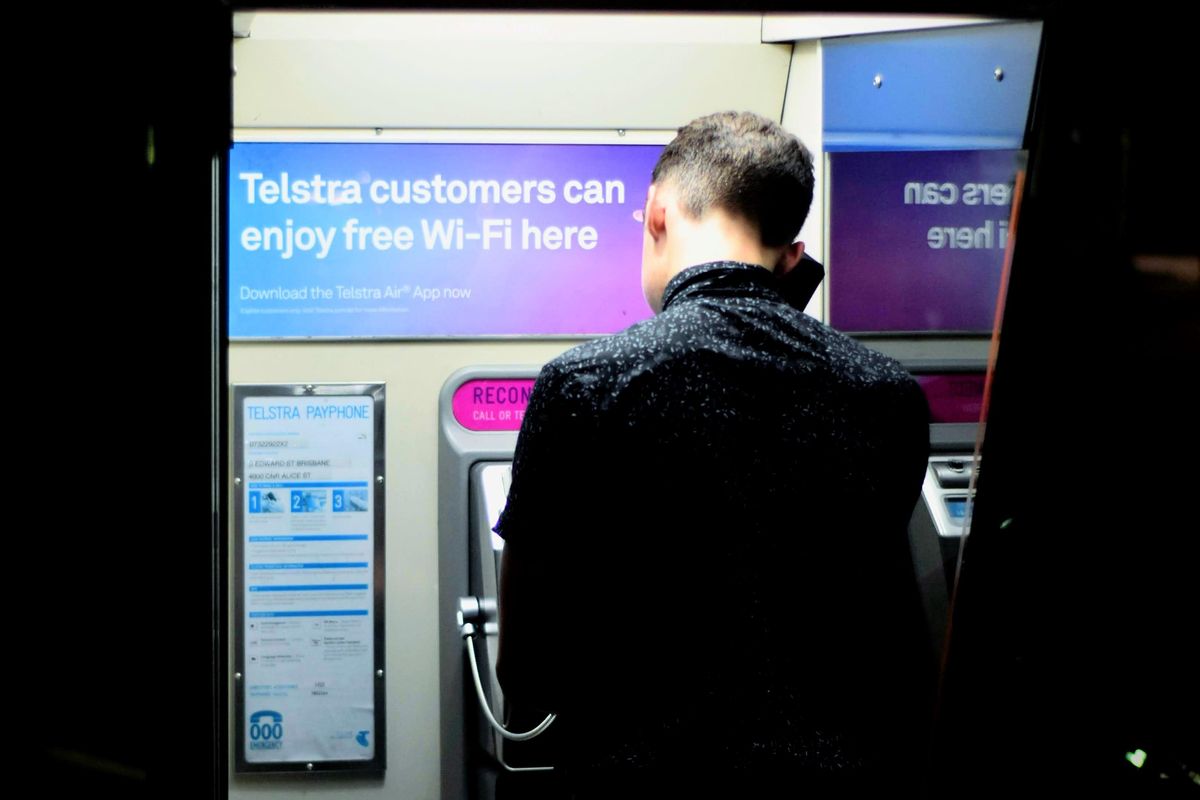 Photo by
arj.
on
Unsplash
The phones are not new, they're actually refurbished pay phones and will use a Voice over Internet Protocol (VoIP) service to connect callers. If you're in Philly, you'll be able to use one of these free pay phones as soon as December 17, when the first one gets installed at Iffy Books.
While this is a wonderful solution for those that need access to pay phones for day-to-day life, one has to wonder if the name will get updated. I mean, they're not really pay phones anymore. They're free phones or just public phones. I don't know about you but this little detail is going to live in my head rent-free for a while.
Get stories worth sharing delivered to your inbox