True
Making new friends as an adult is challenging. While people crave meaningful IRL connections, it can be hard to know where to find them. But thanks to one Facebook Group, meeting your new best friends is easier than ever.
Founded in 2018, NYC Brunch Squad brings together hundreds of people who come as strangers and leave as friends through its in-person events.
"Witnessing the transformative impact our community has on the lives of our members is truly remarkable. We provide the essential support and connections needed to thrive amid the city's chaos," shares Liza Rubin, the group's founder.
Despite its name, the group doesn't just do brunch. They also have book clubs, seasonal parties, and picnics, among other activities.
NYC Brunch Squad curates up to 10 monthly events tailored to the specific interests of its members. Liza handles all the details, taking into account different budgets and event sizes – all people have to do is show up.
"We have members who met at our events and became friends and went on to embark on international journeys to celebrate birthdays together. We have had members get married with bridesmaids by their sides who were women they first connected with at our events. We've had members decide to live together and become roommates," Liza says.
Members also bond over their passion for giving back to their community. The group has hosted many impact-driven events, including a "Picnic with Purpose" to create self-care packages for homeless shelters and recently participated in the #SquadSpreadsJoy challenge. Each day, the 100 members participating receive random acts of kindness to complete. They can also share their stories on the group page to earn extra points. The member with the most points at the end wins a free seat at the group's Friendsgiving event.

If you want to meet the group in person, NYC Brunch Squad, along with many other locally-based New York groups, is participating in the upcoming Facebook IRL event on December 2. This pop-up experience in New York City's West Village will provide a space to discover new hobbies, find new friends, and connect with others around the things they love.
Learn more about the event and sign up to attend here.
Not in the New York area but still want to get involved? As a result of NYC Brunch Squad's popularity, the group is expanding across the country.
"With a robust community established in NYC, we're now excited to announce our expansion with pop-up events in the works in 15 additional cities. What's more, we're launching a travel club, extending our mission to foster connections beyond the city limits and to help people build life-changing friendships in new and exciting places," Liza says.
If you're ready to make new meaningful connections, join NYC Brunch Squad! You might just meet your new best friends.
Education
They were doing trigonometry 1500 years before the Greeks.
via UNSW
Dr. Daniel Mansfield and his team at the University of New South Wales in Australia have just made an incredible discovery. While studying a 3,700-year-old tablet from the ancient civilization of Babylon, they found evidence that the Babylonians were doing something astounding: trigonometry!

Most historians have credited the Greeks with creating the study of triangles' sides and angles, but this tablet presents indisputable evidence that the Babylonians were using the technique 1,500 years before the Greeks ever were.
Mansfield and his team are, understandably, incredibly proud. What they discovered is that the tablet is actually an ancient trigonometry table.
Mansfield said:
"The huge mystery, until now, was its purpose – why the ancient scribes carried out the complex task of generating and sorting the numbers on the tablet. Our research reveals that Plimpton 322 describes the shapes of right-angle triangles using a novel kind of trigonometry based on ratios, not angles and circles. It is a fascinating mathematical work that demonstrates undoubted genius."
\u201cAussie mathematician cracks code of famous 3,700-year-old Babylonian clay tablet https://t.co/f7h6oIfBDr\u201d

— China Xinhua News (@China Xinhua News) 1503639811
"The tablet not only contains the world's oldest trigonometric table; it is also the only completely accurate trigonometric table, because of the very different Babylonian approach to arithmetic and geometry. This means it has great relevance for our modern world. Babylonian mathematics may have been out of fashion for more than 3,000 years, but it has possible practical applications in surveying, computer graphics and education. This is a rare example of the ancient world teaching us something new."
The tablet predates Greek astronomer Hipparchus, who has long been regarded as the father of trigonometry. Mansfield's colleague, Norman Widberger, added:
"Plimpton 322 predates Hipparchus by more than 1,000 years. It opens up new possibilities not just for modern mathematics research, but also for mathematics education. With Plimpton 322 we see a simpler, more accurate trigonometry that has clear advantages over our own."
"A treasure trove of Babylonian tablets exists, but only a fraction of them have been studied yet. The mathematical world is only waking up to the fact that this ancient but very sophisticated mathematical culture has much to teach us."
People were understandably excited by the news.
\u201cA 3,700 year olf Babylonian tablet revealed as the world's first trigonometry table https://t.co/AQlpsndM92\u201d

— The Conversation (@The Conversation) 1503613440
Some mathematicians actually think studying the Babylonians back then could help us improve the way we do trigonometry today.
\u201cBabylonian tablet Plimpton 322 will make studying maths easier, mathematician says https://t.co/s13ReWdD0c | @abcnews\u201d

— ABC Australia (@ABC Australia) 1503644411
\u201c"With Plimpton 322 we see a simpler, more accurate trig. (with) clear advantages over our own."\n@n_wildberger: https://t.co/xoZBNxvxZ8\n#TOK\u201d

— Roo Stenning (@Roo Stenning) 1503658186

Of course, there were the haters...
\u201cFind someone who loves you as much as this guy dislikes a hypothesis about Babylonian math: https://t.co/AznQgoYxFP\u201d

— Miles Brundage (@Miles Brundage) 1503605001
But all in all, Twitter users were pretty impressed with the Babylonians' skills.
And they figured it out 3,700 years ahead of me...and counting.— Marty (@Marty) 1503631905
\u201c@prophiphop And we're over here trying to figure out how to do trig with our TI-83s... man I love it when the ancients show what real intelligence is.\u201d

— Kenny Hayse (@Kenny Hayse) 1503633184
Congratulations to Dr. Mansfield and his team on their incredible discovery... and for making trigonometry exciting!
This article originally appeared on 07.10.21
via Unsplash
Writer and illustrator Aubrey Hirsch jokingly asked her followers on Twitter what's a "universal thing that most men like?" because she was writing a comic and "just realized I don't actually know any men in real life." The tweet inspired an avalanche of funny responses.

Hirsch is the author of "Why We Never Talk About Sugar," a collection of short stories, and her work has appeared in The New York Times, Child, American Short Fiction and Time.
The interesting thing about the responses is that they weren't the typical stereotypes about men. She didn't get a ton of people talking about sex, sports or toxic masculinity. Instead, there were a lot of folks that mentioned very specific male behaviors as if they were talking about a bizarre species they discovered in the wild.
Democracy
Your purchasing power can swing by 30% from state to state.
Get stories worth sharing delivered to your inbox
Family
"I totally get we can't shield kids from everything, and I understand the whole family ties thing, but c'mon."
Joy
Previous experience had her feeling nervous when the man approached her at the gym, but what he said brought her to tears.
Joy
Upworthy's weekly roundup of joy
Each year, the Comedy Wildlife Awards highlights photos that capture our animal friends in hilarious moments, made all the more delightful by the fact that not one of them is actually trying to be funny.
Perhaps that's one reason we love animal and little kid videos so much. Their hilarity is so pure. And we've got a whole passel of funny kiddos and furry friends in this week's list of things that made us smile.
If you're looking for some small joys to lift your spirit, we've got you covered! Enjoy!
1. Kiddo steals the show at his sister's end-of-year dance school concert
@kleinkwagga1

Doen dit lyfie doen dit! @Bernice West #Dans #fun #show Die Here het my mooi gemaak🎊🥳
That's a kid that was born to dance. Learn more about 7-year-old Klein Kwagga here.
2. New England mall's magical "Santa Elevator" is a child's Christmas dream come true
@natasha_luigui

33 Days Until Christmas! We had to take a trip to the North Pole so Kohen can tell Santa what he would like for Christmas personally 😅🥹 #santaselevator #fyp #santaselevatorexpress #santa #christmas2023
The Natick Mall has taken the mall Santa visit to a whole other level. Read the full story here.
3. You think you've seen every cute kitten-attacks-dog-friend video and then this one comes along
And the doggo was still so gentle. So darn cute.
4. Groom surprises his bride's family by learning Korean in secret
Such a thoughtful gesture. Read the full story here.
5. Delivery driver finds a baby turtle and his reaction is pure wholesomeness
So darn sweet. Read the full story here.
6. Twins separated shortly after birth were both named Jim and led wildly parallel lives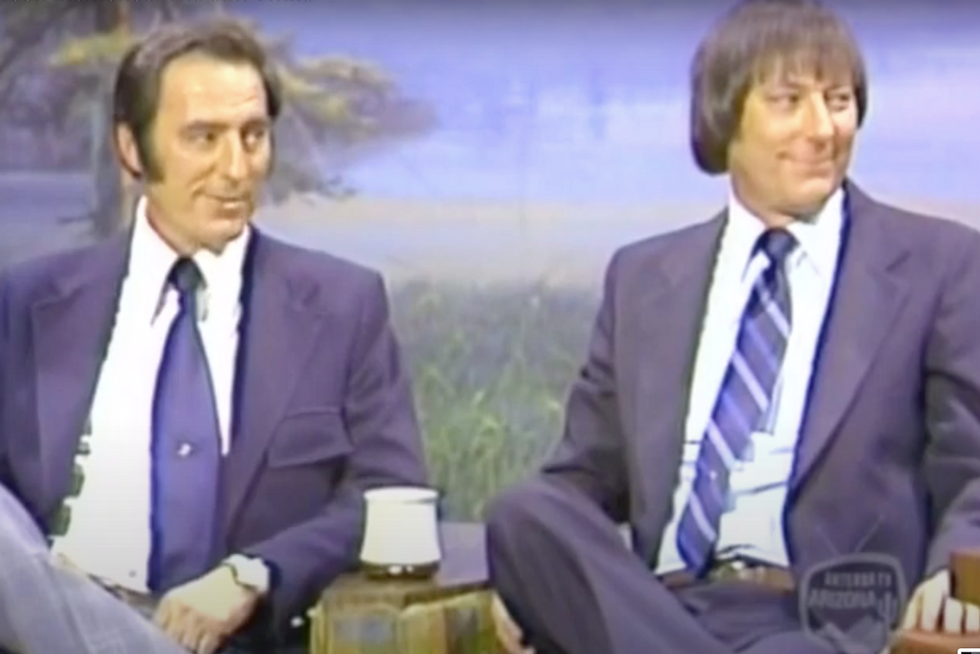 Identical twins separated as newborns may not seem like a smile-worthy story, but the parallels between their lives are so remarkable, it's like the universe decided to play a hilarious joke on everyone. Not only did their adoptive parents name them both Jim, they also both had childhood dogs named Toy and a brother named Larry. They both married women named Linda, got divorced, then married women named Betty. They both named their sons James—one of them James Alan and one of them James Allan. And that's not even the end of the bizarre coincidences in their lives before they met at age 39.
Read the full, incredible-but-true story here.
7. Sometimes confidence is the key to success and sometimes it's the key to comedy
Good effort, buddy.
8. What is love? It's all about missing teeth.
Awww. It's true, that IS love.
9. The 2023 Comedy Wildlife Photography Awards are here and they're utterly delightful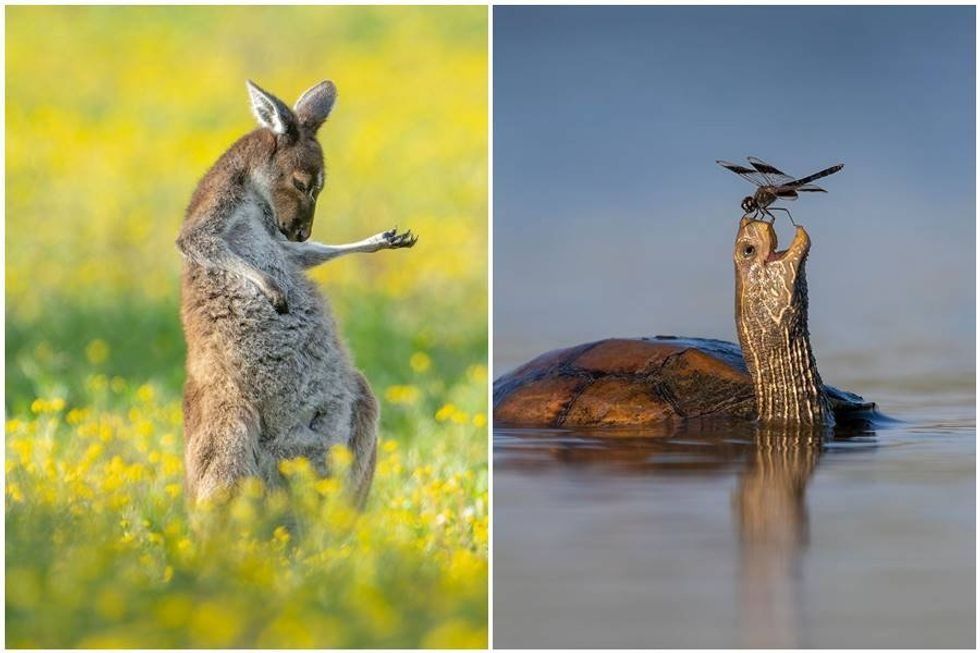 Silly kangaroos, enchanted encounters and more make up this year's Comedy Wildlife Awards.
The 2023 Comedy Wildlife Photography Awards
Animals being unintentionally entertaining is the best. Check out 14 of the funniest finalists for the Comedy Wildlife Awards here.
10. Speaking of animals being unintentionally funny, these little trash bandits should get an award of their own
"Just act normal, Jim." HA.
Hope you enjoyed this week's roundup! If you'd like to get more posts like this in your inbox, sign up for the free Upworthiest newsletter here.
Get stories worth sharing delivered to your inbox