All images provided by Prudential Emerging Visionaries
True
A changemaker is anyone who takes creative action to solve an ongoing problem—be it in one's own community or throughout the world.
And when it comes to creating positive change, enthusiasm and a fresh perspective can hold just as much power as years of experience. That's why, every year, Prudential Emerging Visionaries celebrates young people for their innovative solutions to financial and societal challenges in their communities.
This national program awards 25 young leaders (ages 14-18) up to $15,000 to devote to their passion projects. Additionally, winners receive a trip to Prudential's headquarters in Newark, New Jersey, where they receive coaching, skills development, and networking opportunities with mentors to help take their innovative solutions to the next level.
For 18-year-old Sydnie Collins, one of the 2023 winners, this meant being able to take her podcast, "Perfect Timing," to the next level.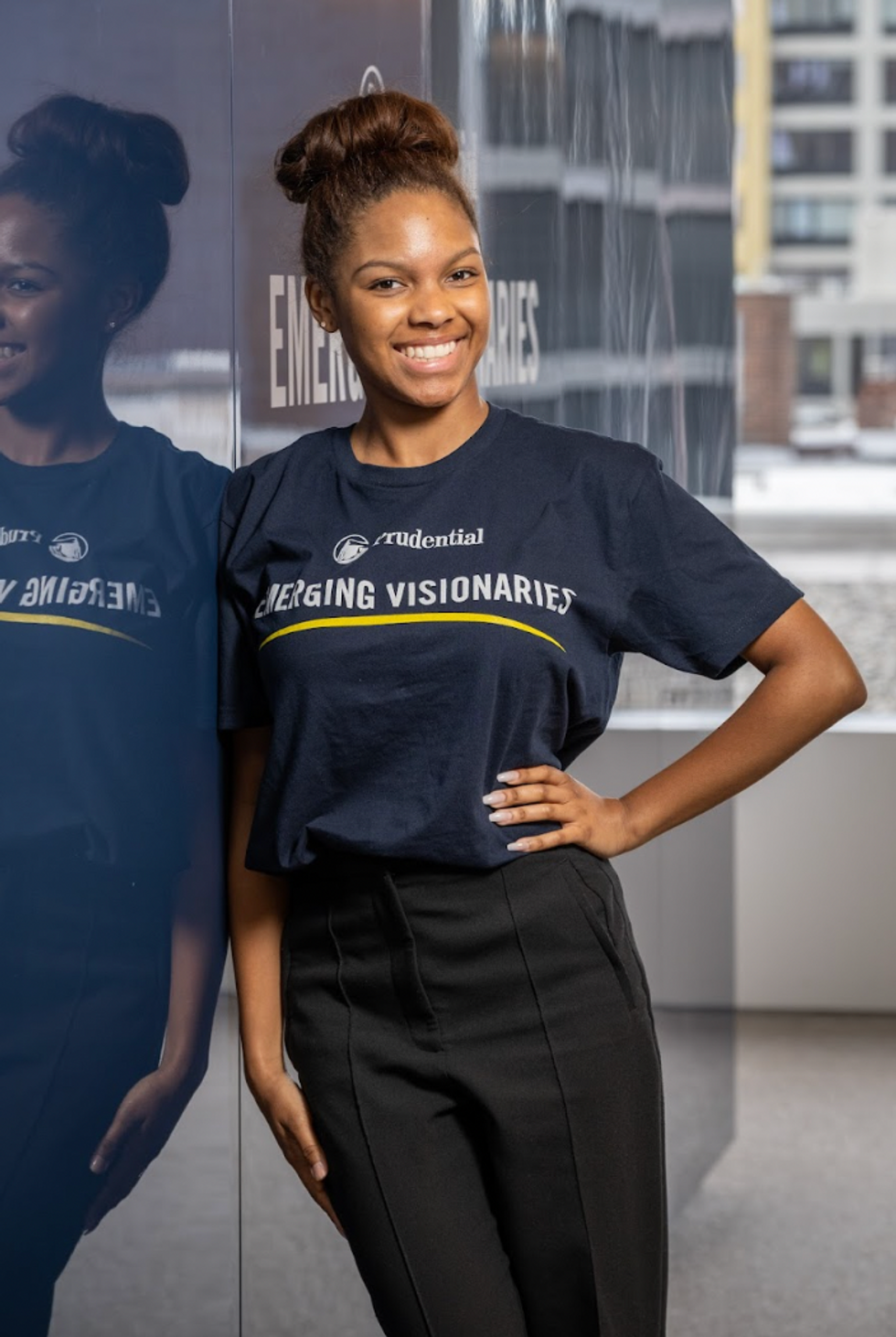 Since 2020, the Maryland-based teen has provided a safe platform that promotes youth positivity by giving young people the space to celebrate their achievements and combat mental health stigmas. The idea came during the height of Covid-19, when Collins recalled social media "becoming a dark space flooded with news," which greatly affected her own anxiety and depression.
Knowing that she couldn't be the only one feeling this way, "Perfect Timing" seemed like a valuable way to give back to her community. Over the course of 109 episodes, Collins has interviewed a wide range of guests—from other young influencers to celebrities, from innovators to nonprofit leaders—all to remind Gen Z that "their dreams are tangible."
That mission statement has since evolved beyond creating inspiring content and has expanded to hosting events and speaking publicly at summits and workshops. One of Collins' favorite moments so far has been raising $7,000 to take 200 underserved girls to see "The Little Mermaid" on its opening weekend, to "let them know they are enough" and that there's an "older sister" in their corner.
Of course, as with most new projects, funding for "Perfect Timing" has come entirely out of Collins' pocket. Thankfully, the funding she earned from being selected as a Prudential Emerging Visionary is going toward upgraded recording equipment, the support of expert producers, and skill-building classes to help her become a better host and public speaker. She'll even be able to lease an office space that allows for a live audience.
Plus, after meeting with the 24 other Prudential Emerging Visionaries and her Prudential employee coach, who is helping her develop specific action steps to connect with her target audience, Collins has more confidence in a "grander path" for her work.
"I learned that my network could extend to multiple spaces beyond my realm of podcasting and journalism when industry leaders are willing to share their expertise, time, and financial support," she told Upworthy. "It only takes one person to change, and two people to expand that change."
Prudential Emerging Visionaries is currently seeking applicants for 2024. Winners may receive up to $15,000 in awards and an all-expenses-paid trip to Prudential's headquarters with a parent or guardian, as well as ongoing coaching and skills development to grow their projects.
If you or someone you know between the ages of 14 -18 not only displays a bold vision for the future but is taking action to bring that vision to life, click
here
to learn more. Applications are due by Nov. 2, 2023.
Education
There's a good reason for the update. But it's jarring, to say the least.
Family
If you're looking for the perfect Mother's Day gifts for the incredible moms in your life, we've got you covered.
Editor's Note: Upworthy earns a percentage of revenue from items purchased on this list.

In the journey of pregnancy, maintaining optimal health is of paramount importance, and collagen supplements have emerged as potential allies in promoting overall well-being for both the expectant mother and the developing fetus. With maternal bodily changes in mind, we explore a curated selection of the 30 best collagen supplements tailored to support the unique requirements of pregnancy. Recent research underscores the significance of collagen in enhancing skin elasticity, a crucial consideration as 95% of women experience some degree of skin stretching during pregnancy, while the protein's role in fortifying joints gains prominence given that up to 75% of pregnant women report musculoskeletal discomfort.
30 best collagen supplements for pregnancy
As the curtain draws on our exploration of the 30 best collagen supplements for pregnancy, it is evident that these meticulously chosen options offer not only potential benefits for skin elasticity, addressing the 95% of pregnant women experiencing skin stretching but also hold promise in mitigating musculoskeletal discomfort, a concern reported by up to 75% of expectant mothers. Navigating the realm of pregnancy requires well-informed choices, and while these collagen supplements can play a supportive role, it's imperative to consult with healthcare providers before incorporating any new elements into the journey of prenatal care.
Pop Culture
The slower tempo and simple instrumentation creates a sadder, more haunting version of the 80s monster hit.
Get stories worth sharing delivered to your inbox
Pop Culture
"I was only 3, but I recognized something was up."
via YouTube/ClubRandom
Julian Lennon, son of Beatle John Lennon and his first wife, Cynthia, had a candid, two-hour conversation with Bill Maher on a recent episode of his "Club Random" podcast. During their intimate talk, Julian discussed his complicated feelings about being the subject of one of The Beatles' most famous songs, "Hey Jude."

"Hey Jude" was written by Paul McCartney while driving to the Lennons' house to comfort them after John Lennon left Cynthia for Yoko Ono in 1968. The song is credited to the Lennon-McCartney songwriting partnership, which by '68 mainly had splintered.
The song was initially called "Hey Jules," but McCartney changed the name to Jude because he thought it was "a bit less specific."
When asked about being the subject of such a popular song, Julian Lennon had his reservations.
"I'm thankful for the song without question. The other real thing is that people don't really understand that that's a stark and dark reminder of actually what happened with the fact that dad walked out, walked away, left mum and I," Lennon told Maher.
"You know, that was a point of complete change and complete disruption and complete darkness and sadness. I mean, I was only 3, but I recognized something was up, you know," Lennon continued. "Yeah, it was heartbreaking, heartbreaking. So, it's a reminder of that time and that place. So, I get both sides of it, but a lot of people don't necessarily understand there's a dark, you know, the yin and the yang of that song."
As a massive Beatles fan, Maher failed to realize the song's impact on Lennon's life. "I feel stupid not seeing that before you had to explain it to me, but I get it," Maher said.
Pop Culture
To no one's surprise Adelman did not like these answers.
Joy
The way he talks about "Flower"—his nickname for his wife—is a testament to lasting love.
Get stories worth sharing delivered to your inbox