Planet
Dolphins at a popular tourist spot are bringing gifts to presumably entice humans to return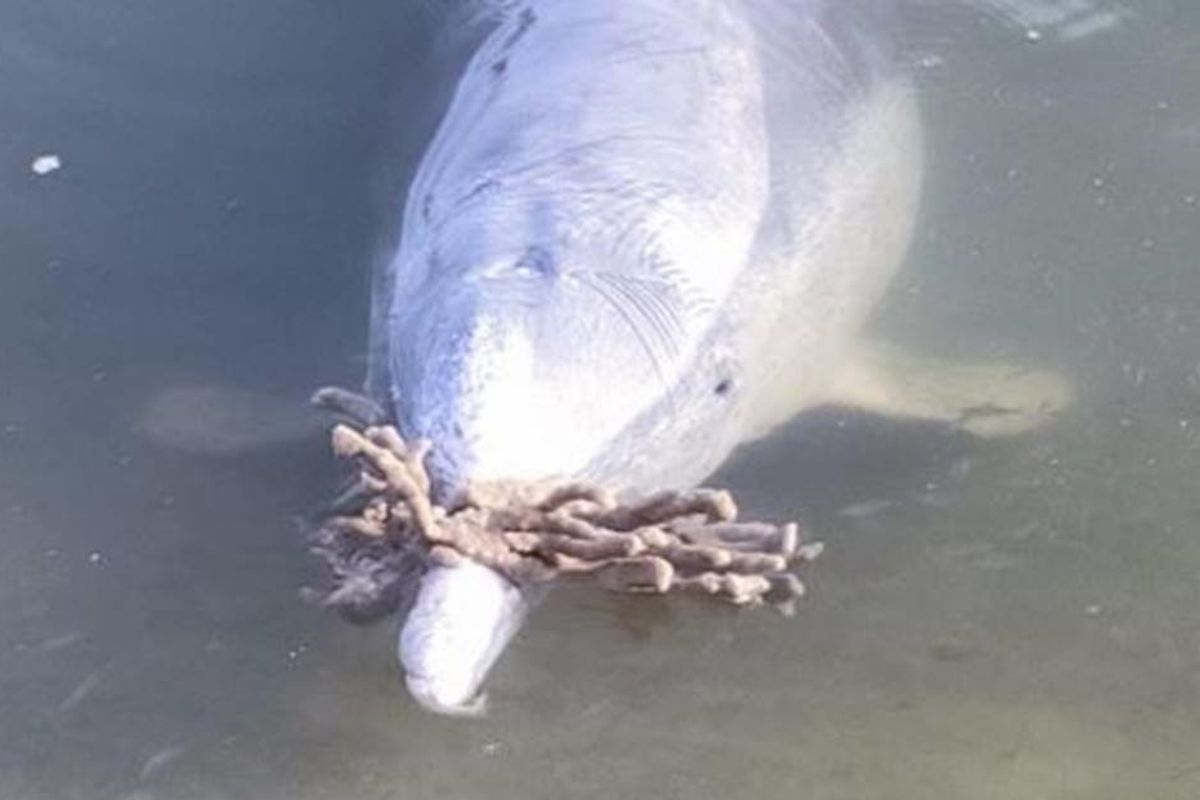 A pod of dolphins in Queensland, Australia have been bringing gifts from the depths of the sea, presumably to encourage their human friends to return to the shore.

Before the COVID-19 pandemic, the pod interacted with humans every day at Barnacles Cafe & Dolphin Feeding at Tin Can Bay, north of the Sunshine Coast. The cafe and nature center has a feeding program where people interact with the wild pod every morning.
But the humans are nowhere to be found since the pandemic shut down the cafe.
---
"The pod has been bringing us regular gifts, showing us how much they're missing the public interaction and attention," the safe posted on Facebook. "They are definitely missing you all."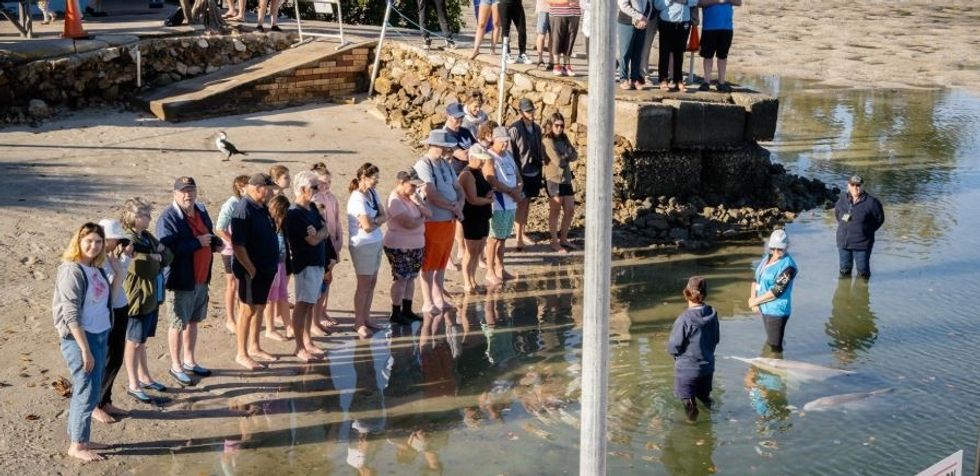 via via Barnacles Cafe & Dolphin Feeding at Tin Can Bay / Facebook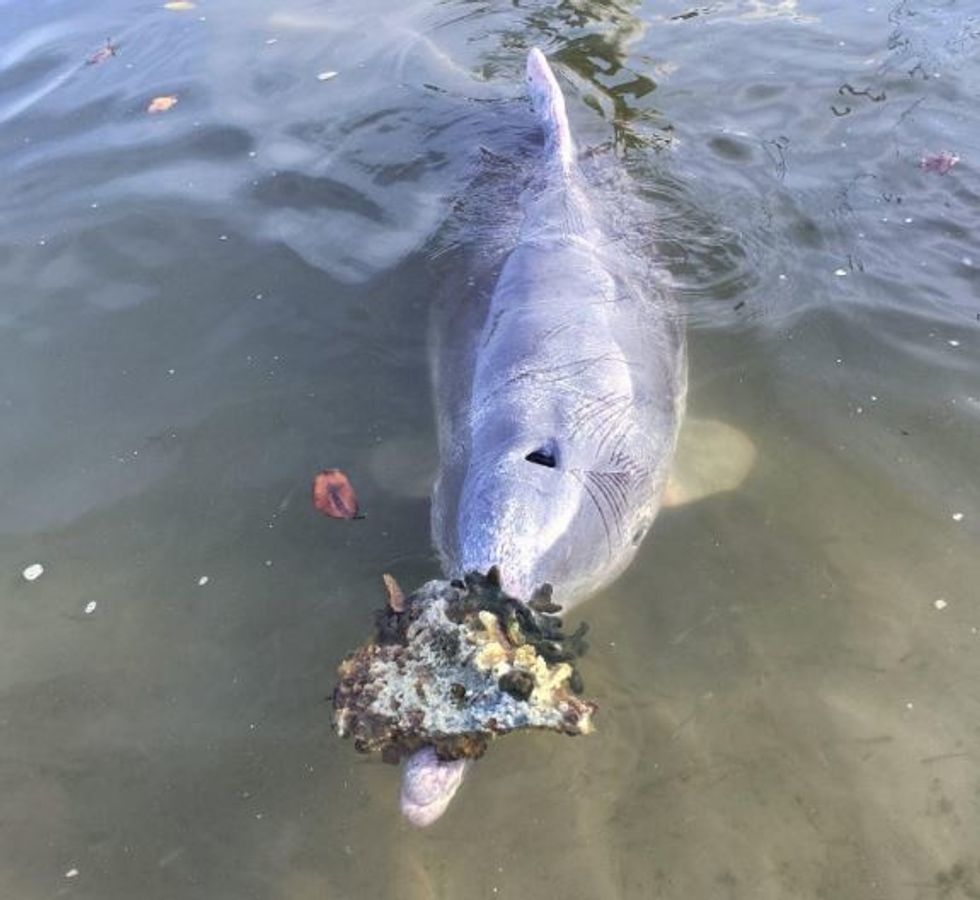 via Barnacles Cafe & Dolphin Feeding at Tin Can Bay / Facebook
The dolphins aren't just presenting any old shell. The "gifts" are all colorful, ornate items from the ocean floor, sea sponges, barnacle-encrusted bottles and pieces of coral.

A Barnacles volunteer told a reporter from ABC that the dolphins have brought gist before but not nearly as often as they are during lockdown.
"Nothing surprises me with dolphins and their behavior anymore," Barry McGovern, an expert in dolphin behavior, told ABC. "They do everything — they use tools, they have culture, they have something similar to names in signature whistles," he continued.
Although he isn't completely sure the dolphins are bringing up treasures because they miss people. "In all likelihood, they probably don't miss humans per se," he said. "They probably miss a free meal and the routine."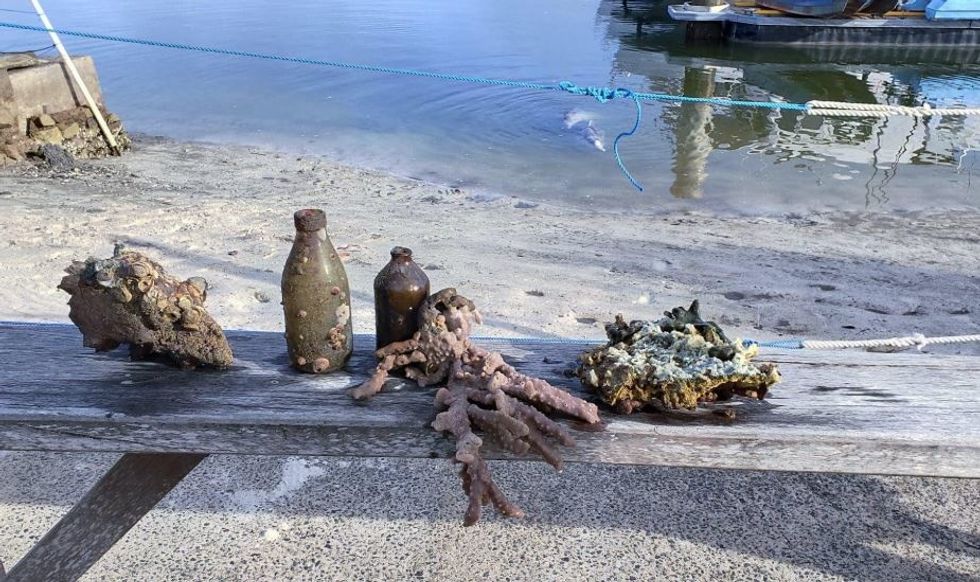 via via Barnacles Cafe & Dolphin Feeding at Tin Can Bay / Facebook
"They often play with bits of weed and coral and all sorts of things and just leave it on their rostrum (nose)," he said. "They're used to getting fed now, so they're used to humans coming in."

There are nine dolphins in the humpback pod that visits Barnacles, Patch, Ella, Squirt, Harmony, Aussie, Valentine, Chompy, White Fin and Mystique, the alpha male. They usually stop by the shoreline near the cafe at around 8 a.m. for a bite of fish and then swim out to see the sea for the day.
This isn't the first time Australian dolphins have engaged in a bit of inter-species gift-giving either. A 2012 report from the journal Anthrozoös found that dolphins sometimes hand over over gifts to wading humans in Tangalooma.
The researchers called it "an established but infrequent part of the culture of the provisioned dolphins." The dolphins were observed handing over dead eels, tuna, squid and an octopus on two frozen occasions.
The dolphins frequently received food from beachgoers, so the gifts could be seen as a form of reciprocity for the food. Researchers also speculate that the dolphins may be sharing their bounty with humans because they are concerned about their ability to hunt.
Regardless of the dolphins' reasoning, the biggest gift may be that they consider us similar to themselves, which is truly beautiful.