All photos courtesy of The Coca-Cola Company
True
You're walking down the sidewalk, earbuds in, listening to your favorite hip-hop beats. As your head bobs to the sounds, the sun warms your back. It's a perfect day.
When the chorus hits, the empty Sprite bottle in your hand becomes a drumstick, passing traffic becomes a sea of concertgoers, and the concrete beneath your feet is suddenly a stage. Spinning on your heels, you close out the song with your face to the sky and hands in the air.
Spotting a bright blue bin, you chuck in your imaginary drumstick. The sound that echoes back is satisfyingly cool, a deep, reverberating clunk so loud you can hear it over the music.
That is the sound of recycling.
Imagine how harmonious it would sound to mix the tones of millions of bottles going through the recycling process—the melody of all of us doing our part?
The Coca-Cola Company recognizes its responsibility to help address the world's plastic packaging crisis. Several of the company's most popular brands were historically made in green plastic bottles—however, when green plastic is recycled, it is usually turned into single-use items that do not get recycled again. To take one more step toward greater sustainability, Sprite, Fresca and Seagram's are now being packaged in clear plastic bottles, increasing the likelihood of them being recycled over and over again—a process known as "closed loop recycling."
Surprisingly enough, closed loop recycling and music have a lot in common. Music producers typically use a technique called sound sampling: the process of taking an old sound, chopping it up, and flipping it into a completely new beat. Just like the process of recycling, old can be new in sound sampling. An old sound is used in a new track, which is morphed again into a newer track, and so on. Beats being made today will be recycled by another creative in the future. Que Uptown Funk!
To celebrate the shift from green to clear, The Coca-Cola Company partnered with iconic, genre-defining/defying producers Mark Ronson and Madlib to create the world's first album composed of the sounds of the plastic recycling process itself. The Recycled Records EP uses real ambient sounds sampled from various points in the closed-loop recycling chain at four different recycling facilities scattered across the United States. From the percussion of a forklift beeping, to the tonal beat of a conveyor belt, to the hi-hat of air blown into a plastic bottle, the EP brings to life the magic of multiple reuses.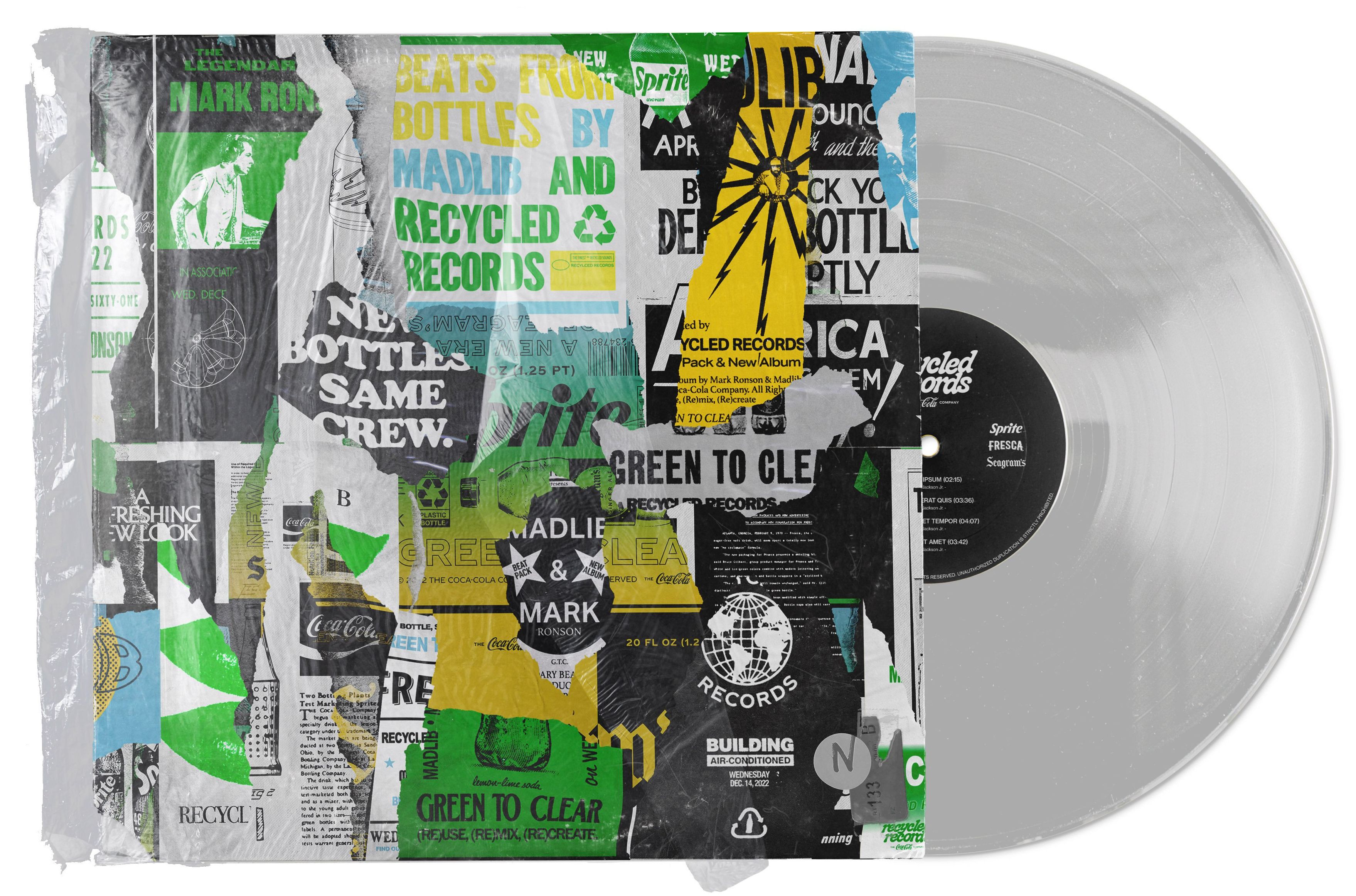 "It sounds very crazy to say it, but anything can become a sample…any sound can be manipulated. The sound of opening a barrel of plastic has its own funk and flow to it," said Ronson.
Not only did The Coca-Cola Company find a way to literally turn the sounds of recycling into music, thanks to the Recycled Records Beat Machine, you can be part of that process, too. Using the site, music enthusiasts are able to remix the very same recycled sound library used by Ronson and Madlib into innovative compositions of their own through an interactive, one-of-a-kind digitized version of an 808 beat machine. Generally, the biggest obstacle for many aspiring artists is accessing the proper musical technology, which is yet another reason why Recycled Records is so dang cool—this beat machine is free and accessible to anyone with an internet connection.
Innovation and creativity are the way of the future; tap into yours today by creating a Recycled Record of your very own. Maybe someday, other people will be dancing down the street listening to YOUR beats!
Pop Culture
"I don't know that I have ever heard a celebrity talk about a hot flash in the moment. Thank you for being so real."
Pop Culture
The makeover received over 5 million views on TikTok.
Get stories worth sharing delivered to your inbox
We can all get a little fascinated by doppelgängers and it's fun to find people who look alike. But what do you do when your baby girl looks uncannily like a famous middle-aged man?
Mom Dani Grier Mulvenna shared a photo of her infant daughter Cora side by side with a photo of Woody Harrelson on Twitter, with the caption "Ok but how does our daughter look like Woody Harrelson." The resemblance truly is remarkable, and the tweet quickly racked up hundreds of thousands of likes, shares and replies.
Naturally, the jokes about Harrelson being the baby's secret father came next, but then Harrelson himself got wind of it.
The actor shared a screenshot of Mulvenna's tweet on his Instagram page and included a delightful little poem he called "Ode to Cora."
\u201cOk but how does our daughter look like Woody Harreslon\u201d

— Dani Grier Mulvenna (@Dani Grier Mulvenna) 1659529434
You're an adorable child
Flattered to be compared
You have a wonderful smile
I just wish I had your hair
How adorable and wholesome is that? Not only did he acknowledge his look-alike, but he even made a self-deprecating joke about his receding hairline.
People gushed in the comments and Mulvenna shared how tickled her daughter will be someday by the connection.
"You've made our day ❤️ can't wait to show her this when she's older, you have another fan for life xxx," she wrote.
Mulvenna also shared on Twitter that her daughter doesn't always look like Woody Harrelson, but when she does, she really does.
\u201cCora says, thank you all so much for the likes and retweets and also that she doesn't always look like Woody Harreslon, it's just that when she does...she really really does xxx\u201d

— Dani Grier Mulvenna (@Dani Grier Mulvenna) 1659529434
What a cutie. What's hilarious is that sweet little Cora has no clue about any of this excitement and she won't for many more years. What a fun story her parents will be able to share with her.
Social media has created a world where people can connect in ways they never would have before. When these platforms are so often used for negative means, it's lovely to see something so sweet and pure come out of them.
This article originally appeared on 08.05.22

Education
Frances 'Effy' Jones, one of the first women to be trained to use a typewriter and to take up cycling as a hobby, recalls life as a young working woman in London.
Family
Kids shouldn't have to act like adults.
Get stories worth sharing delivered to your inbox