True
Shanda Lynn Poitra was born and raised on the Turtle Mountain Reservation in Belcourt, North Dakota. She lived there until she was 24 years old when she left for college at the University of North Dakota in Grand Forks.

"Unfortunately," she says, "I took my bad relationship with me. At the time, I didn't realize it was so bad, much less, abusive. Seeing and hearing about abusive relationships while growing up gave me the mentality that it was just a normal way of life."
Those college years away from home were difficult for a lot of reasons. She had three small children — two in diapers, one in elementary school — as well as a full-time University class schedule and a part-time job as a housekeeper.
"I wore many masks back then and clothing that would cover the bruises," she remembers. "Despite the darkness that I was living in, I was a great student; I knew that no matter what, I HAD to succeed. I knew there was more to my future than what I was living, so I kept working hard."
While searching for an elective class during this time, she came across a one-credit, 20-hour IMPACT self-defense class that could be done over a weekend. That single credit changed her life forever. It helped give her the confidence to leave her abusive relationship and inspired her to bring IMPACT classes to other Native women in her community.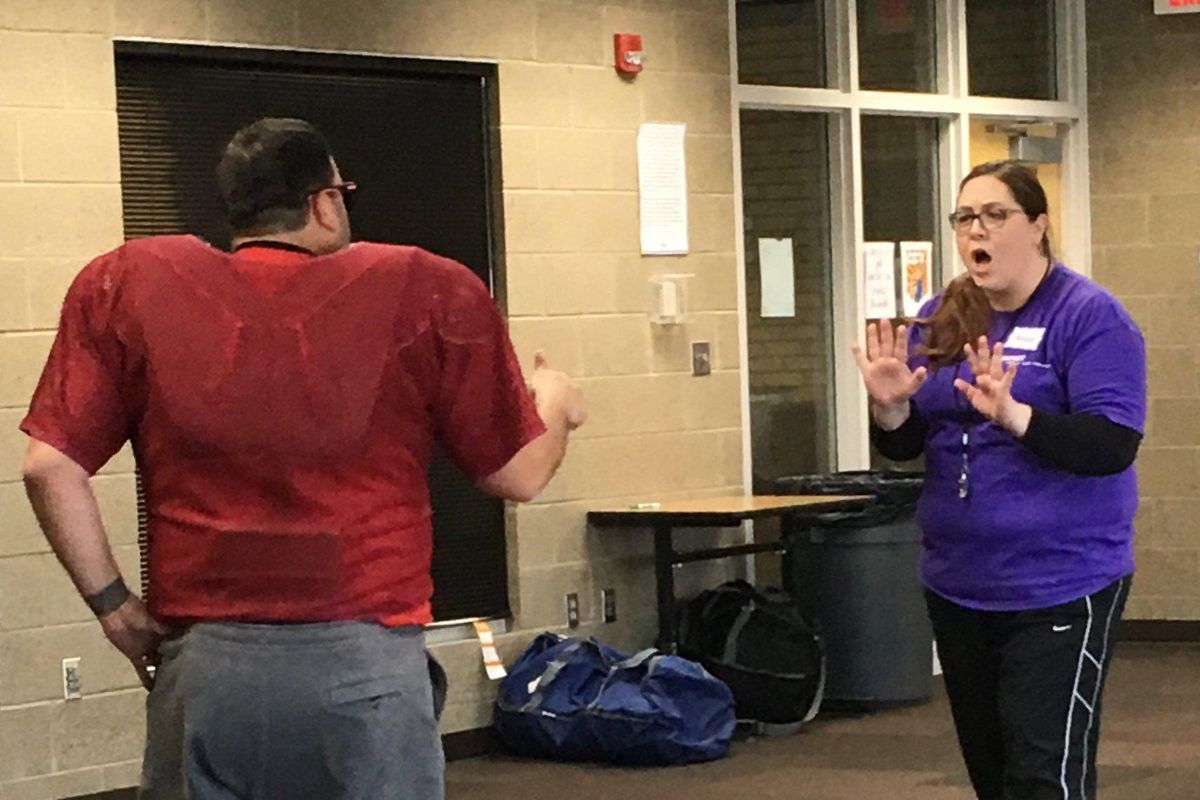 I walked into class on a Friday thinking that I would simply learn how to handle a person trying to rob me, and I walked out on a Sunday evening with a voice so powerful that I could handle the most passive attacks to my being, along with physical attacks."
It didn't take long for her to notice the difference the class was making in her life.
"I was setting boundaries and people were either respecting them or not, but I was able to acknowledge who was worth keeping in my life and who wasn't," she says.
Following the class, she also joined a roller derby league where she met many other powerful women who inspired her — and during that summer, she found the courage to leave her abuser.
"As afraid as I was, I finally had the courage to report the abuse to legal authorities, and I had the support of friends and family who provided comfort for my children and I during this time," she says.
A lot of change happened at once. As a newly single mom, she ended up leaving med school and transferring to a tech school to learn a trade. And because she knew what her abuser was capable of, she took a lot of precautions to keep herself and her family safe.
"I worked and studied hard while my children were in daycare and school, spent the evenings cooking & cleaning, and studied again once the children were in bed. After two years of classes, months of clinical rotations, and becoming alumni at the Mayo Clinic in Rochester MN, I graduated as a Surgical Technologist and began working full-time," she remembers.
"It took a couple of years for my nerves to fully relax, but they finally did. It was so amazing to me how empowering it was to advocate for myself, I never stopped."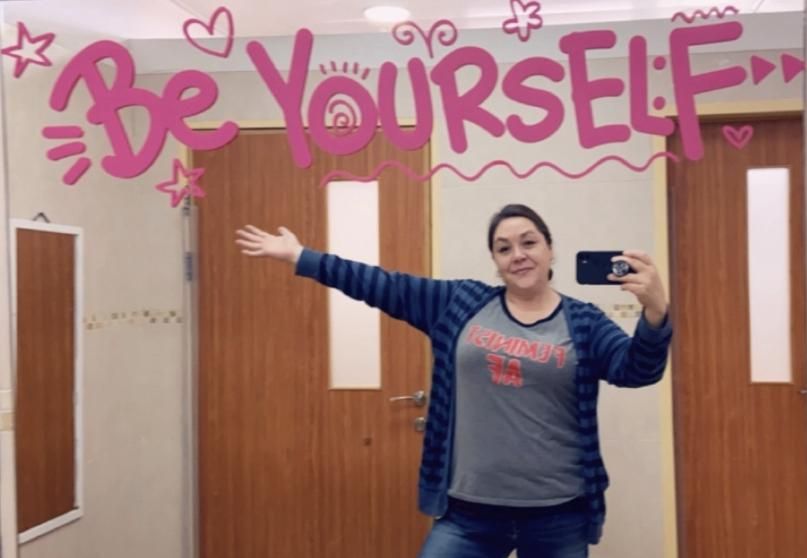 She moved back to the reservation in 2015 to work for the health service and to be around family again.

"Within my first week of being home, I noticed so much violence that I once thought was normal behavior," she says. "One morning, I got a phone call notifying me that my childhood friend was beaten and left for dead by her children's father; she was flown out to the nearest ICU and taken in for surgery for a hematoma in her skull."
"I knew something had to be done about this."
Domestic abuse is a big problem on reservations like Shanda's. More than four in five American Indian and Alaska Native women and men have experienced violence in their lifetime, and more than one in three experienced violence in the past year.
She spoke with several community members about the violence she was seeing, but she found they were quick to blame the victim. That's when it occurred to her: "What if I started a self-defense class for Native women?" Shanda says. So she called up her former instructor, found a group of instructors, and attended another class with her new team. And from there they founded their own chapter.
"IMPACT is being used all over the world, yet has never been available to Indigenous communities until now," she says. "Currently, our team consists of four core members; two suit instructors and two female lead instructors, all Indigenous members of our Turtle Mountain Band of Chippewas. All members are active in empowering our community in many ways."
"During the closing circles in our workshops, we all get to see the strength and transformation these women worked so hard for. We get to see them take their power back from those who hurt them."
And that is why Shanda is being named one of Tory Burch's "Empowered Women" this year. The $5000 donation will be made to IMPACT to help them bring IMPACT to more indigenous communities across the country and further their mission to help Native women recognize and protect themselves from physical violence.
"Empowering women should be as common as knowing how to perform CPR," Shanda says.
"Truth is, I know what it feels like to be on both sides of empowerment. I know the fear, pain, and humiliation that comes with domestic violence, sexual assault, trauma, and PTSD and I recognize it in my students," she continues.
"I also know what it feels like to step out of that proverbial cage. To be able to breathe freely. To speak freely. To walk the earth in a good and healthy way. I wish this freedom and empowerment for every person on earth."
To learn more about Tory Burch and Upworthy's Empowered Women program visit https://www.toryburch.com/empoweredwomen/. Nominate an inspiring woman in your community today!
Photo by Sterling Pics
Last year, in the middle of what we thought were the darkest times of the COVID-19 pandemic, after endless months of cooking at home, my husband and I decided to venture out of our cocoon and get "slutified." That's what people are called after a visit to one of Atlanta's hottest burger joints, provocatively named, Slutty Vegan.
Owned by 33-year-old fuchsia-loc'd maven and philanthropist Aisha "Pinky" Cole, Slutty Vegan has three locations in the ATL, with more in the works. Her menu reads more like a list of offerings at a bordello than a restaurant, with the "Ménage à Trois," "One Night Stand," and the "Super Slut," and the atmosphere is more like a night club. But, it's not just the cheeky burger names or the concept of plant-based fast food that has customers literally wrapped around the block at all of her locations, it's the vibe she's created. Slutty Vegan is more than a restaurant. It's a culture. And Cole is at the center of it, building a community based on supporting Black entrepreneurs, getting involved in politics, giving back, and being thoughtful about what you put into your body.
Upworthy spoke with Cole as she was hanging out at home with her one-month-old daughter, D. Ella. Now worth seven figures, the restauranteur talked about her recent honor by PETA, growing up the daughter of a Jamaican Rastafarian mother, owning a jerk chicken restaurant in Harlem that tragically burned down, the many brands vying to partner with her, and how vitally important it is for her business to be ethically aligned with her beliefs.
Upworthy: Where did the name come from?
Cole: I was a TV producer for 10+ years. The one thing I know how to do well is to make people pay attention. I know that sex sells and the two most pleasurable experiences in life are sex and food. If I could merge those two experiences, and not make it mucky, but sexy and educational, I knew it would be big, especially in the heart of the South. I'm infusing this concept into culture, music and entertainment. I'm showing you how to eat better, even if it starts with burgers, fries, and pies. I needed the name to be so racy, that you'd pay attention. Then I can start dropping the gems on you. And we have been able to bring people together in the name of food. And to help people reimagine food, especially "flexitarians," -- meaning people who are meat-eaters.
Upworthy: How did you feel being honored by PETA as one of their "Most Beautiful Vegans?"
C: I love what PETA represents. They've supported and rallied for me since the beginning. To be alongside so many other amazing vegans shows me that I'm in the room. Meaning that I'm alongside people who stand for something. People who are making changes in their communities and it feels good to be connected in that way.
Upworthy: Let's talk about The Pinky Cole Foundation.
C: I officially started the foundation in 2019. But, it was just a way of formalizing what I'd been doing for years. I was always a steward of people. I saw my mom do it. She helped everybody anytime she could. She'd take the clothes off her back to help people. The foundation is at the crux of who we are. Slutty Vegan is nothing without the philanthropic aspect. I want to bridge the generational wealth gap. I want people to see that a young woman can start a company and it can be beyond money, but help the community and provide group economics and give back. Money doesn't move me. It's the ability to utilize my resources to help people.

* Cole has supported 30 Clark Atlanta University students in clearing their balances. When Rayshard Brooks was shot and killed by Atlanta police in a Wendy's parking lot, Cole provided life insurance for Brooks' family, a new car, and $600K in scholarships for them to go college. She partnered with TV host Steve Harvey and his wife, Marjorie's foundation to pay the electric bills for 100 Atlanta residents. She's donated thousands of pounds of produce and winter coats to local families in need. Cole along with Derrick "D" Hayes, CEO of Big Dave Cheesesteaks, provided life insurance to all Black men in Atlanta who make $30k annually or less, and she partnered with the Department of Juvenile Justice to employ ex-juvenile offenders at Slutty Vegan, and so much more.
Upworthy: How do you encourage and inspire all of your thousands of customers to do something in their own communities?
C: Leading by example. I speak to so many audiences. I speak to women; minorities; children of immigrants; mothers; small business owners; people who come from middle-class families; I speak to so many different people. So, when people come and support Slutty Vegan, they feel like they're represented. People see the representation through me. As long as I continue to be an example that you can do it. You can come from East Baltimore, or like we say, "around the way," and be everything you dreamed of. Pinky Cole did it and I can too. That's the empowerment they see.
Upworthy: What's your philosophy on being vegan as it relates to health, the environment, the Black community, and neighborhoods with obvious food deserts.
C: I don't try to push my agenda on anyone. My audience is people who aren't necessarily vegan. It's like Christianity and Islam. Believe in what you want to believe in. I can show you the way, but I won't make you drink the way. My emphasis is on the experience. I want people to feel good. And feeling good is eating good and thinking good. Emotionally, spiritually, and mentally. Food can do that for you. Am I walking around with a sign that says 'Eat Vegan or Die!' No. But, what I will say is, let me show you another way.
Upworthy: Did you feel like you had to recreate traditional fast food, but vegan-style to assure you had customers? Particularly in the South?
C: My father has a saying, 'Success is like mud. You throw something on the wall, something's gonna stick.' And this is what stuck. Obviously, I knew that I had to appeal to my audience. I did that by fusing food and culture. Slutty Vegan has grown so fast because so many celebrities have endorsed the brand. We've been able to utilize other people's platforms, especially celebrities, to expand the brand. So, if you see your favorite celebrity eating something or doing something that you love to do, nine times out of ten, you're going to want to do it. This is me meeting people where they are. Focusing on the entertainment and secondarily the food. We're in the South, so Southern comfort food is at the center of living here. So, how can I get people to eat vegan food in the heart of the South? Put it in the music. Put it in the entertainment. The things people pay attention to. You've got Megan Thee Stallion eating Slutty Vegan, so of course, people who love her want to eat it too. People want to see what all the hype is about.
Upworthy: Have you seen a difference in her customers' tastes and acceptance of veganism as a concept since opening in 2018?
C: When we started, none of the big chains had options, now all of them do. And I like to say that we have been the inspiration for that -- humbly. We were the guinea pigs. We tested the market so they didn't have to. And that's the goal, to get more people to eat plant-based. And that's a win for the plant-based community and for people who want to change their lives and be better.
Upworthy: What do you say when people say being vegan is too pricey for me?
C: It's pricier. But, you pay for your health. If you choose to eat badly all of your life, you're going to be paying for medicine. Either pay for your health now or later. Society doesn't make you think about it that way. I think COVID started to make us think more about our health. This is why Slutty Vegan became even more successful during the pandemic. People wanted to start living better.
Upworthy: What are your tips for becoming a successful entrepreneur?

C: Mess up all the time. I make a lot of conscious mistakes. I make decisions that make sense to me, but sometimes those decisions aren't the best, but that helps me learn. In my first restaurant, when it caught on fire, I was sick. But, that taught me to make sure my paperwork was right and make sure I had fire insurance. Also, alignment is a big thing in business. I believe you have to ask yourself some questions. Why am I starting this business? Who is it going to support? Who is going to help outside of me? If you have pure intentions you will win. Anything I've done, I've done it with pure intentions. Which is why I always win. I'm confident about that because I go to sleep at night knowing that I haven't done anybody wrong and I've moved with good intentions and I've helped people along the way.
Get stories worth sharing delivered to your inbox