Like Yoda, these creatures look. Worry about copyright infringement, nature should.
Just in time for May the Fourth, the nerdiest holiday, two oddly familiar-looking new species of tarsier — a small, nocturnal primate — have been discovered in Indonesia, according to a paper published in Primate Conservation.
While Stuart Freeborn, the man who designed Yoda, has said he modeled the muppet on himself, it's hard to deny a certain resemblance.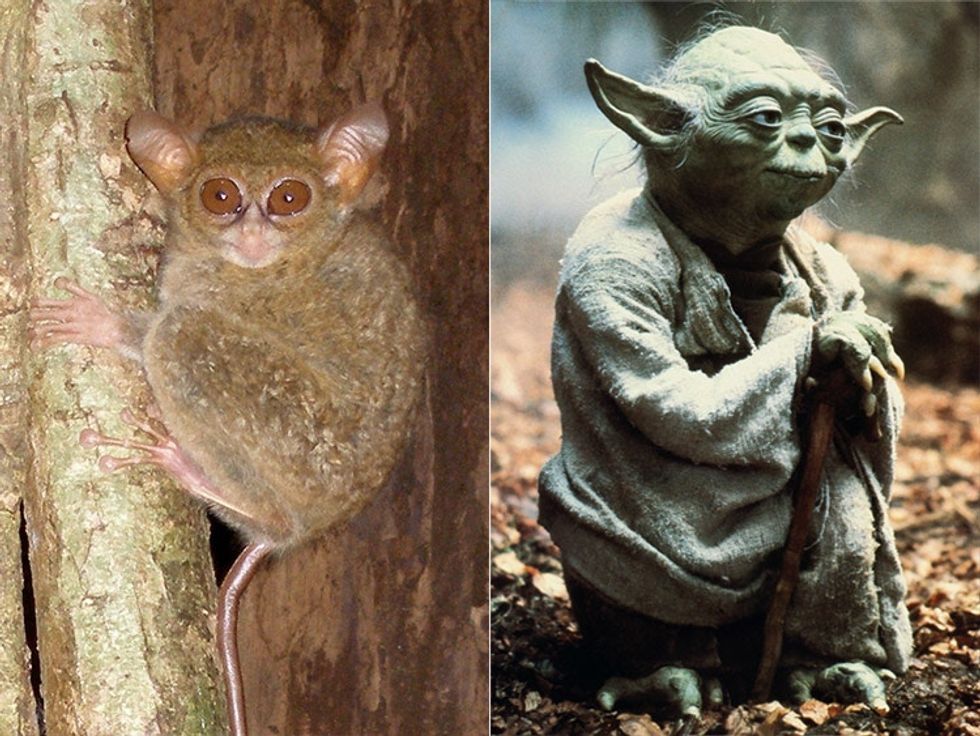 </div></div></div><p>Yup, that's a Yoda.</p><p>The two new species were found on the Indonesian island of Sulawesi and have been named Gursky's spectral tarsier (<em>Tarsius spectrumgurskyae</em>)<em> </em>and Jatna's tarsier (<em>Tarsius supriatnai</em>)<em>.</em></p><p>Giant eyes and ears and the ability to rotate their head like an owl lets tarsiers pinpoint predators and prey in the darkness. </p><div><div class="push-wrapper--mobile" data-card="image" data-reactroot=""><img type="lazy-image" data-runner-src="https://assets.rebelmouse.io/eyJhbGciOiJIUzI1NiIsInR5cCI6IkpXVCJ9.eyJpbWFnZSI6Imh0dHBzOi8vYXNzZXRzLnJibC5tcy8xOTUzMDk3Ny9vcmlnaW4uZ2lmIiwiZXhwaXJlc19hdCI6MTYyMzcxMTk1OX0.oooVvScEMyhkaDan_5GfyrRa-yvqmnSscwuScXka6aw/img.gif?width=980" id="1dd2e" class="rm-shortcode" data-rm-shortcode-id="073f03d24034528d0ab2757eadbff39d" data-rm-shortcode-name="rebelmouse-image"><div class="image-caption"><p>GIF from <a href="https://giphy.com/gifs/headlikeanorange-primate-tarsier-AUePWyZqZTjj2/">"Bill Bailey's Jungle Hero," BBC</a>.</p></div></div></div><p>They can jump 40 times their body length, which I'm pretty sure I've seen some Jedi do too (except when someone else has the high ground).</p><p>Tarsiers evolved a long time ago — 60 million years ago, to be precise — and though fossils of tarsiers are widespread, today they live in a place (likely) far, far away: just a few Southeast Asian nations like Indonesia. Unfortunately, <a href="https://www.theguardian.com/environment/2014/jun/29/rate-of-deforestation-in-indonesia-overtakes-brazil-says-study" target="_blank">deforestation</a> has cleared much of the habitat tarsiers and other jungle creatures call home.</p><h2>We humans like to blast off to explore new galaxies, but it's also pretty incredible how much we've yet to discover here on Earth.</h2><div><div class="push-wrapper--mobile" data-card="image" data-reactroot=""><img type="lazy-image" data-runner-src="https://assets.rebelmouse.io/eyJhbGciOiJIUzI1NiIsInR5cCI6IkpXVCJ9.eyJpbWFnZSI6Imh0dHBzOi8vYXNzZXRzLnJibC5tcy8xOTUzMDk3OC9vcmlnaW4uanBnIiwiZXhwaXJlc19hdCI6MTYyMjI5NDEzOX0.nmxvSpXmTe3IBw9meaj3wie-siHYPINeZm9yc-PPf0M/img.jpg?width=980" id="b4e7c" class="rm-shortcode" data-rm-shortcode-id="8622828927e5dd1ff77f495bb2cb8985" data-rm-shortcode-name="rebelmouse-image"><div class="image-caption"><p>A tarsier in the Philippines. Photo from Joe Sinclair/AFP/Getty Images.</p></div></div></div><p>Scientists are still discovering new species at an incredible rate. These two little critters are the 80th and 81st new primate species to be found since the year 2000. </p><p>Perhaps <a href="http://www.conservation.org/newsroom/experts/Pages/ci-expert-details.aspx?expertId=2&amp;name=Dr.%20Russell-Mittermeier" target="_blank">Russell Mittermeier</a>, co-author of the paper, said it best. After all, if we're still discovering <em>some of our closest living relatives</em>, he said, "imagine how much we still have to learn about the rest of life on Earth."</p>