Photo courtesy of Claudia Romo Edelman
True
When the novel coronavirus hit the United States, life as we knew it quickly changed. As many people holed up in their homes, some essential workers had to make the impossible choice of going to work or quitting their jobs— a choice they continue to make each day.
Because over 80 percent of working Hispanic adults provide essential services for the U.S. economy, the Hispanic community is disproportionately affected. Hispanic families are also much more likely to live in multigenerational households, carrying the extra risk of infecting the most vulnerable. In fact, Hispanics are 20 times more likely than other patients to test positive for COVID-19.
Claudia Romo Edelman saw a community in desperate need of guidance and support. And she created Hispanic Star, a non-profit designed to help Hispanic people in the U.S. pull together as a proud, unified group and overcome barriers — the most pressing of which is the effects of the pandemic.
Because the Hispanic community is so diverse, unification is, and was, an enormous challenge.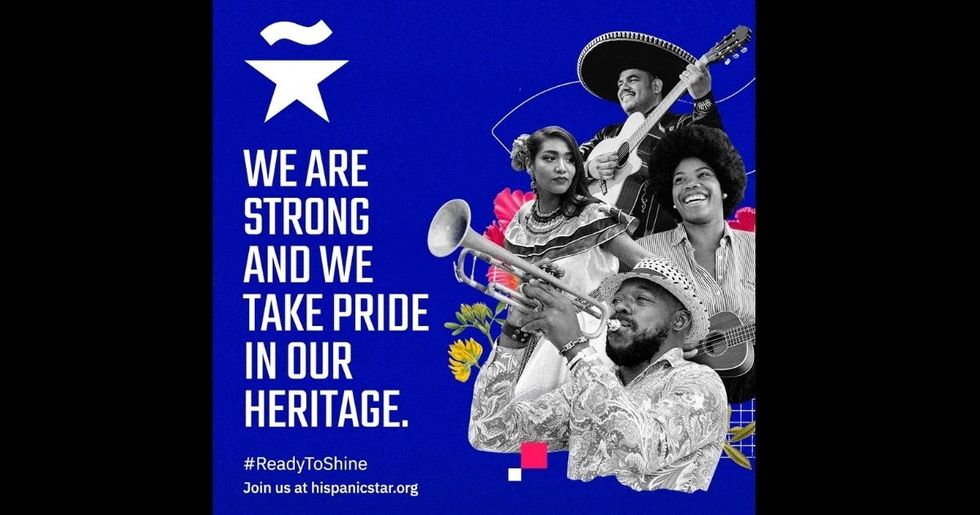 Photo credit: Hispanic Star
<p>The Hispanic Star campaign is rooted in a firm belief that "we don't win until we all win," and is viewed as both a unifying symbol and a nonpartisan, inclusive, inspirational, and unifying footing in order for Hispanics living in the United States to view themselves and help them act as a unified force for good. Hispanics widely represent stories of migration, struggle, resilience and strong values: hard work, optimism, family and friends, and belonging. </p><p>"We wanted to bring these efforts together under the Hispanic Star, for everyone to realize that together, we're stronger. We wanted every Hispanic to feel heard and valued and we want our platform to become a source of pride.</p><p>"We just need to showcase our contributions to this country, so Hispanics feel proud of our culture and history, and for everyone else to know we're not takers, but makers," Edelman said.</p><p>However, before the community can move forward, they have to stop the spread of COVID-19. This staggering need is why P&amp;G, a founding partner of Hispanic Star, pledged to donate personal protective equipment and critical products to Hispanic essential workers and families affected by the virus. If one household member can stop the spread by not bringing the virus home to their family, countless lives could be saved.</p><p class="shortcode-media shortcode-media-rebelmouse-image"> <img type="lazy-image" data-runner-src="https://assets.rebelmouse.io/eyJhbGciOiJIUzI1NiIsInR5cCI6IkpXVCJ9.eyJpbWFnZSI6Imh0dHBzOi8vYXNzZXRzLnJibC5tcy8yNDU5NDI5Ni9vcmlnaW4uanBnIiwiZXhwaXJlc19hdCI6MTY1Mzk5NjM0MX0.0vHrGcxJF9rqL-lSl1MsdLW9gKlBdjLK-JTI0jDwVFU/img.jpg?width=980" id="92f8b" class="rm-shortcode" data-rm-shortcode-id="b29e233d3e223bcf301d05c0f2092428" data-rm-shortcode-name="rebelmouse-image"> <small class="image-media media-photo-credit" placeholder="Add Photo Credit...">Photo by <a href="https://unsplash.com/@rodlong?utm_source=unsplash&amp;utm_medium=referral&amp;utm_content=creditCopyText" rel="noopener noreferrer" target="_blank">Rod Long</a> on Unsplash</small></p><p><a href="https://www.cdc.gov/pcd/issues/2020/20_0165.htm" rel="noopener noreferrer" target="_blank">According to the CDC</a>, Hispanics not only were being exposed because of the nature of their work and/or the number of people living in their households, but also because of language barriers and limited access to health care. The lack of reliable health information in Spanish has impeded efforts to combat the spread of the virus in Hispanic communities, making them more likely to be unaware of the importance of things like mask wearing. Additionally, "Hispanic people are also the largest population segment without health insurance coverage in the United States, leaving those with presumptive symptoms or with a positive COVID-19 test with limited access to needed health care," according to <a href="https://www.cdc.gov/pcd/issues/2020/20_0165.htm" target="_blank">this report</a>.<br></p><p>Because of these unique challenges, Edelman says they launched the Hispanic Star "hubs"—regional groups of volunteers designed to bring people together and focus on each region and city's specific issues. They're also responsible for getting Family Support Packs, featuring critical home and personal care items provided by P&amp;G, to families who need them most.</p><p class="shortcode-media shortcode-media-rebelmouse-image"> <img type="lazy-image" data-runner-src="https://assets.rebelmouse.io/eyJhbGciOiJIUzI1NiIsInR5cCI6IkpXVCJ9.eyJpbWFnZSI6Imh0dHBzOi8vYXNzZXRzLnJibC5tcy8yNDU5MzU2NC9vcmlnaW4uanBnIiwiZXhwaXJlc19hdCI6MTY2MDIwNTM4MX0.iowAnzNwR4I6YAOtyNAbXCB2ZpQCosqAe0OqRudXNR8/img.jpg?width=980" id="32923" class="rm-shortcode" data-rm-shortcode-id="931932d597518cda41257785cb03ac6c" data-rm-shortcode-name="rebelmouse-image"> <small class="image-media media-photo-credit" placeholder="Add Photo Credit...">Photo courtesy of P&amp;G Good Everyday</small></p><p>"We managed to get over 1.2 million products and helped more than 200,000 families nationwide. And the support is still ongoing," Edelman said. Collaborations with companies like P&amp;G have enabled them to reach an extraordinary number of people. Still, there is a lot of ground to cover, and Edelman encourages anyone who is able to get involved.<br></p><p>"You can join your local hub, and if there isn't one you can start your own!" Edelman said. "There are so many things the community needs...we need stars to step up and lead the charge."</p>Short on time? You can make a difference by simply joining the <a href="https://www.pggoodeveryday.com/" target="_blank">P&amp;G Good Everyday</a> rewards program. Pick the Hispanic Star as your cause and by taking a survey, answering a quiz or scanning a receipt with P&amp;G products, you can earn rewards. And the best part? As you earn, P&amp;G will automatically donate to a cause you care about—so you can turn your everyday actions into acts of good, <a href="https://www.pggoodeveryday.com/impact/hispanic-star/" rel="noopener noreferrer" target="_blank"></a><a href="https://www.pggoodeveryday.com/impact/hispanic-star/" rel="noopener noreferrer" target="_blank"></a><a href="https://www.pggoodeveryday.com/impact/hispanic-star/" rel="noopener noreferrer" target="_blank"></a><a href="https://www.pggoodeveryday.com/impact/hispanic-star/" rel="noopener noreferrer" target="_blank">helping organizations like Hispanic Star extend further and provide immediate help to more and more families in need.</a>
Get stories worth sharing delivered to your inbox