Producer, writer, and all-around wonderful human Lena Waithe recently participated in a roundtable with The Hollywood Reporter.
Chatting with other producers, Waithe — the mastermind behind Showtime's "The Chi" — explored a variety of Hollywood hot topics, like how to write sensitive storylines, "pitching while black," and which creators should be able to tell which stories.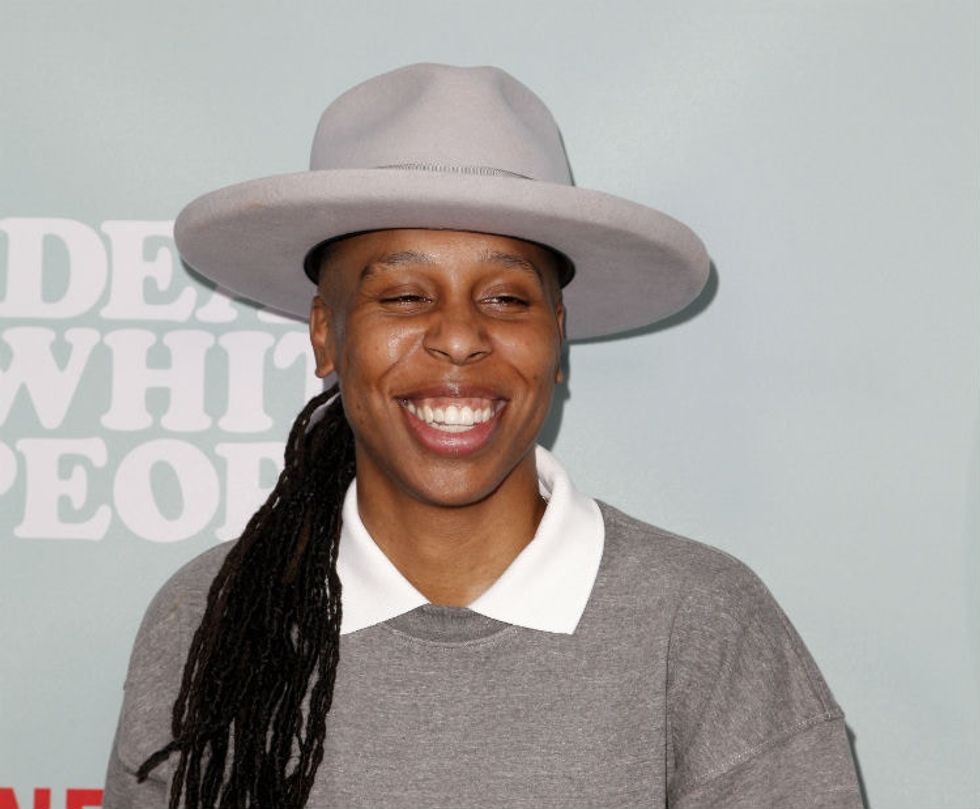 Photo by Tibrina Hobson/Getty Images.
<h2>At one point, discussions swirled around the sensitivities and standards of filming sex scenes. </h2><p>As Waithe explained, the #MeToo movement <a href="https://www.hollywoodreporter.com/features/12-top-tv-show-bosses-sound-metoo-pay-parity-more-1109718" target="_blank">has pushed her</a> to think more critically about how those scenes are filmed and what she can do to ensure everyone feels respected on set.</p><p>"I've been very involved in <a href="http://www.upworthy.com/after-me-too-these-hollywood-women-say-time-s-up-for-workplace-harassment">Time's Up</a> and that movement, and for season two [of "The Chi"], we're making sure that women feel safe on the set, and we're hyper-aware of what that means because there are sex scenes there," she said.  </p><p><strong>And if any actor crosses a line, Waithe explained, their time on the show will come to a grisly end:</strong></p><blockquote>"We want to make sure we're talking to these actresses and also talking to our male actors and making sure they're aware. Because I don't play. I'm like, 'Look, [the show takes place in] the city of Chicago; people die every day. So if you wanna play that game and be disrespectful or misbehave on-set with an actress or anyone, I will happily call Showtime and say, 'This person has to go,' and you will get shot up and it'll be a wonderful finale.'"</blockquote><h2>Waithe has been blazing trails in Hollywood for women, the LGBTQ community, and people of color.</h2><p>In 2017, Waithe became the <a href="https://www.upworthy.com/lena-waithes-emmys-acceptance-speech-is-the-lgbtq-battle-cry-of-2017">first black woman</a> to win an Emmy for comedy writing for her work on "Master of None." Her latest endeavor, <a href="http://variety.com/2018/tv/news/lena-waithe-the-chi-lil-rel-howery-1202723376/" target="_blank">"The Chi"</a> — a <a href="http://www.chicagotribune.com/entertainment/tv/ct-mov-tv-shows-black-lives-in-chicago-20171018-story.html" target="_blank">show about black people made by black people</a> — explores the racial and social dynamics at play on the south side of her hometown, Chicago.</p><p>On May 7 of this year, Waithe — who is openly gay — made waves for rocking the <a href="https://www.cnn.com/2017/06/13/health/new-pride-flag-colors-trnd/index.html" target="_blank">updated LGBTQ pride rainbow</a> on a cape <a href="http://www.upworthy.com/lena-waithe-in-a-queer-cape-at-the-met-gala-is-the-superhero-the-world-needs">at the Met Gala</a>. "Can't no one tell a black story, particularly a queer story, the way I can," Waithe recently explained to <a href="https://www.vanityfair.com/hollywood/2018/03/lena-waithe-cover-story" target="_blank">Vanity Fair</a>. "Because I see the God in us."</p><p class="shortcode-media shortcode-media-rebelmouse-image"><img type="lazy-image" data-runner-src="https://assets.rebelmouse.io/eyJhbGciOiJIUzI1NiIsInR5cCI6IkpXVCJ9.eyJpbWFnZSI6Imh0dHBzOi8vYXNzZXRzLnJibC5tcy8xOTM5NzUxOS9vcmlnaW4uanBnIiwiZXhwaXJlc19hdCI6MTYxNDE4NDE1NH0.WFbw082ApL0Th0yKTlwtRxZrSGWvCfp5bTsPa_Kd9mI/img.jpg?width=980" id="24e2b" class="rm-shortcode" data-rm-shortcode-id="53fa1ec880226ad9d610416bf957ea10" data-rm-shortcode-name="rebelmouse-image"><small class="image-media media-caption" placeholder="add caption...">Photo by Jason Kempin/Getty Images.</small></p><p>Now, Waithe is doing what <em>every</em> power player should be doing: <strong>ensuring everyone working on her projects feels safe, respected, and empowered.</strong></p><p>"I think the biggest thing is just to create a barrier around not just women, but anyone who's othered in any way, shape, or form — to make sure they have a place to go or someone to call if they're in an uncomfortable place or abusive situation," <a href="https://www.vox.com/culture/2018/1/7/16858590/lena-waithe-interview-the-chi" target="_blank">Waith told Vox</a> in January 2018. "They need a line of defense, and I think Time's Up really has the potential to be that."</p>