The reviews are in, and Lady Gaga's powerfully patriotic Super Bowl halftime performance is getting lots of thumbs up.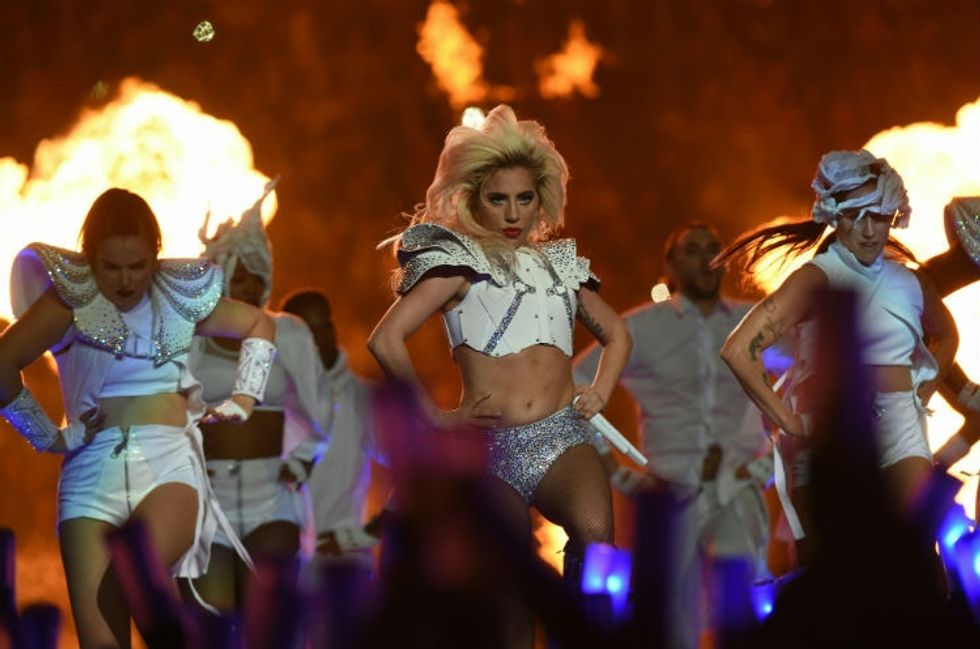 The pop star, who flew around NRG Stadium hooked on wires for much of the show, lit up Houston with hits like "Just Dance," "Million Reasons," and "Bad Romance."
But she also belted out portions of "God Bless America" and "This Land Is Your Land" during a 12-minute performance that was somehow "pro-gay, pro-unity, pro-feminist, pro-weirdo, and pro-fabulous" all at once, The Daily Beast's Kevin Fallon noted.
<div><div class="push-wrapper--mobile" data-card="image" data-reactroot=""><img type="lazy-image" data-runner-src="https://assets.rebelmouse.io/eyJhbGciOiJIUzI1NiIsInR5cCI6IkpXVCJ9.eyJpbWFnZSI6Imh0dHBzOi8vYXNzZXRzLnJibC5tcy8xOTUyOTEwMS9vcmlnaW4uanBnIiwiZXhwaXJlc19hdCI6MTY1MDUyODEyMn0.T944vcHr-B4-1GhTBI4egkiatM6dTC8ZbM3PRJhl21k/img.jpg?width=980" id="2bfd2" class="rm-shortcode" data-rm-shortcode-id="04aee5c9bb0aec7d1363896406b88858" data-rm-shortcode-name="rebelmouse-image"><div class="image-caption"><p>Photo by Timothy A. Clary/AFP/Getty Images.</p></div></div></div><p>At a moment when partisan divisiveness seems almost palpable, Gaga managed to balance being both her rebellious self and the breath of fresh air America needed. </p><p>The following day, Gaga announced <a href="http://www.eonline.com/news/826956/lady-gaga-announces-joanne-world-tour-dates" target="_blank">dates for her upcoming world tour</a>. </p><h2>While most of us were still fawning over Gaga's Super Bowl show, one incredible tidbit about her upcoming "Joanne" tour has largely gone unnoticed.</h2><div><div class="push-wrapper--mobile" data-card="image" data-reactroot=""><img type="lazy-image" data-runner-src="https://assets.rebelmouse.io/eyJhbGciOiJIUzI1NiIsInR5cCI6IkpXVCJ9.eyJpbWFnZSI6Imh0dHBzOi8vYXNzZXRzLnJibC5tcy8xOTUyOTEwMi9vcmlnaW4uanBnIiwiZXhwaXJlc19hdCI6MTYyNjM5MTY5MH0.X8oDOctYt2e_IY9QPsKrPWzQfueP5ZHMfSK-FxQeP7w/img.jpg?width=980" id="dc492" class="rm-shortcode" data-rm-shortcode-id="43a27a352405c82f03caca2aa5f6f1f4" data-rm-shortcode-name="rebelmouse-image"><div class="image-caption"><p>Photo by Christopher Polk/Getty Images.</p></div></div></div><h2>Lady Gaga will be the first woman to solo headline a concert at Chicago's iconic Wrigley Field, according to the <a href="http://chicago.suntimes.com/news/lady-gagas-joanne-world-tour-to-play-wrigley-field/" target="_blank">Chicago Sun-Times</a>.</h2><div><div class="push-wrapper--mobile" data-card="image" data-reactroot=""><img type="lazy-image" data-runner-src="https://assets.rebelmouse.io/eyJhbGciOiJIUzI1NiIsInR5cCI6IkpXVCJ9.eyJpbWFnZSI6Imh0dHBzOi8vYXNzZXRzLnJibC5tcy8xOTUyOTEwMy9vcmlnaW4uanBnIiwiZXhwaXJlc19hdCI6MTYyNDMyNzM5N30.PAsBRbhf5bxi7tYsyH1S9cpg7xpmEh6ksExEcakyMZ0/img.jpg?width=980" id="5e2c8" class="rm-shortcode" data-rm-shortcode-id="6fea5cefb2e1243bae5ce44787cd5612" data-rm-shortcode-name="rebelmouse-image"><div class="image-caption"><p>Photo by Scott Olson/Getty Images.</p></div></div></div><h2>It seems fitting, seeing as the pop star has recently worked her way into the hearts of many Chicagoans. </h2><p>In 2015, she <a href="https://www.dnainfo.com/chicago/20170206/wrigleyville/lady-gaga-wrigley-field-concert-first-female-headliner" target="_blank">celebrated LGBTQ Pride</a> in the Windy City, and then followed that up by <a href="https://www.dnainfo.com/chicago/20160306/lincoln-park/lady-gaga-taylor-kinney-al-roker-take-polar-plunge-for-special-olympics" target="_blank">jumping into bitter-cold Lake Michigan</a> for the 2016 Polar Plunge to support the Special Olympics. </p><div><div class="push-wrapper--mobile" data-card="image" data-reactroot=""><img type="lazy-image" data-runner-src="https://assets.rebelmouse.io/eyJhbGciOiJIUzI1NiIsInR5cCI6IkpXVCJ9.eyJpbWFnZSI6Imh0dHBzOi8vYXNzZXRzLnJibC5tcy8xOTUyOTEwNC9vcmlnaW4uanBnIiwiZXhwaXJlc19hdCI6MTY0OTgxOTc1NH0.2dxwxVxGVP_v6i4GUkU3qG7b4eqAJsW-TeD8hkbpeUE/img.jpg?width=980" id="4be0e" class="rm-shortcode" data-rm-shortcode-id="07db9b2c497ff237ce84978548c17da2" data-rm-shortcode-name="rebelmouse-image"><div class="image-caption"><p>Photo by Tasos Katopodis/Getty Images.</p></div></div></div><h2>Gaga headlining Wrigley Field is a big deal because the glass ceilings of some of the largest, most celebrated venues in America still need to be broken.</h2><p>Historically, women have been absent behind the scenes in the entertainment industry, with the people holding most positions of power — from managers to record label executives — being men. That reality <a href="http://www.marieclaire.co.uk/uncategorised/is-music-still-a-male-dominated-industry-we-ask-the-women-working-in-it-38691" target="_blank">has been changing more recently</a>, but it still means that women have systematically been left out of the decision-making process in meaningful ways for decades.</p><p>It's no surprise, even in 2017, that glass ceilings are <a href="https://www.upworthy.com/amy-schumer-broadcast-live-as-she-made-comedy-history-in-nyc-this-week">still being broken</a>.</p><h2>Lady Gaga's incredible Super Bowl performance speaks for itself. </h2><p>But it's worth remembering that the pop star's not just about putting on a good show — she's also blazing trails for all the Little Monsters following in her footsteps too.</p><div><div class="push-wrapper--mobile" data-card="image" data-reactroot=""><img type="lazy-image" data-runner-src="https://assets.rebelmouse.io/eyJhbGciOiJIUzI1NiIsInR5cCI6IkpXVCJ9.eyJpbWFnZSI6Imh0dHBzOi8vYXNzZXRzLnJibC5tcy8xOTUyOTEwNS9vcmlnaW4uanBnIiwiZXhwaXJlc19hdCI6MTYwNDM1ODQwNX0.HZFbCkdepjc3xbFXUItGcEmbXuv4Wj_Five884MYPko/img.jpg?width=980" id="8aa0f" class="rm-shortcode" data-rm-shortcode-id="919cd1a0993404342782c569c893f98f" data-rm-shortcode-name="rebelmouse-image"><div class="image-caption"><p>Photo by Valerie Macon/AFP/Getty Images.</p></div></div></div>