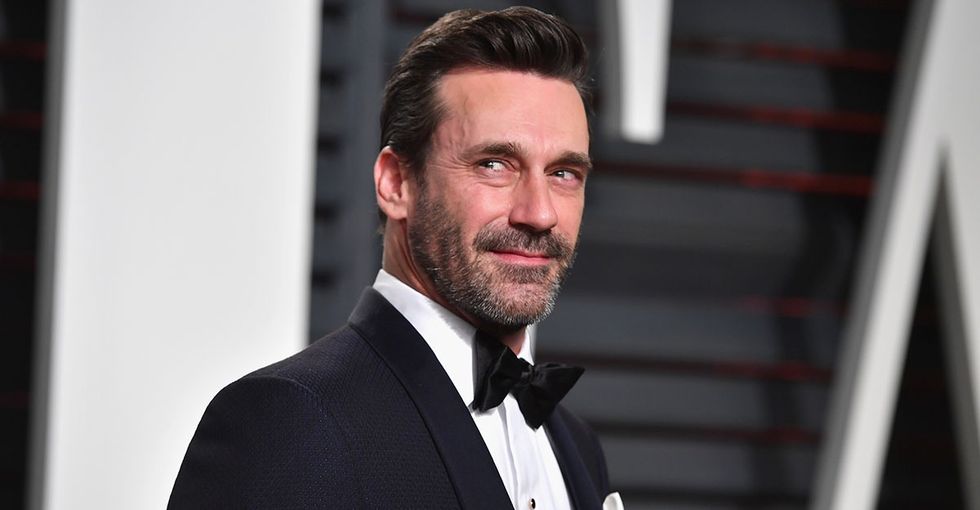 Jon Hamm may be on Hollywood's A-list, but he still understands the value in — and limitations to — a hard-earned dollar.
And he can thank scrubbing tables and teaching teenagers for that.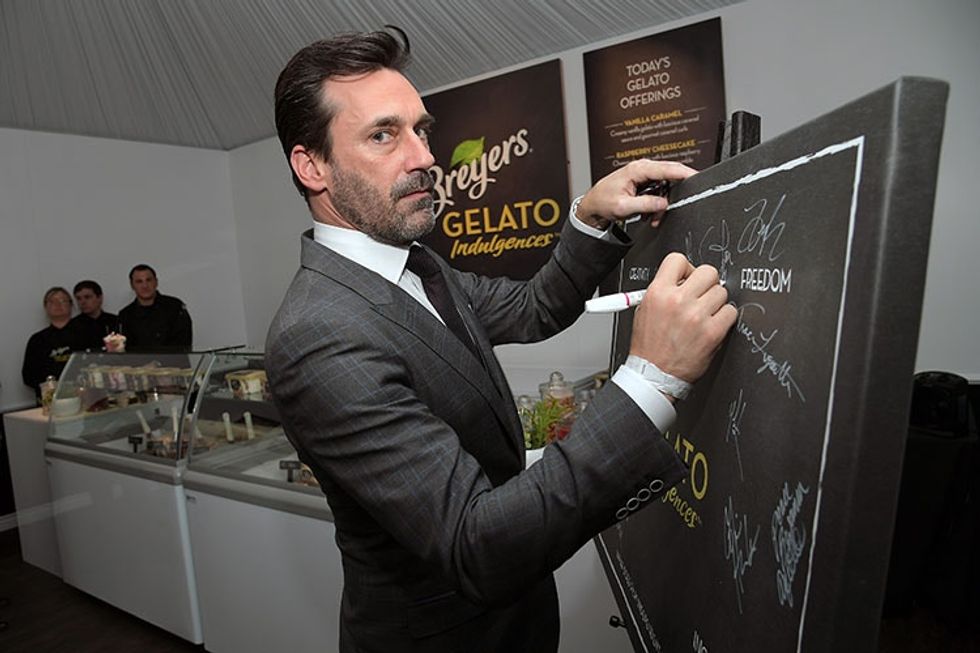 The Emmy-winning actor penned an essay for Wealthsimple magazine's "Money Diaries" series, where contributors discuss how money has played a role in their own lives.
For Hamm, however, the piece wasn't just about personal finances. It was about how a few not-so-glamourous work experiences largely shaped his world views today.
Here are three powerful quotes that illustrate what Hamm learned about the world from the experiences and jobs that helped him pay the bills years ago.
1. As a teenager, Hamm worked at a Greek restaurant in North St. Louis as a busboy, dishwasher, and waiter.
He learned "how to cook and how to keep a clean kitchen," but he also learned a lot about working in a role where you're frequently underappreciated.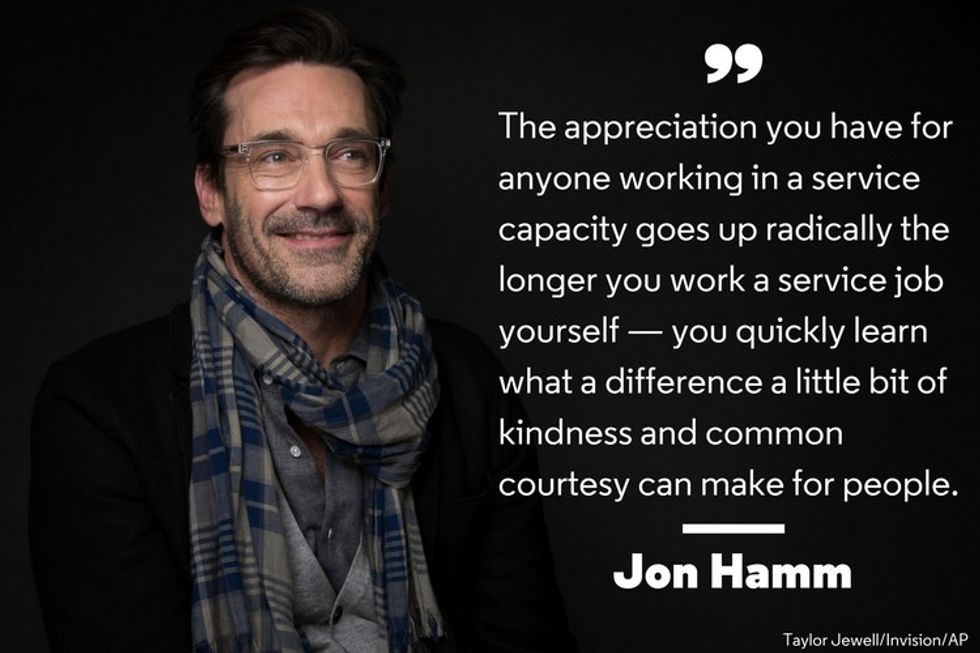 Hamm wrote:
"Working in a restaurant is a good life lesson for anybody. My friend used to say that no one should be able to work in Hollywood if they haven't worked in a restaurant. The appreciation you have for anyone working in a service capacity goes up radically the longer you work a service job yourself — you quickly learn what a difference a little bit of kindness and common courtesy can make for people. It's important to know how to treat people, and to learn how to respond when someone you're working with is having a bad day."
Hamm's point is one shared by just about everyone serving you coffee, folding sweaters at your go-to apparel store, or working behind a cash register at your grocer: The service industry entails tough — and often underappreciated and underpaid — work.
It's a good thing to keep in mind the next time you're running errands or grabbing a bite to eat.
2. In his 20s, Hamm took up teaching.
He wanted to give back to his old high school, which he credits with setting him on the creative course that brought him to where he is today. He decided to teach acting, improv, and public speaking there. It was a terrific experience, all in all, but it did open his eyes to to the hurdles facing American teachers today.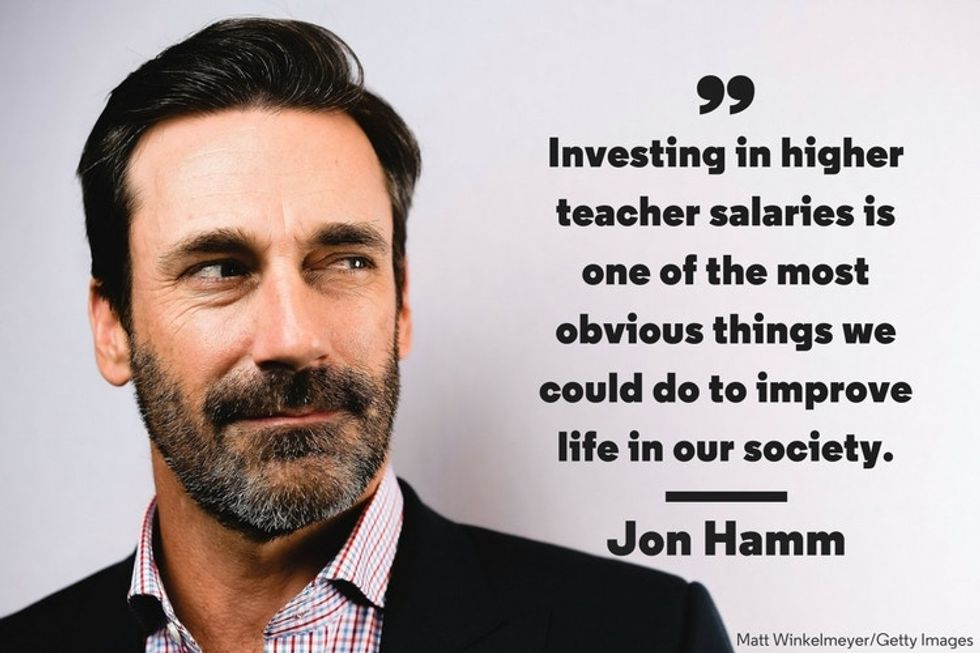 Hamm wrote:
"The students were great, and I found myself learning something from them every day. The downside is that teachers in general are pretty under-respected and underpaid. That's a real drag. Investing in higher teacher salaries is one of the most obvious things we could do to improve life in our society."
While we give teachers the monumental task of helping prepare our children for their futures, we pay them relatively measly salaries while piling on their workloads — all while expecting impressive results in the classroom. Doesn't make too much sense, huh?
3. Hamm's early experiences taught him about the nuances of having versus not having enough money.
Money can't buy happiness, after all — but living without it can be a bigger burden than people realize.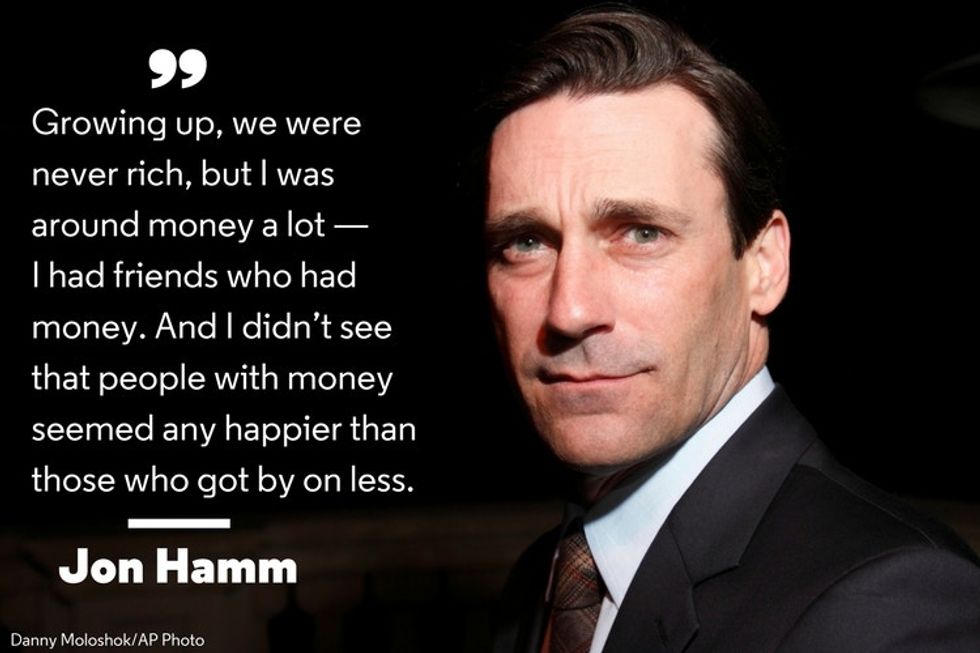 Hamm wrote:
"Growing up, we were never rich, but I was around money a lot — I had friends who had money. And I didn't see that people with money seemed any happier than those who got by on less. I've never been driven by money — there are more important things to life. But not having money can be a hindrance — it can make life hard, and you spend time worrying about not having it. To me, the main reason to have money is to remove the hindrances that accompany being broke. Once those hindrances are out of the way, it doesn't matter if you have a ton of money or just a comfortable amount."
Hamm's experiences reflect the Catch-22 research has found when it comes to finances and contentment: Wealthy people aren't happier than the rest of us, but those living in poverty are more likely to experience sadness and stress.
Money, it seems, is something we can't live without — but its perks fade pretty quickly once we have enough to comfortably make ends meet.
Turning to an actor like Hamm may not seem like the best place to find useful commentary on the challenges and constraints working people face every day.
It just goes to show that it's our life experiences, and what we take away from them, that truly mold us into who we are — not the amount of money in our bank accounts.